What Is Bone Conduction Headphones and What Are Their Advantages?
Jan 07,2023 | Sylvia
In recent years, you may find that more and more people around you are wearing a kind of earphone clipped to the edge of the temple. Most of these headphones are bone conduction headphones.
So, what is bone conduction headphones?
They are sound transmission devices that transmits sound through the vibration of the skull so that people can perceive speech.
In physics, sound can be transmitted through solids, air, and liquids as media. Traditional earphones transmit sound through the air, while bone conduction headphones transmit sound through the solid of the skull.
Bone conduction device include conduction speaker and bone conduction microphone:
(1) Bone conduction speakers are used to listen to the sound. It converts the electromagnetic signal into sound waves (also called vibration signals) directly through the bone to the auditory nerve and makes the brain center feel the sound.
(2) The bone conduction microphone is used to collect sound. It uses the slight vibration of the head and neck bones caused by human speech to collect sound signals and convert them into electromagnetic signals.
Bone conduction technology is very mature and widely used. In the early days, it was mainly used in hearing aids, emergency rescue, military, and other professional fields. In recent years, it has gradually been applied in the field of consumer electronics. Conduct the popularity of products such as cycling helmets.
The work principle of bone conduction headphones
Bone conduction is actually a very mature technology. The famous pianist Beethoven used bone conduction technology to compose music as early as the eighteenth century. He was deaf in both ears and could not hear music with his ears, which was a fatal blow to his music composition. Later, perhaps it was God's will, he found a magical method, that is, biting a stick connected to the piano while playing, so as to hear the music from the jawbone, which is the principle of bone conduction. Generally speaking, the work principle of bone conduction is that sound waves transmit the sound to the inner ear through the vibration of the head bones such as the skull and jaw, and finally allow the wearer to hear the sound.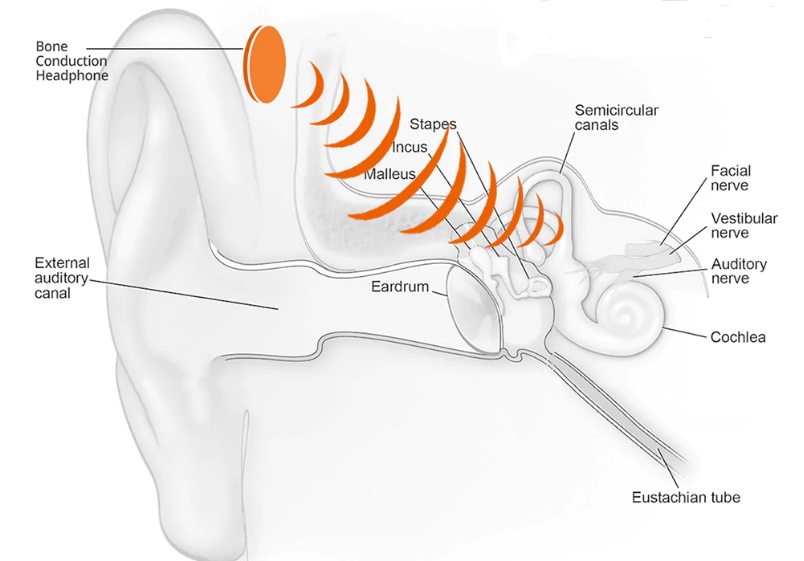 Bone conduction headphones are a new type of headphones made with bone conduction technology. Compared with common headphones, they do not need to be worn in the ear. Their main principle is to convert sound into mechanical vibrations of different frequencies, and transmit them through the human skull->bone labyrinth->inner ear lymph fluid->spiral organ->auditory center. Compared with traditional headphones, the sound transmission path of them is shorter, and it no longer needs to transmit sound through air and eardrum vibration, but directly transmits sound to the inner ear through bone vibration. This also makes bone conduction headphones one of the healthiest headphones, and they have become popular this year.
Advantages of bone conduction headphones
The way bone conduction headphones are worn without earbuds brings tangible benefits:
Safer: It does not block your ears when wearing it, allowing you to maintain awareness of the surrounding environment, making outdoor sports safer;
Healthier: it uses bones to transmit sound, and the sound is directly transmitted to the auditory nerve, avoiding damage to the eardrum, and can protect hearing well;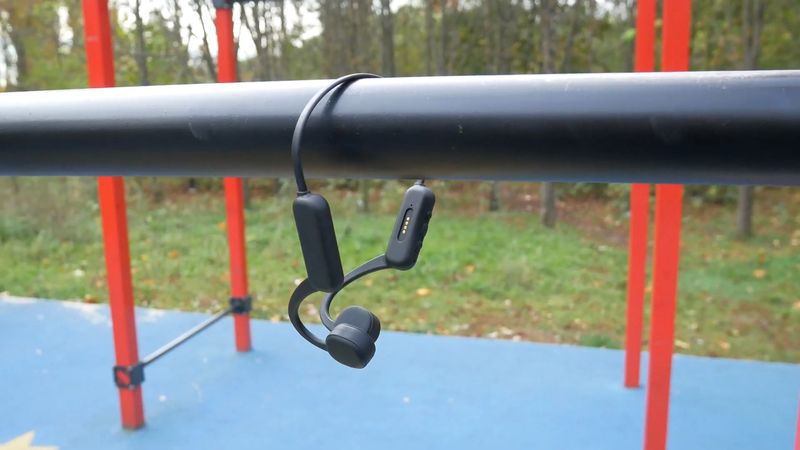 More hygienic: Bone conduction headphones do not need to be worn in the ear, even if worn for a long time, they can keep the ear canal fresh and avoid otitis media, otitis media and other diseases caused by blocked ear canal;
More comfortable: They are very light, and there is no sense of weight when worn. The surface of many bone conduction headphones is made of skin-friendly soft material, which is very comfortable to wear;
Unique appearance: wearing bone conduction headphones with unique design can help you attract more people's attention;
When keeping in touch with the outside world, you can communicate with friends or colleagues while listening to music, and you will not neglect them because of listening to music.
There are two sides to the coin, bone conduction headphones have many advantages, but it also has some disadvantages. Two of the most common shortcomings are sound quality and sound leakage.
In terms of sound quality, the sound quality of bone conduction headphones is slightly worse than that of traditional noise-canceling headphones. Due to the principle of sound generation and sound transmission of them, when the sound unit vibrates the skull, it also vibrates the air, resulting in sound leakage. These two shortcomings, all bone conduction headphones have, those ones that claim to be completely free from these two problems do not exist.
Of course, the sound quality of bone conduction headphones is not so bad that it is intolerable. The sound quality of some good headphones is very close to that of traditional headphones. You can hardly feel these leaks under normal social distance and normal volume. There are also some brands by structural optimization, and the problem of sound leakage has been greatly improved.
Bone conduction headphones have obvious advantages, which is why they have become star products in the past two years.So, how to choose the right headphone? I think the sound quality, sound leafage reduction ,comfort and product configuration should all be considered. Now I will recommend some excellent products below.
1. Wisonly Hirunner bone conduction headphones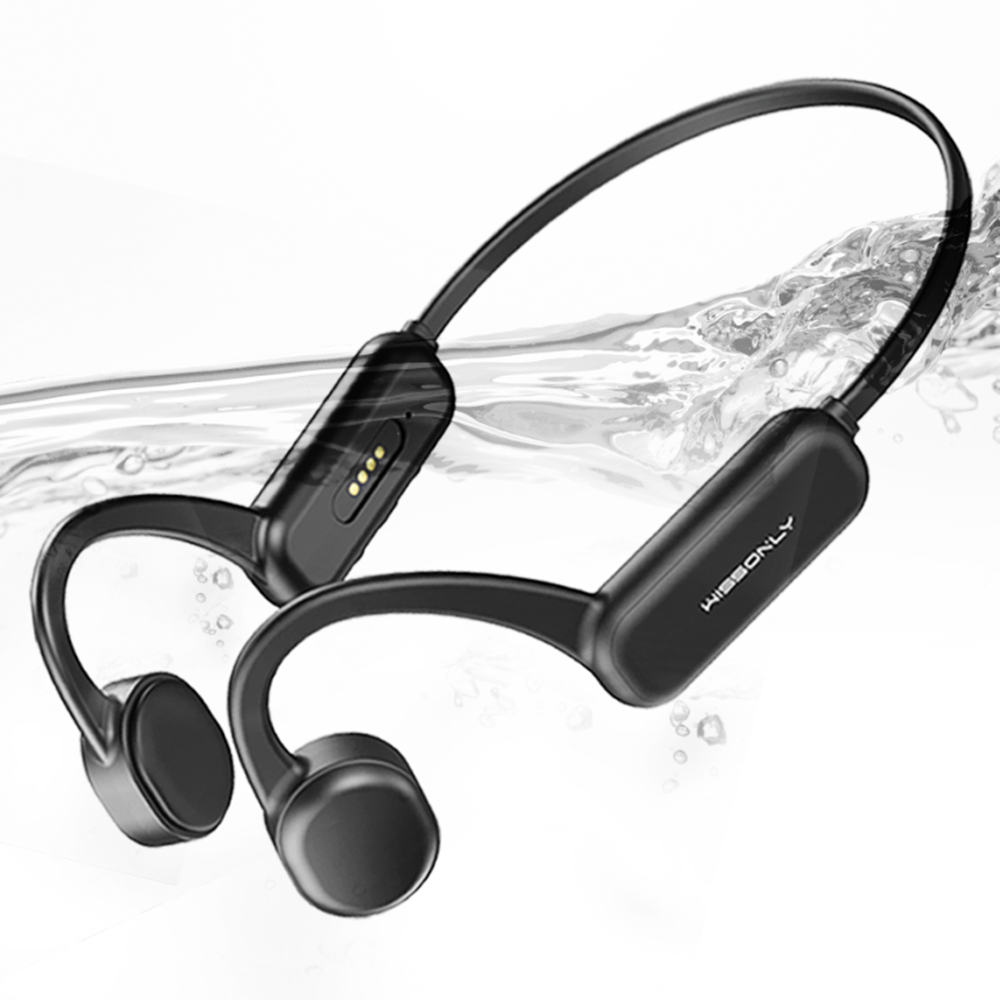 Recommended reason:
Wissonly bone conduction headphones is the first brand I came into contact with. I first found it on the crowdfunding website. Later, I bought it after seeing many people's recommendations in some online running forums. After my long-term comparative test, the overall function of this Hi Runner model product is very powerful, which greatly exceeds my expectations.
Their team is one of the best talents in the field of bone conduction. The product director was once the core engineer of a first-line brand, and has accumulated 10 years' experience in the field of bone conduction technology. Wisonly Hi Runner increases the vibration area of the sound source vibrator by 35% through excellent structural design, which makes the music feel more spatial and immersive. It is also excellent in sound leakage reduction. The fully wrapped design reduces the vibration of the shell, and the structural optimization makes the sound leakage wave be offset, thus avoiding 90% sound leakage, which is much better than the bone conduction headphones of the same price on the market.
The fully-enclosed design of Wisonly Hirunner bone conduction headphones makes its waterproof grade to IPX8, which means that you can wear it for bathing, swimming and even diving within 20 meters. Even better, the Hi Runner headphones has a built-in storage of 32GB, which can store 5,000 songs. It can still be used without the mobile phone. It supports both MP3 mode and Bluetooth mode. It is equipped with Bluetooth 5.0 chip, which makes it superior to most bone conduction headphones in transmission distance, connection stability and power consumption.
2. Philips A6606 bone conduction headphones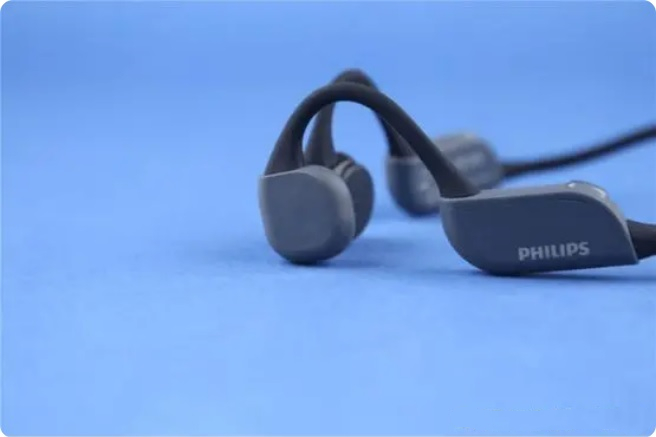 Recommended reason:
Philips A6606 is very pleasant to touch, especially the side is softer and touches the skin. It looks like an advanced product on hand. And the charging joint soft plug of the headphone and the gap between different parts are smooth, and the overall workmanship is quite good.
It supports for dual-microphone stereo calls, and is made very well in terms of call quality. A6606 supports mobile phone APP control, if a call comes in during running or cycling, it can be connected by simply touching the left unit, which will not affect the safety of riding. And bone conduction sound pickup technology + dual noise-canceling microphones can also filter out the wind noise during moving forward, and the call effect is guaranteed.
3.AfterShokz OPENRUN PRO bone conduction headphones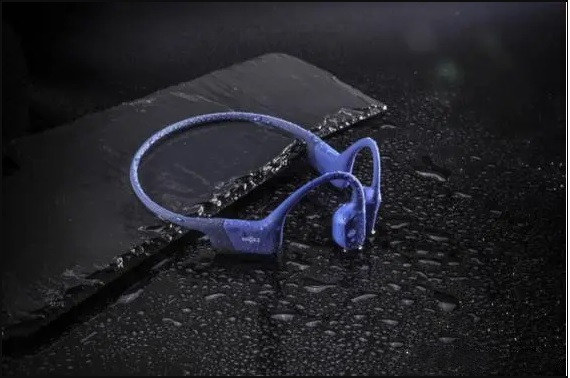 Recommended reason:
This headphones focuses on the direction of the Bluetooth headheadphones, and the ergonomically designed ear-attached rear suspension helps consumers to do large-scale movements such as running and jumping without worrying about the headphones being dumped. Openrun Pro's bone conduction unit is designed with a 30-degree tilt technology, coupled with Aeropex suspension damping technology, which can effectively reduce the vibration generated during exercise and bring a more comfortable hearing experience. The waterproof level of openpro has reached IP67 level. If you sweat and rain during exercise, don't worry about it slipping or affecting the sound quality. The intelligent control button on the right side of the headset can realize blind exercise with one hand, easy song cutting and other functions only by raising your hand.
4.earsopen SS900 bone conduction headphones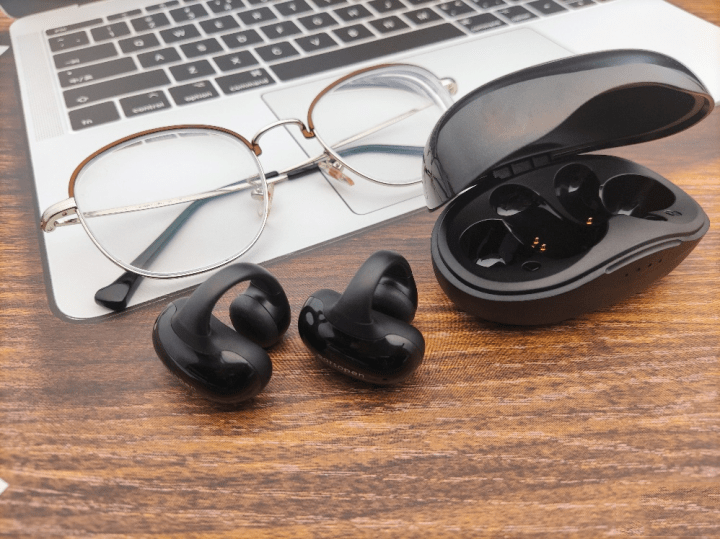 Recommended reason:
The fuselage is equipped with BoCo's bone conduction vibrator technology, with AVV's precise vertical vibration transmission technology. It has good lower potential and a wide sound range in low-frequency performance. The Bluetooth version of 5.2 helps it to maintain the stability of the connection within 10m. The weight of the body is 8g,it is light when clipping to the ear, but the wear method of the ear clip is not suitable for long-term wear.
5.Nank Runner CC3 bone conduction headphones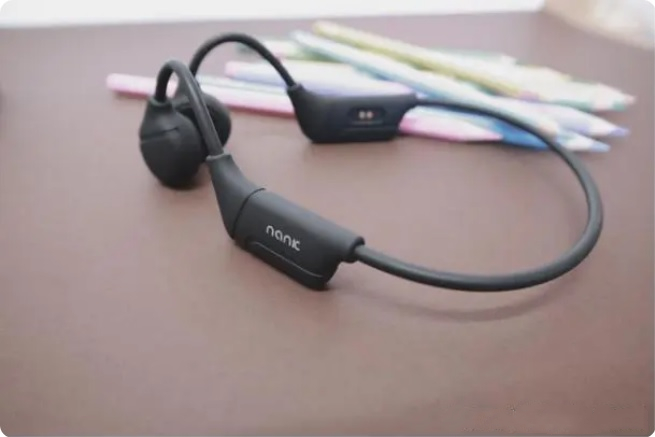 Recommended reason:
Runner CC2 bone conduction headphones have a certain improvement compared with the previous products in terms of leakage prevention and sound quality. Waterproof feature has also been improved, and IPX6 waterproof is supported. Generally, there is no problem with rain and sweat, but it can't be used in swimming. The battery life is 6 hours, which is basically enough.
From the three key points of sound quality, sound leakage reduction and comfort,wissonly and Aftershokz are the best of the above five bone conduction headphones. If product parameters and cost performance are considered, wissonly performs better.
Comment