What Are Bone Conduction Earphones and How Do They Work?
Jan 07,2023 | Sylvia
In recent years, you may find that more and more people around you are wearing a kind of earphone clipped to the edge of the temple. Most of these earphones are bone conduction earphones.
So, what are bone conduction earphones?
They are sound transmission devices that transmits sound through the vibration of the skull so that people can perceive speech.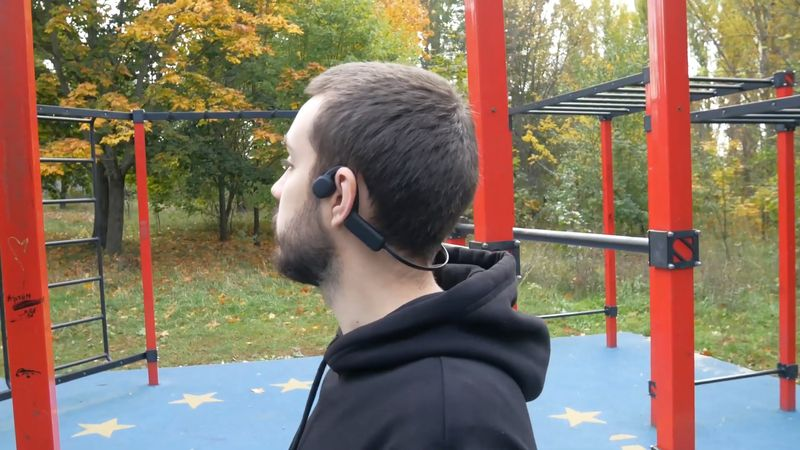 In physics, sound can be transmitted through solids, air, and liquids as media. Traditional earphones transmit sound through the air, while bone conduction headphones transmit sound through the solid of the skull.
Bone conduction device include conduction speaker and bone conduction microphone:
(1) Bone conduction speakers are used to listen to the sound. It converts the electromagnetic signal into sound waves (also called vibration signals) directly through the bone to the auditory nerve and makes the brain center feel the sound.
(2) The bone conduction microphone is used to collect sound. It uses the slight vibration of the head and neck bones caused by human speech to collect sound signals and convert them into electromagnetic signals.
Bone conduction technology is very mature and widely used. In the early days, it was mainly used in hearing aids, emergency rescue, military, and other professional fields. In recent years, it has gradually been applied in the field of consumer electronics.
How do bone conduction earphones work
If you want to understand how do bone conduction earphones work, you must first know what "bone conduction" is. "Bone conduction" is one of the two main ways of sound transmission (the other is air conduction). It transmits sound through the mandibular bone of the human body to the cochlea. And then sound stimulates the auditory hair cells in the cochlea, thereby generating electrical signals that allow us to hear sound. These technical principles may sound obscure, but there are also cases of "bone conduction" sound transmission in life. For example, when eating, we can clearly hear the chewing sound; we still can clearly hear our own voice when covering our ears and speaking. These are "bone conduction" that helps us to hear sound. Take hearing the sound of chewing when eating as an example, during the eating and chewing process, the vibrations caused are transmitted through the bones to the inner ear to get us to hear sound.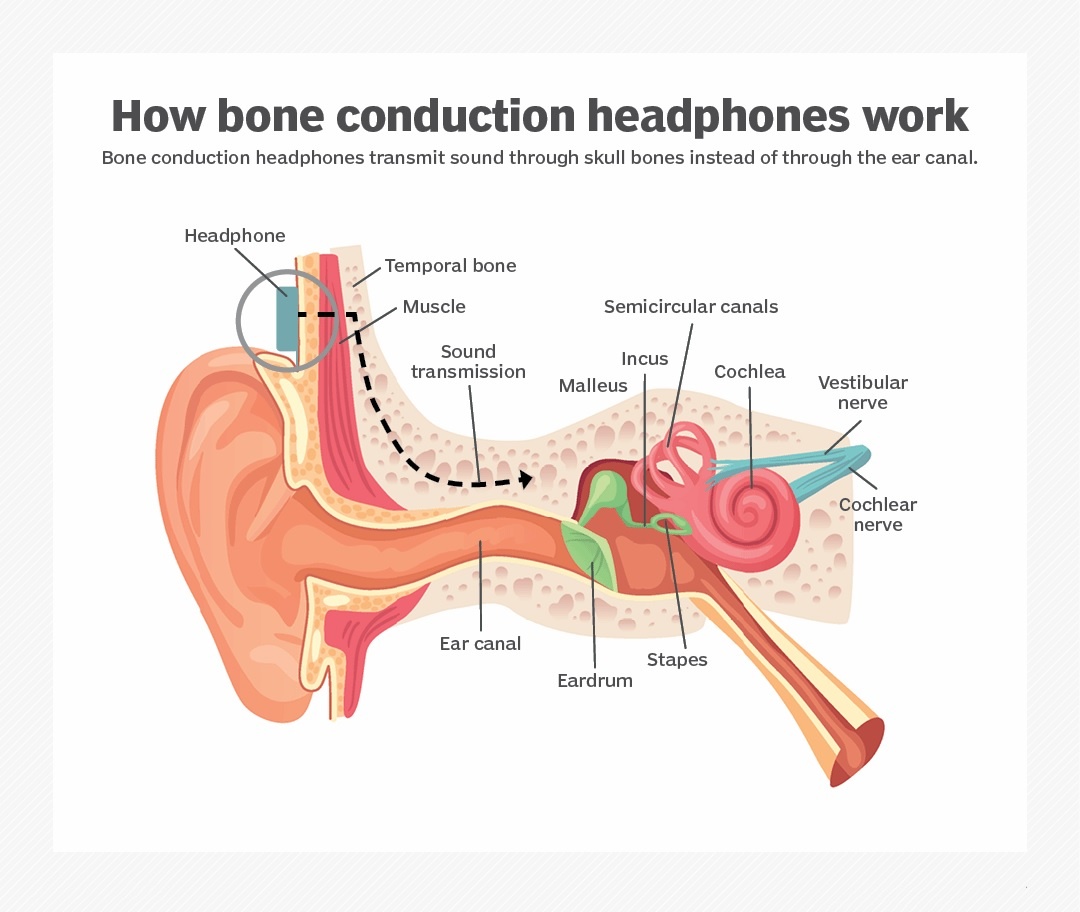 Bone conduction earphones are earphones based on bone conduction technology. The working principle is to use the vibrator on the sound unit to turn the sound signal into mechanical vibration, which causes bone resonance and conducts sound to the inner ear, so as to achieve the result of listening by"bone conduction".
What are the advantages of bone conduction earphones?
First of all, because they use the principle of bone conduction to transmit sound instead of air conduction, most bone conduction earphones do not affect the acquisition of ambient sound by both ears when used. Therefore, it is very safe when you use it outdoors, and you will not ignore the possible dangers because you are immersed in the music when wearing it.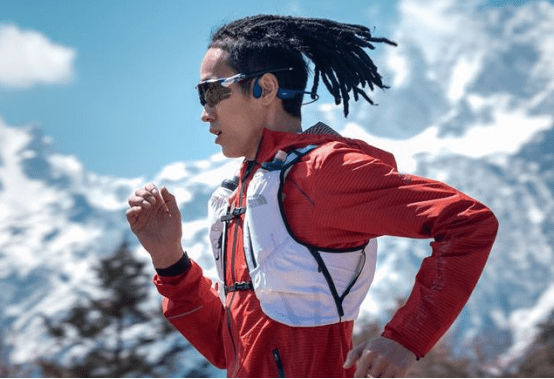 Secondly, because most of the them are close to the hard bone position (beside the ear), instead of directly blocking the ear canal like in-ear headphones, or clamping the soft tissue of the ear like clip-on headphones.After wearing bone conduction earphones for a long time,ear damage cause of Headphones is much less than in-ear headphones or clip-on headphones. For example, if you wear them for four hours, clip-on headphones may cause your ears to hurt unbearably, but even if you wear bone conduction headphones for a long time, you will basically feel nothing. Therefore, they are very comfortable to wear.
On top of that, common headphones can clog the ear canal, leading to the growth of a lot of bacteria that can lead to ear infections. Bone conduction earphones do not have these effects because they do not need to be worn in the ear, and they will not rub against the external auditory canal when worn. So they are more suitable for people with oily ears, otitis media, small ears, and some people with sensitive ears because they do not need to be inserted into the ears. They are also more suitable for people who need to wear headphones for a long time. Therefore, bone conduction earphones are very healthy.
Bone conduction earphones have relatively little hearing damage, because hearing damage generally occurs in the eardrum and inner ear, while bone conduction headphones directly bypass the eardrum to avoid eardrum damage. Moreover, the vibration waves of them are relatively moderate, and the impact on auditory hair cells will be less, so the damage to hearing caused by them is minimal. For these reasons, bone conduction earphones have become very popular these years.
Of course, bone conduction earphones are not perfect, and they have their drawbacks.
The first is that the sound quality is not as good as traditional headphones because of its wearing method. Due to its design characteristics, the anti-interference effect is not ideal in noisy environments such as shopping, taking the subway, and taking a car. Because it is transmitted to the ear ossicles through the skin and skull, so their degree of music reproduction is not as good as traditional in-ear headphones.
The second is that the phenomenon of sound leakage still needs to be overcome. If there is a common problem with bone conduction earphones, it is the problem of sound leakage. Although major manufacturers are trying to improve the sound leakage, judging from the actual status, sound leakage still exists in the headphones. Of course, mainstream bone conduction earphone brands, such as wissonly and Aftershokz, have made a lot of efforts to improve the sound leakage of bone conduction headphones, and have almost solved the sound leakage problem.
If you are interested in bone conduction earphones,here are some excellent earphones for you all.
1. Wisonly Hirunner bone conduction earphones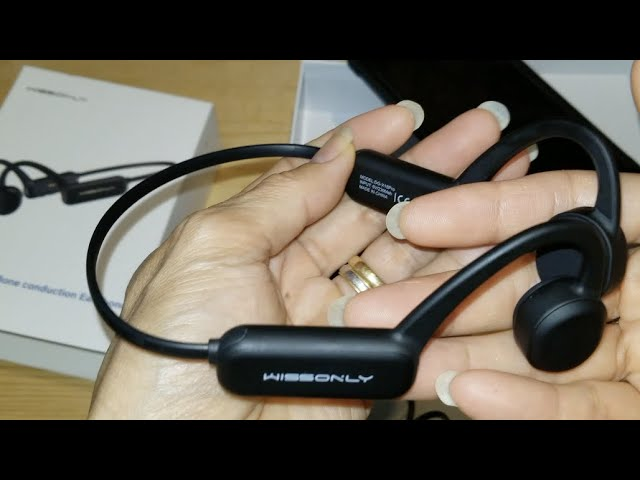 Recommended reason:
Wissonly bone conduction earphones is the first brand I came into contact with. I first found it on the crowdfunding website. Later, I bought it after seeing many people's recommendations in some online running forums. After my long-term comparative test, the overall function of this Hi Runner model product is very powerful, which greatly exceeds my expectations.
Their team is one of the best talents in the field of bone conduction. The product director was once the core engineer of a first-line brand, and has accumulated 10 years' experience in the field of bone conduction technology. Wisonly Hi Runner increases the vibration area of the sound source vibrator by 35% through excellent structural design, which makes the music feel more spatial and immersive. It is also excellent in sound leakage reduction. The fully wrapped design reduces the vibration of the shell, and the structural optimization makes the sound leakage wave be offset, thus avoiding 90% sound leakage, which is much better than the bone conduction headphones of the same price on the market.
The fully-enclosed design of Wisonly Hirunner bone conduction earphones makes its waterproof grade to IPX8, which means that you can wear it for bathing, swimming and even diving within 20 meters. Even better, the Hi Runner headphones has a built-in storage of 32GB, which can store 5,000 songs. It can still be used without the mobile phone. It supports both MP3 mode and Bluetooth mode. It is equipped with Bluetooth 5.0 chip, which makes it superior to most bone conduction headphones in transmission distance, connection stability and power consumption.
2. Philips A6606 bone conduction earphones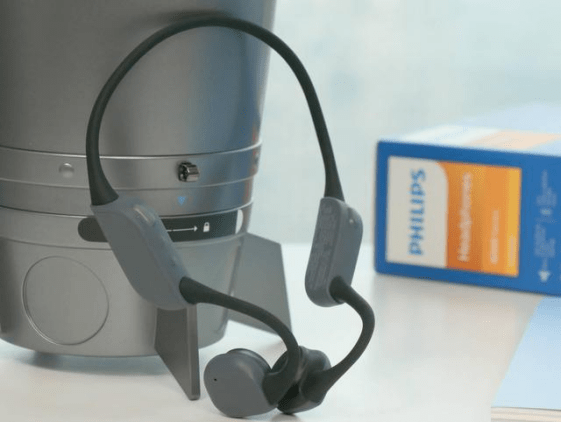 Recommended reason:
Philips A6606 bone conduction sports headphones has a unique night light design, which can help the wearer solve the problem of sports safety in dim environment. It is equipped with Bluetooth 5.2 technology, with an effective distance of up to 10 meters. It has low power consumption, faster connection speed, higher security and stability. A6606 can last for 9 hours on one time charge, which can fully meet the daily needs of users. That is, its waterproof level is not high, it can't be used in swimming, it doesn't have built-in memory, and it can't be used without Bluetooth.
3.AfterShokz OPENRUN PRO bone conduction earphones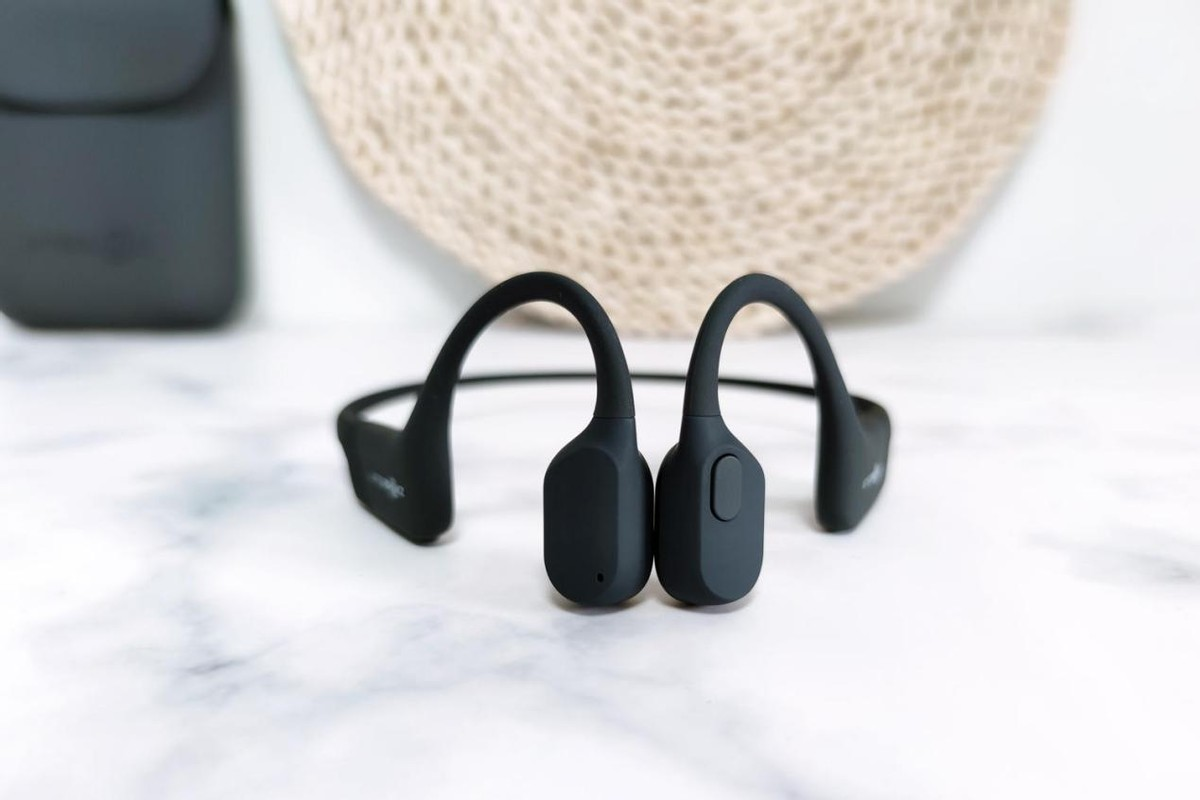 Recommended reason:
The light body weighs only 28g, it is like no weight in the hand, and it will not feel any weight when hanging on ears. Because of the characteristics of bone conduction headphones, there is no need to be stuffed into the ears or wrap the ears. And there will be no swelling or squeezing feeling when worn for a long time, which keeps the ears fresh and breathable. Its sound leakage reduction technology is also good, which can effectively suppress sound leakage and better protect personal privacy. It has a high-strength titanium alloy rear hanger. Before each pair of headphones leaves the factory, the official will carry out repeated tests to ensure that the quality passes. The body has high toughness, and it can be restored to its original shape when bent at will. You can toss it during the exercise, and don't have to worry about the damage caused by bending of the headphones.
4.earsopen PEACE bone conduction earphones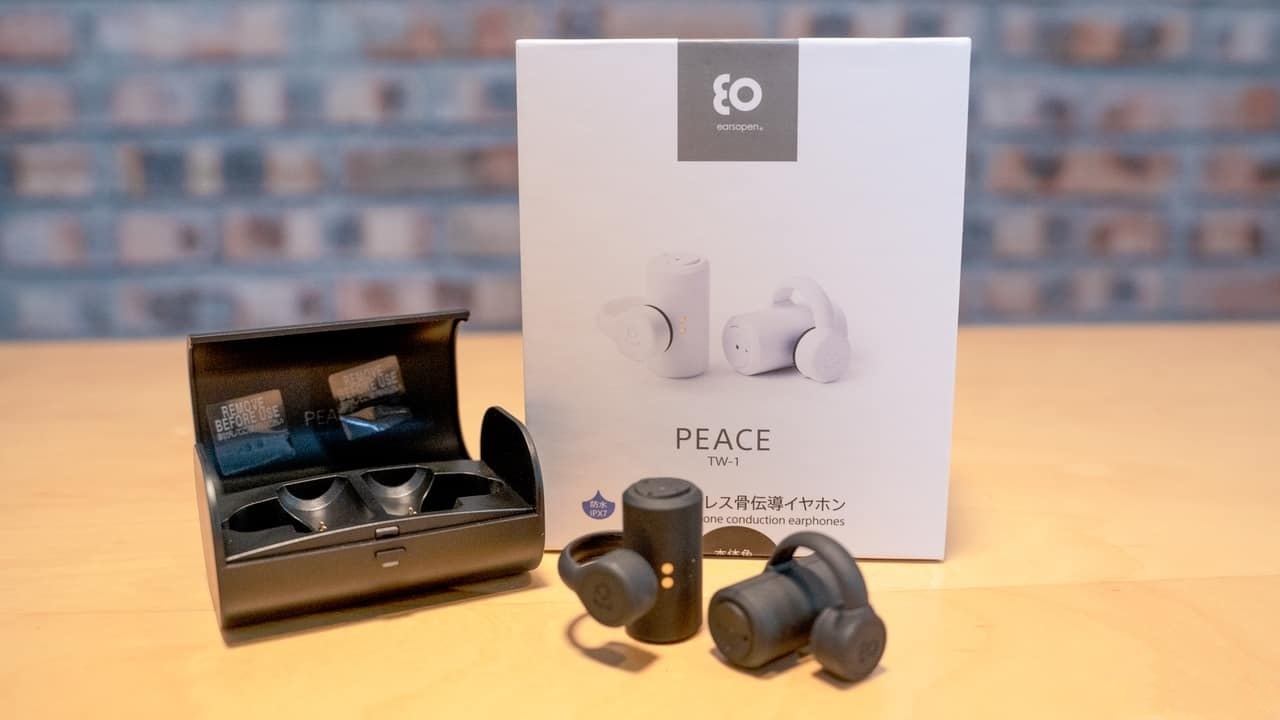 Recommended reason:
Earsopen was born in Tokyo, Japan, and is a brand of bone conduction earphones owned by BoCo Co., Ltd. Earsopen PEACE TW-1 is the first Bluetooth headphones with left-right separation among bone conduction products. Because the sounding unit is small and closer to the ear canal, the sound leakage is also very small. The main body of the headphone is T-shaped, and the ear clip is adopted. Comfort is not as high as the first two models, but this way of wearing is really the only one. If you must choose TWS's one, it's good.
5. Moing DG08 bone conduction earphones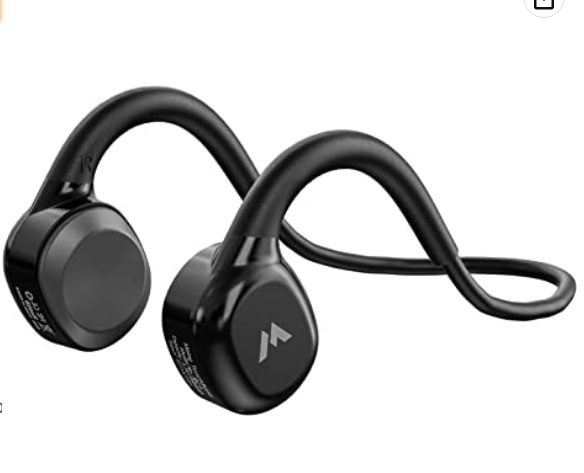 Recommended reason:
The DG08 bone conduction earphones come with 8GB of memory, which can independently store about 2,000 songs. The battery life reaches 10 hours, and you don't have to worry about battery problems for a full day of outdoor sports. Their non-in-ear design makes them more comfortable for the ears. They support life-grade waterproofing and are not afraid of sweat. It's just that there are still some problems in sound quality and sound leakage, and if the budget is not sufficient, you can consider this one.
Among the above five bone conduction earphones, Wissonly and Philips are recommended. These two brands have the strongest technical strength and the best product quality. Among the two brands, wissonly will have a higher cost performance.
Comment