What Are Wireless Bone Conduction Headset and Best Headsets in 2023
Feb 09,2023 | David
Wireless bone conduction headsets are becoming more and more popular. While running and riding, you can see people wearing a new type of music-listening device around their auricle, which is bone conduction headphones. You may be wondering, shouldn't the earphones be plugged into the ears, or shouldn't they cover the ears? Why can I hear the sound when I just hang it nearby my ear? Why are bone conduction headsets so amazing? What kind of amazing technology product is it?
What are wireless bone conduction headsets?
Wireless bone conduction headsets are a new type of earphone based on bone conduction technology. It does not need to transmit sound through the air in the ear canal like traditional earphones but transmits sound through the skull. Therefore, when using it, just hang it on the temple, close to the skull, and hear the music. They convert music signals into mechanical vibrations, which are then transmitted to the inner ear through the skull, and finally allow the auditory nerve to perceive the sound.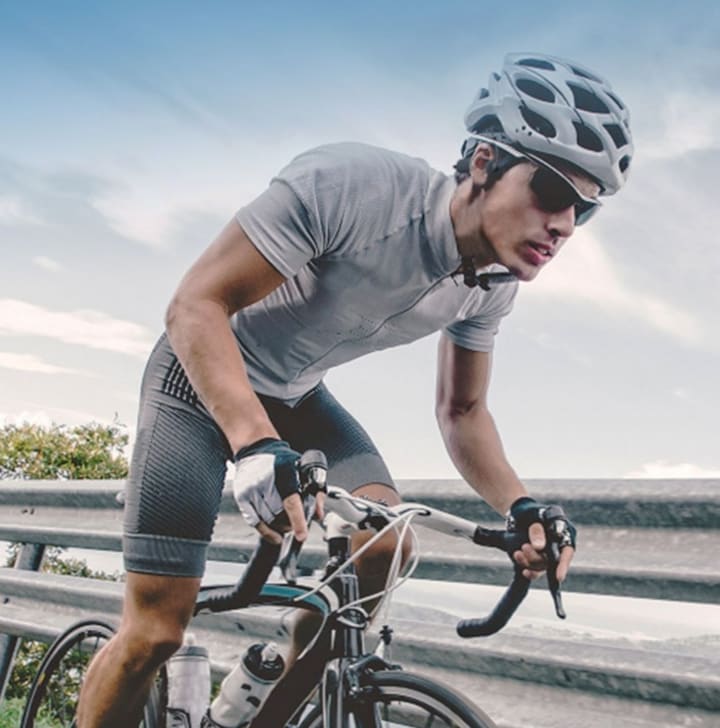 Bone conduction headsets are not a new technology product. Bone conduction is also a mature technology, which is widely used in the military, fire protection, hearing aids, and other fields. The application of bone conduction technology in the field of electronic products is a matter of recent years, such as bone conduction headphones, bone conduction speakers, bone conduction helmets, etc., are very successful examples.
Wireless bone conduction headsets are a type of headphones manufactured by using bone conduction technology. Bone conduction is a sound conduction method with bones as the medium. It converts sound into mechanical vibrations of different frequencies to transmit sound waves through the human skull, bone labyrinth, inner ear lymph, spiral organ, and auditory center.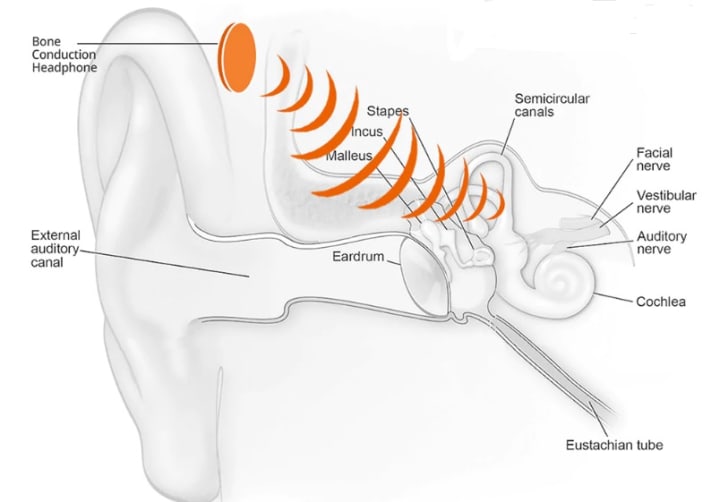 When they work, you only need to put the sound unit close to the temple, do not need to stuff them into the ear canal. They are good to the cleaning of the ear canal, and cause no harm to the eardrum.So,they are a type of health headphones.
Besides being very healthy, they have many advantages
Advantages of wireless bone conduction headsets:
Bone conduction uses bone vibration transmission principle. The headsets are not inserted into the ear, do not need to transmit sound through the eardrum, but directly conduct sound to the internal nerves of the ear through the skull. So they can minimize the impact of headphones on ear hearing. In addition, the non-in-ear wearing method of them is very helpful for maintaining the internal hygiene of the ear. It will not accumulate a lot of bacteria due to prolonged sweating during exercise to block the ear canal, which makes the ear more hygienic. Because they are healthier to wear than common headphones, many doctors in the field of otology also recommend them.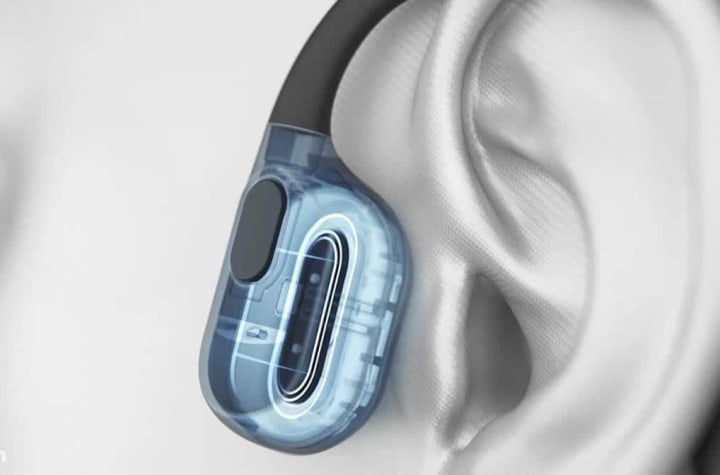 Wireless bone conduction headsets are not inserted in the ear. Whether when running, cycling, walking or commuting, etc., you can wear headphones to listen to songs and still can hear the surrounding sounds and communicate with others normally. Thus you avoid the risk of accidents caused by not hearing external sounds, which greatly improves the safety of outdoor sports. And bone conduction headsets are generally fixed to the head by hanging ears, generally have a anti-shake design and are not easy to fall off. So in the field of sports, many people use them.
So how to choose bone conduction headsets? You must pay attention to two key points: sound quality and sound leak reduction characteristics.Generally, it would be better to choose a team with deep technology accumulation in the field.Here are some excellent headphones for you all.
1.Wissonly Hi Runner wireless bone conduction headsets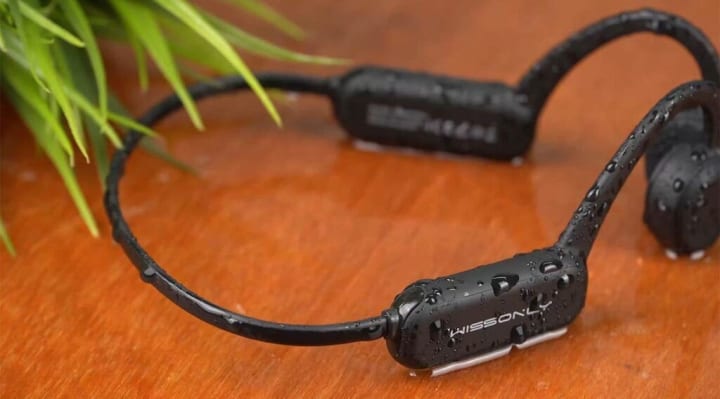 Recommended reason:
Wissonly bone conduction headphones insist on technology priority. The team is composed of senior experts in bone conduction technology, they have more than 10 years of technical accumulation in the field of bone conduction. This makes Hi Runner known as "the healthiest Bluetooth headphones" by many professionals.
In order to solve the problem of distortion of the sound quality of bone conduction headsets, Wissonly adopts the new generation of bone conduction technology, and use the world's best acoustic laboratory to customize an exclusive sound quality output scheme for the unique bone conduction sound transmission method. After 3,051 hours of tens of thousands of adjustments, 21 audiologists bring users the best sound in the field of bone conduction headphones.
In terms of wearing, Wissonly Hi runner has been ergonomically designed to fit the ear to ensure that it does not fall off during exercise. Most importantly, it fits the ear while ensuring that there is no pressure and weight load, which makes it more comfortable to wear.
In terms of product parameters, Wissonly Hi Runner is even more impeccable. It has a Bluetooth 5.0 chip, which connects stably and will not drop. It has a 32G built-in storage that can store 5000 songs. Its battery life is also good, and at 50% volume, you can play music for up to 10 hours.
2.Philips A6606 wireless bone conduction headsets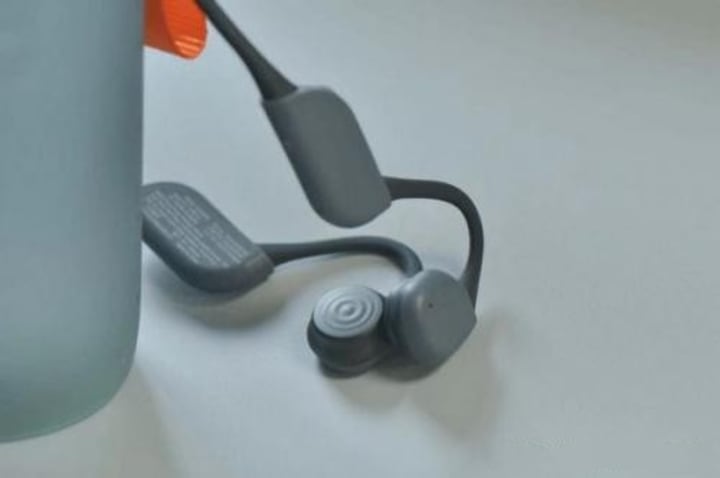 Recommended reason:
This Philips A6606 bone conduction headphones, with its comfortable silicone surface, is comfortable to wear. It is ergonomically designed, so that it will not fall when it is firmly worn. Its IP67-level depth waterproof standard makes you easy while sweat during daily exercise. This model is equipped with a night run lamp device, and while running at night, it can make cyclists or vehicles notice you. This is a very thoughtful design. It is equipped with Bluetooth 5.2 technology, which has faster transmission distance and lower power consumption than 5.0, but this one can't be used in swimming.
3.AfterShokz OPENRUN PRO wireless bone conduction headsets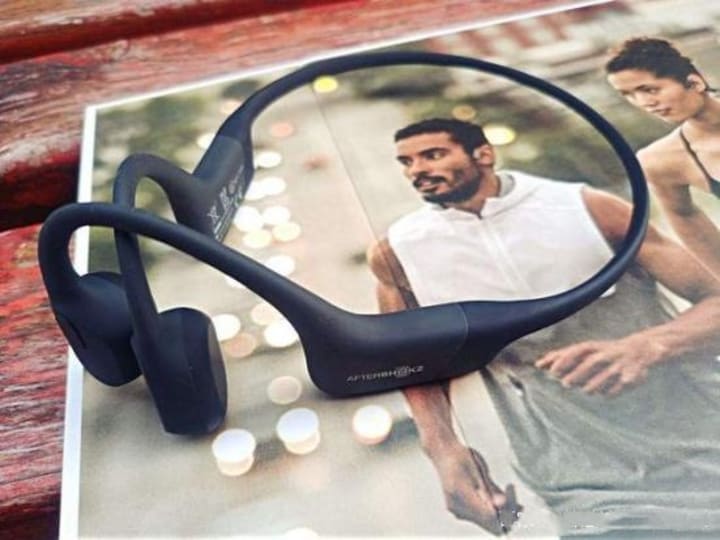 Recommended reason:
It has improved the sound quality and sound leakage reduction, and can connect two Bluetooth devices at the same time.Duo to its ergonomic ear-sticking design,it has high wearing comfort. There are two sizes, 16.2cm and 18.7cm. Girls suggest the mini version.
4.earsopen PEACE Bone Conduction Headset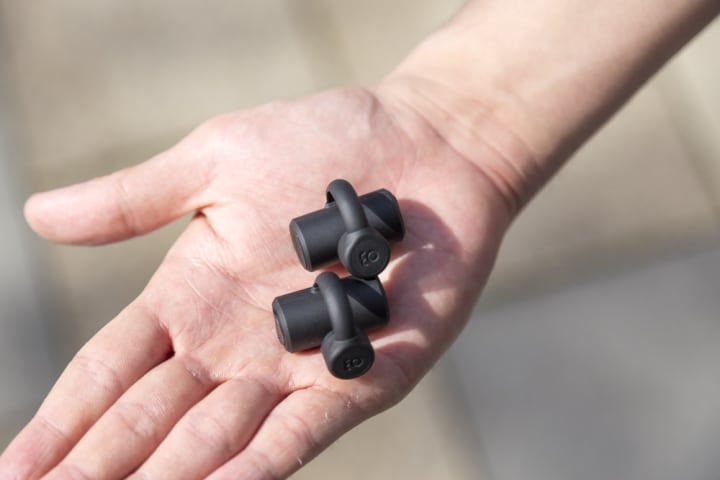 Recommended reason:
Earsopen was born in Tokyo, Japan, and is a brand of bone conduction headphones owned by BoCo Co., Ltd. Earsopen PEACE TW-1 is the first Bluetooth headphones with left-right separation among bone conduction products. Because the sounding unit is small and closer to the ear canal, the sound leakage is also very small. The main body of the headphone is T-shaped, and the ear clip is adopted. Comfort is not as high as the first two models, but this way of wearing is really the only one. If you must choose TWS's one, it's good.
5.Nank Runner CC3 wireless bone conduction headsets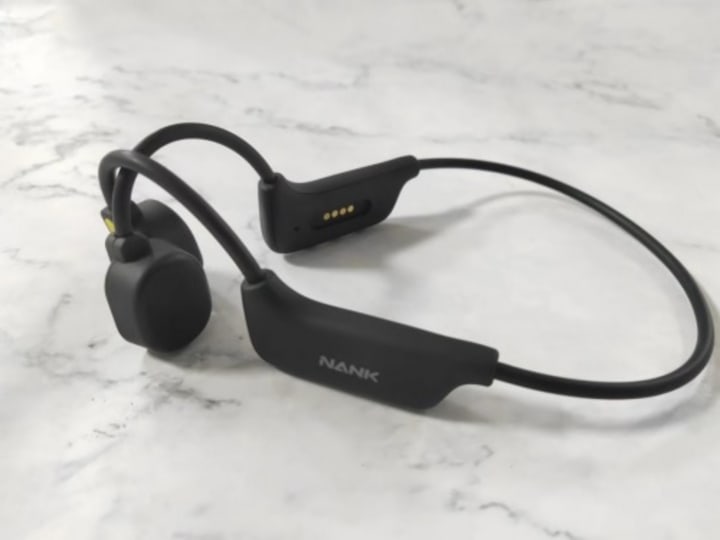 Recommended reason:
Runner CC 2 bone conduction headphones adopt a combination of soft and hard to reduce sound leakage. The entire headphones adopt a seamless design, even the headset mic is wrapped in silicone. The unique sound leakage cancellation technology can greatly reduce the leakage phenomenon.
It uses magnetic charging, after each use, you only need to put the magnetic tip in the buckle position of the headphones. Compared to traditional headphones, Runner CC2 bone conduction headphones has no holes in the entire body, and it has a certain waterproof effect.
It is generally a good entry-level bone conduction headphone. But the waterproof level is not enough, it is are not suitable rain or water sports.
It should be noted that the prices and functions of the above products are different. You can choose them according to your needs. I prefer the products of Wissonly and Aftershokz. Their sound quality and sound leakage reduction are excellent. I have been using Wissonly recently. It has a very high cost performance ratio. I like it very much.
Comment