What Are Wireless Bone Conduction Headphones and Best Headphones with Bone Conduction Review
Feb 07,2023 | Wissonly Brand
Wireless bone conduction headphones are becoming more and more popular. While running and riding, you can see people wearing a new type of music-listening device around their auricle, which is bone conduction headphones. You may be wondering, shouldn't the earphones be plugged into the ears, or shouldn't they cover the ears? Why can I hear the sound when I just hang it nearby my ear? Why are bone conduction headphones so amazing? What kind of amazing technology product is it?
What are wireless bone conduction headphones?
Bone conduction headphones are a new type of earphone based on bone conduction technology. It does not need to transmit sound through the air in the ear canal like traditional earphones but transmits sound through the skull. Therefore, when using it, just hang it on the temple, close to the skull, and hear the music. They convert music signals into mechanical vibrations, which are then transmitted to the inner ear through the skull, and finally allow the auditory nerve to perceive the sound.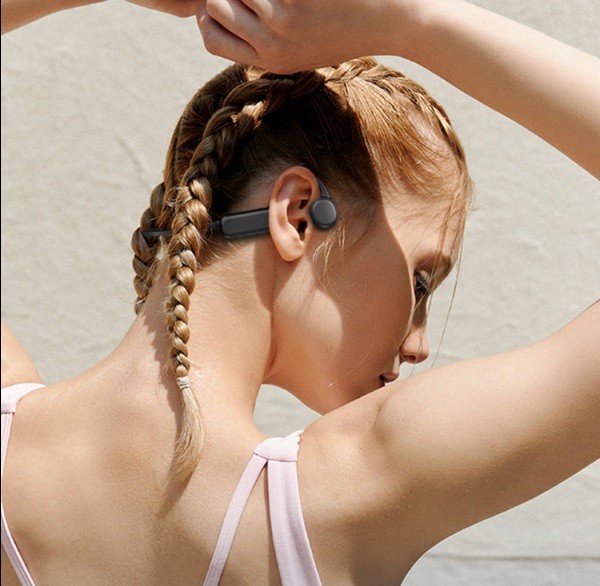 Wireless bone conduction headphones are not a new technology product. Bone conduction is also a mature technology, which is widely used in the military, fire protection, hearing aids, and other fields. The application of bone conduction technology in the field of electronic products is a matter of recent years, such as wireless bone conduction headphones, bone conduction speakers, bone conduction helmets, etc., are very successful examples.
Wireless bone conduction headphones have a lot of advantages,they are safe,health,comfortable.Their advantages are determined by their working principle.
The working principle of wireless bone conduction headphones
To understand how wireless bone conduction headphones work, take me back to my middle school physics class. We know that there are three kinds of media that transmit sound, namely solid, air and liquid. Among the devices that transmit sound, it is more common to use air as the medium, such as speakers and common headphones. From this point of view, we can regard traditional headphones as air conduction headphones. They use air as the medium to transmit sound to the eardrum through "air conduction way", and then transmit the sound to the auditory nerve through the vibration of the periosteum and hear music.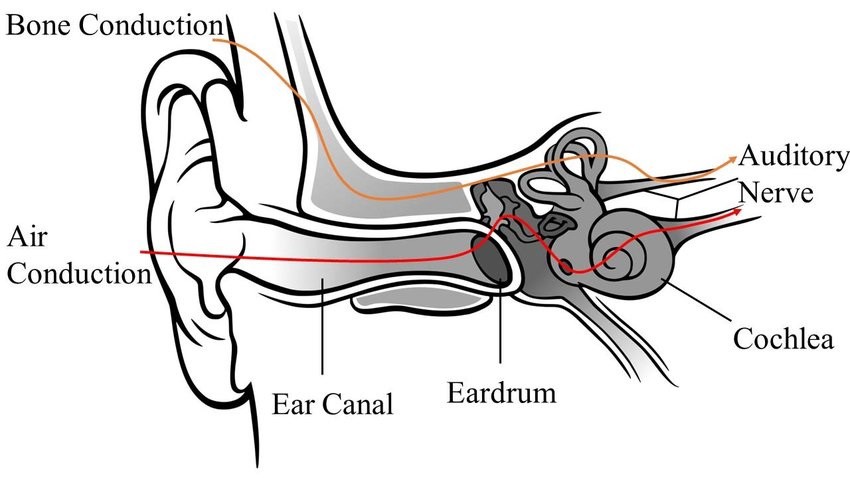 Wireless bone conduction headphones are another type of headphones that transmit sound waves through solid resonance, allowing sound vibrations to cause bone vibrations. Then through the medium of bones, it is directly transmitted to the auditory spirit. Therefore, you only need to put the sound unit close to the ear to hear the sound played. Because of this, bone conduction headphones do not need to be plugged into or wrapped around the ears, so they will not cover the ear canal, so that the eardrum can still receive external sounds normally, which allows the wearer to listen to music while paying attention to the surrounding environment .
The working principle of wireless bone conduction can be seen everywhere in our life. When we eat nuts, we can clearly hear the sound of the nuts being crushed, but others cannot hear it. This is the vibration generated by our crushed nuts, which is transmitted to the auditory nerve through the bones and is "heard" by us. The principle of sound transmission is bone conduction.
So how to choose wireless bone conduction headphones? I think you need to pay attention to three key points: sound quality, sound leakage reduction and comfort.Here are some excellent headphones recommended to you.
Best headphones with bone conduction review
1.Wissonly Hi Runner wireless bone conduction headphones
Reason for recommendation:
Wissonly bone conduction headphones insist on technology priority. The team is composed of senior experts in bone conduction technology, they have more than 10 years of technical accumulation in the field of bone conduction. This makes Hi Runner known as "the healthiest Bluetooth headphones" by many professionals.
In order to solve the problem of distortion of the sound quality of headphones with bone conduction, Wissonly adopts the new generation of bone conduction technology, and use the world's best acoustic laboratory to customize an exclusive sound quality output scheme for the unique bone conduction sound transmission method. After 3,051 hours of tens of thousands of adjustments, 21 audiologists bring users the best sound in the field of bone conduction headphones.
In terms of wearing, Wissonly Hi runner has been ergonomically designed to fit the ear to ensure that it does not fall off during exercise. Most importantly, it fits the ear while ensuring that there is no pressure and weight load, which makes it more comfortable to wear.
In terms of product parameters, Wissonly Hi Runner is even more impeccable. It has a Bluetooth 5.0 chip, which connects stably and will not drop. It has a 32G built-in storage that can store 5000 songs. Its battery life is also good, and at 50% volume, you can play music for up to 10 hours.
2. philips A6606 wireless bone conduction headphones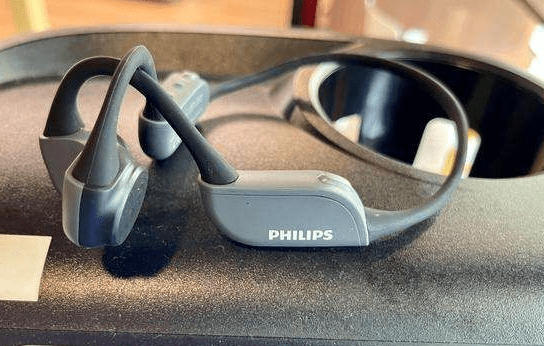 Reason for recommendation:
Philips A6606 has a good appearance, and its strange dark gray shape has a special sense of technology. The novel rear-hanging design is sporty. Its surface is made of silica gel, which is delicate and smooth to the touch, and its interface is also very flat. There is no doubt about Philips' manufacturing process. The headphones' body is made of waterproof silica gel and titanium alloy, so its weight is only 36g, and it feels very light to use. Its frame is made of memory titanium alloy, which can be stretched and bent repeatedly. It is specially designed for fun run mode and equipped with LED fun run warning lights.
Philips' products are still trustworthy, but the price is a little expensive and the cost performance is average.
3 AfterShokz OPENRUN PRO wireless bone conduction headphones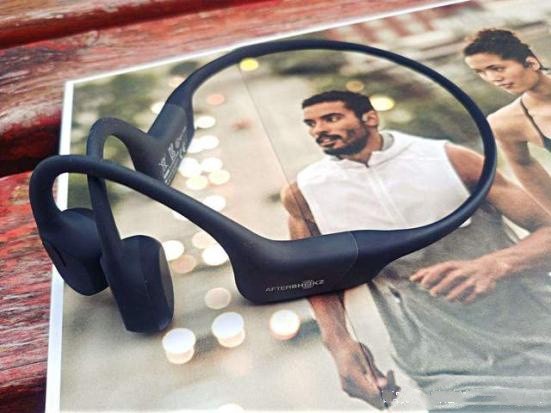 Reason for recommendation:
Openrun Pro bone conduction headphones are a product created by a technical team focusing on bone conduction technology. They have won the favor of many consumers with their characteristics such as bone conduction black technology, all-titanium design. The front end of Openrun Pro is ellipsoidal; The rear hanger has been ergonomically curved to fit the ear better, and the overall comfort of the headphones is very high. In terms of bone conduction, Openrun Pro adopts the newly upgraded PremiumPitch 2.0+ technology to optimize the direction of sound transmission and reduce sound leakage.
4.Earsopen SS900 wireless bone conduction headphones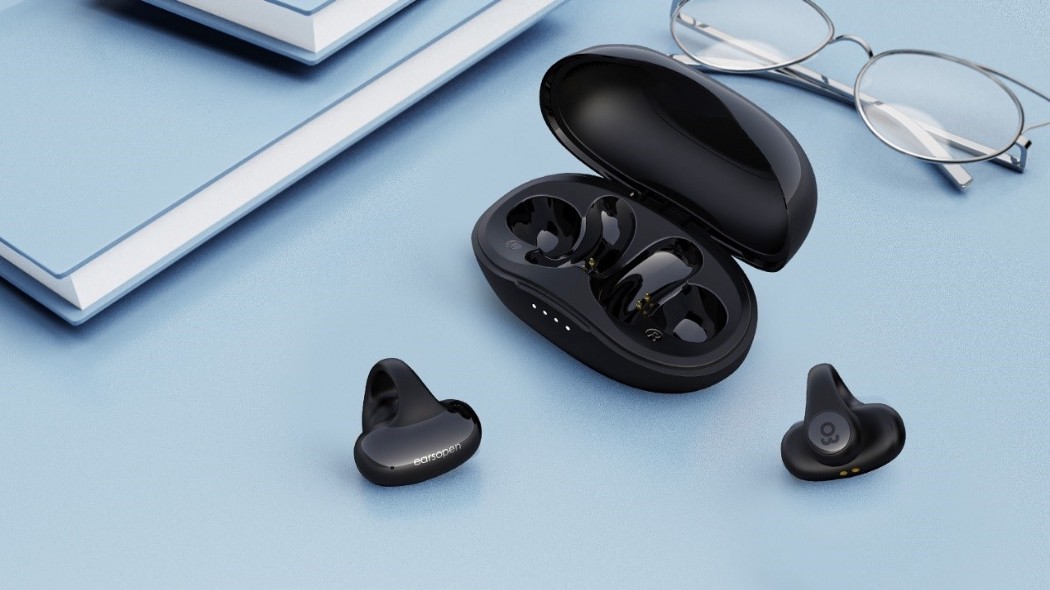 Reason for recommendation:
With the support of AVV's precise vertical vibration technology, the vibration intensity and frequency of SS900 is improved, which makes up for shortage of sound quality caused by small sound producing area of 10mm small size vibration unit, and makes the low frequency sound more full. The 7.5g body weight is better with the clip-on ear type, which makes it more portable. However, the clip-on ear type makes the ears uncomfortable after wearing for a long time, which is its disadvantage.
5.Haylou PurFree wireless bone conduction headphones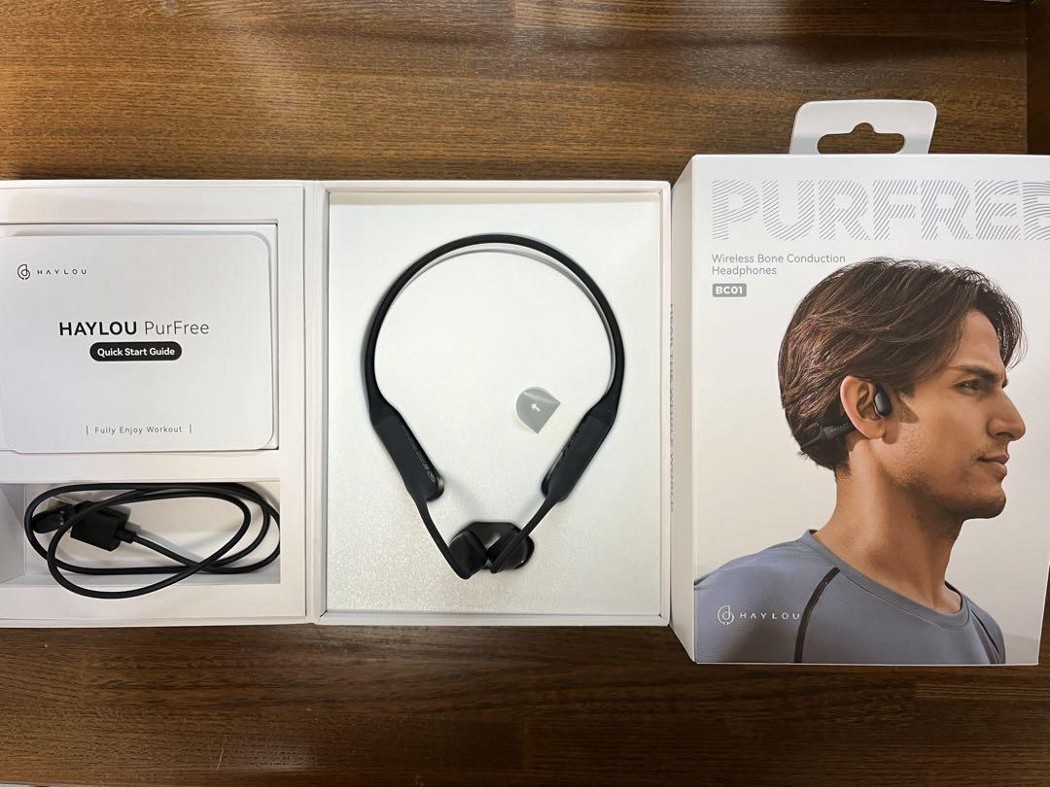 Reason for recommendation:
Haylou PurFree performs well overall, the headphone is only weighs 28g, there is almost no weight sense to wear. And the surface of the headphones is made of soft materials, and the wearing comfort is good. In terms of sound quality, it is also equipped with directional audio directional technology. It is a technology that allows the timbre to be concentrated and dive deeper at low frequencies, so that the rhythm of the song will be stronger. The battery life is good, and it lasts for 8 hours of music playback.
The waterproof grade is not high, and there is no built-in storage, which may be its disadvantage.
Among the several wireless bone conduction headphones recommended above, my favorites are Wissonly and Philips. Philips is a famous brand. The quality of its products is good, but the cost performance is poor. Wissonly is a fast-growing brand created by senior engineers. Their team has more than 10 years of technology accumulation in this field,their products are well configured and cost-effective.
Comment