What Are Bone Conduction Headsets and Best Bluetooth Bone Conduction Headset in 2023
Feb 07,2023 | David
Bone conduction headset are becoming more and more popular. While running and riding, you can see people wearing a new type of music-listening device around their auricle, which is bone conduction headphones. You may be wondering, shouldn't the earphones be plugged into the ears, or shouldn't they cover the ears? Why can I hear the sound when I just hang it nearby my ear? Why are bone conduction headphones so amazing? What kind of amazing technology product is it?
What are bone conduction headsets?
Bone conduction headsets are a new type of earphone based on bone conduction technology. It does not need to transmit sound through the air in the ear canal like traditional earphones but transmits sound through the skull. Therefore, when using it, just hang it on the temple, close to the skull, and hear the music. They convert music signals into mechanical vibrations, which are then transmitted to the inner ear through the skull, and finally allow the auditory nerve to perceive the sound.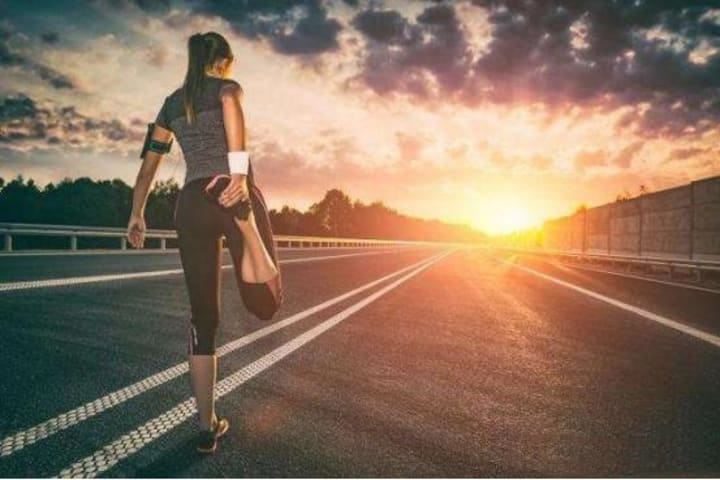 Bone conduction headsets are not a new technology product. Bone conduction is also a mature technology, which is widely used in the military, fire protection, hearing aids, and other fields. The application of bone conduction technology in the field of electronic products is a matter of recent years, such as bone conduction headphones, bone conduction speakers, bone conduction helmets, etc., are very successful examples.
What is the working principle of bone conduction headsets?
First of all, let us understand the principle of bone conduction technology. Bone conduction is a method of sound conduction, that is, by converting sound into mechanical vibrations of different frequencies. It transmits the sound to the cochlea through the human skull, bony labyrinth, and inner ear lymph fluid. After the auditory signal is sensed by the spiral organ in the cochlea, the auditory signal is converted into a nerve impulse. The auditory nerve continues to transmit the nerve impulse to the auditory center, and finally to the auditory cortex, where sound is perceived.Compared with the classic sound conduction method of generating sound waves through the diaphragm, bone conduction saves many steps of sound wave transmission, and can achieve clear sound reproduction in a noisy environment, and the sound waves will not affect others due to diffusion in the air.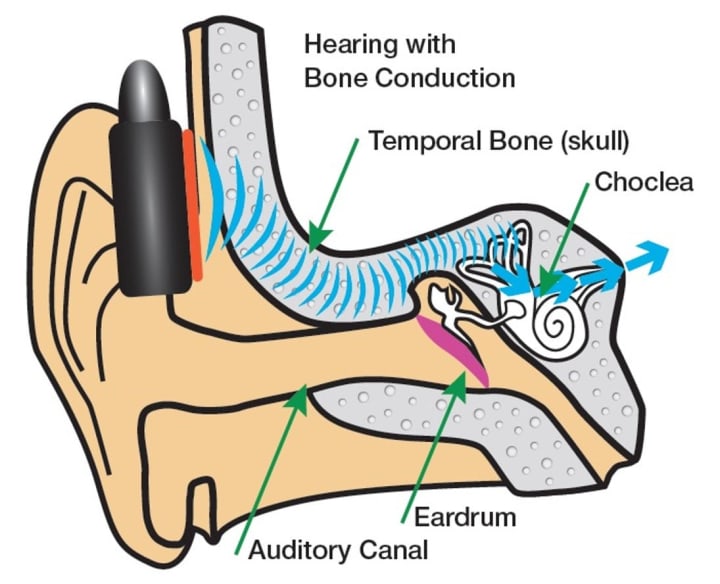 Bone conduction technology is a mature technology, and its practicability and safety have long been verified. As early as the 18th century, Beethoven, who was deaf in both ears, could continue to create music by biting a wooden stick connected to the piano and hearing the sound of the piano. This is probably the earliest example of the application of bone conduction.
Bone conduction headsets are a new type of earphones based on bone conduction technology. You only need to put the sound unit close to your ears to hear music. Because of this, they do not need to be plugged into or wrapped around the ear, so they will not cover the ear canal, making the ear canal more hygienic and the eardrum healthier.
Therefore, we can say that bone conduction headsets is a safe and healthy headset.Just as a coin has two sides, Bluetooth bone conduction headsets also have disadvantages, such as the sound quality is a little worse than traditional earphones, for example, they have the problem of sound leakage, etc
It's just that some headsets invest more research and design in reducing sound leakage, and solve most of the sound leakage problems. For example, the Wissonly Hi runner bone conduction headset I own are excellent representatives among them.Now I will recommend some good Bluetooth bone conduction headsets.
Best Bluetooth Bone Conduction Headsets in 2023
1.Wissonly Hi Runner Bluetooth bone conduction headsets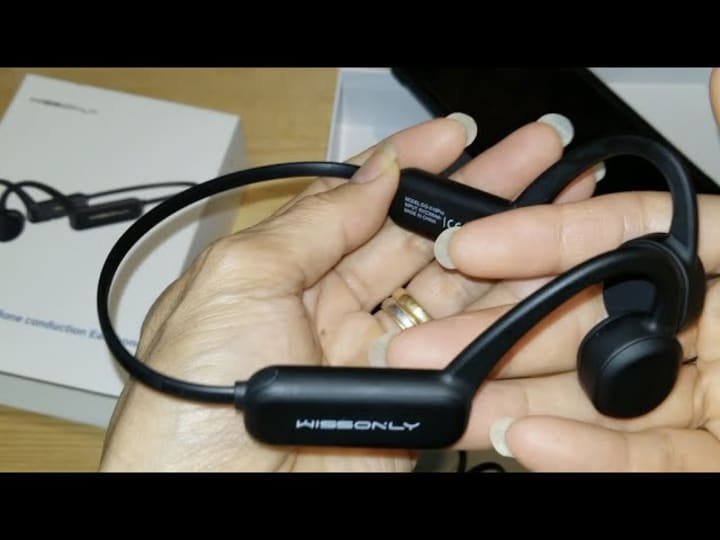 Reason for recommendation:
Wissonly bone conduction headsets insist on technology priority. The team is composed of senior experts in bone conduction technology, they have more than 10 years of technical accumulation in the field of bone conduction. This makes Hi Runner known as "the healthiest Bluetooth headphones" by many professionals.
In order to solve the problem of distortion of the sound quality of bluetooth bone conduction headsets, Wissonly adopts the new generation of bone conduction technology, and use the world's best acoustic laboratory to customize an exclusive sound quality output scheme for the unique bone conduction sound transmission method. After 3,051 hours of tens of thousands of adjustments, 21 audiologists bring users the best sound in the field of bone conduction headphones.
In terms of wearing, Wissonly Hi runner has been ergonomically designed to fit the ear to ensure that it does not fall off during exercise. Most importantly, it fits the ear while ensuring that there is no pressure and weight load, which makes it more comfortable to wear.
In terms of product parameters, Wissonly Hi Runner is even more impeccable. It has a Bluetooth 5.0 chip, which connects stably and will not drop. It has a 32G built-in storage that can store 5000 songs. Its battery life is also good, and at 50% volume, you can play music for up to 10 hours.
2. Philips A6606 Bluetooth bone conduction headsets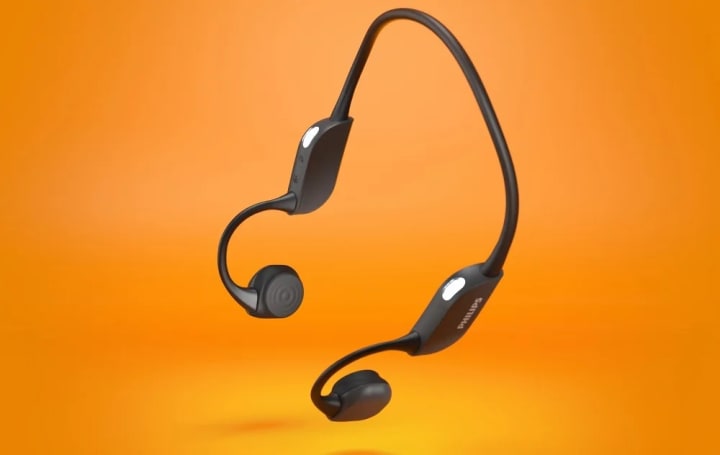 Reason for recommendation:
Philips A6606 adopts the latest generation of exterior design, which strengthens water resistance and slip resistance during sports for a more stable fit. The surface of its body uses skin-friendly materials, which will be more comfortable to wear. The body is also relatively light, and there is no sense of weight when wearing. It also has a night running indicator to ensure that the cyclist or vehicle behind you can see you during night running, thus you can avoid danger. From a configuration point of view, the configuration of this product may not be very high, but Philips' quality is trustworthy. The price may be slightly expensive.
3.AfterShokz OpenSwim Bluetooth bone conduction headsets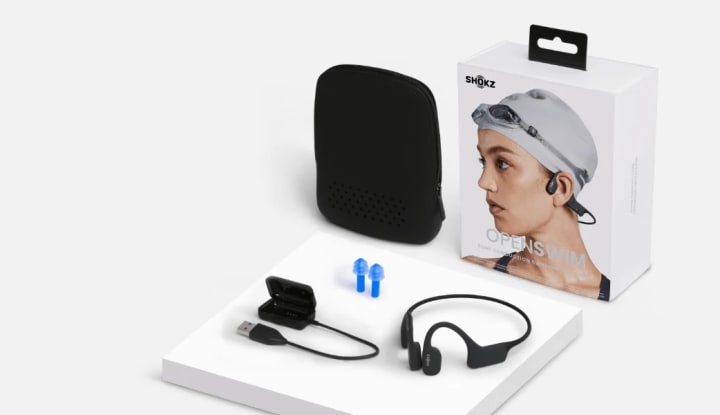 Reason for recommendation:
This OpenSwim bone conduction headsets, the whole body is made of titanium alloy, which is tough, durable, and can be firmly worn to fit the ears. The whole body has an integrated design, no opening design, and the waterproof performance of the body reaches IP68 grade, so it is suitable for swimming. Its sound source part adopts a long strip structure design, so that the loudspeaker has a larger surface area and higher sound transmission efficiency. With its own 4G memory, it can store thousands of songs, and its battery life can last up to 8 hours, which can meet the daily exercise demand. However, this headphone does not support Bluetooth and calling functions.
4.Earsopen peace tw-1 Bluetooth bone conduction headsets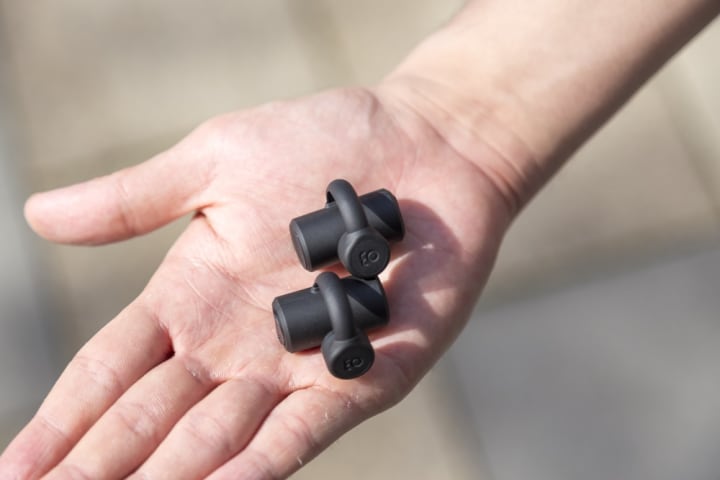 Reason for recommendation:
It is IP67 waterproof grade, easily resistant to sweat, and even capable of a short immersion underwater, but not suitable for swimming. The lightweight body just weighs 9g,its clip-on wearing method is novel.At the same time,It has a certain stability. But it is not suitable for long-term wear, and there will be a lot of discomfort.
5.Haylou PurFree Bluetooth bone conduction headsets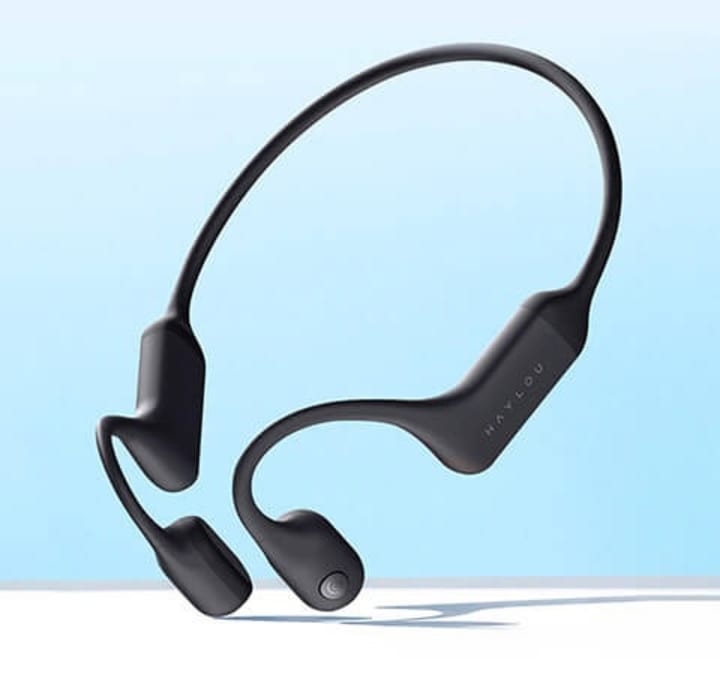 Reason for recommendation:
Haylou PurFree uses Qualcomm QCC3044 chip to make Bluetooth connection more stable, and also supports dual-device connection. And it also has microphone call noise reduction technology to make people's voices clearer. It is very light and is an open headphone, which also makes it have a better wearing experience. It is IP67 waterproof grade, and general sweat does not affect its work. It just cannot be used in swimming. It doesn't have built-in memory and can't be used when there's no cell phone signal, which is perhaps one of its drawbacks.
If you are still confused about how to choose Bluetooth bone conduction headsets, I suggest you choose Wissonly or Aftershokz. Their R&D teams have more than 10 years of technical experience in this field, which makes their products perform well in terms of sound quality and sound leakage reduction. If you consider the cost performance ratio, it is recommended to choose Wissonly.
Comment