What Are The Disadvantages of Wireless Bone Conduction Headphones?
Mar 14,2023 | David
I believe you also have the common experience that when we eat cookies, even if we cover our ears, we can hear the cracking sound of cookies. Or when we scratch our head, we hear the sound of fingers rubbing against our head. This is actually the most common example of bone conduction.The vibration of a cookie or the friction of the head is transmitted through the skull to our inner ear, which helps us to hear sound. This sound transmission method has also been cleverly applied by scientists to wireless bone conduction headphones, and in the past 2 years, they have become the most popular digital product.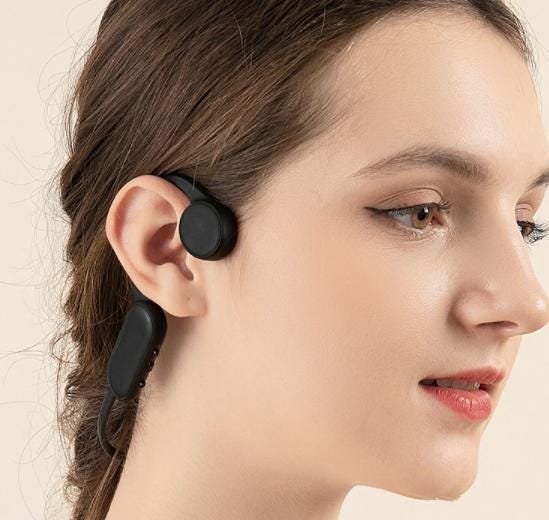 Bone conduction headphones are headphones that are worn differently from traditional headphones. And their don't need to tuck earbuds into ears like that common headphones to help sound transmit to the eardrum through the air in the ear canal. They are generally hung on the pinna, so that the sound unit is placed against the temple. And the mechanical vibration signal of the sound unit is transmitted to the auditory nerve of the inner ear through the skull, and finally the sound is heard.
Wireless bone conduction headphones have brought many benefits because of their unique way of making sound and wearing them. For example, they are very safe and healthy. Of course, there are also some disadvantages
What are the disadvantages of wireless bone conduction headphones?
1. The sound quality is slightly worse than traditional headphones
To be honest, the sound quality of wireless bone conduction headphones is slightly worse than that of traditional noise-canceling headphones, and it is not noise-canceling headphones. With the continuous improvement of technology, although it cannot be said that the sound quality is already excellent, at least it can be heard that it has improved from generation to generation. Whether it is human voices or musical instruments, all are very clear. It is more than needs for listening to music while running. Especially in the past year, the sound quality of the products has improved rapidly. Some leading brands, such as Wissonly and aftershokz, have sound quality very close to traditional headphones.
2. Sound leakage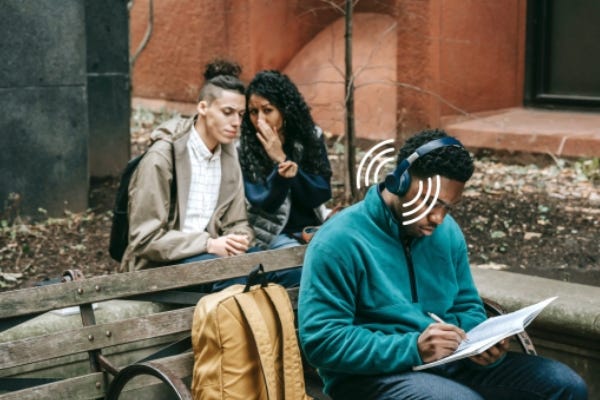 Because the sounding principle of wireless bone conduction headphones is that the vibration unit emits mechanical vibrations, which cause bone vibrations and transmit them to the cochlea. When the sound unit vibrates the bones, it also inevitably vibrates the air, resulting in sound leakage. The sound leakage problem of them is a common phenomenon. Almost all of them have sound leakage problems. It's just that some good wireless bone conduction headphones have been optimized in structure and algorithm, which has greatly improved the problem of sound leakage.
3. It is uncomfortable to wear for a long time
As mentioned above, the bone conduction earphones emit sound through the vibration unit. When you wear it, the vibration unit is close to the temple, and there will inevitably be a little vibration sense. Wearing it for a long time may make the area around the temple uncomfortable. Therefore, it is generally not recommended to wear it continuously for more than 4 hours. It should be noted that listening to music for a long time is not very good for the ears, no matter what headphones you wear.
4. The price is slightly higher
Qualified wireless bone conduction headphones must solve problems such as sound leakage, sound quality, and wearing comfort. A lot of costs will be invested in technology, materials, and manufacturing processes, which also makes the price of them a little more expensive than ordinary earphones. But this year, with the rapid popularity of wireless bone conduction headphones, after a substantial increase in production, prices have also dropped significantly.
The above are some disadvantages of wireless bone conduction headphones, some are common to all headphones, and some are unique to them. Although some shortcomings cannot be concealed,but they are some advantages of them such as less damage to hearing, safer outdoor use, and the ability to keep the ear canal clean and reduce bacterial growth.
All the advantages and disadvantages of wireless bone conduction headphones depend on their working principles.
How do wireless bone conduction headphones work
If you want to understand how do wireless bone conduction headphones work, you must first know what "bone conduction" is. "Bone conduction" is one of the two main ways of sound transmission (the other is air conduction). It transmits sound through the mandibular bone of the human body to the cochlea. And then sound stimulates the auditory hair cells in the cochlea, thereby generating electrical signals that allow us to hear sound. These technical principles may sound obscure, but there are also cases of "bone conduction" sound transmission in life. For example, when eating, we can clearly hear the chewing sound; we still can clearly hear our own voice when covering our ears and speaking. These are "bone conduction" that helps us to hear sound. Take hearing the sound of chewing when eating as an example, during the eating and chewing process, the vibrations caused are transmitted through the bones to the inner ear to get us to hear sound.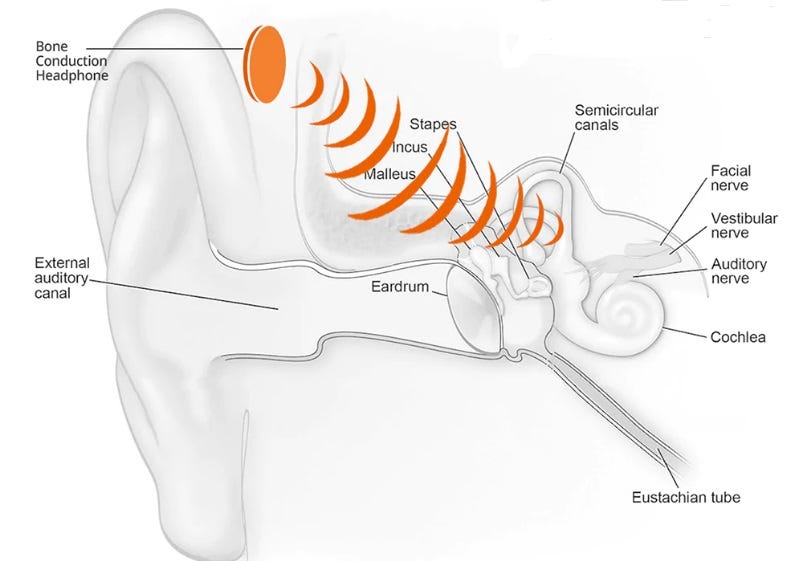 Bone conduction headphones are headphones based on bone conduction technology. The working principle is to use the vibrator on the sound unit to turn the sound signal into mechanical vibration, which causes bone resonance and conducts sound to the inner ear, so as to achieve the result of listening by"bone conduction".
If you are interested in them, please do not hesitate to buy them. They are definitely worth buying.Next, I will recommend some excellent wireless bone conduction headphones.
1.Wissonly Hi Runner wireless bone conduction headphones
Reason for recommendation:
As a veteran electronic product fans, I can responsibly tell you that the Wissonly wireless bone conduction headphones are true bone conduction, which can protect hearing, so they are recommended by many otologists.
At the same time, Wissonly Hi Runner is also very good in terms of sound quality. It uses a 360 surround vibration unit, which can increase the vibration area by 35% compared with traditional wireless bone conduction headphones.They reduces the loss during bone conduction sound transmission, and which makes the sound more powerful.
Wissonly Hi Runner wireless bone conduction headphones are made of memory titanium that can be self-adjusted, which can ensure that the headphones have a good wearing experience and take into account more users.
In terms of functionality, as the flagship model of Wissonly Brand, Wissonly Hi RUNNER supports IPX8 waterproof level which is higher than the industry standard, and it can be worn in diving. It is equipped with 32G body memory, as well as the latest Bluetooth 5.0. Its product performance and experience have been comprehensively improved, truly making wireless bone conduction headphones suitable for more life scenarios.
2. Philips 7607 wireless bone conduction headphones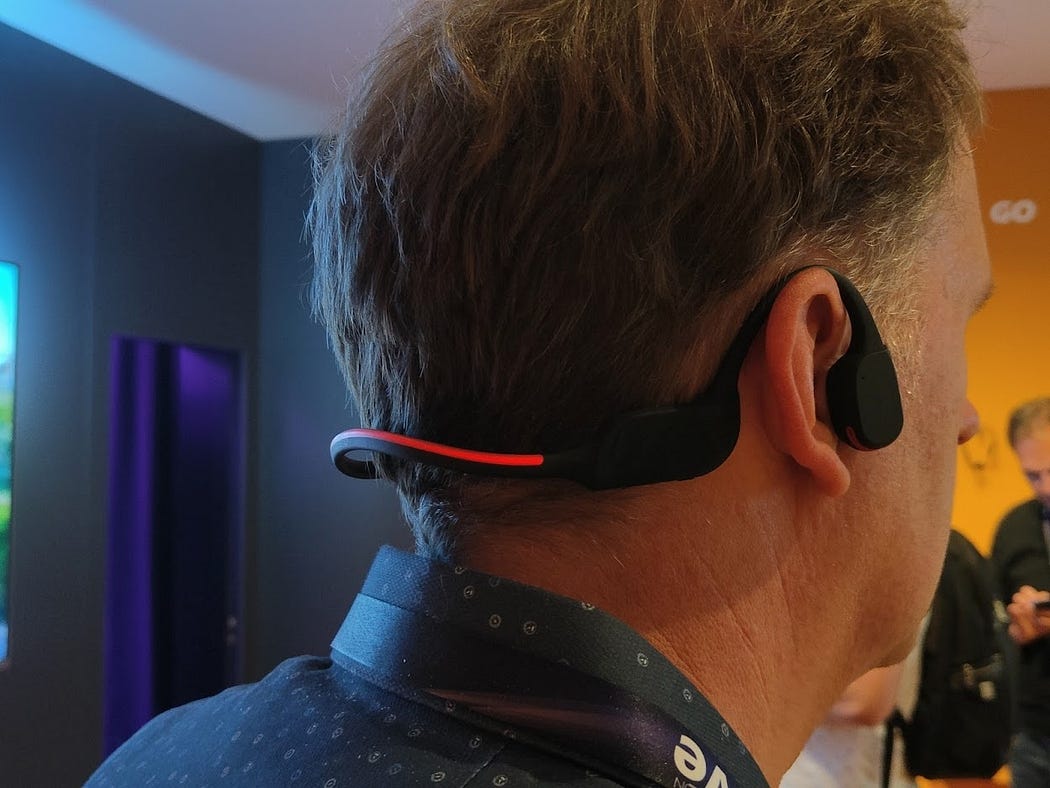 Reason for recommendation:
They use a 17mm large-scale sound unit that makes their low-frequency sound more delicate, and that makes middle and high frequency sound clearer and not harsh. IP67 waterproof performance allows them to have a waterproof and sweatproof function in daily wear, and to be no problem in the face of sudden rain in a short time. When you wear them at night, LED night running lights make passing vehicles perceive your own location, so the safety factor is higher.
3 AfterShokz OPENRUN PRO wireless bone conduction headphones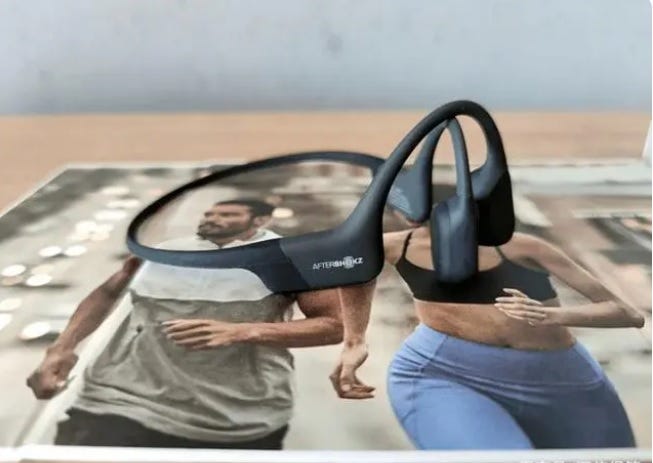 Reason for recommendation:
Openrun Pro wireless bone conduction headphones are a product created by a technical team focusing on bone conduction technology. They have won the favor of many consumers with their characteristics such as bone conduction black technology, all-titanium design. The front end of Openrun Pro is ellipsoidal; The rear hanger has been ergonomically curved to fit the ear better, and the overall comfort of the headphones is very high. In terms of bone conduction, Openrun Pro adopts the newly upgraded PremiumPitch 2.0+ technology to optimize the direction of sound transmission and reduce sound leakage.
4.earsopen PEACE Bone Conduction headphones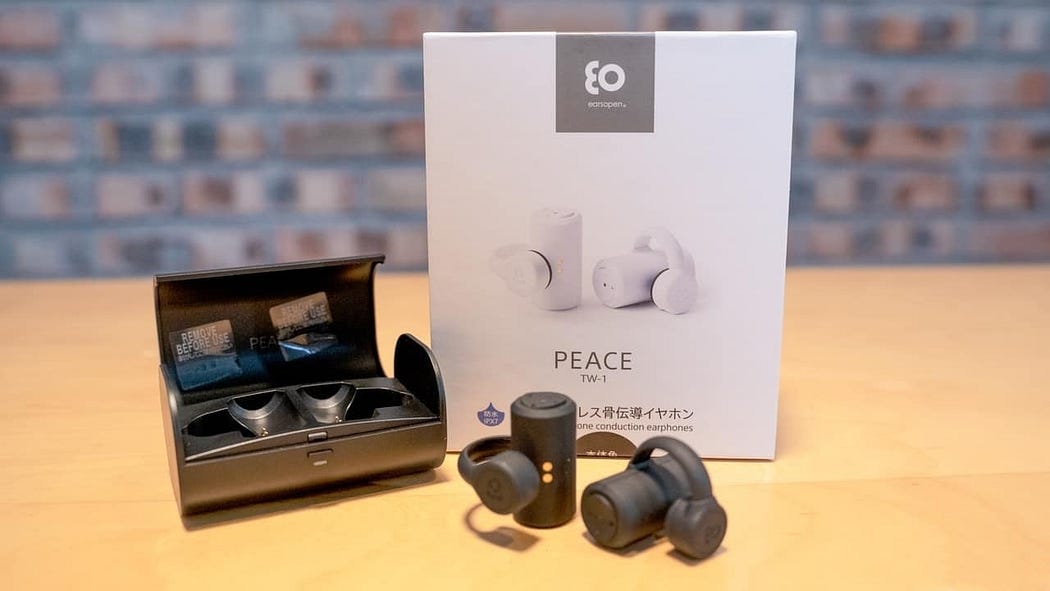 Reason for recommendation:
Earsopen was born in Tokyo, Japan, and is a brand of wireless bone conduction headphones owned by BoCo Co., Ltd. Earsopen PEACE TW-1 is the first Bluetooth headphones with left-right separation among bone conduction products. Because the sounding unit is small and closer to the ear canal, the sound leakage is also very small. The main body of the headphone is T-shaped, and the ear clip is adopted. Comfort is not as high as the first two models, but this way of wearing is really the only one. If you must choose TWS's one, it's good.
5, vidonn F3 wireless bone conduction headphones
Reason for recommendation:
The Vidonn F3 wireless bone conduction headphones weigh only 29g, and there is no discomfort whether you have it hanging neck or hinging ears for a long time. The ear arm of the bone conduction vibrator is on the outside, leaving space for the glasses leg to pass, which solves the embarrassing situation of not being able to wear glasses when wearing headphones.
The charging port of Vidonn F3 wireless bone conduction headphones is the universal standard MICRO-USB interface. It adopts a soft rubber plug to waterproof, but the soft rubber plug is not connected to the body, there will be a risk of loss. The manufacturer gives two spare soft rubber plugs in the box.
This is an entry-level product, and it's hard to expect good performance in terms of sound quality and leak prevention, but it's enough for everyday use.
Each of the above products has its own characteristics. Some are advanced in technology, some are low in price, and some are unique in design. You can choose according to your own needs. I am using Wissonly hi runner myself, and I like it very much.
Comment