What Is Bone Conduction Headphone and How About The Working Principle of Them?
Mar 14,2023 | David
I believe you also have the common experience that when we eat cookies, even if we cover our ears, we can hear the cracking sound of cookies. Or when we scratch our head, we hear the sound of fingers rubbing against our head. This is actually the most common example of bone conduction.The vibration of a cookie or the friction of the head is transmitted through the skull to our inner ear, which helps us to hear sound. This sound transmission method has also been cleverly applied by scientists to bone conduction headphone, and in the past 2 years, they have become the most popular digital product.
So, what is bone conduction headphone?
Bone conduction headphone is headphones that worn differently from traditional headphones. And their don't need to tuck earbuds into ears like that common headphones to help sound transmit to the eardrum through the air in the ear canal. They are generally hung on the pinna, so that the sound unit is placed against the temple. And the mechanical vibration signal of the sound unit is transmitted to the auditory nerve of the inner ear through the skull, and finally the sound is heard.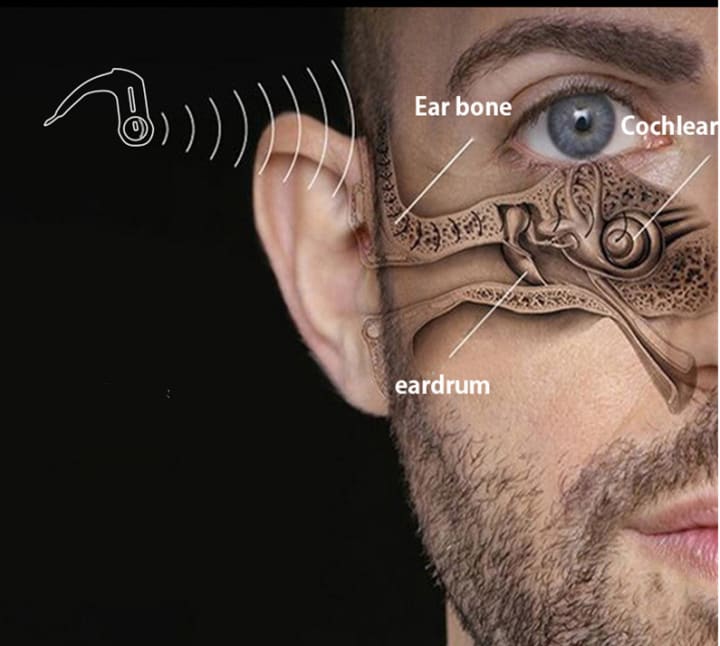 bone conduction headphone are actually a new application of mature technology. Because of its high technical maturity, its performance is very stable, and its reliability has been widely recognized. This is also the reason why bone conduction headphone can become popular so quickly and are recommended by many professionals.
The working principle of bone conduction headphone
Bone conduction is actually a very mature technology. The famous pianist Beethoven used bone conduction technology to compose music as early as the eighteenth century. He was deaf in both ears and could not hear music with his ears, which was a fatal blow to his music composition. Later, perhaps it was God's will, he found a magical method, that is, biting a stick connected to the piano while playing, so as to hear the music from the jawbone, which is the principle of bone conduction. Generally speaking, the principle of bone conduction is that sound waves transmit the sound to the inner ear through the vibration of the head bones such as the skull and jaw, and finally allow the wearer to hear the sound.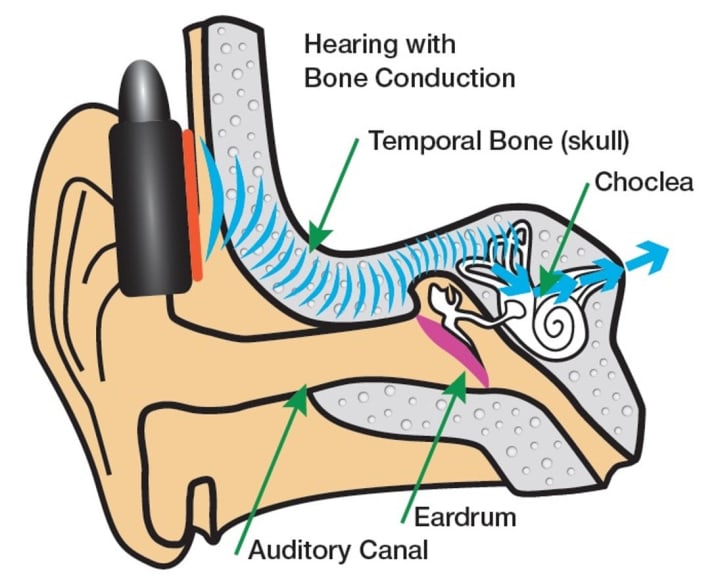 bone conduction headphone are a new type of headphones made with bone conduction technology. Compared with common headphones, they do not need to be worn in the ear. Their main principle is to convert sound into mechanical vibrations of different frequencies, and transmit them through the human skull->bone labyrinth->inner ear lymph fluid->spiral organ->auditory center. Compared with traditional headphones, the sound transmission path of them is shorter, and it no longer needs to transmit sound through air and eardrum vibration, but directly transmits sound to the inner ear through bone vibration. This also makes bone conduction headphone one of the healthiest headphones, and they have become popular this year.
What are the disadvantages of bone conduction headphone?
While bone conduction headphone are popular, they're not perfect. They also have some disadvantages, summed up in three:
Disadvantage 1 : sound quality
Because of the design characteristics of bone conduction headphone, their anti-interference effect is not ideal when wearing them for shopping, subway, car and other noisy environments. And the sound quality is not as good as traditional headphones, because they transmit sound through the skin, skull and then to the ear ossicles, so the degree of music reproduction is not as good as traditional in-ear headphones.
Disadvantage 2 : sound leakage
The sound is transmitted through the vibration of the vibrator, so part of the sound is also transmitted through the vibration of the air, and sound leakage cannot be completely avoided. It's just that some headphones invest more research and design in reducing sound leakage, and solve most of the sound leakage problems. For example, the Wissonly Hi runner bone conduction headphone I own are excellent representatives among them.
Disadvantage 3 the price is slightly higher
The technology of bone conduction headphone is more complicated than that of traditional headphones, the materials are better than traditional headphones, and the manufacturing process is more complicated, which ultimately makes the price of them a little higher. But this year, with the rapid popularity of them, their prices have dropped significantly after the production has increased significantly.
Although bone conduction headphone have the above disadvantages, compared with these disadvantages, they have more prominent advantages, such as being safer, healthier, more hygienic, and more comfortable to wear. These advantages make it popular among young people.
If you are interested in them, please do not hesitate to buy them. They are definitely worth buying.Next, I will recommend some excellent bone conduction headphone.
1.Wissonly Hi Runner bone conduction headphone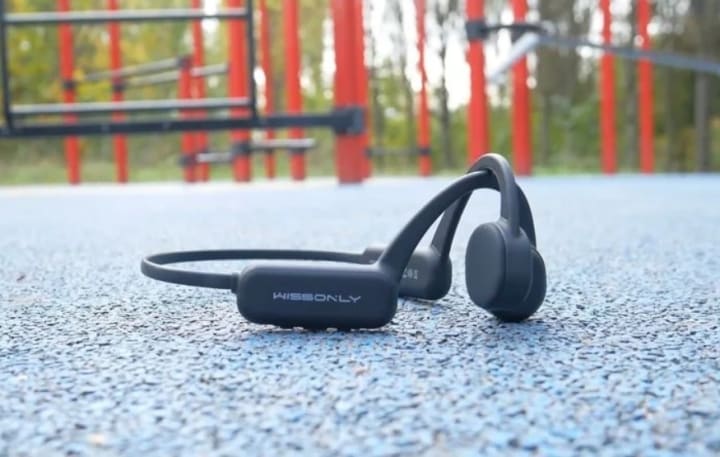 Reason for recommendation:
As a veteran electronic product fans, I can responsibly tell you that the Wissonly bone conduction headphone are true bone conduction, which can protect hearing, so they are recommended by many otologists.
At the same time, Wissonly Hi Runner is also very good in terms of sound quality. It uses a 360 surround vibration unit, which can increase the vibration area by 35% compared with traditional bone conduction headphone.They reduces the loss during bone conduction sound transmission, and which makes the sound more powerful.
Wissonly Hi Runner bone conduction headphone are made of memory titanium that can be self-adjusted, which can ensure that the headphones have a good wearing experience and take into account more users.
In terms of functionality, as the flagship model of Wissonly Brand, Wissonly Hi RUNNER supports IPX8 waterproof level which is higher than the industry standard, and it can be worn in diving. It is equipped with 32G body memory, as well as the latest Bluetooth 5.0. Its product performance and experience have been comprehensively improved, truly making bone conduction headphone suitable for more life scenarios.
2.Philips 7607 bone conduction headphone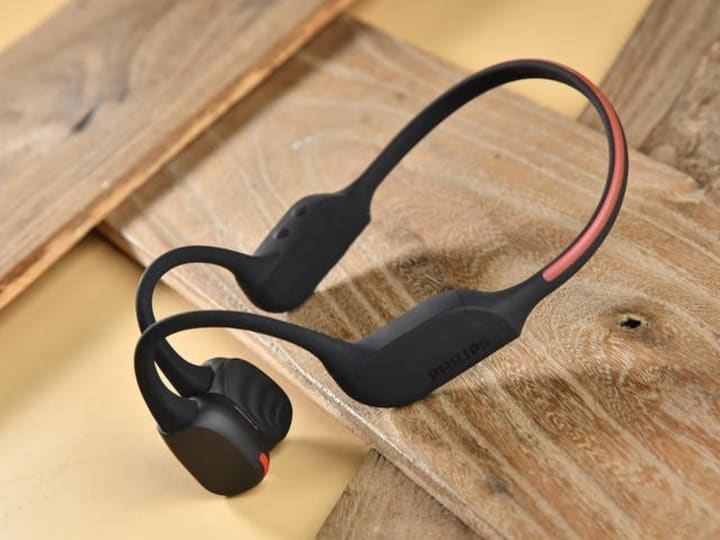 Recommended reason
Its sounding unit adopt a large-size vibrator of 17mm, which makes it have the effect of high, medium and low triple-frequency balance in sound quality performance. The low-frequency dive is sufficient, the medium and high frequencies are clear and not harsh, but there will be some missing sounds. It is also equipped with an intimate LED night run lamp at the rear end of the body, which can turn on the LED by turning on the key three times in a row. It also has three modes, which is suitable for wearing at night, so that people around it can perceive their own position and ensure their own safety factor to a certain extent.Its IPX6 waterproof rating is not afraid of sweat in daily wear.
3.AfterShokz OpenSwim bone conduction headphone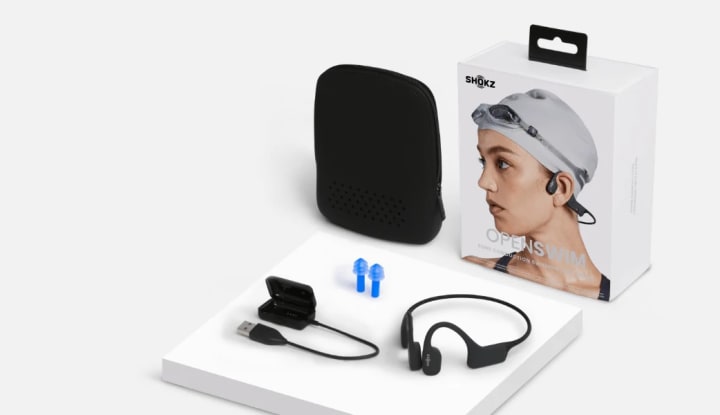 Recommended reason:
This OpenSwim bone conduction headphone, the whole body is made of titanium alloy, which is tough, durable, and can be firmly worn to fit the ears. The whole body has an integrated design, no opening design, and the waterproof performance of the body reaches IP68 grade, so it is suitable for swimming. Its sound source part adopts a long strip structure design, so that the loudspeaker has a larger surface area and higher sound transmission efficiency. With its own 4G memory, it can store thousands of songs, and its battery life can last up to 8 hours, which can meet the daily exercise demand. However, this headphone does not support Bluetooth and calling functions.
4.earsopen SS900 bone conduction headphone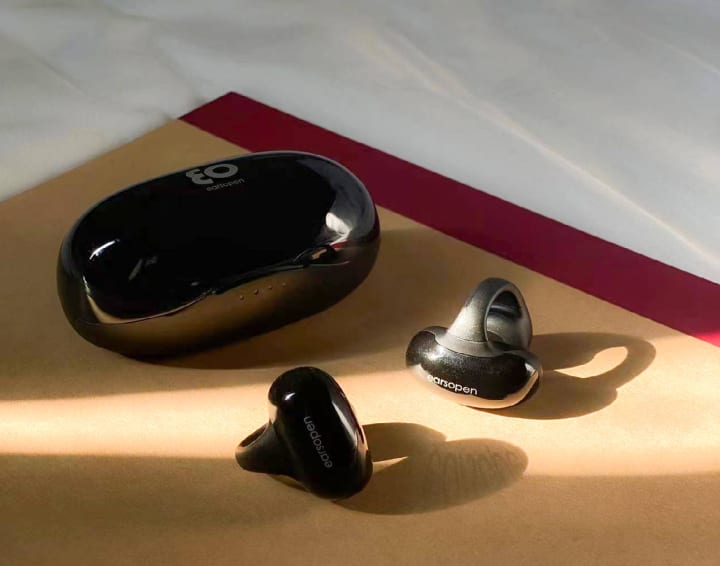 Reason for recommendation:
The fuselage is equipped with BoCo's bone conduction vibrator technology, with AVV's precise vertical vibration transmission technology. It has good lower potential and a wide sound range in low-frequency performance. The Bluetooth version of 5.2 helps it to maintain the stability of the connection within 10m. The weight of the body is 8g,it is light when clipping to the ear, but the wear method of the ear clip is not suitable for long-term wear.
5.vidonn F3 bone conduction headphone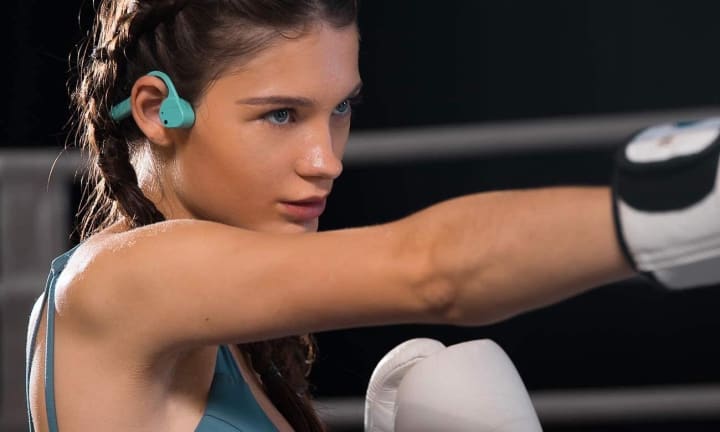 Recommended reason:
Vidonn F3 bone conduction headphone weigh only 29g and are very comfortable to wear. All aspects of performance are good. For entry-level headphones, its sound quality is acceptable for daily use. After all, it is difficult for you to ask an entry-level bone conduction headphone to have too good sound quality. It is worth mentioning that its exterior design is sporty and fashionable in color, which is very suitable for young people.
Consider three key points of sound quality, sound leakage reduction and comfort,wissonly and Aftershokz are the best of the above five bone conduction headphones. If product parameters and cost performance are considered, Wissonly performs better.
Comment