What Are Bluetooth Bone Conduction Headsets and Best Bone Conduction Headset in 2023
Feb 11,2023 | David
Bluetooth bone conduction headsets are becoming popular among sports fans. We always see people wearing headphones that don't have to be tucked into their ears when they are running, riding, or working out. They looks cool, so what exactly are bone conduction headsets? In addition to their cool appearance, what are their other characteristics?
What are Bluetooth bone conduction headsets?
As the name suggests bone conduction headphones are headphones that use bones to conduct sound. They actually use the principle of sound transmission in solids, and directly transmit sound to the auditory nerves through the skull to achieve sound transmission and perception. Compared with traditional headphones, due to the different transmission paths, they do not need the earbud part of traditional headphones, or even do not need to touch the ears at all. They ensure that the ear canal hygiene will not be affected, so they are healthier and more hygienic.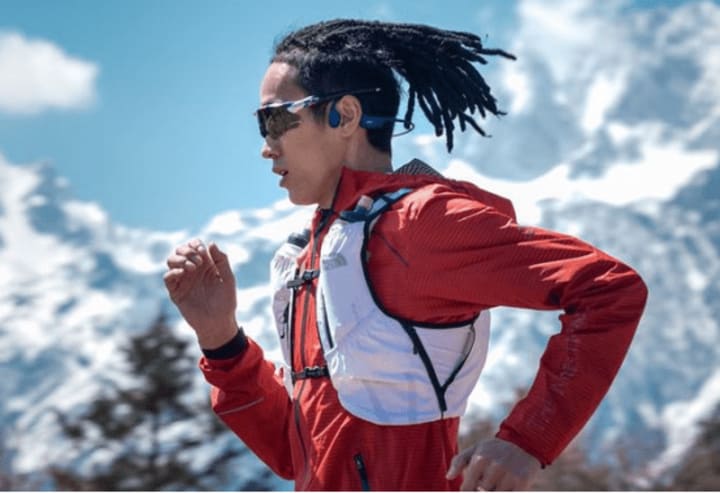 From the appearance design,Bluetooth bone conduction headsets are non-in-ear headphones. They mainly have three designs: hanging-ear type, clip-on type, headband type. The hanging-ear bone conduction headphones are to hang on the auricle, and the vibration unit is put close to the temple to transmit sound by the skull; Clip-on types are clamped on the ears, and the vibration unit is placed close to the auricle, and the sound is transmitted by the bones on the auricle. A headband type is used to tie the vibrating unit to the head to transmit sound through the skull. Among the three designs, hanging-ear type are the mainstream.
Bluetooth bone conduction headsets are a new application of old technology. Bone conduction technology is very mature and safety is very good, so you can use them with confidence.
How do Bluetooth bone conduction headsets work?
First of all, let us understand the working principle of bone conduction technology. Bone conduction is a method of sound conduction, that is, by converting sound into mechanical vibrations of different frequencies. It transmits the sound to the cochlea through the human skull, bony labyrinth, and inner ear lymph fluid. After the auditory signal is sensed by the spiral organ in the cochlea, the auditory signal is converted into a nerve impulse. The auditory nerve continues to transmit the nerve impulse to the auditory center, and finally to the auditory cortex, where sound is perceived.Compared with the classic sound conduction method of generating sound waves through the diaphragm, bone conduction saves many steps of sound wave transmission, and can achieve clear sound reproduction in a noisy environment, and the sound waves will not affect others due to diffusion in the air.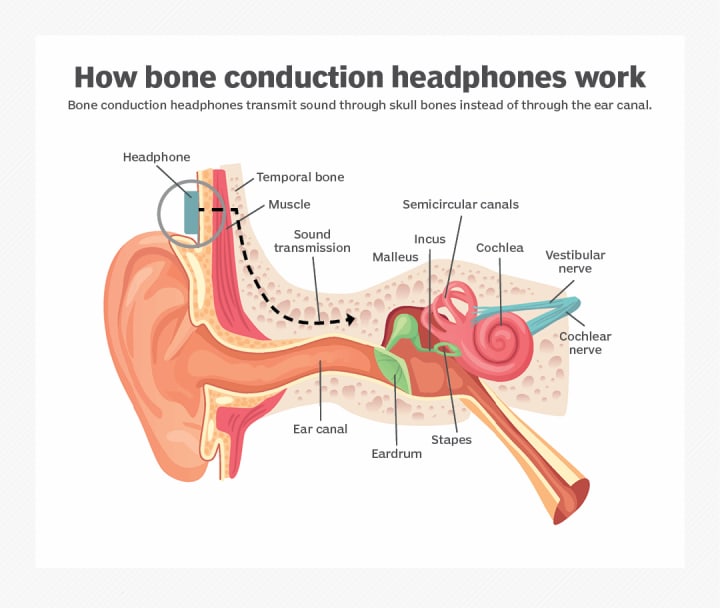 Bone conduction technology is a mature technology, and its practicability and safety have long been verified. As early as the 18th century, Beethoven, who was deaf in both ears, could continue to create music by biting a wooden stick connected to the piano and hearing the sound of the piano. This is probably the earliest example of the application of bone conduction.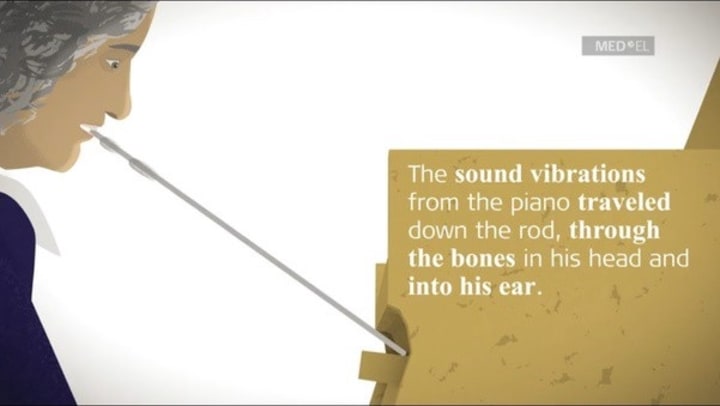 Bluetooth bone conduction headsets are a new type of earphones based on bone conduction technology. You only need to put the sound unit close to your ears to hear music. Because of this, they do not need to be plugged into or wrapped around the ear, so they will not cover the ear canal, making the ear canal more hygienic and the eardrum healthier.
While Bluetooth bone conduction headsets are popular, they're not perfect. They also have some disadvantages, summed up in three:
Disadvantage 1 : sound quality
Disadvantage 2 : sound leakage
Disadvantage 3 the price is slightly higher
Although Bluetooth bone conduction headsets have the above disadvantages, compared with these disadvantages, they have more prominent advantages, such as being safer, healthier, more hygienic, and more comfortable to wear. These advantages make it popular among young people.
In general, Bluetooth bone conduction headset has obvious advantages, their disadvantages have been gradually improved. It is a headphones worth buying.Next, I will recommend some excellent headphones.
Best Bone Conduction Headset in 2023
1. wissonly Hi Runner Bluetooth bone conduction headsets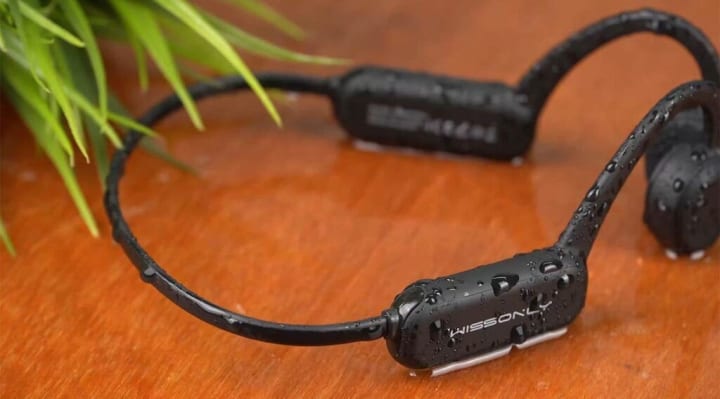 Recommended reason:
Wissonly bone conduction headsets are recognized by the market with its leading bone conduction vibrator technology. Their team has accumulated more than 10 years in the field of bone conduction technology, which has been affirmed in terms of product quality and hearing protection effect.
Wissonly Hi Runner uses a large-size bone conduction vibrator, which increases the vibration area by 35%. When you wear it, the diffusion direction of sound quality will be more comprehensive, the coverage will be wider, and the sound will be more stereo. Its sound will be deeper in low frequency and more transparent in high frequency. They have also made a lot of efforts in the technology of sound leakage reduction, including the built-in reverse sound wave system and the all-closed-body design, thus reducing the sound leakage by 90%.
It is comfort: Wissonly Hi Runner's whole body is made of high-tech and low-sensitivity silicone, which contains no chemical components to avoid allergy. The overall touch is as silky as baby's skin, which can avoid uncomfortable situations when worn for a long time.
Wissonly Hi Runner Bluetooth bone conduction headsets are also equipped with a new Bluetooth 5.0 chip, which has stronger anti-interference ability, and can easily cope with various outdoor complex scenes, so as to ensure that the good mood during exercise will not be disturbed by disconnection. The stable connection also brings ultra-low delay performance. Listening to songs, chasing dramas and playing games meet all the daily demands for headphones.
2. Philips A8606 Bluetooth bone conduction headsets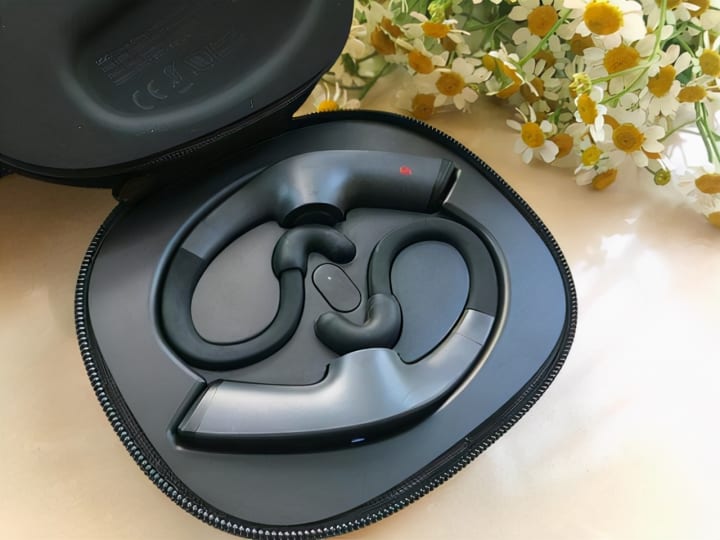 Recommended reason:
A8606 headphones are made of titanium alloy skeleton, wrapped with skin-friendly silicone material, which can not only keep the shape stable, but also cause no pressure on ears. The body fits auricle tightly, so it is easy to wear and can be used for a long time. This headphones adopts IPX5 waterproof design, so there will be no problem in drenching and sweating. The disadvantage is that the sound quality needs to be improved, and the sound leakage is also serious."
3.AfterShokz OpenSwim Bluetooth bone conduction headsets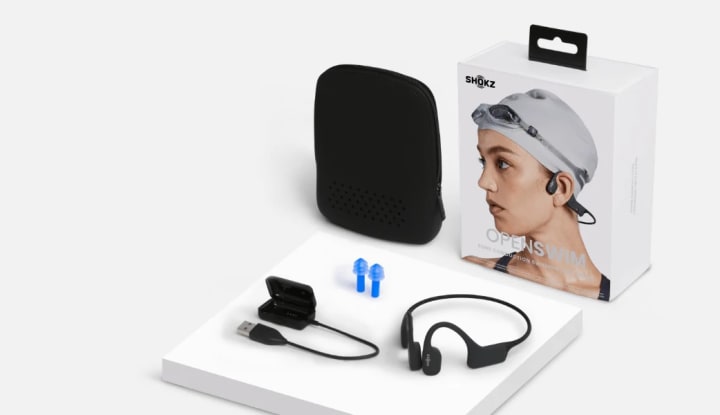 Recommended reason:
This OpenSwim bone conduction headphones, the whole body is made of titanium alloy, which is tough, durable, and can be firmly worn to fit the ears. The whole body has an integrated design, no opening design, and the waterproof performance of the body reaches IP68 grade, so it is suitable for swimming. Its sound source part adopts a long strip structure design, so that the loudspeaker has a larger surface area and higher sound transmission efficiency. With its own 4G memory, it can store thousands of songs, and its battery life can last up to 8 hours, which can meet the daily exercise demand. However, this headphone does not support Bluetooth and calling functions.
4.Earsopen peace tw-1 Bluetooth bone conduction headsets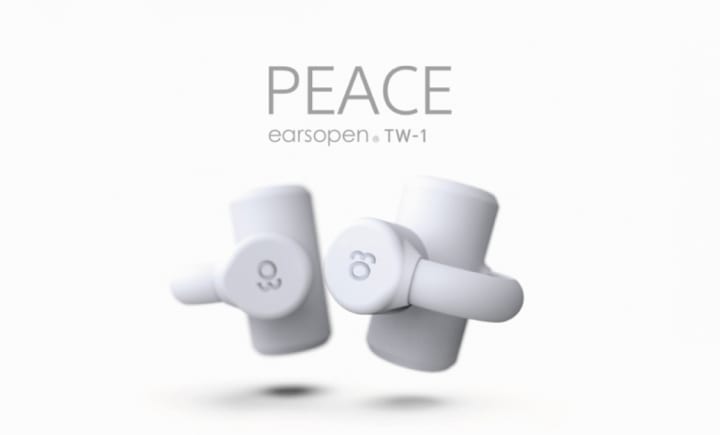 Recommended reason:
The wearing style of Peace TW-1 bone conduction headphones is very unique. It adopts a clip-on wearing method, has a certain stability in wearing, even if in strenuous exercise it can be stably clamped on the auricle. The weight of the body is 9g, during the wearing process, it will not feel heavy. IP67 waterproof rating helps it to be worn outdoors in rainy days easily, and daily sweating is not a problem at all to it, but it can not be used in swimming.
The disadvantage is that its clip-on wearing method may cause discomfort after wearing it for a long time.
5 Nank Runner CC3 Bluetooth bone conduction headsets
Recommended reason:
Runner CC3 are equipped with the latest Bluetooth 5.3 chip. They can achieve stable connection during exercise, and even when you are running in the mountains with poor signal, there will be no disconnection with them.
They are also equipped with MP3 mode with 4G built-in memory, which helps you to enjoy music when the phone is not with you. The Runner CC3 weight 28g, and is compact and very comfortable to wear.
Among the several Bluetooth bone conduction headsets recommended above, my favorites are Wissonly and Philips. Philips is a famous brand. The quality of its products is good, but the cost performance is poor. Wissonly is a fast-growing brand created by senior engineers. Their team has more than 10 years of technology accumulation in this field,their products are well configured and cost-effective.
Comment