Sports Earbuds:LG tone free tf8 review
Nov 15,2023 | David
LG's Tone Free Fit Sports Earbuds, also known as the TF8, join the Tone Free T90 as the latest entries in the company's noise-cancelling true wireless earphone lineup. They deliver strong audio, are surprisingly customizable via a companion app, and offer decent active noise cancellation (ANC). Notably, they eschew all the gimmicky spatial audio features of the pricier T90 in favor of a fully waterproof design, which is suitable for sports.This review article aim to explore and analyze "how does it feel to be used in sports" through the reviews of users from Amazon.
Basic information of LG tone free tf8 earbuds:
Package Dimensions:8.43 x 4.69 x 3.82 inches
Item Weight:5.7 ounces
ASIN:B0B72HHWTZ
Item model number:TONE-TF8Q.AUSACBI
Batteries:2 Lithium Ion batteries required. (included)
Connectivity technologies:Wireless, Bluetooth
Special features:Sound by Meridian Technology, 30hrs Battery Life & Fast Charging, IP67 Water & Sweat Resistant
Other display features:Wireless
Form Factor:In Ear
Whats in the box:Cable, User Manual, Headset, Charging Case, Eartip
Manufacturer:LG
LG tone free tf8 earbuds review from users:
Product name:LG TF8 Price: $139.99
Rating: 3.9 Where to buy: Amazon or official website.
User review 1:
User:Eubs Nation:United States
"Sports earbuds have been a bit of an addiction for me, and I have gone through a wide variety of them over the past couple of years. But I think I have finally settled on the ones that do everything I need. They excel in most categories and with the app they can configured to match my usage.
Pros:
Fit comfortably and securely with the right fins
Ambient mode — two modes both work well (Other than wind, see later)
Water Resistant
Sound is good and customizable
App control is very flexible
Plug & Wireless is an excellent feature for multiple computers.
Battery Life is very good for small buds
MultiPoint connection and management through the app
Cons:
Wind noise with ambient (turning off passthrough is the only way I found to use them in windy areas)
Can only use Ambient/Transparency mode with both buds in, not single. (Any chance this will be updated
with firmware? I have had to use a different brand at work because of this)
No wireless charging
Touch controls are a bit too sensitive. (Disabled single tap in the app and seems to work OK now.)"
User review 2:
User:Sterling vann Nation:United States
"Sports type, but not comfortable.10 hours on a pair of earbuds and they have pretty good call quality. What's not to like? Really just the fit. These seem to work for the sport, but they hurt your ears. I tried eating with these.(They fell out of my ear about 2 minutes in.) I tried to shower with these.( They almost fell out of my ear.) These don't seem like the kind of earbud you can just have stay in your ear. I would recommend getting some other earbud over these."
User review 3:
User:Dee Da Nation:United States
"I had a little problem with these at first until I downloaded the app on my phone. I definitely like the long life of the battery because I've had so much experience with ear buds that only lasted a short time. There are three different widths for your ear canal as well as three different covers so you can adjust these to fit your own ears. I didn't have total noise cancellation, however, but it does help drown out some sound. The sound itself is pretty good."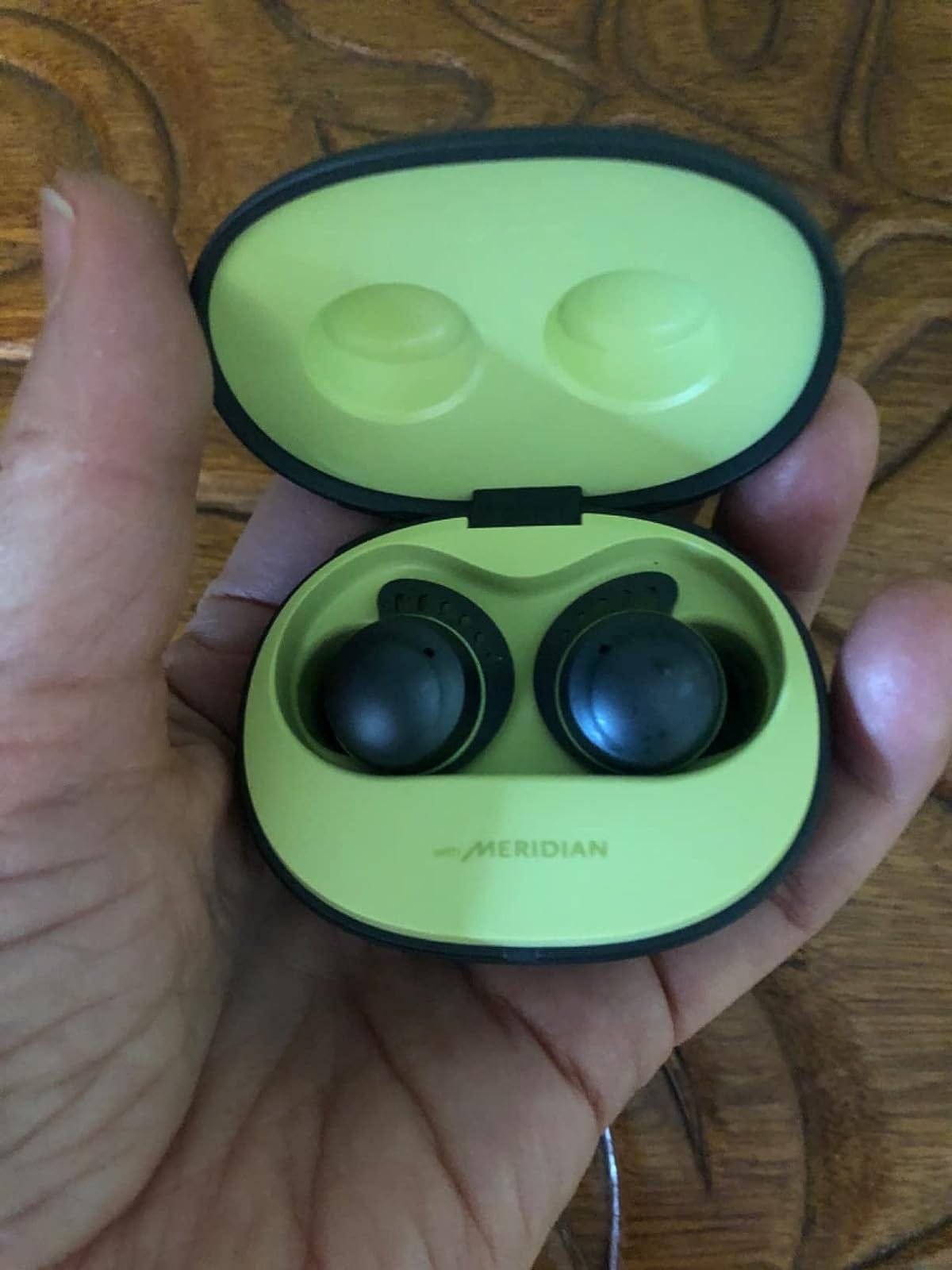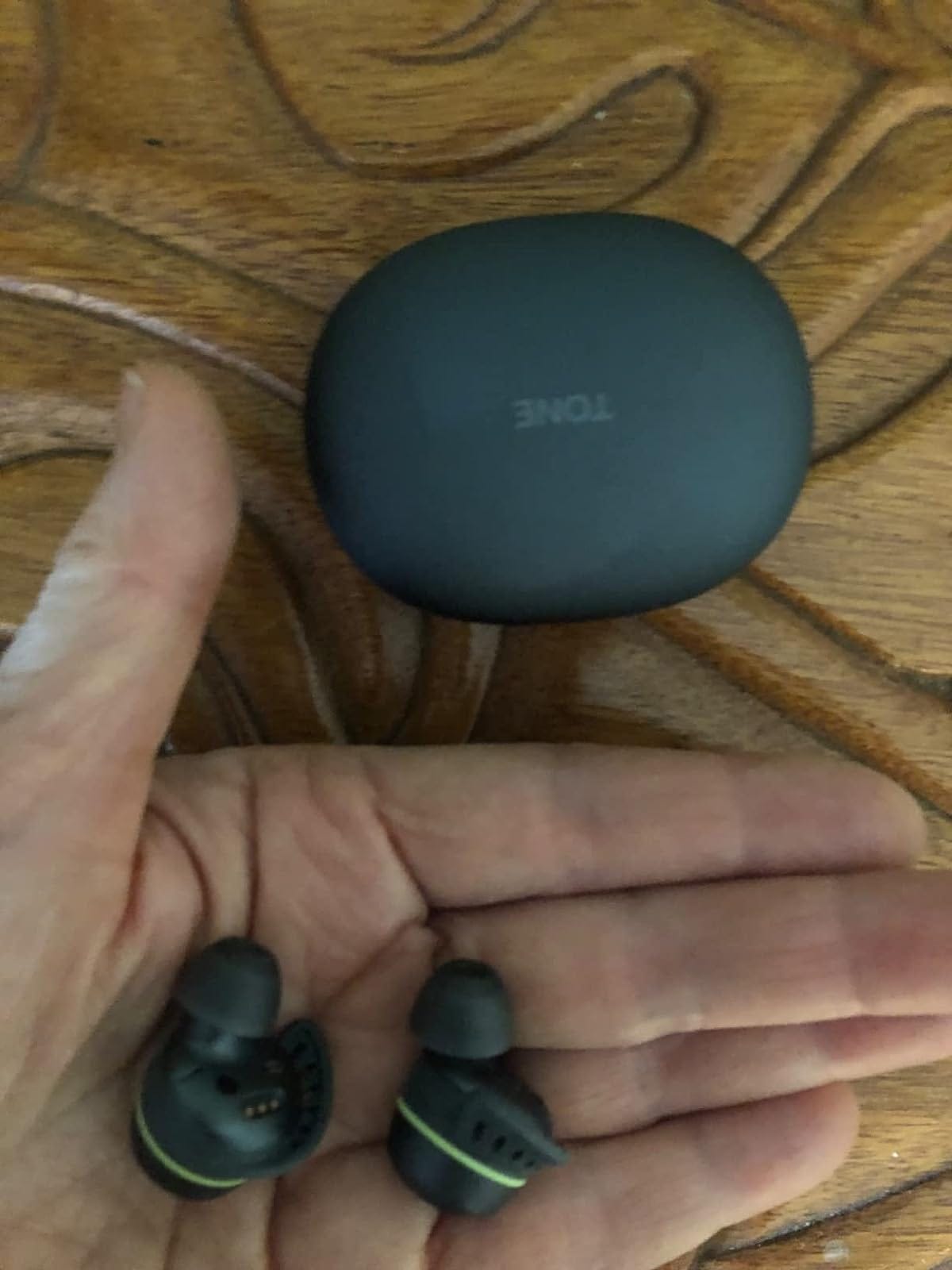 User review 4:
User:A. J. Nation:United States
"Amazing Earbuds for Sports.If you are looking for earbuds that are secure to run or going to the gym and bench this are it. With the fins the fit it's more secure than my older Jabras 75t Active elite. Battery life will last a while day of office work.
The app is not as complete as the Jabra but will let you have a very good chance of customization."
User review 5:
User:Richard A Ramírez Nation:United States
"I bought it two months ago. The connection with my phone get lost while im using it in sports. Also my laptop can't connect. The sound is good. Application is also good. Fit was something that i need it to do it because did not stay in place. I recomend it? No is my answer."
User review 6:
User:Mike S. Nation:United States
"Sound for music not great. Not the reason I bought. Can connect to both my phones and answer or call from either phone. Also for the wings which keep them in my ears. No falling out. Calls are clear on both ends."
User review 7:
User:JKinSYR Nation:United States
"The Tone Free TF8 are great for workout. In my case I have been using them for various exercises in which I am jumping, moving aggressively, and sweating profusely. These earbuds have been doing the job they're meant to do. Staying in place and not falling out. These earbuds offer multiple fit accessories for the inner ear and also the wing component to hook into your ear cartilage. My main reason for this set of earbuds is for running outdoors and they feel comfortable enough to remain in place without having to adjust them over and over. They are truly made to move and LG SwivelGrip helps to hold them in place."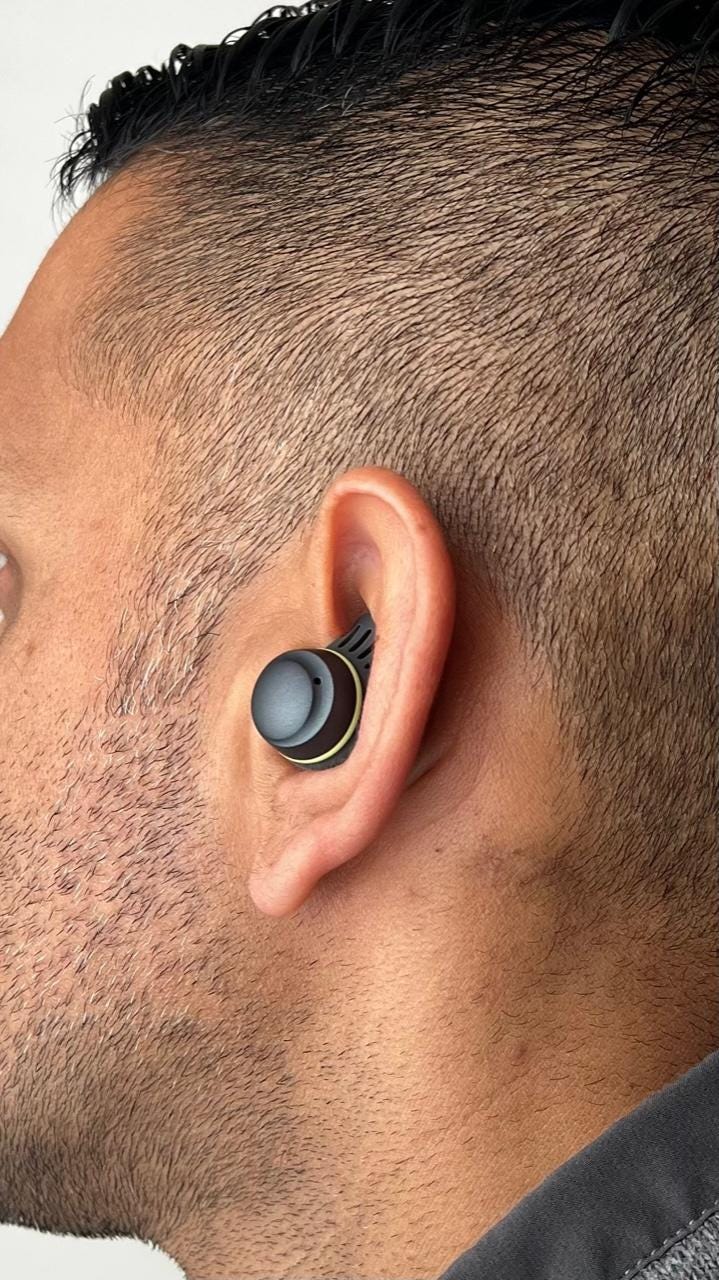 User review 8:
User:Secret Juice Nation:United States
"Initially, the earbuds performed well when use in sport, but after a few weeks, the left earbud began malfunctioning. Researching online, I found others with similar problems. Based on my experience, I suggest avoiding this particular model. I've purchased more dependable earbuds at just a affordable price."
User review 9:
User:Harry Auger Nation:United States
"A great sports earbuds!These earbuds are very comfortable. Most importantly, they stay fixed in my ear canal, thanks to the fin design on the rubber ear tips. Controls are easy to access from the phone app, and the sound quality is customizable. Battery life is very good, and the earbuds recharge quickly when plugged into a USB-C cable."
User review 10:
User:Bean Nation:United States
"Even with noise canceling off they make a quiet sound like wind passing by your ear and it's really annoying, they are also really uncomfortable to wear for even small amounts of time even with all the different ear caps they didn't sit well in my ears at all"
Regarding the positive and critical reviews of the above ten users on the LG tone free tf8 sports earbuds, we can know that most of users are positive about this earbuds, but it also has some issues. For example, its wearing type is in-ear, which is not suitable for most people's ears. Earbuds are easy to fall off and cause discomfort to the ears when used in sport. Therefore, if people who love sport and want to have a practical headphone, we would recommend bone conduction headsets more, and Wissonly Hi Runner is a good recommendation!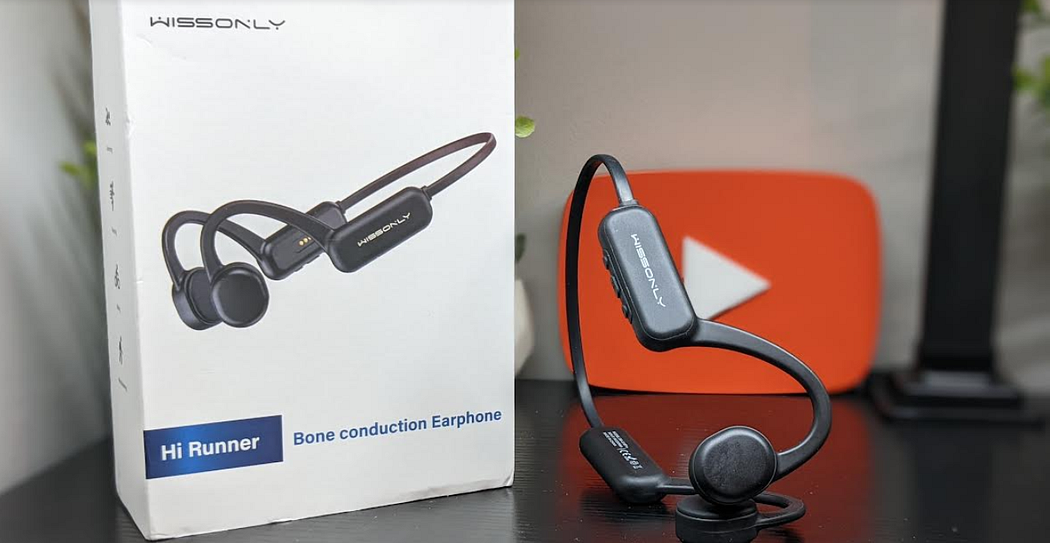 Wissonly's team has been researching headphone products that don't hurt the ear as early as 10 years ago and introduced bone conduction technology into the field of headphones. Their products have powerful performance, high-cost performance, and are very strong in core performances such as sound quality, sound leakage reduction, and waterproof level.
Hi Runner sports bone conduction headphones are open-eared and worn directly on the temples, so your ear canal is completely open, which makes it easy for you to hear the sound of cars and traffic lights outdoors in sports scenes such as running and walking, making you safer to use.
In terms of fit and comfort, the whole frame of Wissonly Hi Runner is made of adjustable aviation grade titanium steel, which can adapt to different sizes of head circumference and ensure the stability of wearing. Its earphone surface is made of high-tech low-sensitivity silicone material, which contains no chemical components to avoid allergic phenomena. The overall touch of the earphone is as silky as baby's skin, avoiding uncomfortable situations when worn for a long time. Moreover, its weight is very light, less than 30g, and it will not feel heavy when worn. After wearing it, I took it off at the end of the run. This Hi Runner didn't let me have any extra adjustment. As the flagship model of outdoor sports of Wissonly brand, it is the most comfortable and cost-effective one among all bone conduction at present.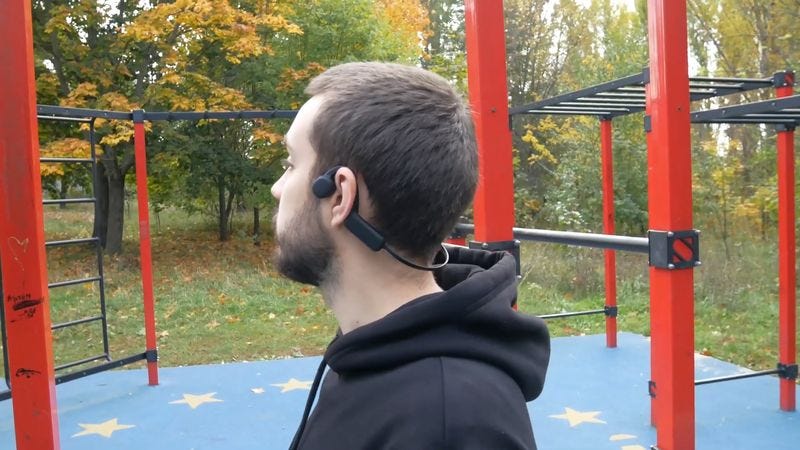 When you sweat a lot when running or doing other sports, or when it suddenly rains when you run or exercise outdoors, then the waterproof performance of sports headphones is very important.As the flagship model of Wissonly,the waterproof grade of Wissonly Hi Runner Sports Bone Conductivity Headphone reaches IPX8 waterproof grade higher than the industry standard. It allows the wearer to work normally when swimming or diving, not to mention sweat prevention or ordinary waterproof.
It is also equipped with 32G body memory, which can store 5,000 songs, and supports Bluetooth and MP3 working modes. You can use it as a Bluetooth MP3 player for underwater sports or scenes without a mobile phone.
Hi Runner is the flagship product of Wissonly, and its overall function is also the most perfect. In terms of sound quality, this bone conduction earphone uses the latest research results of wissonly laboratory, which increases the vibration area of the vibrator by 35%. At the same time, it also optimizes the sound transmission direction to make the sound more concentrated and the music more spatial, and it has a good performance in both high and low notes.
Wissonly has made a lot of efforts to reduce its sound leakage. Its all-wrapped design reduces the vibration of the shell, and through structural optimization, the sound waves of the sound leakage are cancelled, thus avoiding 90% of the sound leakage. Wissonly Hi Runner's sound leakage performance is much better than that of the same gear bone conduction headphones on the market.
In terms of price, it only costs $99.99, which is very cost-effective!
Comment