Shokz Openrun Pro Bone conduction headphone review
Oct 14,2023 | David
When it comes to bone conduction headphones, you have to say Shokz. Shokz is one of the global technical leaders in the field of bone conduction, and its product OpenRun Pro is also deeply loved by many people. I believe everyone has read many related review articles, and today I will take you to analyze Shokz OpenRun Pro from a brand-new perspective of users' real use review.
Basic information of Shokz OpenRun Pro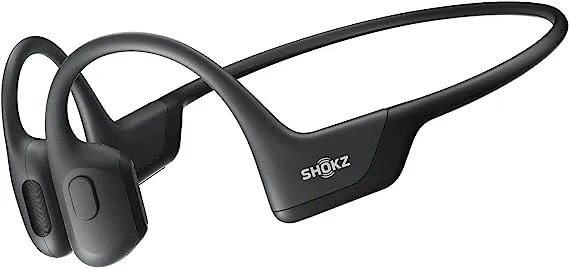 Product Dimensions:9.45 x 27.17 x 0.98 inches
Item Weight:1.02 ounces
ASIN:B09BVXT8TJ
Item model number:S810
Batteries:1 Lithium Polymer batteries required.(included)
Is Discontinued By Manufacturer:No
Date First Available:September 1, 2021
Manufacturer:shokz limited corporation
Charging Time:1 Hours
Item Weight:29 Grams
Units:1 Count
Number Of ltems:1
Shokz Openrun Pro bone conduction headphone review from users:

Product name: Shokz Openrun Pro Price: $179.95
Rating: 4.6 Where to buy: Amazon or official website.
User review 1:
User:Michael Nation:United States
"I recently completed a Ragnar relay race and saw a lot of runners with this type of headphones. After doing some research, I ended up offering these.
I was skeptical if these would work well with glasses and I was pleasantly surprised! Very comfortable even after wearing for several hours.
The sound quality is superb and I feel much safer running and biking with/near city traffic as my noise canceling ear buds caused me to be in my own little world.
They last 10 hours and charge very fast which is a plus.
I would highly recommend."
User review 2:
User: Bee Farm Nation:United States
" These are amazing headphones. Love the ability to hear the content played and can still hear outside noises if required. They hold tight when working / running, provide great sound and easily connect to bluetooth. They also charge very quickly. When working with loud equipment, I can still put ear plugs in and the sound is actually louder. My only complaint is that I should have bought them sooner. Thoroughly enjoy!"
User review 3:
User:Tim Rogentine Nation:United States
"I had a pair of Trex Air Aftershokz for over 5 years. Replaced them and about 6 months later, my dog chewed them up. Unable to find another pair, I bought these as the replacement. Battery life is just a bit shorter but not that bad. The sound is good but it skips the beginning of my message…example in google maps it should say " In a quarter mile, turn left." But what I hear is " er mile, turn left." Missing the important part of the message. My trex air, I could double tap the button to redial a phone number. This model does not allow that."
User review 4:
User:Aster A. Nation:United States
"Measured the way they said. I am 10.5 very tight on head and no gap between band n back of head. Still made contact but any movement would move the pads back over my ear canals. When i was still n sitting properly on my head, sound is great and pads made full contact still too. Didn't worry about itchy ear canals from buds either. Charger sucks though wish it was standard USB C so if you misplace special magnetic charger then your out of luck in charging it. Wish they had a size for bigger heads."
User review 5:
User:Mike Nation:United States
" I liked the first generation of this product and had it for a long time. Issue is with the half circle springy design, the headphones would clack together violently every so often. Eventually they rattled more and more until they died. I loved the bone induction design and bought these pros. So far so good until for no reason after a few weeks, they just suddenly turn themselves off while in use. I'm not talking about device-switching or bluetooth disconnecting, they turn completely off. I could be watching a movie with them and suddenly they buzz and are silent. I power them on and the voice says 'Battery High' and re-engages the audio connection. It happens for no reason at random times. To attempt to fix it, I turn off the other device it's paired to and it still does it. So now hopefully I can get a refund — Sorry to say, I don't think they have the technology down."
User review 6:
User:Derek. Nation:United States
"If you are a cyclist these are the only bone conduction headphones you should look at. They don't block your ears so you can still safely hear everything around you while providing excellent sound while riding. The battery lasts 8 or more hours of listening time and they can sit on standby for almost twice that time. I forget I have them on most of the time because they aren't stuck in your ears but sit just in front of them and conduct the sound through bone instead of the rest canal. Sounds weird but works really well and is much more comfortable and way safer than ears pods."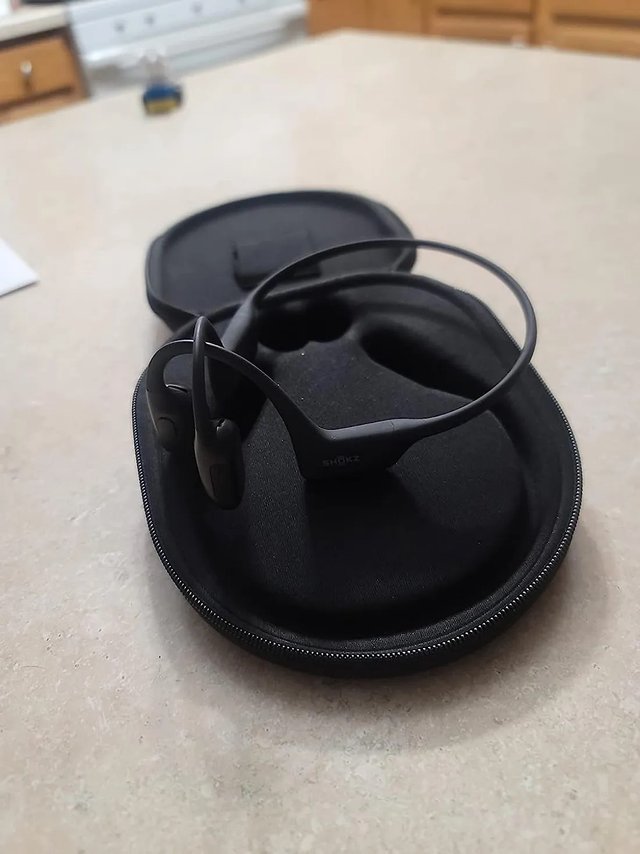 User review 7:
User:Backpackcamp Nation:United States
"Purchased these for biking and the do a good job of allowing me to hear my music and the sounds around me. However, at higher speeds the wind noise over powers the head phones and you can't hear them. This is to be expected as they do not fit in your ears. Maybe a combination with some kat ears may improve this problem. Charge last long enough for long rides and charges relatively quickly. Wish these had a standard charging adaptor, my only gripe."
User review 8:
User:Aaron C. Nation:United States
"I have a lot of bone conduction headphones.
These are not the highest fidelity.
I love them. If I could only own two pairs of headphones I would own a good pair of normal headphones and these. These are better for running, pottery, life where you might want to hear they are more suitable to normal life. 2nd, high fidelity traditional headphones are great for those times when you want to focus and space out (important but likely less common than the purpose of these)."
User review 9:
User:Mazame Nation:United States
"This is the best bluetooth ever. You don't have to put it in your ears. It is water proof to I think about 3–5 ft. It is nice to not have to stick them in your ears. The sound quality is phenomenal. I will buy them again if need be. I have had them for about 8 months, so far, so good! Knock on wood!"
User review 10:
User:bobbie bright Nation:United States
"I purchased these bone conduction headphones in January of this year. In April, the base quality began to sound poorly so I contacted Amazon and the quality service representative had me to unpair and repair the device. This worked for a few days but soon I was having to repair the headphones each time I wore them. Now it it happening every few hours. The previous Customer service representative assured me that If this continued to happen, Amazon would replace the headphones.
But today, they would not and referred me to the business under the A-Z replacement guarantee!
When someone spends almost $200 on headphones, you would think they would stand behind their Customer Service guarantee. Very disappointed!!!!"
Its overall review is good, but there are still some problems. For example, mo built-in storage and it is not worth such an expensive price.But we can find bone conduction headphones with similar performance and higher cost performance in the market, such as Wissonly Hi Runner bone conduction headphone.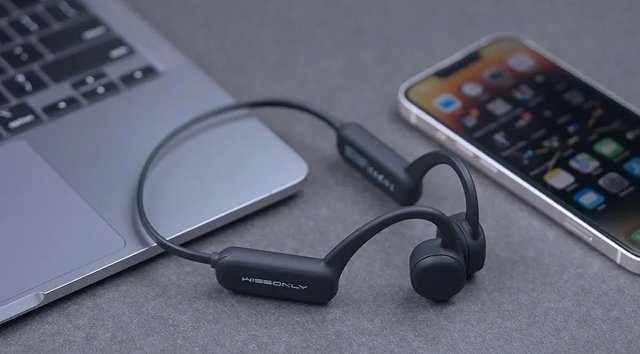 Wissonly is the brand with the best experience among bone conduction headphones. It excels in sound quality, comfort, and product specifications, making it a top performer in both product quality and hearing protection.
When it comes to fit and comfort, the Wissonly Hi Runner features an adjustable aerospace-grade titanium frame that can accommodate different head sizes, ensuring a stable fit. The headphone surface is made of high-tech, low-sensitivity silicone material, free from any chemical components, to avoid allergic reactions. The overall feel of the headphones is as smooth as a baby's skin, preventing discomfort during extended wear. Moreover, weighing less than 30g, they are lightweight and won't feel burdensome. As the flagship outdoor running model of Wissonly, it is currently the most comfortable and cost-effective bone conduction headphone available.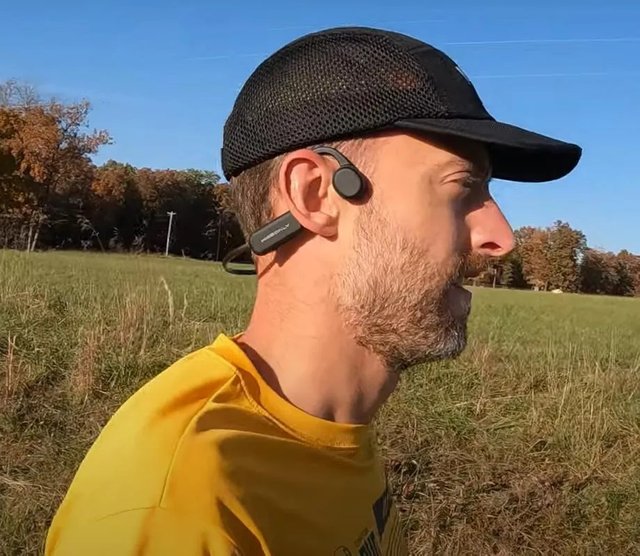 The Wissonly Hi Runner Bone Conduction headphones, as the flagship model, boasts an IPX8 waterproof rating, surpassing industry standards. This ensures they can function properly even during swimming or diving, not to mention ordinary sweatproof and waterproof.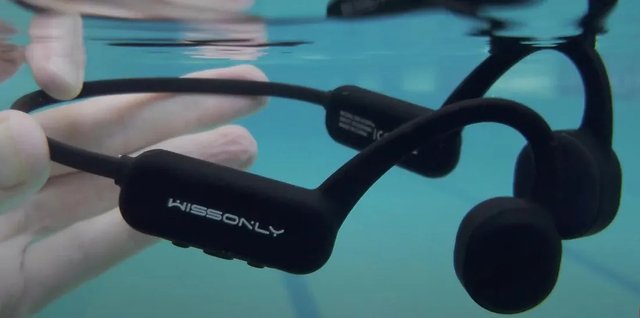 It also equipped with 32GB of built-in storage, capable of storing 5000 songs, and supporting both Bluetooth and MP3 modes, you can use the Wissonly Hi Runner as a Bluetooth MP3 player for underwater running or scenarios where you don't have your phone with you.It has a long battery life, can play 10 hours of music continuously and supports magnetic fast charging, effectively making up for the shortcomings of wireless headphones.
Bone conduction headphones have greater challenges in terms of improving sound quality due to their unique technological principles. However, the Wissonly Hi Runner revolutionizes the traditional audio solution by ingeniously adopting large diaphragm vibrating units. Through structural optimization, it enhances the effective vibrating area, resulting in excellent performance in both high and low tones. Additionally, their sound leakage prevention technology is more mature, providing better sound leakage prevention compared to typical bone conduction headphones.
Comment