Best bone conduction headphone for runners:shokz openrun review
Oct 14,2023 | David
With the rapid development of science and technology, many digital technology products gradually come into everyone's field of vision. Because people pay attention to the health of the ears, bone conduction headphones, as healthy headphones that don't hurt the ears, are gradually liked by young people and sports groups. There are many kinds of products from different brands in the field of bone conduction headphones. Among them, shokz is undoubtedly the most concerned brand, and their flagship product, Openrun, has been liked by many people.
So what is the performance of Shokz's flagship product, openrun? There are many review articles from third parties or brands on the Internet, which are analysed from a professional perspective. In this article, we will sort out the real review of users from another angle.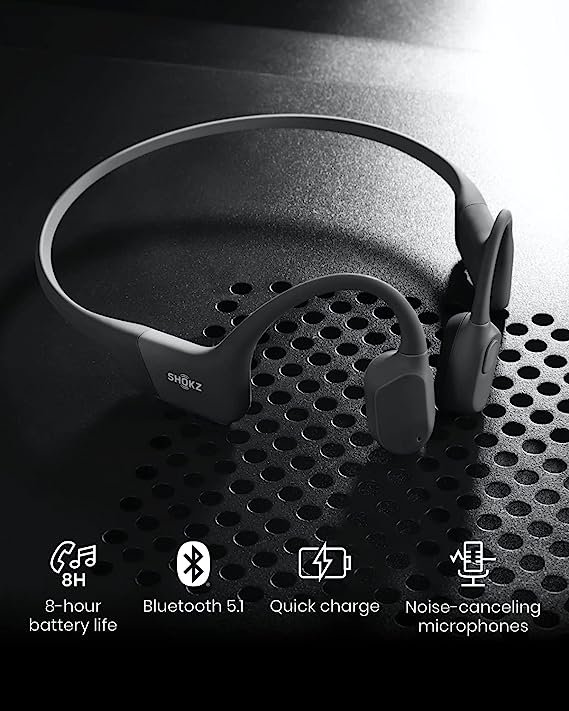 The basic information of Shokz openrun:
Product Dimensions:9.45 x 27.17 x 0.98 inches
Item Weight:0.917 ounces
ASIN:B09BW1QVVT
Item model number:S803
Batteries:1 Lithium Polymer batteries required.(included)
Is Discontinued By Manufacturer:No
Date First Available:August 31, 2021
Manufacturer:shokz limited corporation
Charging Time:90 minutes
Item Weight:26 Grams
Units:1 Count
Number Of ltems:1
Shokz openrun bone conduction headphone review from users:

Product name: Shokz openrun Price: $128.65
Rating: 4.6 Where to buy: Amazon or official website.
User review 1:
User:Marie Nation:United States
"This is probably my 5th pair of these bone conduction headphones -- because, although I love them, I lose them or (in one case, all my fault) break them. So, I took advantage of Prime Day to buy another pair. They arrived quickly and worked for about two days. On the third day, however, I could only get sound out of one side. I did all the things recommended by Amazon and just couldn't get them to reset so that sound would come out of both ears. I contacted Amazon, which immediately accepted my return and replaced them. And that replacement pair works fully as advertised.
If you haven't tried bone-conducting headphones, try these. The sound is terrific, the battery lasts all day, and I've had no complaints from callers when I take calls on them. Best of all, they're so much safer to use when riding a bike, walking or running outside because they allow you to hear encroaching vehicles, etc.
Based on the quality of this product and the great customer service, Shokz has a customer for life -- or at least until the tech world figures out a way to beam audiobooks, music and phone calls directly to my brain!"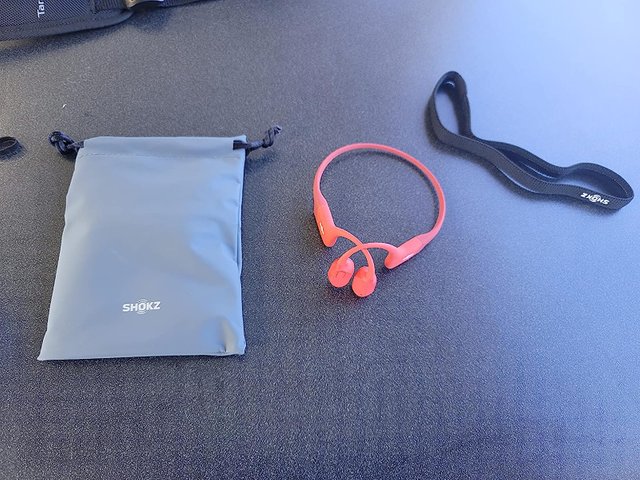 User review 2:
User:Rod Castro Nation:United States
"My use case for these it's not what would be considered their main purpose. I have incredibly sensitive ear canals which means I can't wear in ear bubs. This limits me to over or on ear headphones. Well, recently I started going to the gym and both my over the ear headphones (Sony WH1000XM4 and Plantronics BackBeat FIT) were becoming a little uncomfortable and annoying to wear for me, specially when sweating. I started searching for options and found these bone conductions headphones interesting and after watching some videos, mostly of people that run/exercise outside I decided to buy them and use them indoors in my gym not expecting anything. To my surprise, these are great indoors as well even in a loud gym. They are lightweight and stay put no matter what I do. The sound quality is also great. I thought I was going to miss ANC but I don't. Anyways, these are great so give them a shot."
User review 3:
User:Kurt M. Nation:United States
"I kept hearing over and over from everyone I knew who had a set of these just how awesome they were. So when I saw the price they were offered for during Prime Days, I jumped on the deal. As soon as I received them, I couldn't wait to try them out. They work every bit as good as advertised. I used them mowing my grass, doing work in my garage, and watching videos in bed. I even had the opportunity to use them during a phone call, all within the first day having them. They worked flawlessly, and provided me the ability to hear everything going on around me, and the ability to pay attention, while not disturbing anyone else. Next I plan on using them while riding my bicycle so I can still enjoy music, audio books, and podcasts, and not lose situational awareness of traffic and cars moving around me. Looking forward to several years' worth of enjoyment from my Shokz. You should DEFINITELY get some if you're in the market for a high quality bone-conduction audio product."
User review 4:
User:BritGirl1953 Nation:United States
"I don't normally leave reviews, but felt compelled to for this bone conduction headphone. Our family got together in our Florida home for July 4th week. My grandson was wearing the earphones when he arrived. We all tried them and loved them, so I ordered five - we LUV them! For me, the biggest impact was that I did not have to stick anything inside my ears to hear the sound. These headphones sit just outside my ear and rest against my earlobe. The sound quality is amazing. Just letting you know…"
User review 5:
User:Lynn Spencer Nation:United States
"I bought these because my ears were super irritated and itchy from wearing earbuds for so many hours a day. My ears were hurting so much of the time and drove me nuts at night. I wasn't sure how well these would work but I am so pleased with them. I can hear music, podcasts and shows really well and there isn't a lot of sound leakage. I wear them on my walks in the morning and can easily hear approaching cars and bikes which is perfect. Conversation is tough to understand if I don't pause whatever I'm watching or listening to though. Noise cancellation wasn't the goal with these but I suppose it's good enough to hear whatever you're listening to while still being able to hear your surroundings reasonably well. I highly recommend this headset if you want to stop shoving stuff in your ears."
User review 6:
User:Ariel Nation:United States
"I don't like downing out all noise, especially when I go on walks (I want to be aware of my surroundings). Other headphones don't stay in my ears and also tend to hurt.
These bone conduction headphones feels perfect and magical. I have noticed chewing food while wearing them makes sounds undulate. And if the volume is high, the piece in front of your ear vibrates and it tickles a bit. Then it may sweat a bit under that same piece. Not as bad as ear wax though.
Obviously if you're in a crowded room or loud place, you may not be able to hear through these headphones. But I'm very happy with these."
User review 7:
User:Barbara Matthews Nation:United States
"This was a gift for my son and he loves them. I had them on for a few minutes and the sound was great without the pain of ear buds.
He works in the field and loves that he can listen to music and still converse with his customers at the same time.
His recommendation is that I buy a pair for myself."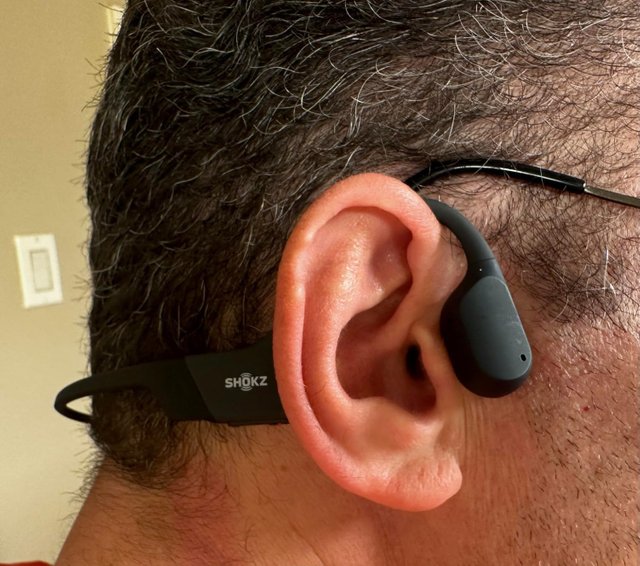 User review 8:
User:Trent Nation:United States
"I highly recommend this bone conduction headset. I wear them working my 12 hour shift everyday, fully charge them every night and they still are charged a little less than half way at the end of the day. I think that is amazing for a little headset such as these. They are comfortable and they do not cause headaches. They sound great, and perform really well with the type of noise I am around. I am an HVAC technician so some of the challenges I face are, Talking with homeowners, being around the units outside, crawling under a house to perform work, and going into attics and sweating like crazy. Another thing, I like how they hang around my ears instead of in my ears, because a lot of earbuds tend to fall out and not stay in. The biggest reason I like this headset is because it doesn't have to go in my ears and make me lose my awareness, which is a big thing for me. When talking to homeowners, I don't have to pull them out of my ears. I just pause my music and everything is golden. I also like them because when I am driving I can answer calls and stay hands free, and make sure my attention is still on the road. Lots of pros about this product. I have yet to find a con about them."
User review 9:
User:Beach Pip Nation:United States
"I have purchased many sets of these bone conduction headphones. I love everything about them, except I cannot seem to get a set that will survive a year. I have never sent a pair of them back for a refund or replacement. However, this last pair I notified the Shokz Company to use my warranty. They responded back and agreed that I was eligible for a replacement after the broken pair was returned. I did that and they emailed me to state that I would receive a tracking number for the replacement in 2 days. I was excited that the company was going to stand behind their product. That was three weeks ago. Now, CRICKETS! How do I rate a company that makes a decent product, but doesn't last very long. I will keep trying to contact them for answers. But for now, a rating of three stars is pushing it. I will consider changing the rating, if and when they honor my warranty. As far as bone conduction headphones go, Shokz sound good, battery life good, and comfort excellent. So far, Customer service rating not so good."
User review 10:
User:toy Nation:United States
"The sound is great, battery less then 6 hours(no talking) so I can't finish a shift at work. The charger is magnetic, nice but inconvenient as only has one. So cannot charge in car and in home with out carrying the cable with. Mine started malfunctioning and pushing random buttons when I'd start sweating. Will not buy again. These would be great for low energy work where you need to hear your surroundings. The band on the neck was a bit annoying as you sit in chairs with headrests or wear a jacket with high neck. I will be going back to the LG tones."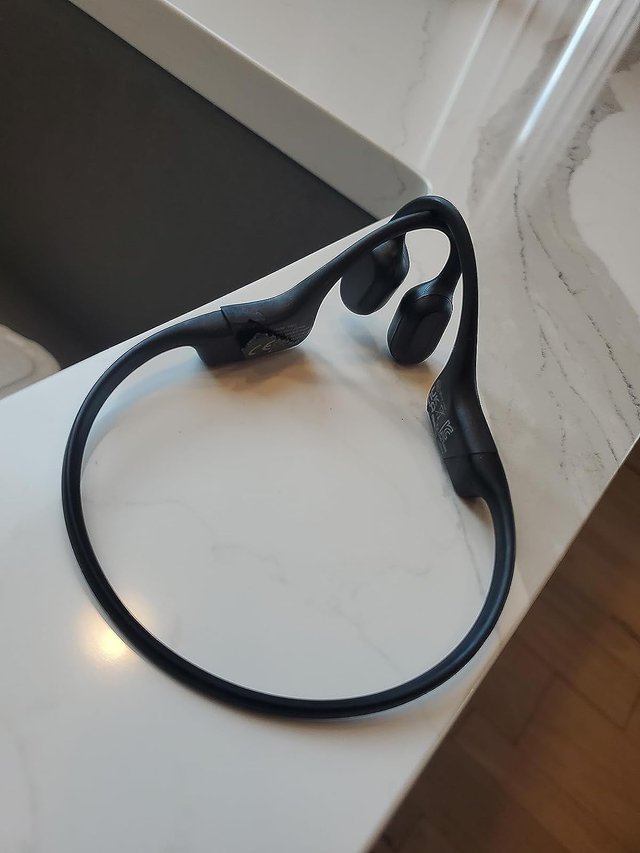 These are some real reviews from shokz openrun users. On the whole, it is still a good product, but there are still some problems, such as poor waterproof performance and overpriced. There are some products with equivalent performance and higher cost performance in the market, such as Wissonly Hi Runner bone conduction headphone, which is a good fair price substitute.
Wissonly's team has been researching headphone products that don't hurt the ear as early as 10 years ago and introduced bone conduction technology into the field of headphones. Their products have powerful performance, high-cost performance, and are very strong in core performances such as sound quality, sound leakage reduction, and waterproof level.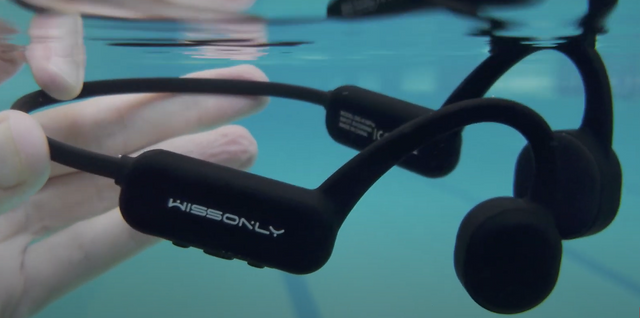 As the flagship model of Wissonly,the waterproof grade of Wissonly Hi Runner Sports Bone Conduction Headphone; reaches IPX8 waterproof grade higher than the industry standard. It allows the wearer to work normally when swimming or diving, not to mention sweat prevention or ordinary waterproof.
It is also equipped with 32G body memory, which can store 5,000 songs, and supports Bluetooth and MP3 working modes. You can use it as a Bluetooth MP3 player for underwater sports or scenes without a mobile phone.
In terms of fit and comfort, the whole frame of Wissonly Hi Runner is made of adjustable aviation grade titanium steel, which can adapt to different sizes of head circumference and ensure the stability of wearing. Its headphone surface is made of high-tech low-sensitivity silicone material, which contains no chemical components to avoid allergic phenomena. The overall touch of the headphone is as silky as baby's skin, avoiding uncomfortable situations when worn for a long time. Moreover, its weight is very light, less than 30g, and it will not feel heavy when worn. After wearing it, I took it off at the end of the run. This Hi Runner didn't let me have any extra adjustment.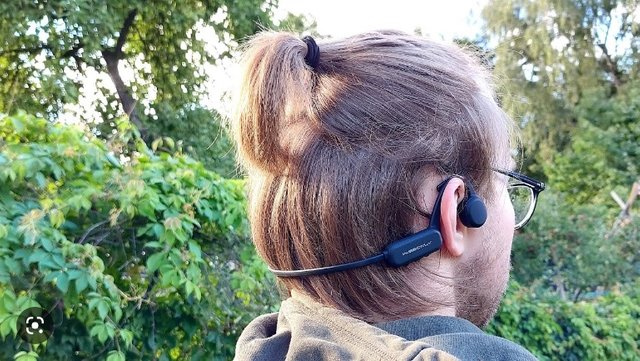 The overall function of Hi Runner is also the most perfect. In terms of sound quality, this bone conduction earphone uses the latest research results of wissonly laboratory, which increases the vibration area of the vibrator by 35%. At the same time, it also optimizes the sound transmission direction to make the sound more concentrated and the music more spatial, and it has a good performance in both high and low notes.
Wissonly has made a lot of efforts to reduce its sound leakage. Its all-wrapped design reduces the vibration of the shell, and through structural optimization, the sound waves of the sound leakage are cancelled, thus avoiding 90% of the sound leakage. Wissonly Hi Runner's sound leakage performance is much better than that of the same gear bone conduction headphones on the market.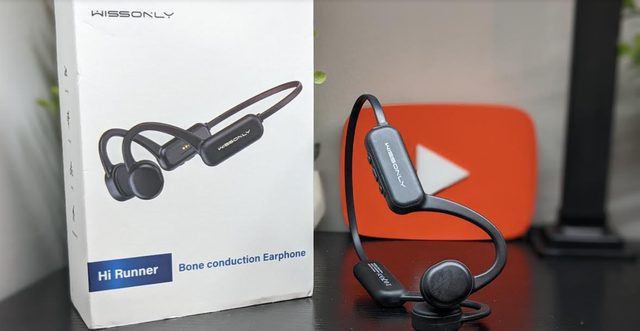 Its price is lower than openrun, only cost $99.99, which has a high cost performance.
Comment