How Does Bone Conduction Headphones Work and How About Their Pros and Cons
Jan 14,2023 | Sylvia
When some people who love sports are running or cycling outside, you may see that they wear headphones on their ears but not tuck into the ear. In fact, the headphones are probably bone conduction headphones.
Simply put, bone conduction headphones are headphones made based on bone conduction technology. The more complete statement of bone conduction technology should be bone conduction sound transmission technology. It directly uses human bones as a sound transmission medium, So sound waves do not need to pass through the external auditory canal and tympanic membrane,But pass directly to the inner ear.
How does bone conduction headphones work
If you want to understand how do bone conduction headphones work, you must first know what "bone conduction" is. "Bone conduction" is one of the two main ways of sound transmission (the other is air conduction). It transmits sound through the mandibular bone of the human body to the cochlea. And then sound stimulates the auditory hair cells in the cochlea, thereby generating electrical signals that allow us to hear sound.
These technical principles may sound obscure, but there are also cases of "bone conduction" sound transmission in life. For example, when eating, we can clearly hear the chewing sound; we still can clearly hear our own voice when covering our ears and speaking. These are "bone conduction" that helps us to hear sound. Take hearing the sound of chewing when eating as an example, during the eating and chewing process, the vibrations caused are transmitted through the bones to the inner ear to get us to hear sound.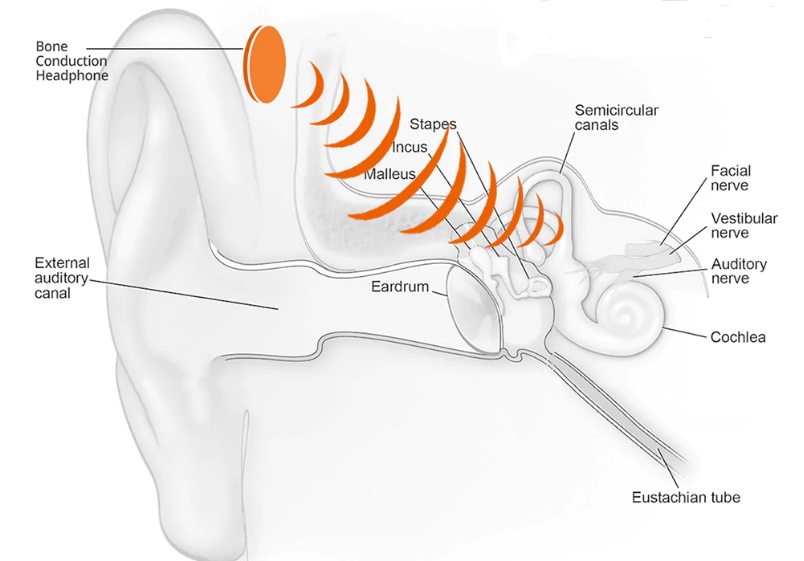 Bone conduction headphones are headphones based on bone conduction technology. The working principle is to use the vibrator on the sound unit to turn the sound signal into mechanical vibration, which causes bone resonance and conducts sound to the inner ear, so as to achieve the result of listening by"bone conduction".
Pros of bone conduction headphones
The way bone conduction headphones are worn without earbuds brings tangible benefits: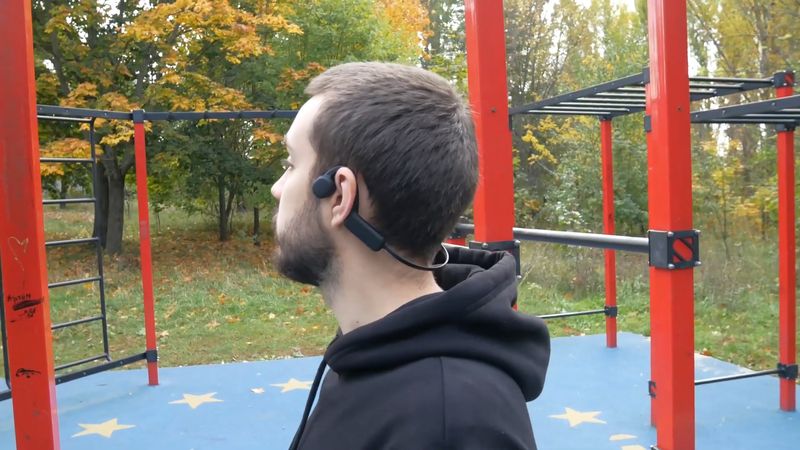 Safer: It does not block your ears when wearing it, allowing you to maintain awareness of the surrounding environment, making outdoor sports safer;
Healthier: it uses bones to transmit sound, and the sound is directly transmitted to the auditory nerve, avoiding damage to the eardrum, and can protect hearing well;
More hygienic: Bone conduction headphones do not need to be worn in the ear, even if worn for a long time, they can keep the ear canal fresh and avoid otitis media, otitis media and other diseases caused by blocked ear canal;
More comfortable: They are very light, and there is no sense of weight when worn. The surface of many bone conduction headphones is made of skin-friendly soft material, which is very comfortable to wear;
Unique appearance: wearing bone conduction headphones with unique design can help you attract more people's attention;
When keeping in touch with the outside world, you can communicate with friends or colleagues while listening to music, and you will not neglect them because of listening to music.
There are two sides to the coin, bone conduction headphones have many advantages, but it also has some disadvantages.
Cons of bone conduction headphones
Two of the most common cons are sound quality and sound leakage.
In terms of sound quality, the sound quality of bone conduction headphones is slightly worse than that of traditional noise-canceling headphones. Due to the principle of sound generation and sound transmission of them, when the sound unit vibrates the skull, it also vibrates the air, resulting in sound leakage. These two shortcomings, all bone conduction headphones have, those ones that claim to be completely free from these two problems do not exist.
Of course, the sound quality of bone conduction headphones is not so bad that it is intolerable. The sound quality of some good headphones is very close to that of traditional headphones. You can hardly feel these leaks under normal social distance and normal volume. There are also some brands by structural optimization, and the problem of sound leakage has been greatly improved.
The pros of bone conduction headphones are obvious, while its two cons are being solved. Some brands with strong technical strength, such as wissonly and aftershokz, are basically solved the two problems of poor sound quality and sound leakage.
Therefore, when choosing bone conduction headphones, as long as you encounter a brand with strong technical strength, you can buy it without hesitation. Next, I will recommend some headphones for you.
1. Wissonly Hi runner bone conduction headphones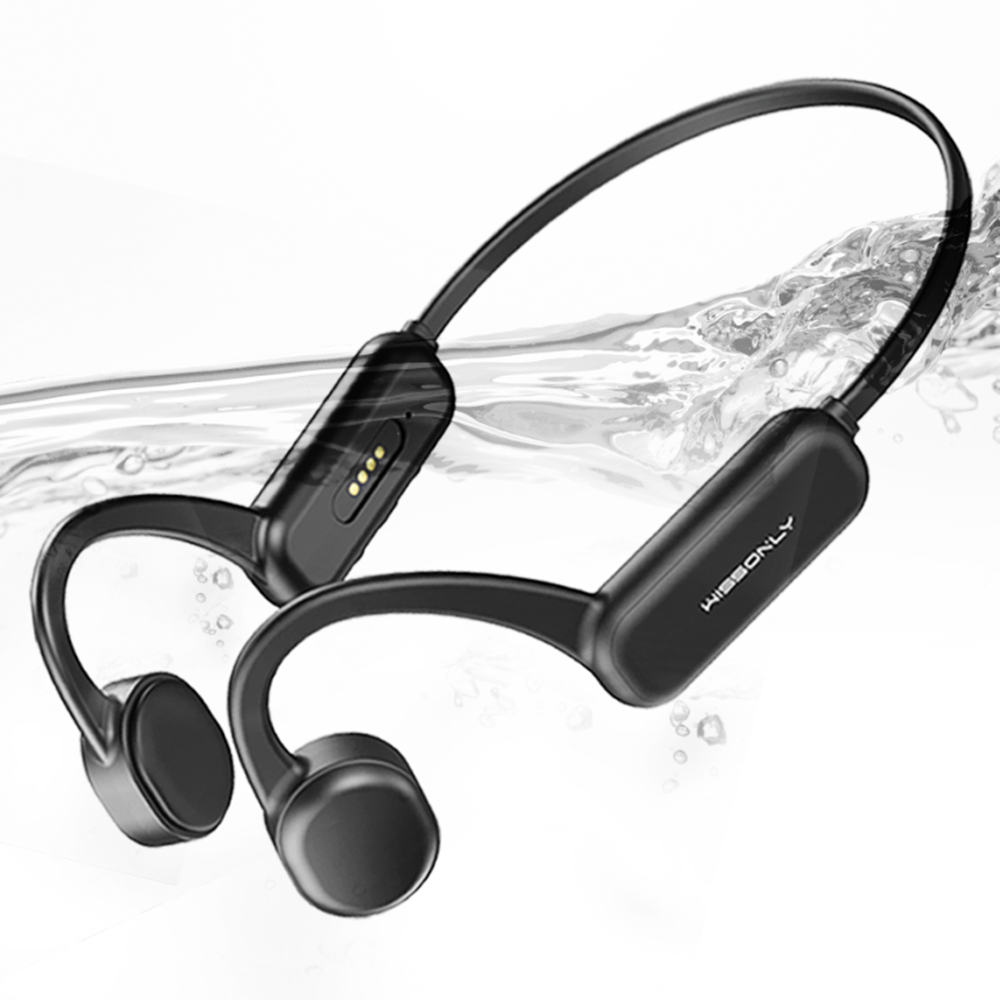 Reason for recommendation:
The Wissonly team has always attached great importance to the opinions of customers. It is said that their Hi runner model invited thousands of users to participate in the test, and that they constantly adjusted the design based on customer feedback. It is said that because of this, the product launch time was delayed by 3 months compared to the original plan time. I was so moved by this story that I bought their products.
Wissonly Hi Runner attaches great importance to sound quality. Their sound source adopts a large-sized vibrator, and through the clever structural design, the vibration area is increased by 35%. So the sound range is wider and the sound is more powerful. They have also made a lot of efforts in the treatment of sound leakage. The headphones' body is sealed and integrated to minimize sound leakage.
Hi Runner are also equipped with a new Bluetooth 5.0 chip. They have stronger anti-interference ability, and can easily cope with various complex outdoor scenes without disconnection. They support IPX8 waterproof grade higher than the industry standard, are equipped with 32G body memory. They have stable connection and low latency performance. In listening to songs, chasing dramas, or playing games, they can meet all daily needs for headphones.
The Wissonly Hi runner weigh less than 30g, have no weight bearing when worn, are very comfortable, and are very suitable for long-term use during sports.
2. Philips A6606 bone conduction headphones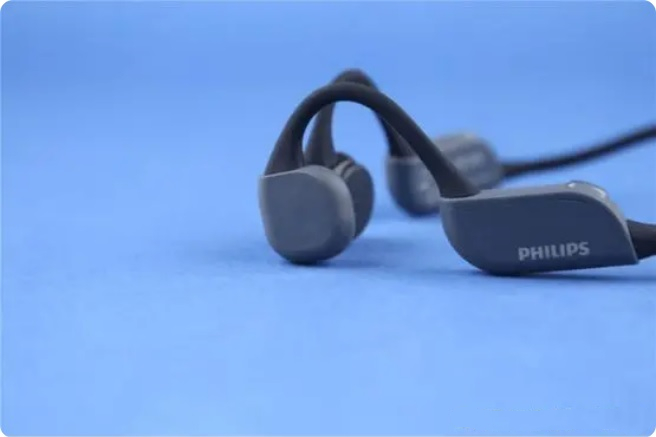 Reason for recommendation:
Philips A6606 bone conduction sports headphones has a unique night light design, which can help the wearer solve the problem of sports safety in dim environment. It is equipped with Bluetooth 5.2 technology, with an effective distance of up to 10 meters. It has low power consumption, faster connection speed, higher security and stability. A6606 can last for 9 hours on one time charge, which can fully meet the daily needs of users. That is, its waterproof level is not high, it can't be used in swimming, it doesn't have built-in memory, and it can't be used without Bluetooth.
3.AfterShokz OPENRUN PRO bone conduction headphones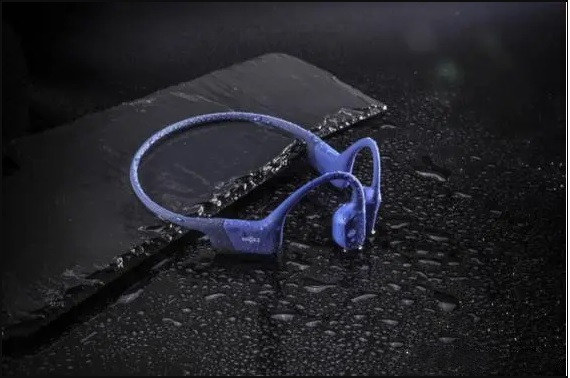 Reason for recommendation:
Openrun Pro bone conduction headphones have IP67 waterproof rating, they are waterproof, sweatproof, and dustproof. They are no problem to get caught in the rain or splashed with water. Even in outdoor sports, when encounter bad weather, you will be not afraid at all, they let you enjoy the fun of sports all the time.
In addition, the headphones do not need to be plugged into the ears. Their comfort is just amazing. Their is no need to poke the ear like a drill any more. And you do not have to worry about that after you wear them for a long time, your ear canal will itch and be uncomfortable, and as well as breed bacteria. The whole body surface is silicone material, their net weight is 28g, and they are comfortable and lightweight.
4.earsopen PEACE TW-1 bone conduction headphones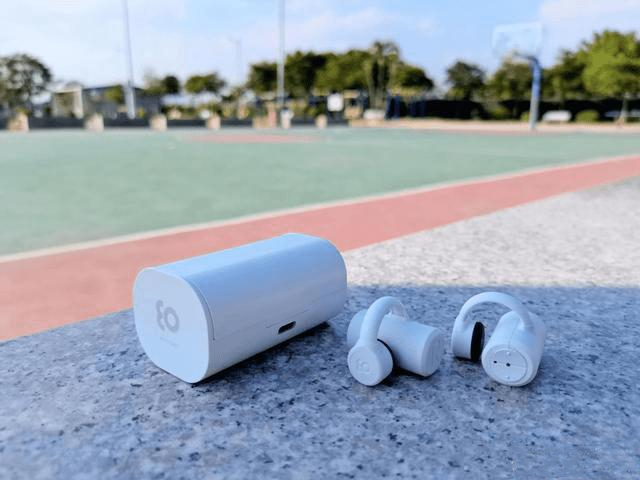 Reason for recommendation:
The earsopen PEACE TW-1 headphones can be charged magnetically through the charging case, which is small and convenient to carry around. The headphone shape adopts separate design that is achieved for the first time in the bone conduction industry. The headphone body is a T-shaped design, that adopts the clip-on wearing method. At the same time, it also supports IPX7 waterproof performance. When traveling on rainy days or running to burn fat, there is no need to fear sweat and rain erosion, it can be used with peace of mind.
The T-shaped structure design of earsopen PEACE TW-1 adopts the form of wearing behind the ear with curved support frame. It is more comfortable when worn. But because of the wearing method, the pinna will be a little uncomfortable after wearing for a long time. The sound quality is average, and there is a little sound leakage. But as an innovative style in the bone conduction category, it is also worth considering.
5.Nank Runner CC3 bone conduction headphones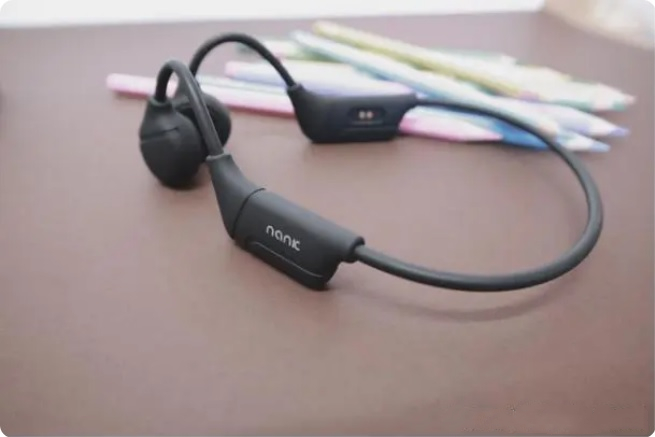 Reason for recommendation:
Runner CC2 bone conduction headphones have a certain improvement compared with the previous products in terms of leakage prevention and sound quality. Waterproof feature has also been improved, and IPX6 waterproof is supported. Generally, there is no problem with rain and sweat, but it can't be used in swimming. The battery life is 6 hours, which is basically enough.
As mentioned above, Wissonly, Aftershokz and Philips are all brands with strong technical strength, and Wissonly is my new favorite. Its product parameters are very good, and the cost performance is very high
Comment