Cycling Headphones: JBL Vibe Beam Wireless Headphones Review
Oct 30,2023 | David
Finding the most suitable headphones for cycling is a challenge faced by almost every cyclist. For many cyclists, as long and lonely outdoor cycling distances pass, music is everything. You need something to help you stop obsessing about to how far you have gone and help you get through the long hours.
JBL is a well-known manufacturer specializing in products used for sports, and its JBL Vibe Beam wireless headphones have received a lot of media hype and skepticism lately. So are these headphones worth buying for cyclists? We're going to review this headset today by analyzing reviews of users.
Product Information about JBL Vibe Beam:

Brand JBL
Product Type Wireless Headphones
Item Model Number JBLVBEAMBLKAM
Bluetooth Version Version 5.2
Dustproof and Waterproof Function IP66
Item Weight 48.3 grams
Usage Time Up to 8 hours
Charging Time About 1.5 hours
Connectivity Technology Bluetooth
Form Factor In Ear
Fit Type In-Ear
ASIN B0BQPNMXQV
JBL Vibe Beam Reviews from Users

Product name: JBL Vibe Beam
Price: $49.95
Rating: 4.4 (out of 5)
Where to buy: Amazon.com
Review 1: ★★★★★
The headphones sound great, good volume, and not to mention the battery life of the headphones and the charging box that you can safely use the headphones every day for cycling (obviously after a few hours you get tired and put them in their base, so they'll last all day), the case lasts for 2 days for cycling, the one complaint I have is with the app to make the headphones lag and even disconnect. But overall it's a really good buy.
Review 2: ★★★★★
I was so skeptical of ordering ear buds that weren't air pods, especially never owning this brand. But, these exceeded my expectations! The sound is amazing, they are so comfortable I forget they are there sometimes while cycling, and take calls that are so clear! No muffling. If you need something for the simple things or for everyday, these are the ones for you!!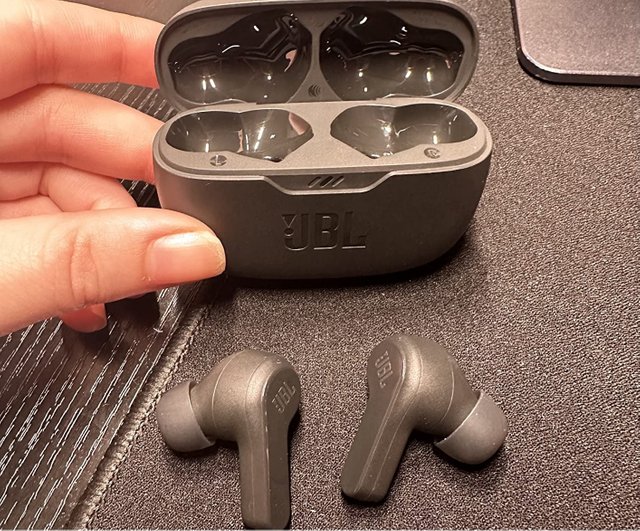 Review 3: ★★★☆☆
Battery life is great. I use it 4 hours a day, continuously, and they still maintain charge enough for several more days. Sound is fine for what I use them for cycling. Terribly uncomfortable though. Sometimes I have to put the left one in upside down (or remove it completely) to escape the pain. To be fair, I have had problems finding ear plugs or ear buds that fit comfortably for cycling. This is another item I would have returned, but the price was better than most.
Review 4: ★★☆☆☆
First off I have a few JBL speakers that are amazing and I love them. I automatically assumed these headphones would be the same. Probably due to the cheap price corners were cut. They are super uncomfortable in my ears and the sound is poor while cycling. Music and podcasts sound far away.
Review 5: ★★★★☆
I bought these mainly to use for Zoom meetings to replace my big Bose cans. They work well for calls and the mic quality is great. I've also worn them all around the house while streaming audio from my desktop and the range is impressive.
These are my first wireless earbuds so I don't know how they stack up against other brands. But compared to my usual $25 wired earbuds, the JBL lack bass and clarity, and won't play as loud when I am cycling outdoors.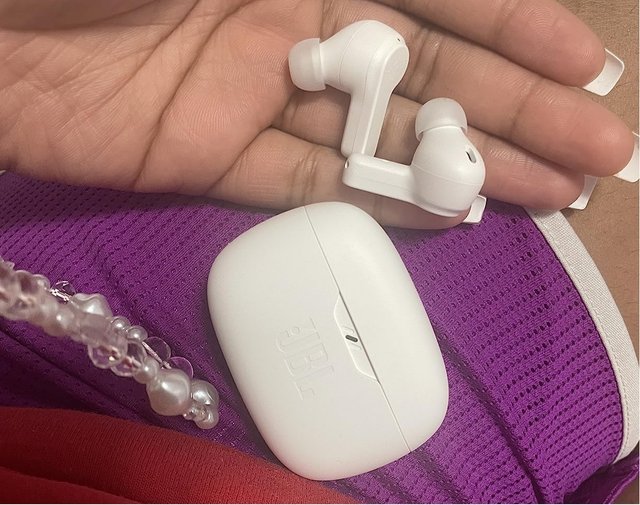 Review 6: ★★★★☆
These ear buds offer pretty good sound for cycling as long is you have the correct fit rubber tips. The design though could be better. It's like they were designed by 45 himself, or rather, someone with very tiny hands. Getting the in and out of their charging container is kind of a pain. Also, trying to adjust them while in use for cycling it's inevitable your finger will activate the pause or volume functions.
Review 7: ★★★★☆
These have great sound as most JBL products for cycling. They are just a tad cumbersome on the part right outside of the ear insert. It gives the feeling that they are coming out even when they aren't. Not stopping me from wearing them, but I haven't tried them while cycling or doing anything with tons of movement, so they have been great other than the feeling. I also don't love that different sides have different controls because I often wear them one at a time.
Review 8: ★★★☆☆
These earbuds have good sound and happy with them for cycling. The only thing is at first I couldn't get them to connect to device and took several tries, but finally I got them to connect. Charge seems to last quite a bit. Wish they would fit in the ear a bit better while I am cycling and stay in place a little better, but do fine if just sitting and listening and not moving much.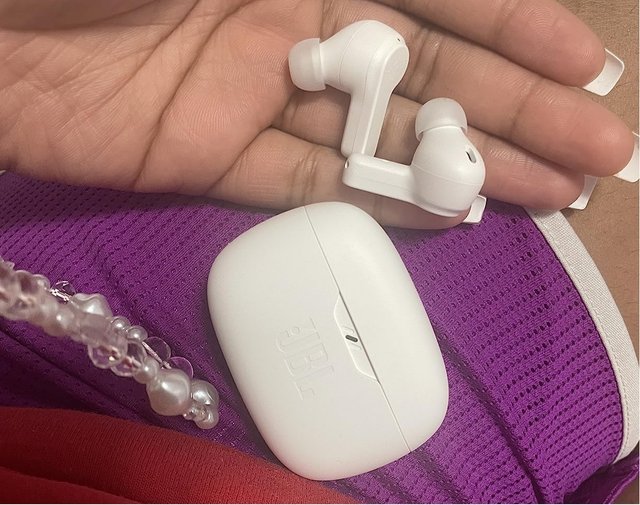 Review 9: ★★★★★
I have somehow managed to hold on to my AirPods for almost 2 years for my cycling, but recently I believe I had lost them for good and bought these. Holy crap, these are the best headphones or earbuds I have ever had. The sound blasts you. In fact these are so good for cycling, I'm almost afraid to use them because I want to keep them this way, but at this price point having to replace them more regularly isn't financially devastating as replacing Airpods.
Review 10: ★☆☆☆☆
Gave JBL a second shot after my last pair gave up after 6 months use for cycling, these are decent head phones but there's a couple things that drive me nuts the first thing is that the left headphone half the time will not charge so it's at 40% while the right is at 100% so annoying. The headphones will disconnect randomly for a moment while on calls which is frustrating and it is constantly giving me a pop up notification about how much charge the headphones have which is unnecessary while I am cycling outdoors.
Conclusion:
This headset brings a different surprise to most users, but this headset also disappoints some users, especially its power consumption. Some users feedback that the two headphones of it are unevenly distributed, especially resulting in a big power drop when cycling.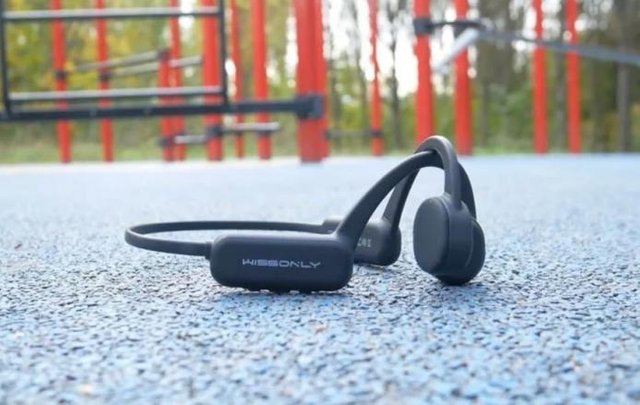 For cyclists, it is recommended to use bone conduction headphones. The design of bone conduction headphones that do not block the ear canal makes cyclists safer and more hygienic during riding. Therefore, if you need a bone conduction headset for cycling, then I suggest you to use the Wissonly Hi Runner headphones.
Best bone conduction headphones for cycling: Wissonly Hi Runner
Wissonly Hi Runner is the wireless and ear-hanging bone conduction headphones with powerful performance. While the wireless smarts are handy, the basic performance of the headphones is the key thing and it has aced it here, too. It is equipped with a large internal memory of 32G, which can store 5000 songs.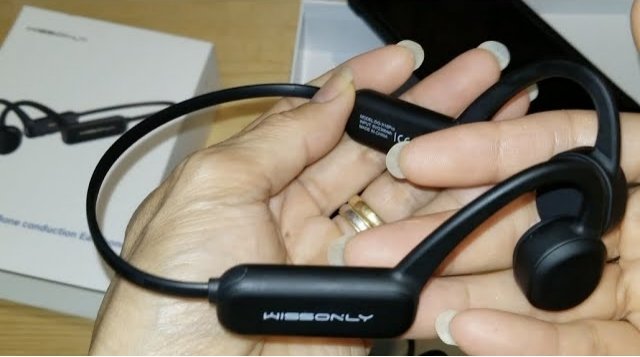 The weight of the headset is only 28 grams, you won't feel burdened when wearing it. It is made of soft skin-friendly silicone material on the surface, and the material is very safe and comfortable to wear. Plus, its overall frame is made of adjustable aerospace-grade titanium steel material, which is resistant to bending and wear firmly. It won't fall off easily when cycling and it also can work well with sunglasses and helmets used for cycling, at a price of only $99.99.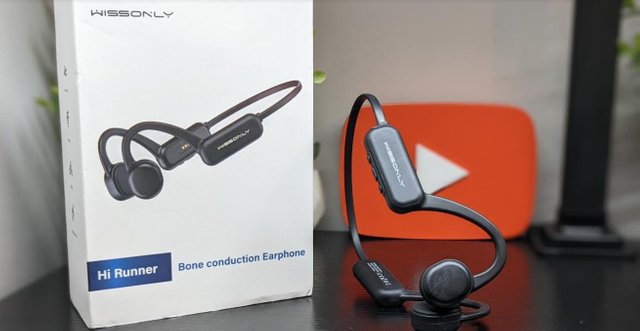 With a strong battery life, you can listen to music continuously for 10 hours, and it's suitable for long-term outdoor cycling. The headphones can also support dual playback in Bluetooth mode and MP3 mode. If your mobile phone cannot receive a signal when cycling outdoors or you are inconvenient to carry it, you can use MP3 mode, which allows you to enjoy music while cycling.
Additionally, it has an IPX8 waterproof rating, so you can use it properly when exercising in the rainy day or when you are sweating. This feature allows you to have a better experience while cycling as the headphones won't malfunction due to sweat.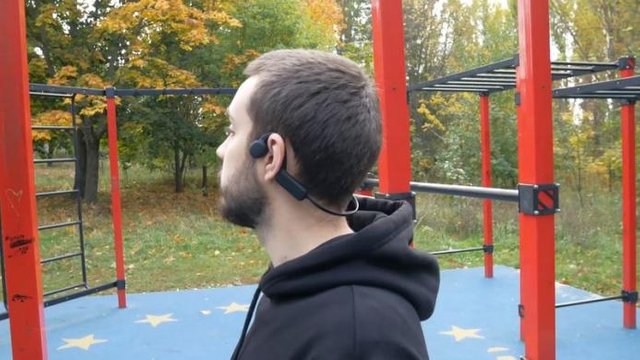 The open-ear design of these headphones allows you to hear the sounds around you while cycling, making them safer and more hygienic to use. The only drawback is that it is easy to hear wind noise during cycling, but it is important for cyclists to be safe, so I recommend the Hi Runner bone conduction headphones.
Comment