Gym Headphones: JBL Vibe Beam Wireless Headphones Review
Oct 31,2023 | David
Nowadays, more and more people pay more attention to their physical health and go to the gym to exercise as soon as they have free time, which is a good habit worth learning. Listening to music with headphones while working out in the gym is a happy thing, with the rhythm and metrical sense of the music can make us become more energetic.
JBL Audio is the world's largest professional speaker manufacturer. Founded in the United States in 1946, with a complete industrial line of raw materials development, design and production of speaker units and audio. A number of its bone conduction headphones have received a lot of media attention recently, especially the Vibe Beam model. Therefore, today we will go through the reviews from the users of these headphones to see if they are worth recommending or not?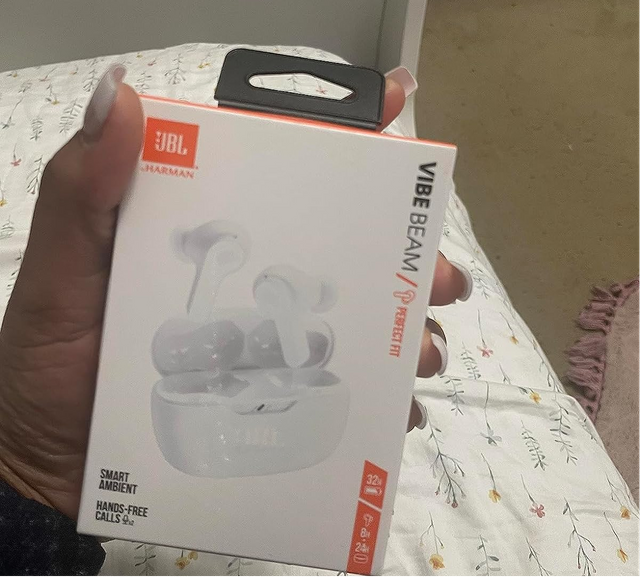 Product Information about JBL Vibe Beam:

Brand JBL
Product Type Wireless Headphones
Item Model Number JBLVBEAMBLKAM
Bluetooth Version Version 5.2
Dustproof and Waterproof Function IP66
Item Weight 48.3 grams
Usage Time Up to 8 hours
Charging Time About 1.5 hours
Connectivity Technology Bluetooth
Form Factor In Ear
Fit Type In-Ear
ASIN B0BQPNMXQV
JBL Vibe Beam Reviews from Users
Product name: JBL Vibe Beam
Price: $49.95
Rating: 4.4 (out of 5)
Where to buy: Amazon.com
Review 1: ★★★★★
I've bought four other earbuds and all had the same poor calling audio. Spend a few extra dollars to get this product for gym. It's worth it. The sound quality is far better than cheaper products. And, you don't get the "you sound like you're in a wind tunnel" when making calls.
Review 2: ★★★★★
First off I gotta these are way better then AirPods the sound quality on JBL headphone is insane and the sounds stays strong even after a year of use for gym unlike AirPods over time the sound quality goes down throughout uses and it's so expensive for AirPods. These headphones are right on your budget and I highly recommend it.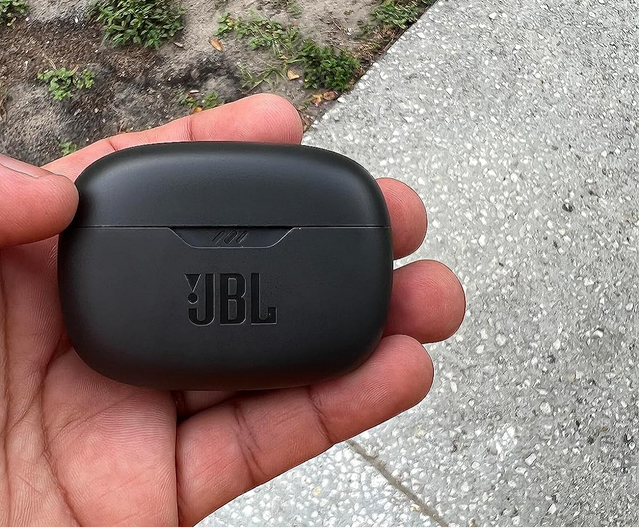 Review 3: ★★★☆☆
These earbuds have good sound and happy with them. The only thing is at first I couldn't get them to connect to device and took several tries, but finally I got them to connect when I am working out in the gym. Charge seems to last quite a bit. Wish they would fit in the ear a bit better and stay in place a little better, but do fine if just sitting and listening and not moving much.
Review 4: ★★☆☆☆
These headphones sound feel great for exercising in the gym however the battery only lasted about an hour. However both the JBL and Amazon were eager to allow me to return and replace the defective pair I received . I will follow up when I receive a replacement set of headphones from the same company.
Review 5: ★★★★☆
I've had these headphones for about a month, and so far I'm pleased. Sound is great. Battery life for headphones is at least 8hrs. My one complaint is if I'm sweating they seem to fall out easily while working out in the gym(no matter which size rubber I use) other than that it's a good purchase.
Review 6: ★★★★☆
These ear buds offer pretty good sound as long is you have the correct fit rubber tips. The design though could be better. It's like they were designed by himself, or rather, someone with very tiny hands. Getting the in and out of their charging container is kind of a pain while esercising at the gym. Also, trying to adjust them while in use it's inevitable your finger will activate the pause or volume functions.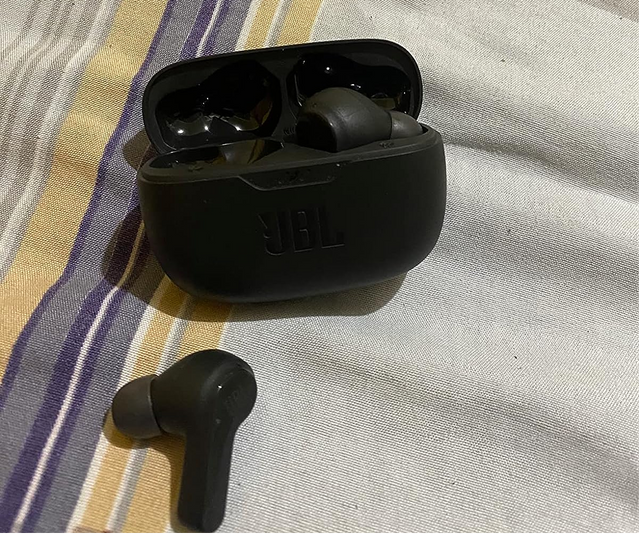 Review 7: ★★★★☆
I really wanted to have this Wireless Headphones, the brand JBL, stands for quality and great sound, but listen to music with earbuds, can be tricky, because it depends of the quality of the sound produced by the device you are connected too. I would say in any case, to be able to hear all the great sound from this JBL Vibe Beam earbuds, they have to be set at a medium volume, and for me it means to put some stress in my ears, because I am not used to listen music with earbuds so loud, especially I am working out in the gym.
I didn't find them so comfortable to wear, I guess it has to do with, how ergonomic they are. In order to have a better listening experience, I have to wear the L earbud tips, because the S and M size, just don't do, I mean sound gets fade away. I find them great to received calls, you listen really clear. Great to be able to control many features on the earbuds, and pairing it's really easy.
Review 8: ★★★☆☆
I generally love this brand but the ear pods lose connectivity with my iPhone frequently. They always automatically reconnect but it's an annoying and consistent interruption while listening to music in the gym, podcasts etc.
Review 9: ★★★★★
I don't ever do reviews! However, for the price these headphones are excellent. I have used them at school, the gym, and in the airport. They are small and convenient with the case. The charge lasts longer than I expected. Overall, they are great and worth the buy if you're not looking to break the bank but want a good quality. I went from a pair of beats to this and while the base is not as great, I'm not mad in the slightest.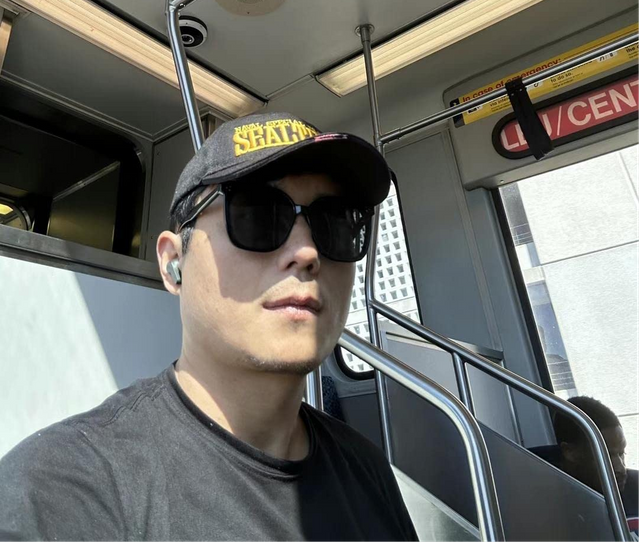 Review 10: ★☆☆☆☆
Amazing trash. Its terrible sound quality. And there are no value of the price. Its not very cheep but I trusted JBL sound quality but very disappointed. I cannot understand why there are many good rates. Running time and to handle is good for working out in the gym. But I just wanted normal sound quality for the price. I wasted my money.
Conclusion:
Based on user reviews of this headset, we can learn that most users are satisfied with this headset, but some users feel that the sound quality of it is poor and that the headset tends to slip off due to sweat when working out at the gym. In addition, there are users who feel that the headphones don't have a great battery life, and that the new headphones run out of power after 1 hour of use.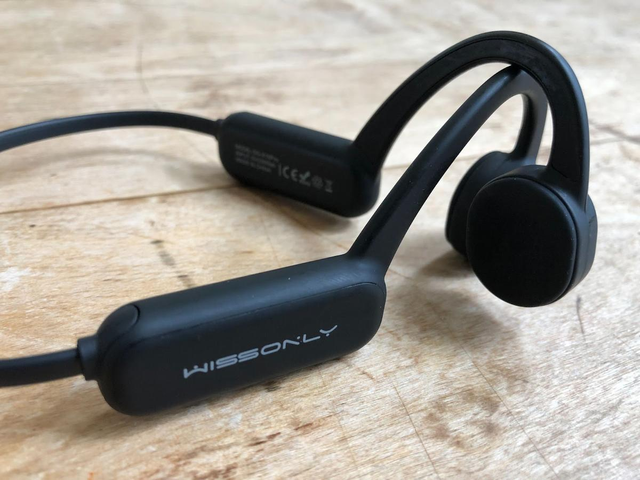 Therefore, if you want to purchase a practical headset, I recommend the Wissonly Hi Runner bone conduction headphones. The open-ear design of the bone conduction headphones will allow you to workout without the headphones falling off easily, and the IPX8 waterproofing of the Hi Runner headphones will keep your headphones from being easily scrapped in sweat or rain.
Best Bone Conduction Headphones For Gym: Wissonly Hi Runner
Price: $99.99
I noticed Wissonly bone conduction headphones when they were first crowdfunded online. And later, I saw that some otologists were recommending them on online forums, so I bought them. This Hi Runner is their flagship product whose overall functionality is also the most perfect. The headphone use the latest research from the Wissonly lab.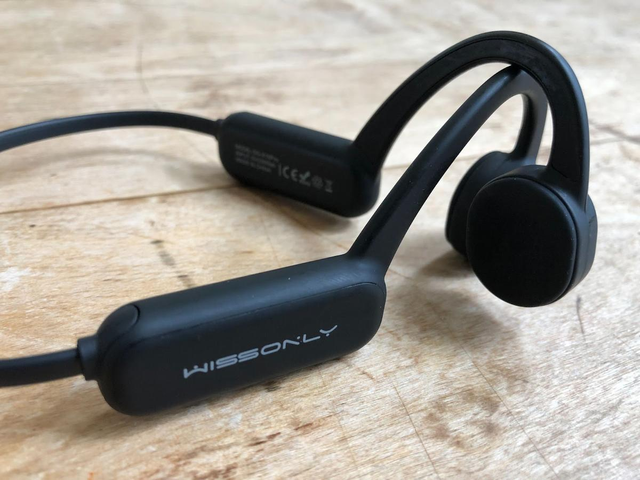 It increases the vibrating area of the vibrator by 35% and optimizes the direction of sound transmission to make the sound more concentrated, resulting in a wider range and more spatial of the music. The brand claims that its sound quality is HI-FI level, and I actually tested it myself. I thought that the sound quality was very close to HI-FI level, but it did not reach this level. Of course, the current sound quality is satisfactory enough.
Wissonly Hi Runner bone conduction headphones are also equipped with a new Bluetooth 5.0 chip that has stronger anti-interference ability, that can easily cope with various complex outdoor scenes, and ensures the good mood during exercise is not disturbed by disconnection. At the same time, the stable connection also brings low latency performance, and there is no problem in listening to songs, following dramas, and playing games.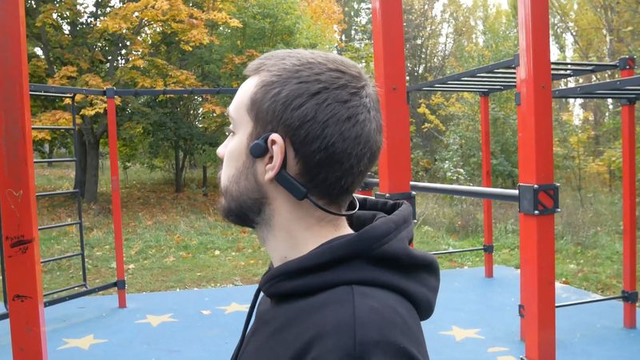 In terms of comfort, the Wissonly Hi Runner performs well, it is very light, only less than 30g, and it does not feel any weight to wear. The body is made of titanium alloy which makes it have a good fit, and you don't need to worry about their falling off during working out in the gym.
What's more, they have 32G of built-in memory that can store 5,000 songs. This helps you to enjoy music when you are exercising outdoors or in the gym without your smartphone. These headphones also support dual playback in Bluetooth mode and MP3 mode, so if you're not comfortable bringing your phone to work out at the gym, then you can enjoy your music using the MP3 mode of these headphones.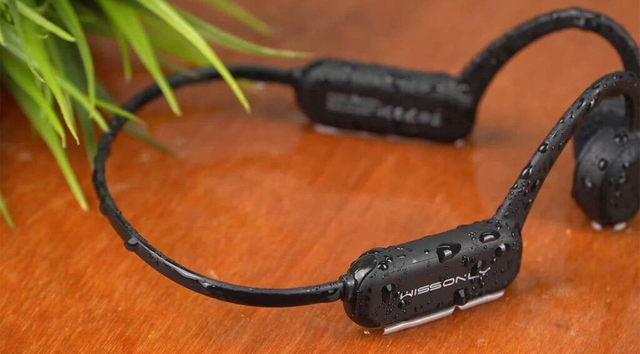 Additionally, these Hi Runner bone conduction headphones are IPX8 waterproof rating. If you sweat while exercising at the gym, these headphones won't be scrapped due to sweat, making them a good choice for those who like to exercise in the gym. The battery life is also very good, and it can be played continuously for more than 8 hours at normal volume, which is good for me, because I work out in the gym on weekends, and I often go out for a whole day.
Comment