Can Bone Conduction Earphones Damage Hearing?
Mar 15,2023 | David
Bone conduction earphones are becoming more and more popular among sports enthusiasts. Driven by them, more and more people are interested in this new type of headphones. To help you better understand them, here are some facts about this type of headphones.
1. Bone conduction earphones are new headphones developed using bone conduction technology, which transmits sound through bones;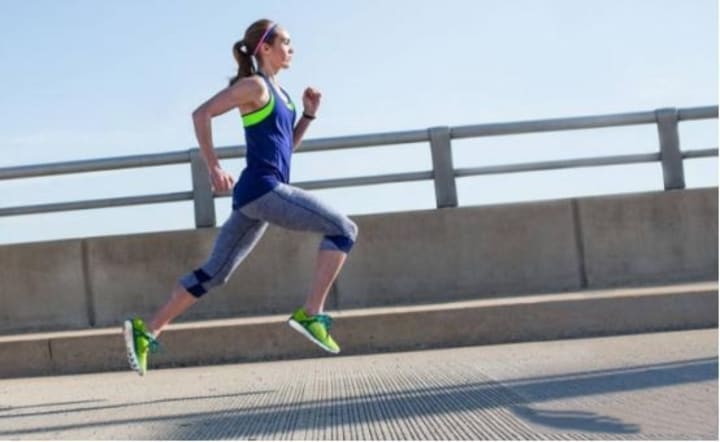 2. They do not cover the ears, nor do they need to be inserted into the ears;
3. They will not damage the ears, they are the healthiest headphones for the ears. Because their sound transmission does not require the use of the eardrum, damage to the eardrum and auditory hair cells is minimal.
4. Bone conduction earphones are not noise-canceling headphones. They don't sound as perfect as traditional noise-canceling headphones. But if you're using them for normal music listening, their sound quality is perfectly fine.
5. Bone conduction is a mature technology, bone conduction headphone is a new application of this mature technology, and you can use it with confidence;
6. Bone conduction earphones are not headphones with external speakers. It relies on the vibration unit to generate mechanical vibrations, and the sound is transmitted to the inner ear to make people hear the sound.
7. Bluetooth bone conduction earphones generally have better waterproof performance. Their sound generation and sound transmission methods make them not need to reserve holes in the fuselage, and the entire headphone can be integrated.
8. They will have a slight sound leakage problem. But some better products handle sound leakage better.
Can bone conduction earphones damage hearing?
bone conduction earphones are usually less harmful to the ears, but if used for a long time and at excessive volume, hearing damage can occur.
Since bone conduction earphones do not need to be plugged into the ear canal when worn, they will not cause damage to the ear due to wearing them. They transmit sound without passing through the ear canal and eardrum, which avoids eardrum damage caused by vibrating the eardrum.
When the bone conduction earphones are used, the ear canal is kept open, which is important for the hygiene of the ear. And they will not cause the ear canal to be wet and stuffy to breed bacteria due to sweat depositing caused by long-term exercise, thereby avoiding the damage to the ear by diseases such as otitis media.
In addition to small damage to the ear canal and eardrum, bone conduction earphones also have very little damage to the inner ear. Due to the relatively gentle and stable vibrating waves of the headphones, they have little damage to the cochlea. Moreover, the electromagnetic waves of them are very small, and their impact on the auditory nerve and brain nerve is also very small.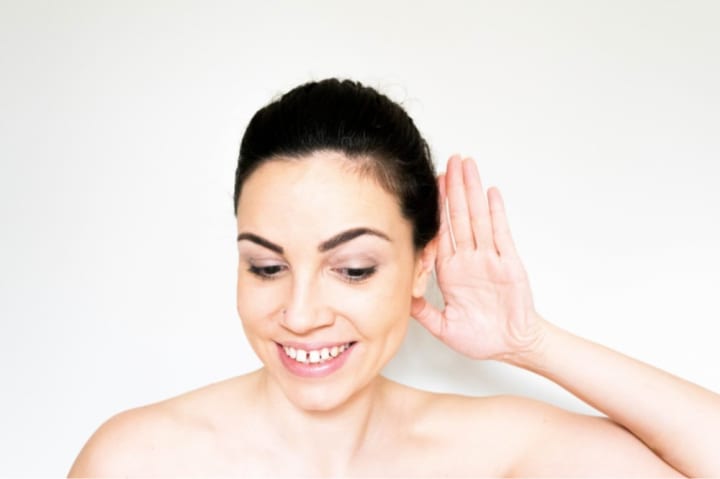 Therefore, bone conduction earphones will not damage hearing, they protect hearing completely, from the ear canal, eardrum, cochlea to auditory nerves, etc..They are the healthiest kind of headphones.
For hearing protection, when using bone conduction earphones, remember not to use high volumes for a long time, which can cause damage to hearing. In fact, no matter what kind of headphones you wear, long-term use at high volume will definitely cause damage to hearing. It is generally recommended that after using headphones for 2-3 hours, you should rest for 10-15 minutes.
In addition to very little damage to the ears, bone conduction earphones are also very safe. They allow you to listen to music when you can also hear the surrounding environment sounds, which avoids outdoor sports encounters danger. And they are also very comfortable to wear. These advantages are determined by their working principles.
The working principle of bone conduction earphones
Bone conduction is actually a very mature technology. The famous pianist Beethoven used bone conduction technology to compose music as early as the eighteenth century. He was deaf in both ears and could not hear music with his ears, which was a fatal blow to his music composition. Later, perhaps it was God's will, he found a magical method, that is, biting a stick connected to the piano while playing, so as to hear the music from the jawbone, which is the principle of bone conduction. Generally speaking, the principle of bone conduction is that sound waves transmit the sound to the inner ear through the vibration of the head bones such as the skull and jaw, and finally allow the wearer to hear the sound.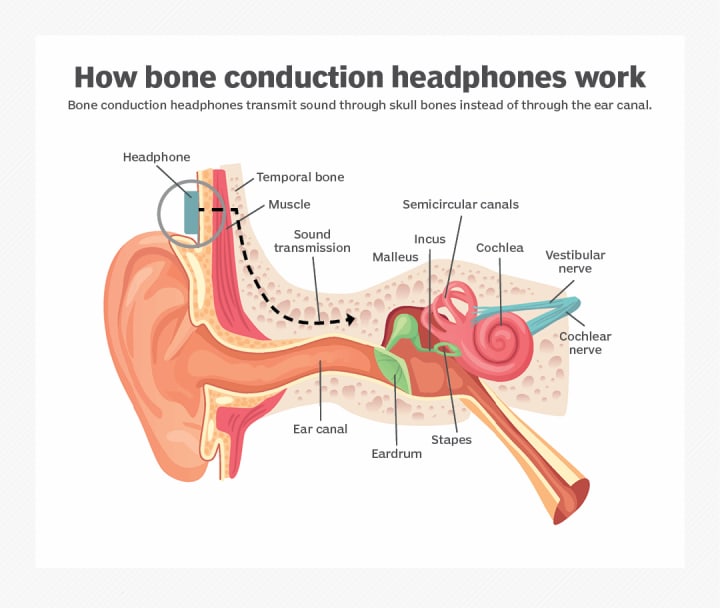 Bone conduction earphones are a new type of headphones made with bone conduction technology. Compared with common headphones, they do not need to be worn in the ear. Their main principle is to convert sound into mechanical vibrations of different frequencies, and transmit them through the human skull->bone labyrinth->inner ear lymph fluid->spiral organ->auditory center. Compared with traditional headphones, the sound transmission path of them is shorter, and it no longer needs to transmit sound through air and eardrum vibration, but directly transmits sound to the inner ear through bone vibration. This also makes bone conduction earphones one of the healthiest headphones, and they have become popular this year.
When your understand how bone conduction earphones work,You may know that they are a healthiest earphones.If you are interested in them, here are 5 excellent products for you.
1, Wissonly Hi Runner bone conduction earphones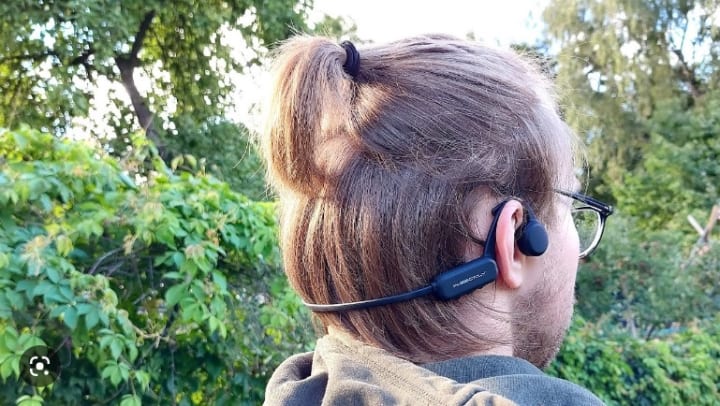 Reason for recommendation:
Wissonly bone conduction earphones are the first brand I started to contact. When they recommended it on the online crowdfunding platform, I noticed it, after saw that many people were recommending, and I bought it. This Hi runner I used for a few months, and the overall performance was better than I expected.
Some bone conduction earphones leak sound, and you know that I take privacy very seriously, so I'm very concerned about anti-sound-leakage technology. Wissonly Hi Runner does a very good job in the field. Its body is sealed, and through structural optimization and algorithm adjustment, its sound leakage is minimized. The official claim they can eliminate 90% of sound leakage. I do not have professional equipment to test, but I have tried and found that at 60%-70% volume, the sound is completely inaudible at a distance of 1.5 meters, which makes me very satisfied. I have actually compared it with other bone conduction earphones, and the Wissonly Hi Runner has currently the best sound leakage reduction solution in bone conduction earphones.
The Wissonly Hi Runner is also particularly comfortable in the wearing experience. Because the material of the whole machine is high-tech hypoallergenic silicone, and it is coupled with the ergonomic design that conforms to the structure of the human ear, so that users will not bring any burden to the ear under long-term wear.
Sound quality as the core performance is undoubtedly worth mentioning. Wissonly Hi Runner uses a large-sized vibration unit, the sound range is wider, the sound is more three-dimensional and deeper, so the sound quality is undoubtedly very good. And it is also equipped with a Bluetooth 5.0 chip, the connection is more stable. And it will not be disconnected when used, which is a good experience. The Wissonly Hi Runner also comes with 32GB of built-in storage that can store 5,000 songs, so you can use it completely as an MP3 player to enjoy music without your phone when you go out for a run.
2.Philips A7607 bone conduction earphones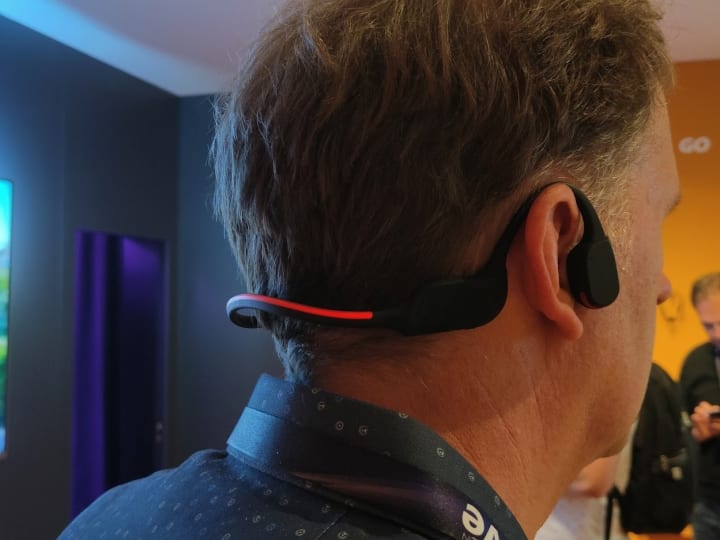 Reason for recommendation:
The sounding unit of the 7607 bone conduction headphone use a 17mm vibrator, which makes its sound have good penetrating power. What makes me even more surprised is that Philips A7607 is equipped with LED night run lamp at the rear of the its body, which has three kinds of brightness that can be switched. It is suitable for wearing at night, which can make people around you perceive their own position and further increase the safety factor. The waterproof performance of IPX6 grade is fully qualified for waterproof work in daily life, and even can withstand a small amount of rain intrusion.
3.AfterShokz OPENRUN PRO bone conduction earphones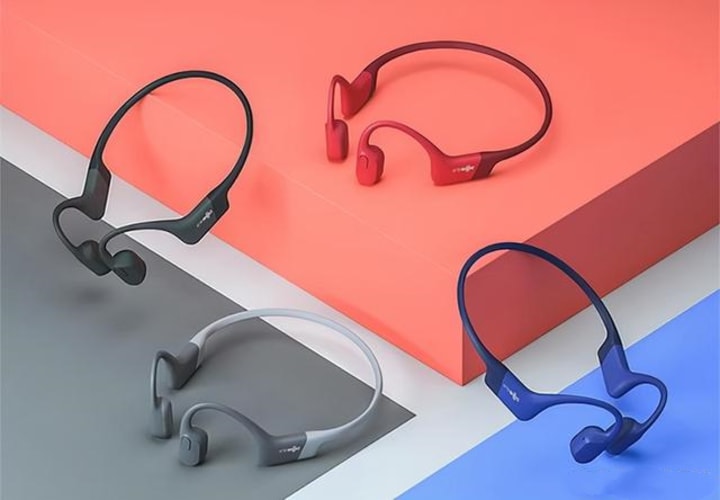 Reason for recommendation:
Openrun Pro bone conduction earphones are worn in an ear-hanging structure with both ears. The body frame is made of titanium alloy, which makes the weight of the headphones very light, only 26g, and there is no sense of weight when wearing them. The body is made of soft and skin-friendly silicone material, which also makes it more comfortable to wear. As the body is integrated, this also makes Openrun Pro inherently has a good waterproof performance. Its waterproof rating reaches IP67, and there is no problem in sweating and getting wet in the rain. However, it is not professional waterproof after all. Therefore, it can't be used when swimming.
4.earsopen SS900 bone conduction earphones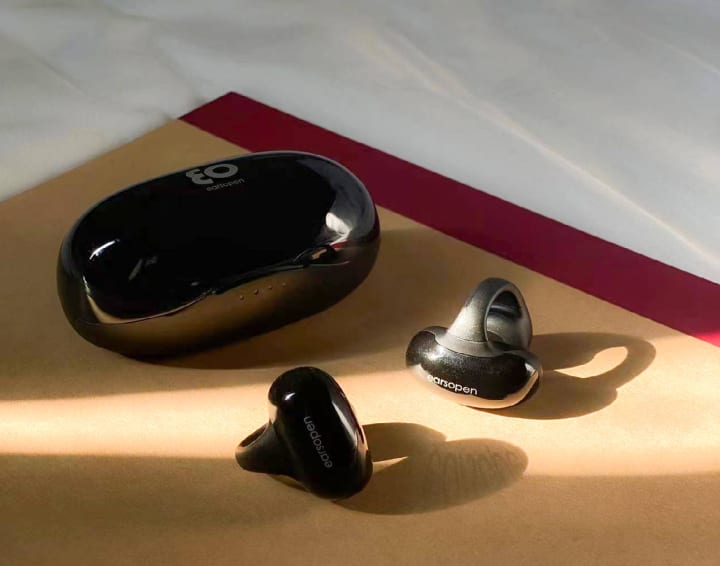 Reason for recommendation:
The fuselage is equipped with BoCo's bone conduction vibrator technology, with AVV's precise vertical vibration transmission technology. It has good lower potential and a wide sound range in low-frequency performance. The Bluetooth version of 5.2 helps it to maintain the stability of the connection within 10m. The weight of the body is 8g,it is light when clipping to the ear, but the wear method of the ear clip is not suitable for long-term wear.
5. vidonn F3 bone conduction earphones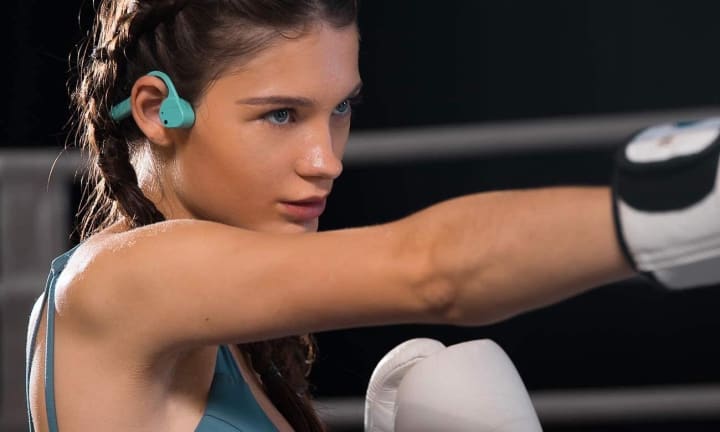 Reason for recommendation:
The weight of this bone conduction headphone is only 29g, and there is comfortable when it is used, whether it is hanging on the neck or hanging on the ear for a long time. The charging port of F3 headphones is a universal standard MICRO-USB interface. The charging port is waterproof with a soft rubber plug, which is not connected to the body, so there is a risk of loss. The disadvantage is that the sound quality is average, and the sound leakage is serious.
Among the above five bone conduction headphones, my favorite ones are Wissonly and Philips. These two brands have the strongest technology, and the sound quality and sound leakage reduction of the products are very good. Wissonly's product parameters are better and cost-effective, so you can buy without hesitation.
Comment