Best swim headphone:Shokz openswim review
Oct 14,2023 | David
Every hot summer, many people take swimming as their main exercise mode. Swimming headphones are one of the common equipment for swimming. This article aims to review a popular swimming headphone(Shokz OpenSwim)from a new perspective of real use review by some users.
Basic information of shokz openswim: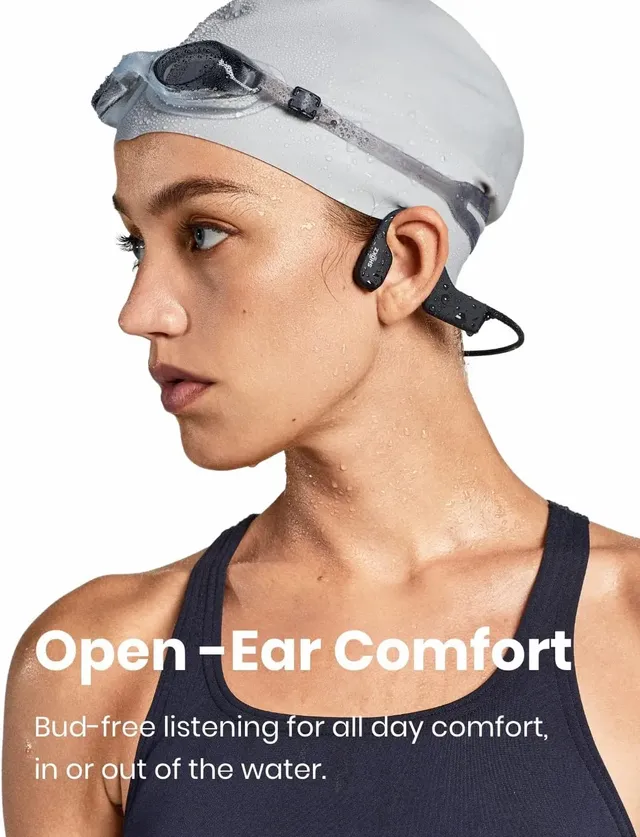 Product Dimensions:6.65 x 5.31 x 2.76 inches
Item Weight:1.06 ounces
Units:1.0 Count
Item model number:S700BK
Batteries:1 Lithium Polymer batteries required.(included)
Battery Life:8h
Fast Charging:No
Sweat Resistancy:IP68
Connectivity:Bluetooth not Compatible
Manufacturer:Shokz Limited Corporation
Shokz openswim review from users:
Product name: shokz openswim
Price: $149.95
Rating: 4.3
Where to buy: Amazon or official website.
User review 1:
User:LeeP Nation:United States
"So, as a longtime fan of Aftershokz and Shokz bone conduction headphones, I jumped on these. A little too quickly, unfortunately… Like the rest of the brand line, these headphones are great. They sound great, fit comfortably and are lightweight, and easily pair with my phone and charge up. If you only need these for swimming and working out (without a phone connection), these are perfect. They sound great underwater — like wut?!? It's crazy. Additionally, they're waterproof with 8 hours of battery life and support MP3, WAV, WMA, AAC, and FLAC music files for device-free listening. Unfortunately for me, I no longer download music to my computer like for an MP3 player? Who does anymore? I just use music so I really needed a set that had Bluetooth. So just make sure to read carefully to make sure these are the type of headphones you need — ones that don't connect to your phone for podcast/music streaming or to take calls."
User review 2:
User:Evan Nation:United States
"I have been swimming with these since the beginning of the year so about 7 months. They are a bit pricey but they have made my swimming workouts sooo much better and are very much worth the price. I had never had bone conduction headphone prior to these but it will be hard to go back. The battery life is great, I swim 30 minutes 3 times a week, and I get at least a month in between each charge. It is very easy to add music to these as well as long as you have mp3 files. Great buy, I recommend these to everyone I see in the lap lanes."
User review 3:
User:Carlos Nation:Canada
"I wanted to take some time to really test this headphone for swimming. To say that I was surprised is an understatement!
I never thought I could listen to music so well while doing my croll lengths.
Until I discovered these Openswim, I was always annoyed, angry, because water got into my ears with any other in-ear earphone and that caused me to have to interrupt my practice to fit them again.
But if I give so many details it's because that's over, this system is the best I've ever used, good bass quality, excellent volume, light, without cables that get tangled, without headphones that escape from your ears.
It is one of the best investments I have made in this sport!"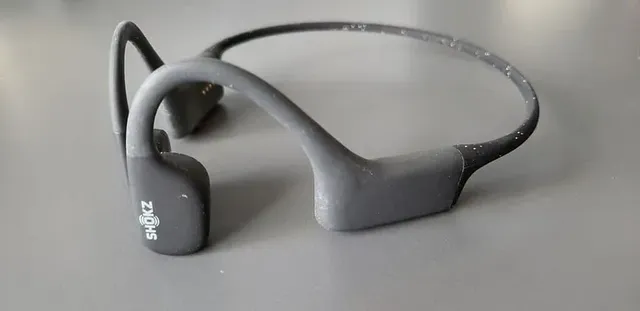 User review 4:
User:Dross4425 Nation:United States
"For swimming, It works, but it's just a challenge getting MP3 ANYTHING nowadays…so I'm deducting a star for the hassle. Also it's not loud enough for a busy gym workout, now if you're at home in your garage or workout room it's fine… It's also perfect for jogging or cycling!"
User review 5:
User:Mr. M. Y. Almodhahkah Nation:United Kingdom
"I spent a day reading reviews and all competing models had their pros and cons, good and bad reviews. Decided on these and I'm writing this review after only one swimming session but I've got to tell someone what a brilliant bit of kit these headphones are. I loaded a couple of mp3 and aac files, familiarized myself with the controls within a couple of minutes and headed to the pool. Sounds best when doing front crawl or backstroke with the continuous submersion. Doing breaststroke it's a constant variant in sound (but that's from water going in and out your ear each time you submerge, not any variation in sound output). Placed my goggles on over the band to secure them. A mile swim felt so easy with these, and makes me want to swim more, so they're worth their weight in gold."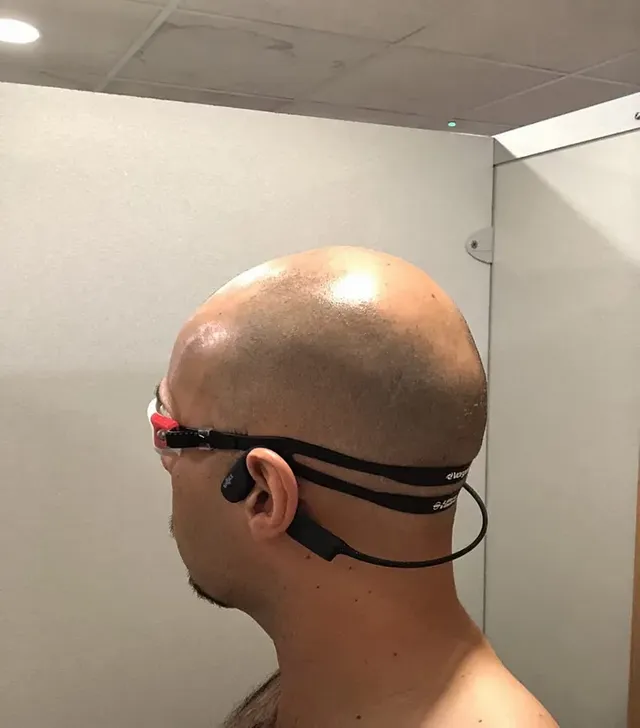 User review 6:
User:H. C. Harless Nation:United States
"Shokz has created a fantastic solution for the boredom of swimming laps. The build quality is excellent. I think the sound quality of these is what you might expect but it is so cool to swim while you listen to music. These are not for critical listening but rather a great companion for swimming. I highly recommend them."
User review 7:
User:Paul P Nation:United States
"I have been through 3 different underwater music devices. This is by far the best; none come close.
First, I'm an audiophile and musician, so quality is important to me. The entire design and ergonomics are spot on. The battery life seems pretty good and the easy of use is great. It's very easy to listen to music while swimming laps, to skip songs, adjust volume, etc.
This is a 5+ star rating hands down"
User review 8:
User:fay e Nation:United States
"I used to have an air flood for swimming but was often stopping to adjust the ear buds as they would cut out at times. This is never a problem with the Shokz. It is completely consistent and has good sound quality. Makes such a difference!"
User review 9:
User:be Nation:United States
"So I have used these headphones 6 times and am blown away. Works much better than my delphin radio I had prio and is much cheaper . Sound quality is much better and louder. I also like how there is cord that would get in my way on my previous pair. Only downside is you can only download music files from the computer. But, that is no big deal. You do have to wear earplugs to hear better. I would buy it again in a heartbeat. Makes my swimming so much more enjoyable."
User review 10:
User:Decorate Jesus Godas Limia Nation:Spain
"I have to admit that the product meets the requirements.
They sound great underwater, even better than I expected.
I only see one shortcoming; The charger cable is specific to this headset model, and except
It has a rather fragile appearance, which is impossible. I bought a spare one from Spain.
I'm worried about making the rather expensive headphones unusable because I don't have a spare charger.
If the manufacturer sells headphones through Amazon, it should provide the possibility of purchasing spare parts through Amazon.
A shame, because otherwise the product conforms to more."
In the use review of many users of shokz openswim, the praise is mostly, which shows that it is a good earphone. But at the same time, there are some problems, such as no Bluetooth mode and overpriced.Therefore, if you want to find some affordable swimming headphones with both MP3 mode and Bluetooth mode in the market, then Wissonly Hi Runner is worth considering.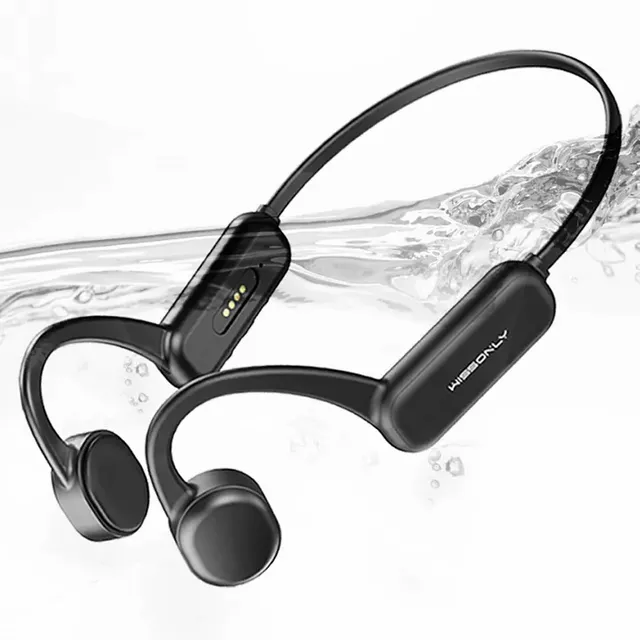 You might wonder, "Can Hi Runner be used in swimming?"What I'm want to tell you is"of course it can!"Although the name of Wissonly Hi Runner is Hi Runner, it also has an IPX8 waterproof rating higher than the industry standard, which allows it to work normally during swimming and diving,which it is a swimming headphone that deserves its name.Of course, it is also suitable for other sports such as running, because it is comfortable and stable enough to wear.
The Wissonly Hi Runner features an adjustable aerospace-grade titanium frame that can accommodate different head sizes and also works well with swimming glasses and swimming caps, ensuring a stable fit. The headphone surface is made of high-tech, low-sensitivity silicone material, free from any chemical components, to avoid allergic reactions. The overall feel of the headphones is as smooth as a baby's skin, preventing discomfort during extended wear. Moreover, weighing less than 30g, they are lightweight and won't feel burdensome.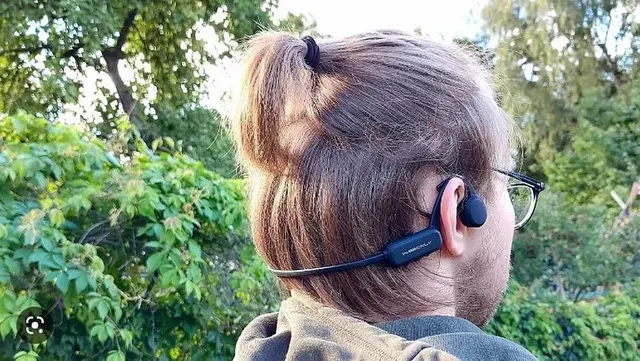 Hi Runner uses a 5.0 Bluetooth chip for smoother connectivity. However,when you use Bluetooth mode while swimming, because there is still a certain distance between the connected device and the headset,so the connection may be poor and the sound will be intermittent.Don't worry,Hi Runner equipped with 32G built-in storage, which can store 5000 songs, and supports two working modes of Bluetooth and MP3. In the scene of underwater sports or without a mobile phone, you can completely use it as a Bluetooth MP3 player.Moreover,its battery life is very strong, it can be used continuously for 10 hours, and it supports magnetic fast charging,which takes only 2 hours to fully charge.As a result, it is able to accompany the swimmer throughout the swim.
It has a very high cost performance and only costs $99.99.
Comment