Best swimming headphone:Shokz openswim review
Oct 14,2023 | David
People who know about bone conduction headphones should be familiar with the brand Shokz. Its product "OpenSwim" is a bone conduction swimming headphone, which is targeted and can meet the needs of swimmers to swim in the water. So, what is its practical sense of use? In this paper, some user experience reviews are compiled for your reference.
Product parameter: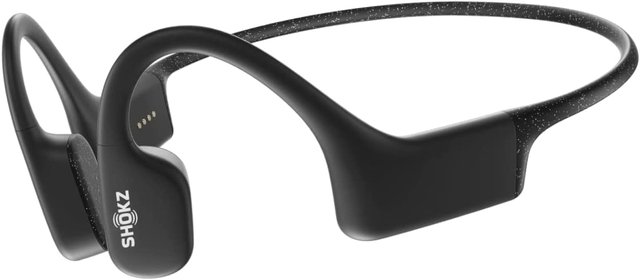 Product Dimensions:6.65 x 5.31 x 2.76 inches
Item Weight:1.06 ounces
Units:1.0 Count
Item model number:S700BK
Batteries:1 Lithium Polymer batteries required.(included)
Battery Life:8h
Fast Charging:No
MP3 Stroage:4G
Sweat Resistancy:IP68
Connectivity:Bluetooth not Compatible
Manufacturer:Shokz Limited Corporation
Shokz openswim review from users:

Product name: shokz openswim Price: $149.95
Rating: 4.3 Where to buy: Amazon or official website.
User review 1:
User:CAROL A Nation:United States
"Have had Shokz for a month and love that it makes swimming go by fast.
Comes with a case, charger, earplugs/nose plug and 2 yr warranty.
I tuck the headset under my swim cap and the connector strap fits nicely above my ponytail.
I use earplugs and the sound comes through perfectly with nice bass.
Very easy to drag and drop songs for 4GB of music, battery lasts a long time.
Highly recommend"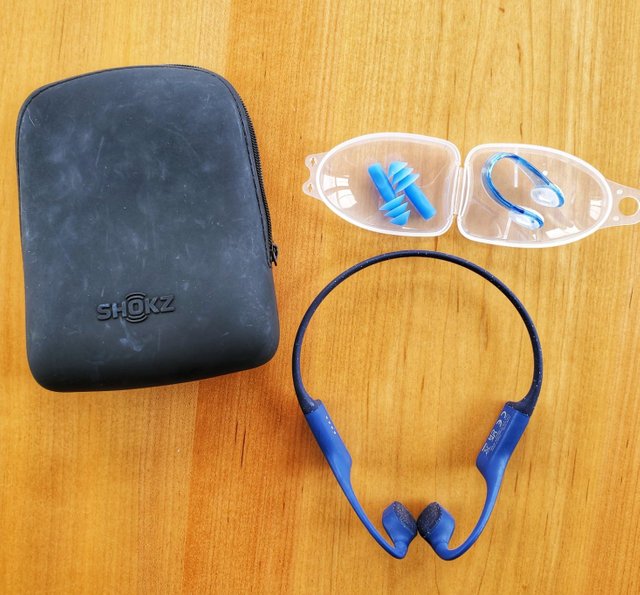 User review 2:
User:D Nation:United States
"started the warranty process, and while it seemed to be going smoothly, I screwed up the shipping label, so doubt it's gonna work out. That said, I was confident enough in the warranty, and they do sound better than I've any reason to expect, that I bought another pair!
Lasted less than 5 months at about 4 hours a week use and the "protective" rubber coating is falling off. The small, when compared to much cheaper bone conduction headphones, memory jumbles up songs, mixing them up mid song. 2 whole eq settings, degrading sound quality, 1990s interface, no Bluetooth for file transfer. So much for you get what you pay for."
User review 3:
User:Royce D Nation:United States
"Like it. Just a little bit expensive.
I bought two different bone conduction headphones. One is for swimming, and the other one for anything else. Both of them work great and esay to use."
User review 4:
User:Mayday of Matlacha Nation:United States
"Great for swimming but difficult with audiobooks.
I listen to 1 hour+ audiobook files. Sitting by the pool, 20-30 minutes into a file I go to switch between general and swimming mode to start swimming. I accidentally barely click the Mode button. I immediately go into repeat mode AND back to the beginning of the file. With no fast forward, I have to re-listen to the already listened to 20-30 minutes. Recommend switching the way the Mode button works. Short presses to switch between general and swimming mode; long presses to switch between normal, repeat and shuffle. Otherwise I love these things."
User review 5:
User:Amazon Customer Nation:United States
"This product is perfect for MY swimming.
The charging cradle plugs into my computer and downloading content is done by dragging and dropping.
There are some drawbacks.
It is only MP3, so I only download podcasts from APPL.

You cannot fast-forward. That is a pain because the episode starts from the beginning if you hit the volume button incorrectly."
User review 6:
User:About Delort Nation:France
"Ravi! ! ! Two months later, I bought it and used it. The sound quality exceeded my expectation and bone conduction, which made the music clearly conveyed to my ears because there was a small radio implanted in my head! This is Offfff! ! !
Therefore, waterproof, I don't know the number, but there is no problem in underwater 3m ... stable, light in weight, super fast charging ... but most importantly, I also hear other sounds around me, which gives me a sense of security when swimming! Music and sports, that's what I want for my holiday! Fonce! ! !"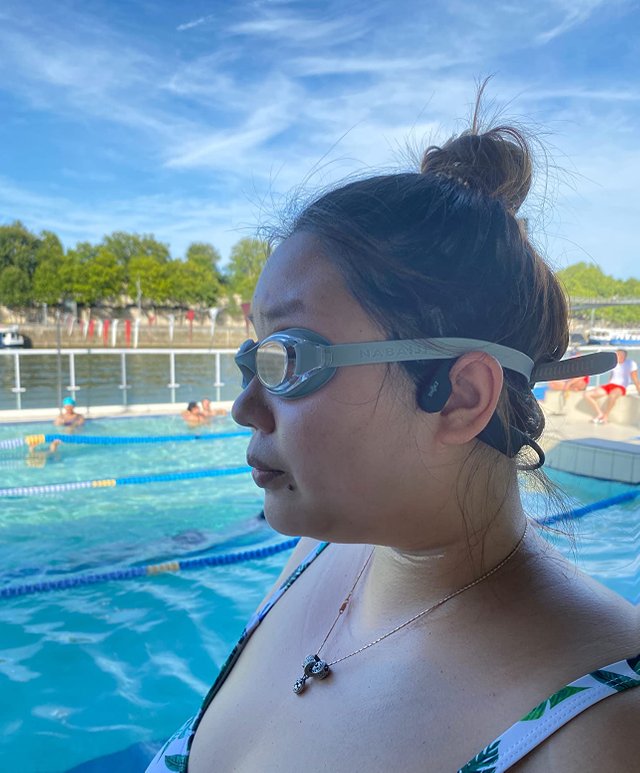 User review 7:
User:Dave Nation:United States
These have been great. If you find lap swims monotonous, these are a game changer. Battery life is good (more than a week between charges when doing 5000-75000 yards/week). Really well made. Controls are straight forward. Old school in that you need MP3s to load on, but that is easy to do. Sound quality is good, given the conditions they are used in. Noticeably better if you use the included earplugs. I have larger head and they fit very comfortably and securely. Other than my yardage-counting Garmin watch, these are the best thing for making lap swimming bearable I've ever had. Seem to be very durable. Great purchase.
User review 8:
User:Janet Nation:United States
"I swim about a half hour longer now because I don't think about the time so much with music. The sound is great and they stay in place. I have quite a few MP3 files and my older cds tend to not have protected files. Unfortunately Bluetooth does not work well underwater- then these would be perfect. The included soft case is nice too- protects them in my swim bag."
User review 9:
User:Aaron Campbell Nation:United States
"I've tried a few different (cheap) brands, which have all been returned. These work! Easy to load mp3s on, work great underwater, and battery life is very good.
Only complaint is the odd charger. It is different than any other charger I've ever seen, so if you lose it you are kinda screwed."
User review 10:
User:Mr. Green Pants Nation:United States
"I ordered the OpenMove headset about two weeks before I ordered these. I absolutely love the OpenMove. Great sound without anything in my ears. The OpenSwim. . . I'm undecided. The OpenMove is great for my five mile daily walks and gym sessions. I also lap swim a mile four days a week. So I got the OpenSwim specifically for my swim workouts.
The first day I wore them I was unimpressed with the sound I got while at home loading up some MP3's. Particularly since I was so happy with the sound from the OpenMove. I swam a lap and was extraordinarily disappointed. I couldn't hear a thing during my freestyle and kickboard work out. During my freestyle, there was just too much noise from my arm strokes to hear the music. During my kickboard workout the music quality was just terrible. But when I fully submerged my head under water...Holy Cow! What fantastic sound. The problem is, of course, I'm rarely submerged while I swim. I don't ordinarily do turn kicks because it takes too much out of me. So even though I like the concept of not having anything inserted in my ears, for the last week I've been swimming with ear plugs in.
There's a marked difference in sound quality for the better with ear plugs in. However, the music quality is still terrible while I'm doing my freestyle strokes. I'll compare it to having a radio playing by the side of the pool. You know it's playing music, but you can't tell what song, or even what type of music, is playing. But my kickboard workout is much more enjoyable. BUT, the problem that I was trying to avoid by not having in-ear headphones is painfully smacking me in the face. With the ear plugs in I can't hear a single thing going on around me at the pool. I can't carry on a conversation with my lane neighbor. I can't hear people calling me to get my attention. I hate being so situationally unaware. It reminds me of visiting NYC a couple years back and looking at all the idiots on the subway with junk in their ears. None of them knew what the heck was going on around them. I'll try them out for another week. But for the price, I just don't think they're worth it."
The above is the real user evaluation of shokz openswim. Generally speaking, this is a good swimming headset. But no pair of headphones is perfect, and it also has some disadvantages, that is, it is a little expensive and there is no Bluetooth mode. There are some products with both Bluetooth mode and MP3 memory mode in the market, which have better cost performance, such as Wissonly Hi Runner, which is a good affordable substitute.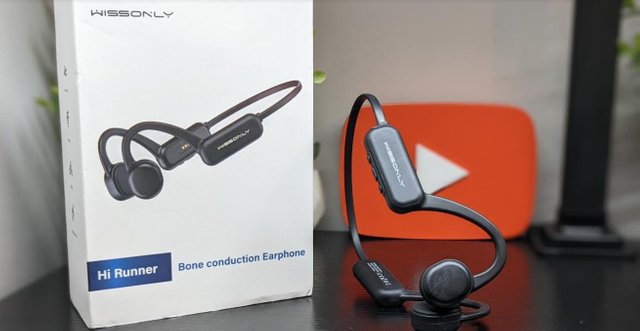 Reason for recommendation:
The first element of swimming headphones is undoubtedly its waterproof rating. Although the name of Wissonly Hi Runner is Hi Runner, it is surprising that it has IPX8 waterproof rating higher than the industry standard, which can make it work normally when swimming and diving. Swimmers can also clean their headphones after soiling them, making the next experience better!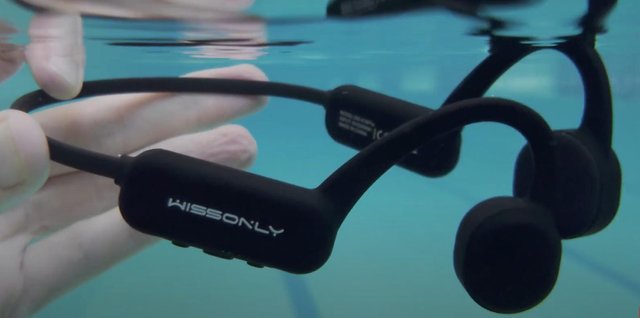 It uses Bluetooth 5.0 technology to make the connection more stable and smooth. In addition, Hi Runner is equipped with 32G built-in storage, which can store 5,000 songs, so it supports Bluetooth and MP3 working modes. It can be used as a Bluetooth MP3 player in underwater sports or without a mobile phone.Moreover,its battery life is very strong, it can be used continuously for 10 hours, and it supports magnetic fast charging,which takes only 2 hours to fully charge.
The Wissonly Hi Runner features an adjustable aerospace-grade titanium frame that can accommodate different head sizes and also works well with swimming glasses and swimming caps, ensuring a stable fit. The headphone surface is made of high-tech, low-sensitivity silicone material, free from any chemical components, to avoid allergic reactions. The overall feel of the headphones is as smooth as a baby's skin, preventing discomfort during extended wear. Moreover, weighing less than 30g, they are lightweight and won't feel burdensome.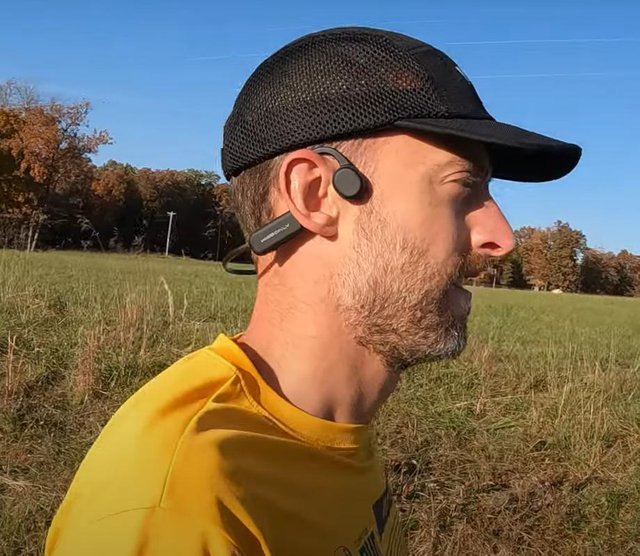 It only costs $99,99, it's the best value for money among swimming bone conduction headphones with comparable performance, and it's also within budget.Wissonly products have strong performance and good quality. As early as 10 years ago, Wissonly's team began to research headphones that do not hurt the ear, and introduced bone conduction technology into the field of headphones.
Comment