Best headphone for the gym:Beats studio 3 headphone review
Oct 24,2023 | David
Beats Studio 3 Wireless headphone is updated on the basis of the previous earmuff Studio Wireless headphone. Although the Beats Studio 3 Wireless headphone has hardly been updated in appearance, this headphone has built-in many update functions, such as the configuration of Apple's W1 chip, which is also configured in Apple's AirPods products, so that these devices can be paired with iPhone or iPad devices more easily.
Product information: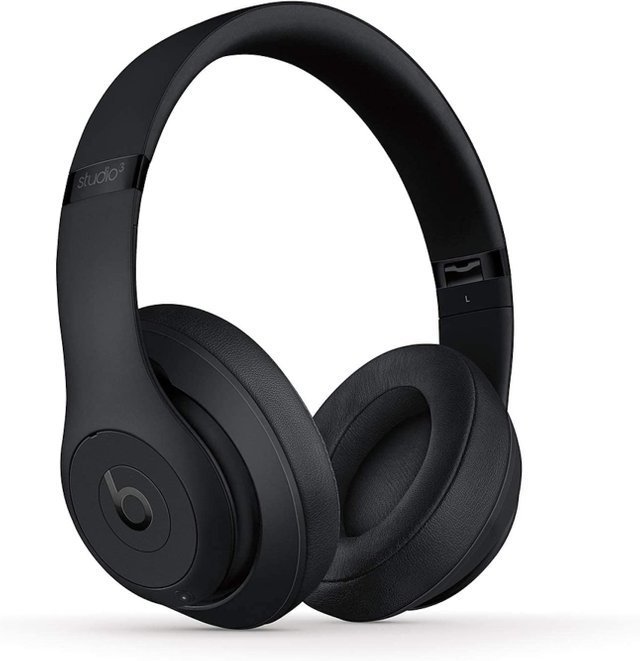 Product Dimensions:6.3 x 4.7 x 8.9 inches
Item Weight:2.42 pounds
Fit Type:On-Ear
ASIN:B079TLV1WW
Item model number:MQ562LL/A-cr
Batteries:1 Lithium Polymer batteries required.
Manufacturer:Beats
Item Weight:2.42 Pounds
Units:1.0 Count
Number Of Items:1
Beats studio 3 headphone: review from users:

Product name: Beats studio3 Price: $174-185
Rating: 4.6 Where to buy: Amazon or official website.
User review 1:
User:Timothy Fowler Nation:United States
"These are pretty great, I use them at the gym and have never had a problem with them. Sound quality is amazing, comfortability is great, Bluetooth connection hasn't failed me once and it has great range. Noise cancellation when music is on is perfect, when not on it's about average."
User review 2:
User:brandon barbieri Nation:United States
"I bought these because I owned a pair of Shure headphones for the gym. The Shure were too wide and would slide off my head when I would lay down. These fit much more snug. Great quality and sound."
User review 3:
User:essica J. Solisa Nation:United States
"Love this product! I used to always wear AirPods for the gym but with the sweat they'd fall out. One thing I love the most is the noise cancelation cause that makes a big difference. The gym is full of music and loud weights being dropped, I don't hear any of that. I can be in my zone and enjoy my music beautifully. I also tested them out at my job at an animal shelter. Definitely helped with the dog barking so it didn't hurt my ears and I could hear my music."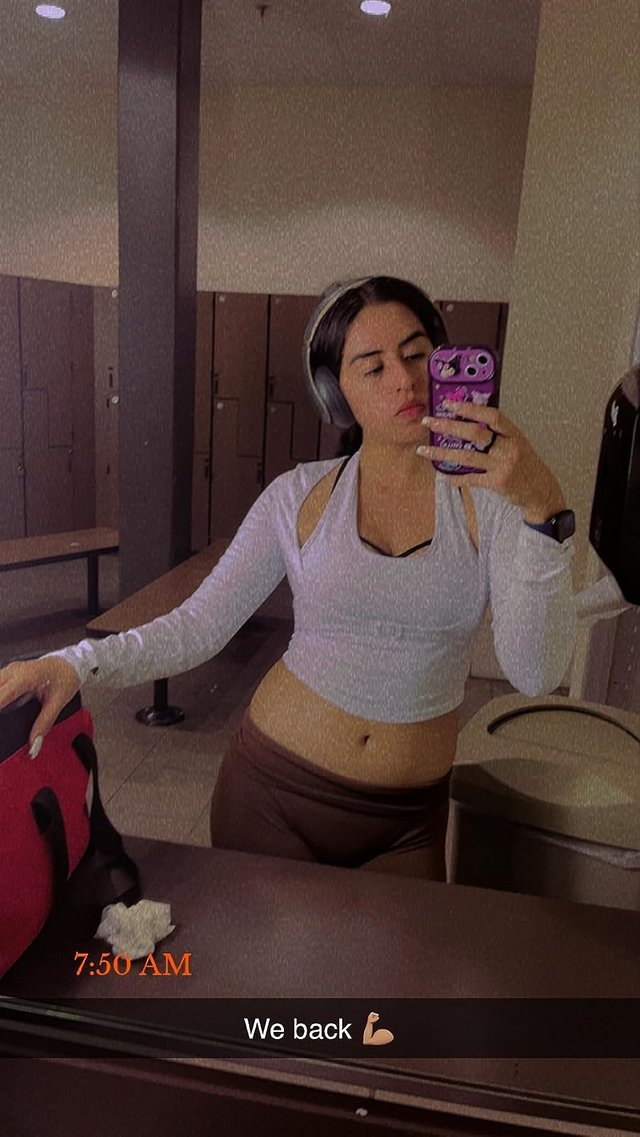 User review 4:
User:Tammy Trexler Nation:United States
"I honestly love this brand of headphones, but I find it sometimes to be a pain in the butt trying to connect to my phone and listen to my music while at yhe gym . Also right now Im noticing only when I turn them on and start playing my first song it getst a crackly sound , and then it stops, plays great . What I didnt know is that this was a used "renewed" ..beats head phones...when I am the type of person that likes my stuff , especially electronics BRAND NEW...but some how I have used head phones and the box came all torn up in the front side corners . I m dealing with them because honestly this maybe the last time I ever but anything from Amazon again ..and whats funnier is i work for Amazon I can tell u that ive seen some stuff they do to ppls products that would be enough to shut it down .... I m under obligation not to speak of what actually happens there . An be carefully been hearing Sonys products mainly sold through BestBuy are getting faulty electronics right now . Just read everything before u click that purchase button!!"
User review 5:
User:Marcel68 Nation:United States
" I have had a opportunity to use these on a international flight. The battery lasted the entire flight while watching several movies but an even better Surprise was the noise cancelling. I did not realize how great this feature is until that flight. It worked great and definitely helped to eliminate or at least extremely reduce the sounds of the airplane engines. There was a very distinct difference between having the ANC on vs. off which made the flight that much more enjoyable considering the circumstance. These headphones are great for flying and were very comfortable on my head and ears over the many hours of the flight.
I thought I would test these "Renewed" Blue Studio 3's after reading the reviews and I am very satisfied. I have been using them for almost a week & I love all of the amazing sounds I now hear when listening to my music at the gym. I have used them doing sit-ups and kettlebell swings and they have stayed on my head throughout every set. The noise cancellation or ANC in my opinion is not a positive feature, I don't care to hear a white noise type of sound when listening to music. The "Renewed" Studio 3's are priced to sell, light in weight, stay on my head regardless of my particular exercise, very easy to wipe clean and absolutely sound great. They have not missed a BEAT!!!"
User review 6:
User:Stephen Uveges Nation:United States
"I bought these headphones in Dec 2019. I have taken great care of these and use them primarily while working. Overall, the quality of sound has been great. However, just recently while at the computer listening to music the headphones all of a sudden got loose and almost fell off my head. The right earphone has a plastic piece that connects it to assembly that goes over your head...it has two cracks right under the gold band above the adjustment point. Of course it is just over a year so it is now not under warranty. I attempted to get it repaired through Apple and they wanted $375.00 to fix it, much more than a new one would cost you and then some!!! Unbelievable. I can see other buyers have had the same exact issue. This should be a class action lawsuit against faulty materials. There is no fixing it as you cannot get back that rigidity to have the earphone sit properly sealed against your head. Now it is an expensive paper weight. I am going to research other brands now."
User review 7:
User:kiki868 Nation:United States
"Love this beats studio3 and it came in excellent working condition with no visible scratches. Fits comfortably and the noise canceling feature works perfectly. I would certainly recommend. It came with a carrying case, cords for if I want to use it wired and a charging cable. The wireless feature works well and the bluetooth pairs easily with my Google pixel phone."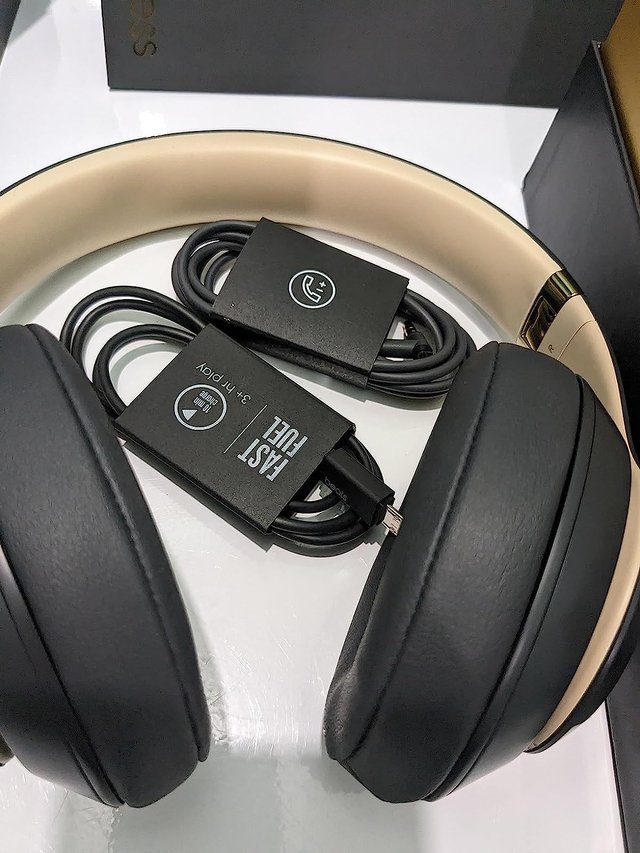 User review 8:
User:Danielle Nation:United States
"Literally only had them for a day so far, but the pair of Beats I received came in all original packaging. I got the Desert Sand Studio 3 and im obsessed. Original cords, including the desert sand cord to make the headphones wired. I am in love!! I really lucked out to get a pair that I am not sure has ever even been used. The box was out of its original factory seal (which. I mean. duh. They're supposed to be). But they had rhe original stickers on them to peel off. They had the original case to store them in. Orginal power cord (or if it wasn't, it was definitely a beats charger cord from some other beats product). No damage visible ANYwhere on them. Not even a microscopic scrape. The box was a little beat up, but I ain't worried bout the box. Bass sounds great. Noise canceling could be better, but it does still work very well and I can definitely tell a difference when it is on vs when it is off. Both of my entire ears fit inside the head set so there is no pressure from pushing on the ear itself. They don't squeeze the head too hard either which makes me optimistic for long use on trips or something (haven't used them for more than a few songs yet). I got very nervous after reading so many negative reviews. But with the protection and return policy Amazon provides, I decided it was worth it to try it anyways cause worse case scenario, I could always return or exchange. I'm very excited to use these wonderful things in life! I highly recommend at least trying! They're like new cars: they're so much money up front because they've never been owned, but once driven off the lot, they lose sooooo much of their initial value. Same concept: they've been opened before you get them, yet you're saving soooo much money to receive the same product in the same brand new condition."
User review 9:
User:Jason Saavedra Nation:United States
"These headphones are great. I used to own some Beats Solo 3 Wireless and these are far superior because of the studio design that covers your entire ear. I go to the gym almost every day and play my music near the loudest setting possible and no one can hear any of my music. Additionally, I hear nothing outside of my headphones unless I turn the volume all the way down. These help me stay focused on what I am doing and leave all the distractions in the dust, not to mention the battery lasts me days. Overall these are my favorite headphones to go to the gym.
Recommendation: Should anyone purchase these for the gym be sure to dry off all your swear from the earpads every time you use them. I personally wipe them down with baby wipes then dry them off with a paper towel and that will ensure you get the full value out of your headphones."
User review 10:
User:Axel Q. Nation:United States
"False advertisement, the official website says "Spatial Audio" and I literally bought these just for this specific feature, since I also bought the Beats Fit Pro and I loved them, I had to call to the Apple Call Center asking why are you selling this like this if it's not true, the design it's pretty and if you like to show off these have the best looks in the market, but comparing these to brands like Sony, which headphones turned off automatically if you are not listening anything for some minutes to save battery, the overall experience doesn't worth the price at all.
I can buy with less money "Smarter" headphones"
These are some real user reviews of beats studio3 headphone. Generally speaking, most users are satisfied with its cost performance. However, it is not without its shortcomings, such as overpriced, its on-ear design isn't for everyone,the headphones are too bulky and inconvenient to carry and so on.Therefore, if you expect to find a headphone with comfortable wearing and suitable for various scenarios,it is recommended that you try the emerging bone conduction technology headphone with zero burden to the ear -Wissonly Hi Runner.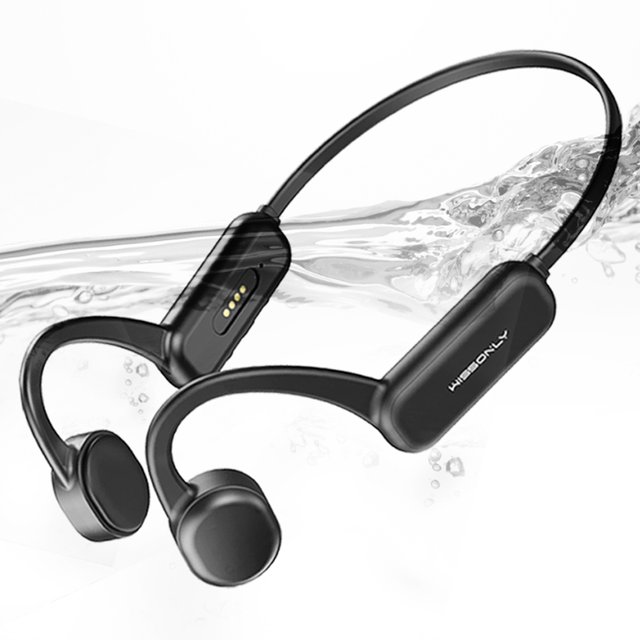 Wissonly's team has been researching headphone products that don't hurt the ear as early as 10 years ago and introduced bone conduction technology into the field of headphones. Their products have powerful performance, high-cost performance, and are very strong in core performances such as sound quality, sound leakage reduction, and waterproof level.
Hi Runner sports bone conduction headphones are open-eared and worn directly on the temples, so your ear canal is completely open, which makes it easy for you to hear the sound of cars and traffic lights outdoors in sports scenes such as running and walking, making you safer to use.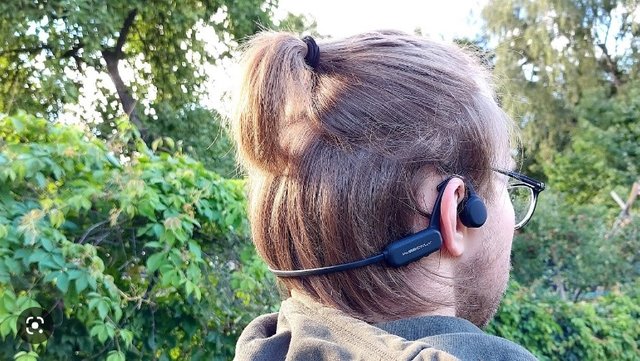 In terms of fit and comfort, the whole frame of Wissonly Hi Runner is made of adjustable aviation grade titanium steel, which can adapt to different sizes of head circumference and ensure the stability of wearing. Its earphone surface is made of high-tech low-sensitivity silicone material, which contains no chemical components to avoid allergic phenomena. The overall touch of the earphone is as silky as baby's skin, avoiding uncomfortable situations when worn for a long time. Moreover, its weight is very light, less than 30g, and it will not feel heavy when worn. After wearing it, I took it off at the end of the run. This Hi Runner didn't let me have any extra adjustment. As the flagship model of outdoor sports of Wissonly brand, it is the most comfortable and cost-effective one among all bone conduction at present.
When you sweat a lot when running or doing other sports, or when it suddenly rains when you run or exercise outdoors, then the waterproof performance of sports headphones is very important.As the flagship model of Wissonly,the waterproof grade of Wissonly Hi Runner Sports Bone Conductivity Headphone reaches IPX8 waterproof grade higher than the industry standard. It allows the wearer to work normally when swimming or diving, not to mention sweat prevention or ordinary waterproof.
It is also equipped with 32G body memory, which can store 5,000 songs, and supports Bluetooth and MP3 working modes. You can use it as a Bluetooth MP3 player for underwater sports or scenes without a mobile phone.
Hi Runner is the flagship product of Wissonly, and its overall function is also the most perfect. In terms of sound quality, this bone conduction earphone uses the latest research results of Wissonly laboratory, which increases the vibration area of the vibrator by 35%. At the same time, it also optimizes the sound transmission direction to make the sound more concentrated and the music more spatial, and it has a good performance in both high and low notes.
Wissonly has made a lot of efforts to reduce its sound leakage. Its all-wrapped design reduces the vibration of the shell, and through structural optimization, the sound waves of the sound leakage are canceled, thus avoiding 90% of the sound leakage. Wissonly Hi Runner's sound leakage performance is much better than that of the same gear bone conduction headphones on the market.
Comment