Best workout earbuds:Beats Powerbeats Pro review
Oct 24,2023 | David
In 2019, Apple's Beats brand released the Powerbeats Pro wireless earbuds, which is known as "Sports Enhanced AirPods". Powerbeats Pro inherits the advantages of the previous generation of sports type, which is a completely wireless headset tailored for workout. With adjustable anti-slip ear hooks and earplugs of different sizes, it can adapt to any high-intensity exercise without loosening. The enhanced anti-sweat and anti-water design and excellent endurance will bring you a better training experience.Are they really worth buying? This article collects some real reviews from users to answer this question.
Basic information: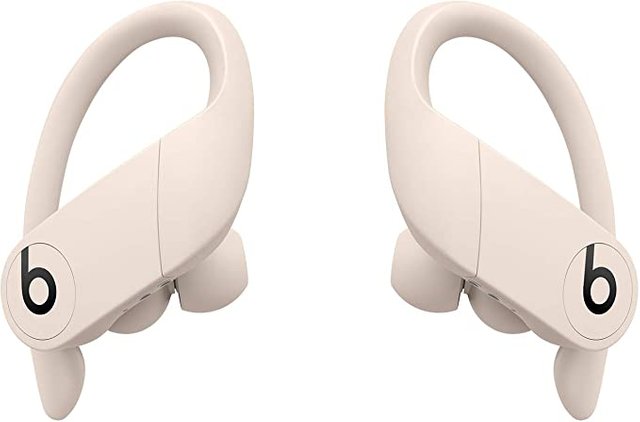 Product Dimensions:2.3 x 3.8 x 0.9 inches
Sweat & Water Resistant:IPX4
Item Weight:0.64 ounces
Form Factor:In Ear
Manufacturer:Apple
ASIN:B07R5QD598
Item model number:MY582LL/A
Batteries:3 Lithium Ion batteries required. (included)
Battery Life:Up to 7-hours of listening time with ANC off (30 hrs with case)
Date First Available:May 3, 2019
Item Weight:0.04 Pounds
Units:1.0 Count
Number Of Items:1
Beats Powerbeats Pro Exercise Earbuds review from users:

Product name:Beats Powerbeats Pro Price: $199.95
Rating: 4.5 Where to buy: Amazon or official website.
User review 1:
User:tmliddle Nation:United States
"I am so happy with these. I have had the beats sports model for an estimated 8 plus years but at this point the wire is getting compromised. These things owe me nothing, been fantastic! Well, I decided to treat myself and buy the Powerbeats Pro Wireless and wow, the convenience of no wire attached is amazing. I love these because like my previous pair, they have an over the ear part that prevents them from falling out and they are sweat and water resistant like my last ones. I workout and mainly ride my bike with my music so that is an important feature. Having the over the ear attachment also prevents them falling out while riding my bike and lose one. They are expensive but as I found out with the last pair, they are well worth it. I never realized they are an Apple product until I bought this pair so I may even consider an iPhone sometime now. I have an LGV30 and they work great. Sorry this is so long, I am so happy with these that I'm a bit long winded! :) Oh, I also feel I need to comment on Apple Customer Service.....EXCELLENT!!!"
User review 2:
User:Debbie M. Nation:United States
"Apparently my ears are strangely made because no matter how much I try, these don't reach all the way into my ear canals. I have tried all the covers and they just don't fit right. They also hurt my ears, which is weird because I have worn hearing aids most of my life! Guess I am just a delicate flower.
At any rate, if I can sit or lay down and fuss with them I can usually get a pillow or blanket to kind of gently hold them closer to my ears. They sound great, just not right for me."
User review 3:
User:MotherofDragons Nation:United States
"I first bought these a little over a month ago and had such a frustrating experience with them. During that first week it got to the point where I could only get the right earbud to connect and function 40% of the time and charging as a whole was ridiculously inconsistent. Just because you had that case plugged in for hours absolutely did not mean that the case and both earbuds would charge at all. When they functioned properly I loved them so I decided to give it another shot by exchanging that pair for a brand new one, and I'm so glad I did.
My new pair doesn't have connectivity issues, charging is stress free, and their charge even seems to last quite a bit longer than that first "defective" pair did. I have small ears and I sweat a lot during my workouts. These earbuds have a comfy fit and I've never had to worry about them falling out. Of course sound quality is great too. If you're having issues with a pair you purchased I really encourage you to try out an exchange with a new/different pair."
User review 4:
User:Natasha M Nation:United States
"I needed to buy over the ear headphones that could stay in my ears while I workout. I have never been able to find ear buds that will stay in and I thought this would be a good option. I also wanted a nice pair of earphones that would last a long time and provide quality sound.
Pros:
-Over the ear design that stay in my ears
-Fit nicely in the case
-Made with quality materials
Cons:
-Sound quality is subpar for what is advertised; the sound quality is decent but I have had much cheaper headphones that had better sound quality
-These do not hold a charge while in the case; lasts about three days before I need to charge them. I don't use them everyday and when I do it's only for maybe an hour or so. There have been so many times I got to the gym and can't use them because they don't have a charge. I don't understand why this is happening besides the design of the charging case.
-Has an automatic feature turn on and off when you put the ear bud in your ear but it does not reliability work.
Honestly, my biggest complaint is that the ear buds do not hold a charge in the case. If you charge them everyday this won't be a problem but if you want to keep them in your backpack or gym bag and pull them out occasionally these absolutely will not be a good choice. Very overrated for the price."
User review 5:
User:Paige Howells Nation:United States
"I have purchased similar headphones from Powerbeats in the past. Unfortunately while running a half marathon in a down pour, they didn't survive. However I had them for several years. I recently purchased these and just over a month later, one of the earbuds stopped working. I do sweat a lot at the gym, but I was under the impression they were rated for that situation. I'm really bummed out because they sound great and are really comfortable. For the price, I was hoping they'd last longer than a month!"
User review 6:
User:Summer Nation:United States
"The headphones work fine. It's good to wear in the gym because it doesn't fall off even with the sweat. My headphones died in the middle of a workout and I was able to do a quick charge with it for 5 minutes. It lasted me the rest of the workout.
The bad thing about these headphones is the charging is so finicky. With the brand and the cost, you would think it wouldn't take so much finesse to charge it. I literally have to push them into the case and check the beats app on my phone to see if they're charging properly. My other comparison is to the Samsung galaxy wireless buds, which I can just drop into the case and it charges with ease. The beats headphones are not noise canceling either."
User review 7:
User:Emz Nation:United States
"I pre-ordered these headphones before reading any reviews because I have been so desperate to find good headphones to run with. In my nearly 30 years of existence, I've never been satisfied with a pair of headphones. I probably have the weirdest shapes ears ever because nothing fits them. Either they slide out or hurt, or both.
Day 1- FINALLY THEY'RE HERE!!! 😍 I charged them while finishing my work day up (I think they came pretty much charged because they were at 100% within 5-10 minutes) then eagerly headed to the park for a test run. The temp has reached the 90's here in Mississippi so it was inevitable that they would be receiving a sweat test! After 3 miles (41 minutes, let me mention I'm a beginner runner) I realized I never had to adjust them or push them back into my ear, not ONCE! I'm thinking this is too good to be true! I had forgotten I even had them on, other than the fact that I had a clean crisp bass playing in my ears. I also own a pair of Studio beats, and honestly these ear buds sounds almost as good... which is pretty awesome to not have to wear something so bulky but still have the noise cancellation and sound quality.
Overall, it's only been one day but my first impression is absolutely amazed.
Side note, these were shipped in a box big enough to fit a baby heifer and it looked like it had been thrown off a mountain. I could almost remove the tiny product box through an opening of the baby heifer shipping box. Not sure if Amazon or UPS is to blame for that, but it definitely wasn't the headphones fault."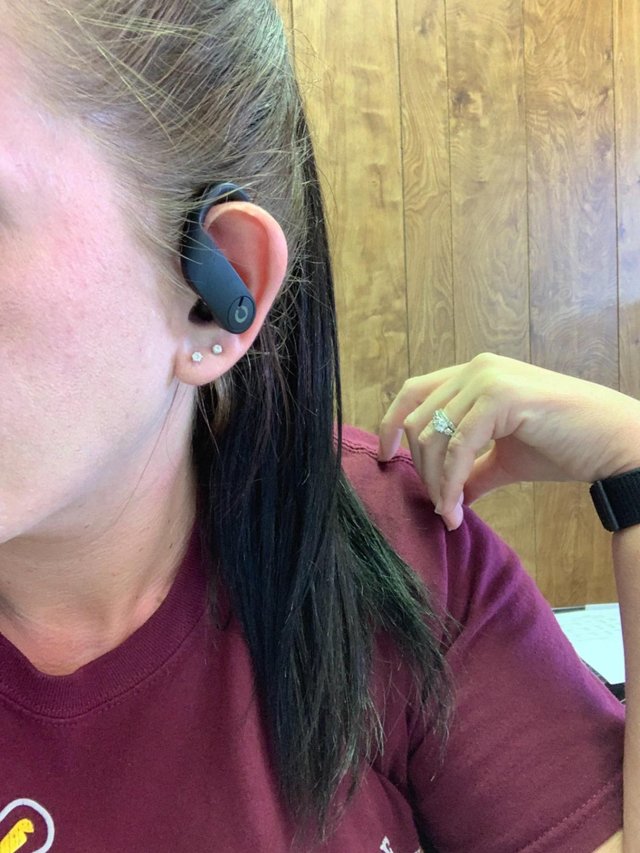 User review 8:
User:Gary Snail Nation:United States
"Luckily I bought mine when it was on sale for $150. But even then it's like geez… anyways lol I love them. I had Powerbeats 3 for like 4-5 years (or whichever one that had the ear hooks and wire connecting them both.) That one lasted a very long time. That's the main reason I'm buying another powerbeat as a replacement.
These work great and do well at staying on my ears comfortably, during workouts and even just lounging around. Figured it's time to try something new and these work great. Mind you, I don't blast my audio, so I'm not sure how they work in that fashion, but I'm sure they'll be great.
Oh and it has "find my" so I'm glad for that. First pair I've owned that can do that. Very useful and Apple iPhone friendly."
User review 9:
User:Kyle Rosinke Nation:United States
"Overall I'm satisfied with these headphones. It's hard to find ear buds that DONT fall out of my ears when I'm lifting weights, hiking, or biking, but these stay put. The sound quality is decent, but you could find equal quality for half the price. The issue that I have with these is a connectivity issue. Often times one or both sides won't connect when taking them out of the case. Just now - I took both out and neither connected, so I put them back in and took them out where only the right connected, so I put them back in and only the right connected again. On the 4th time I took them out and both connected. I've had thus issue since I first got them and it's just irritating."
User review 10:
User:Darius Nation:United States
" I HAVE DOWNGRADED this review after a year of owning these. I still love that they fit my tiny ears but they are a bugger to get charged properly, after wearing them the over the ear piece kinda molds to your ear shape which is super comfortable whilst wearing but make them dislodge from charging connection when in their charging case...Even if they are charging sometimes it will stop charging and be nearly dead by morning :( I spend SO MUCH time making sure they are charging/charged so I can use the on my run in the morning. Since there is no way to actually turn them off, if they are not actively charging they run dead by the time I wake. I own several apple devises that they will automatically connect to and unless I physically turn off the bluetooth-which I can't use my apple pencil on my iPad without- on all of my devices this happens no matter what I do."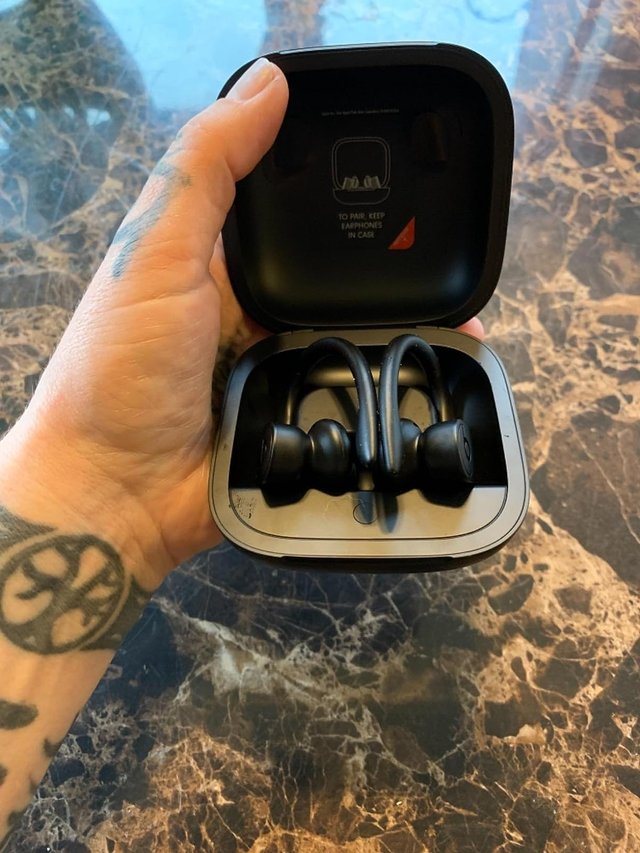 The above is the real user review of beats powerbeats pro earbuds. It can be seen that most users have given it favorable reviews, which is enough to show that it is a good earbuds. But it is not without its shortcomings, such as overpriced, not comfortable and stable to wear, the waterproof level is not high enough and so on. If you expect to find a more cost-effective and practical affordable substitute in the market, Wissonly Hi Runner bone conduction headphone is a good recommendation.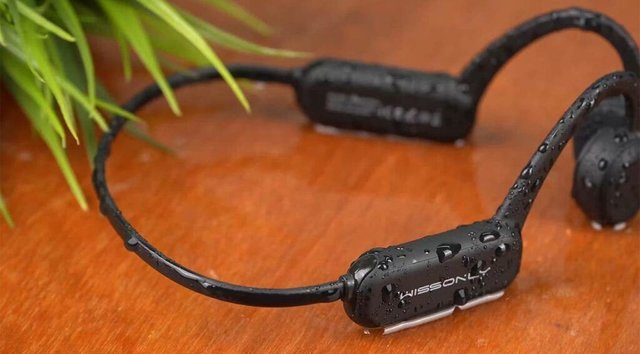 Wissonly bone conduction headphones insist on technology priority, and the team is composed of senior experts in bone conduction technology. They have more than 10 years of technical accumulation in the field of bone conduction, which also makes Wissonly Hi Runner called "the healthiest headphones" by many professionals.
In terms of comfort, the overall frame of Wissonly Hi Runner is made of adjustable aviation-grade titanium steel, which can adapt to different sizes of head circumference and ensure the stability of wearing. The surface of its headphones is made of high-tech low-sensitivity silicone material, which does not contain chemical ingredients to avoid allergies. The overall touch of the headphones is as silky as a baby's skin, avoiding discomfort when worn for a long time. And its weight is very light, less than 30g, it will not feel heavy when worn. From the time I started running after wearing headphones to the time I took it off at the end of running, this Hi Runner didn't let me have any extra adjustment. As the flagship outdoor sports model of the Wissonly brand, it is the most comfortable and cost-effective model among all the current bone conduction headphones.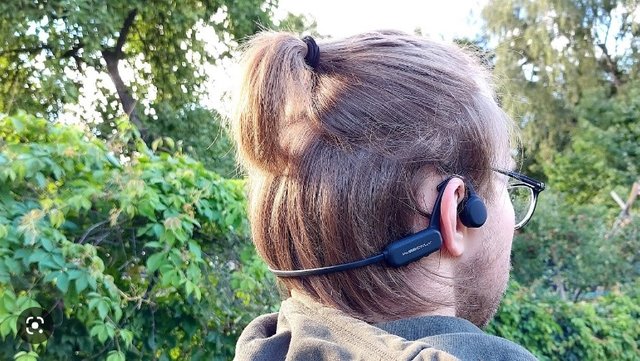 Although the Wissonly Hi Runner is called Hi runner, it also has an IPX8 waterproof rating higher than the industry standard, which allows it to work normally during swimming and diving, not to mention sweat-proof during normal sports.This is one of its great advantages.Hi Runner sports bone conduction headphones are open-ear design, worn directly on the temple, so your ear canal is completely open, which allows you to easily hear the sound of cars and traffic lights when you are running, walking and other sports scenes outdoors.It makes you safer when using it.
It is also equipped with 32G built in -memory, which can store 5000 songs, supports two working modes of Bluetooth and MP3. In the scene of underwater sports or without a mobile phone, you can completely use it as a Bluetooth MP3 player.
In order to solve the sound quality distortion problem of ordinary bone conduction headphones, Wissonly adopts a new generation of bone conduction technology, and uses the best acoustic laboratory in the world to customize an exclusive sound quality output solution for the unique bone conduction sound transmission method. After 3051 hours of tens of thousands of adjustments by 21 audiologists, it brings users the best sound in the field of bone conduction headphones.
In terms of price, Wissonly Hi Runner only costs US$99.99, which is really cost-effective, because other brands of products with the same performance basically cost more than US$150.
Comment