Best headphone for runner:Aftershokz Aeropex Review
Sep 05,2023 | David
Aftershokz is a reputable brand of bone conduction headphones, and their product Aeropex is also widely loved by fans. Although there are many review articles about Aftershokz Aeropex on the Internet, the review of users' real use is also worthy of reference. Therefore, this article sorts out some real user reviews to help you understand this product better.
Product parameter: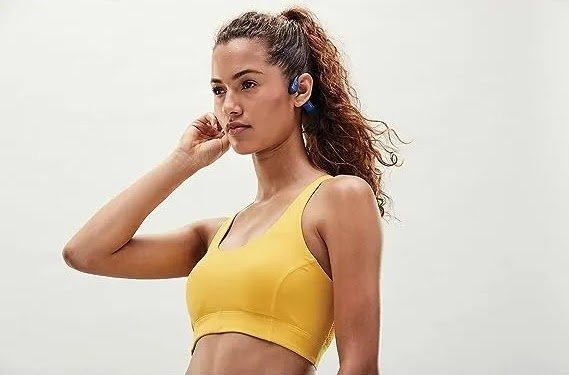 Product Dimensions:6.61 x 5.35 x 3.74 inches
Item Weight:0.917 ounces
ASIN:B07RQLRTR4
Item model number:AS800
Batteries:1 Lithium Polymer batteries required.(included)
Is Discontinued By Manufacturer:No
Date First Available:November 12, 2019
Manufacturer:AfterShokz
Item Weight:26 Grams
Units:1.0 Count
Number Of ltems:1
Aftershokz Aeropex runner headphone review from users:

Product name: aftershokz aeropex Price: $159.95
Rating: 4.6 Where to buy: Amazon or official website.
User review 1:
User:Zombeezy Nation:United States
"I have purchased 5 of these Aeropex sets over time, all different colors so everyone knows which one is theirs. Except, sometimes we switch devices to pair to. The biggest problem with these units is that each one simply shows up as a Bluetooth device named Aeropex by Aftershokz, leaving one to guess which set is the right one to chose amongst several phones, PCs and cellphones. To help one family member out, I'd buy the newly branded Shokz replacement upgrade, except from all I can see, the driver would still be only be identified as Aeropex by Aftershokz! This is the problem with a market monopoly — they have no reason to do better."
User review 2:
User:Frederic V. Nation:United States
"Charging works great with the directional maggots.
Very comfortable. sound quality is good enough so that I hear stuff I never knew was in the music before.
The bass isnt thumping but I think you would have to clamp it to your head if it put out more bass, the detail on the bass is great,
I have had them for like 3 months, no problems.
Well worth the money,
I add ed a pic of them on the kitchen counter charging with the directional magnets"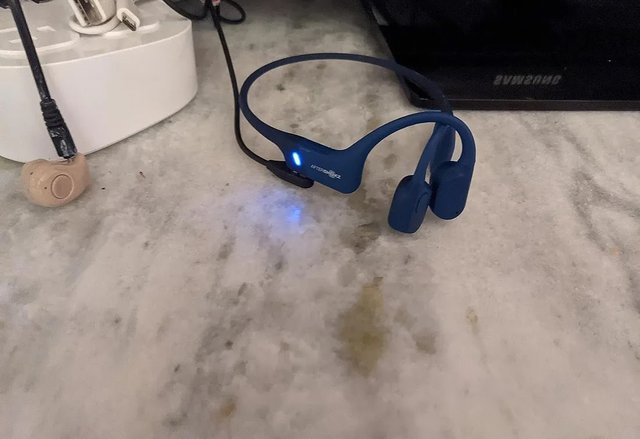 User review 3:
User:Scott I. Nation:United States
"I bought these because I bicycle and run on busy roads and don't want to risk my life with in-ear or over-ear headphones. The bone conducting technology works very well, allowing you to keep your ears open to hear what's going on around you. They're not great for rich bass or complex musical tones, but for phone calls, podcasts, or just to have music as a background, they are fantastic. They come with ear plugs to serve as noise cancelling tech, but in my opinion, that defeats the purpose of having bone conducting headphones in the first place. If you want rich sound and deep bass, go with in- or over-ear headphones."
User review 4:
User:Justin K.
Nation:United States
"Was really blown away but how good these sound since they are runner bone conduction. You do lose a lot of bass but that's to be expected with these. They last me all day and they make the day go by faster being able to listen to my my music and still hear to do my job. The only gripe I have is that each function should have a different beep. When you press or double press the button to pause/play or skip tracks it's the same tone and sometimes the headset registers a double press as a signal and pauses the music. Since the beep is the same there's no way of knowing what command the headset took. This could easily be fixed by making the skip track beep different."
User review 5:
User:Connie Nation:United States
"I've been very happy with this runner headset and am glad I bought it. But JUST after the 2-year warranty expired, I started to hear an intermittent rattling/buzzing sound — as if something had come loose. It's intermittent, so hard to diagnose and fix (and know that it's fixed). If it gets frequent enough to be more annoying than I'm willing to put up with, I'll consider replacing it with another brand."
User review 6:
User:Regina D Smith Nation:United States
"I love the weight and that they DO NOT GO INTO MY EAR CANAL.
The noise canceling while on a call works very well compared to my car Bluetooth.
If you have them up too loud, the vibration can be intense (more so while on a call).
Bass boost was given a low ratinf because I haven't been able to adjust the EQ.
Arrived quickly and charged for immediate use. Came with 2 magnetic changing cables (one for home, one for travel).
The controls are fairly simple and straightforward. "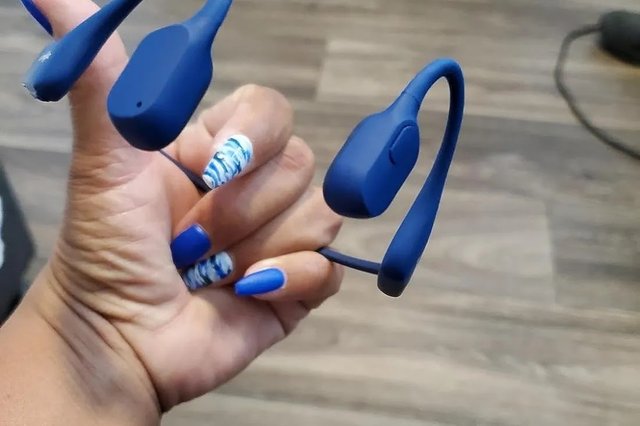 User review 7:
User:Kimble Nation:United States
"First unit I got worked awesome out of the box. Good feel, good sound, just what i wanted. After the first time charging them though they showed a deformation and quit working altogether. I assume the battery blew up during charging. Got a replacement pair, and I loved them for about six months. My puppy got a hold of them for a few seconds and she must have put just enough pressure on the battery to blow it up again, so now this is the second battery durability issue they have had in 6 months…I loved then while they lasted, they just aren't worth the price tag when they aren't durable…I had a $50 pair of wireless earbuds that weren't as high of quality but lasted me like 3 years. Might buy those again…if these lasted longer than a year or two I'd tell everyone to buy them."
User review 8:
User:Diego L. Nation:United States
"These headsets are incredible for what they are. I never thought the audio quality would be this good, you can hear your environment but I would dare to say that they can isolate you a bit. And for a person that's used to Sony's XM4, the audio quality is amazing. The materials are great. They are comfortable to use while running and exercising, the only downside for me is wearing them while laying down."
User review 9:
User:Gordon Gatza Nation:United States
"I am an avid runner — 40–50 miles per week. This is tough on headphones. I've felt that these headphones help me maintain my spatial awareness and deliver a fine quality audio.
Why I will always buy from Aftershokz is that their customer service is the best. I've had a few warranty situations and they've always handled things so well."
User review 10:
User:Risa Nation:United States
"Despite being a real fan of Aftershokz jaw conducting headsets I have hit a brick wall on this one which suddenly died. I have 2 other Aftershokz headsets which I've used successfully on a daily basis for at least 2–3 years.. I indulged in this fancier Aeropex version in red which I used more sparingly. Lately I noticed it kept dropping the bluetooth connection. Then suddenly it went dead. I tried all suggestions for rebooting it as well as charging it from various outlets but it does not respond. It is very difficult to reach Shokz support — even though I registered the product and it leads to as the help center — it is closed to a Salesforce portico which is impossible to reach. I have proof of purchase and it falls within the warrantee period but the RMA and label process for an exchange do not function on the website. I've been trying to get this resolved for six weeks at least."
These user reviews show that Aeropex is a good bone conduction headphone. But there is no absolutely perfect earphone in the world, and it still has some shortcomings, such as high price, no built-in storage and so on.
If you want to find a substitute with similar performance at a lower price, it can be achieved. The Wissonly Hi Runner is recommend,which only costs $99.99.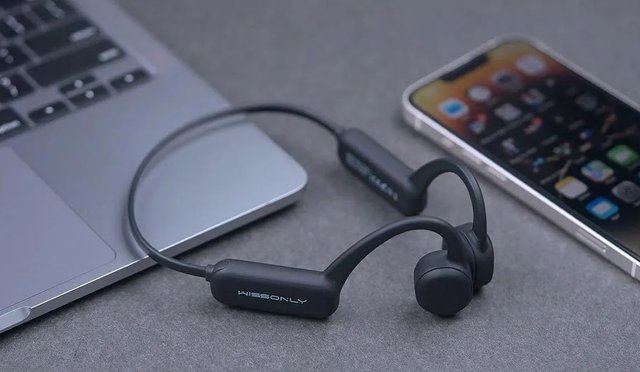 This is the fastest growing brand in the past six months. It may not be much famous, but in the field of bone conduction headphones they are proper technical experts. Their team began to develop bone conduction headphones that do not hurt the ear as early as 10 years ago. With an excellent bone conduction vibration unit optimization program, It became famous very soon in the field of bone conduction. It has been recommended by the majority of otologists!
Due to the particularity of the technical principle, bone conduction headphones are more difficult to be improved in sound quality. Wissonly Hi Runner team subverted the traditional sound quality scheme, made a breakthrough to use large wire-frame vibration unit. They through structural optimization improved the effective vibration area, thereby improved the vibrator sound efficiency, made the sound more shocking and powerful, they optimized the sound transmission direction, reduced the sound loss during sound transmission, and made the sound quality more concentrated.
In terms of comfort, the overall body of the Hi Runner is made of high-tech hypoallergenic silicone material, which does not contain chemical components to avoid allergies. The overall feel is as silky as baby's skin, avoiding uncomfortable wearing for a long time.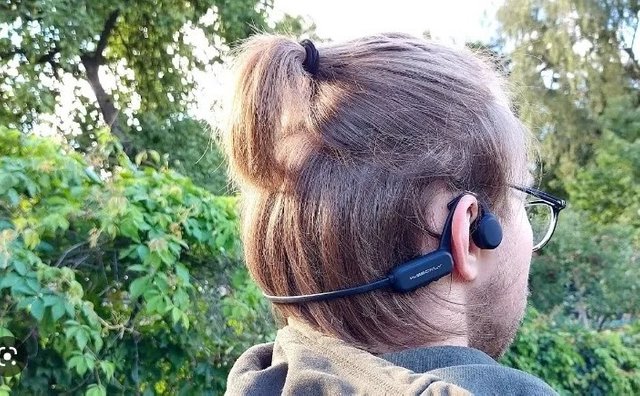 In terms of functions, as the flagship model of Wissonly bone conduction headphones, Hi Runner has an IPX8 waterproof grade which is higher than the industry standard. It is equipped with 32G body memory, and uses the latest Bluetooth 5.0 chip, which makes the connection more stable. The battery life is also very good, lasts 8–10 hours of continuous playback at normal volume, and supports magnetic fast charging. It only takes 2 hours to fully charge.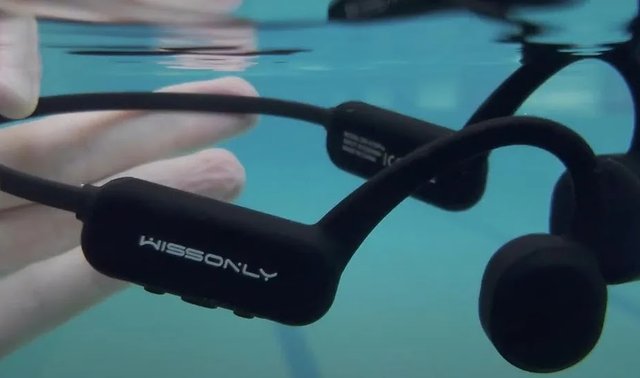 Comment