Are Bone Conduction headphones Safety and Why They are safe?
Feb 15,2023 | David
Did you know that a new type of headphones is popular among young people now? They are bone conduction headphones. They're pretty cool, and a different type of headphone than all the ones that came before it. If you haven't read it, follow my article to find out.
What are bone conduction headphones?
Bone conduction headphones are headphones in which the sound generating unit is attached to temples. Their vocal units convert sound into mechanical vibrations, which cause bone vibrations, and transmit the sound to the auditory nerve.And then we hear the sound.
Are bone conduction headphones safety?
Just to get straight to my point, bone conduction headphones are safe and health, they are the healthiest kind of headphones. There are several reasons.They cause less hearing damage, less damage to cranial nerves and auditory nerves than traditional headphones, and are safer during wearing.
Safety of bone conduction headphones 1: it is less harmful to hearing
First of all, because hearing damage generally occurs in the eardrum and inner ear, bone conduction headphones rely on human bones to transmit sound, and they do not need to pass through the ear canal and tympanic membrane, so damage to the tympanic membrane can be avoided. Compared with conventional headphones, the vibration waves of bone conduction headphones are also relatively moderate, which will have less impact on auditory hair cells, so they are the headphones that cause the least damage to the ears.
Safety of bone conduction headphones 2: it does less damage to the auditory nerve
Next, let me talk about the problem of electromagnetic waves. Most electronic products have problems with electromagnetic waves, but the strength of electromagnetic waves varies. The electromagnetic waves of traditional headphones are relatively stronger, and it is easier to cause damage to the human brain and hearing nerves. The electromagnetic waves of bone conduction headphones are extremely weak, they have the same intensity as the electromagnetic waves existing in nature, and will not cause damage to the human brain and hearing nerves.
Safety of bone conduction headphones 3: pay attention to environmental sound to protect your safety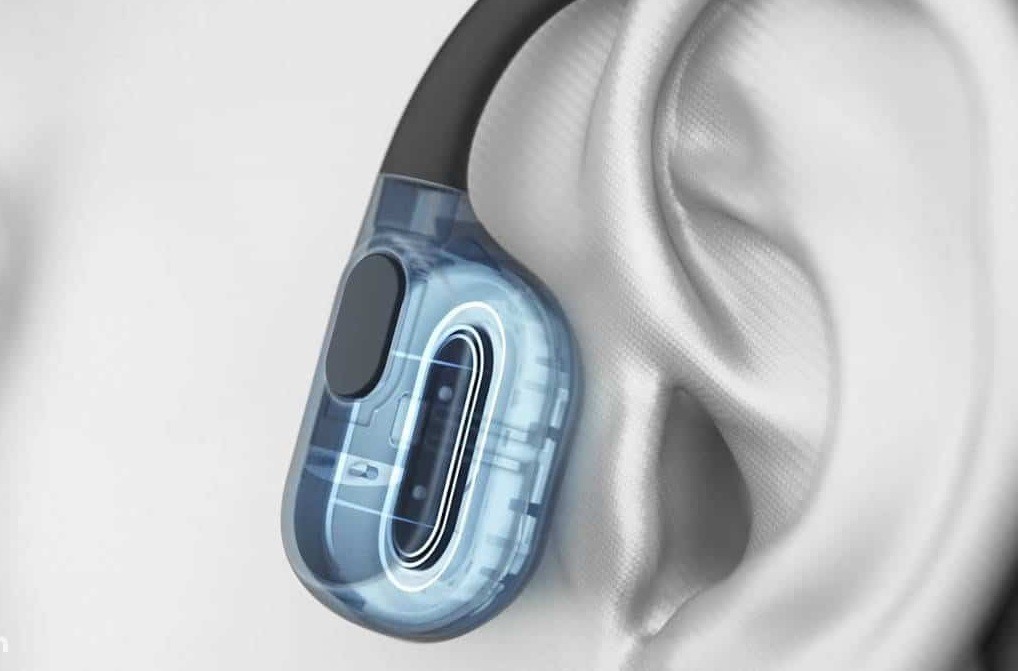 The way bone conduction headphones are worn can also help the wearer avoid the dangers of wearing them. They don't need to be plugged into the ear canal when you wear them, and you can still keep an eye on the surrounding environment while listening to music with them. For example, if you wear bone conduction headphones when crossing the road, you will not be in danger because you cannot hear the sound of the horn; when you are exercising outdoors, you can also hear the sound behind you by wearing them to avoid some dangerous situations.
So,why they are so safe?This is determined by its working principle.
The working principle of bone conduction headphones
Bone conduction headphones are headphones based on bone conduction technology. Bone conduction is a sound conduction method with bones as the medium. It converts sound into mechanical vibrations of different frequencies, and transmits sound waves through the human skull, bone labyrinth, inner ear lymph fluid, spiral organ, and auditory center.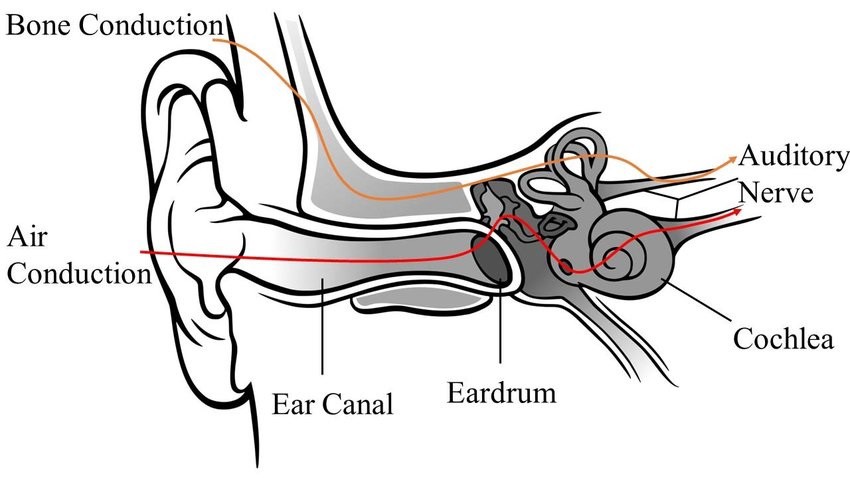 Compared with the classic sound conduction method of transmitting sound waves through the eardrum, bone conduction saves many steps of sound wave transmission, and it can achieve clear sound reproduction in noisy environments, and sound waves will not affect others due to diffusion in the air.
In fact, the working principle of bone conduction is not mysterious. Each of us has experienced it in our daily life. When you eat, you hear the sound of the food being bitten off, but others cannot hear this sound, because the vibration of the food is transmitted to your auditory central nerve through the teeth and bones, and finally the sound is produced. This is an example of classic bone conduction. You can also knock your teeth now. Did you hear the sound? This is the sound passing through your skull to the auditory nerve, which also uses the principle of bone conduction.
There are more and more brands of Bluetooth bone conduction headphones in the market, so how to choose the right one?My suggestion is to pay attention to the two key points: sound quality and sound leakage reduction, and choose the brands with better technology accumulation.Here are five best bone conduction headphones for you all.
1 Wissonly Hi Runner bone conduction headphones
Recommended reason:
Wissonly is one of the few bone conduction headphone brands that have mastered bone conduction vibrator technology, and one of the few brands in the industry that have sustained experience in using bone conduction technology to protect hearing. Wissonly Hi Runner advocate a healthy way to listen. They perfectly combine the principles of healthy hearing and bone conduction sound transmission, to create a non-in-ear and non-ear-damaging bone conduction headphone which can effectively protect hearing.
Due to the particularity of the technical principle, sound quality of bone conduction headphones is more difficult to be improved . To this end, Wissonly Hi Runner subverts the traditional sound quality scheme, makes a breakthrough to use the large-size bone conduction vibrator. Through structural optimization, the effective vibration area of the vibrator is increased by 35%, thereby improving the vibrator sound efficiency, making the sound more powerful.It also optimizing the direction of sound transmission, reducing sound loss during sound transmission, and making the sound more concentrated.
The skin-friendly silicone material of the Wissonly Hi Runner body is a product that can be in contact with the skin for a long time. It is naturally a better choice and feels good to the touch. Because the entire headphone is made of skin-friendly material, it is very comfortable to wear. Even if you wear glasses, you can still hang it firmly on your ears. The headphone frame uses memory titanium, which has the advantage of being stretchable and lightweight.
2. Philips A6606 bone conduction headphones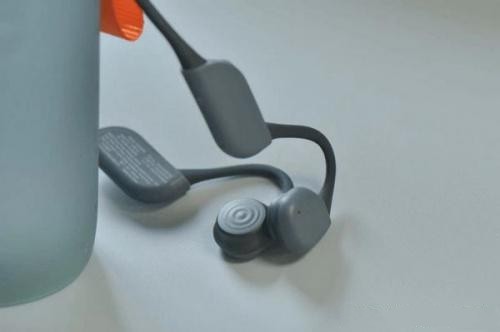 Recommended reason:
It is equipped with a night run lamp for safe lighting, which turns on the LED lamp when running at night, and showing the position and ensuring safety. Built-in 15mm bone conduction vibrator and open acoustic structure in headphones bring a wide sense of space, while allowing you to enjoy a shocking bass effect.
It has IP67 dustproof and waterproof certification, which can completely prevent dust from entering headphones, and it can be used normally even in rainy days, but it can't be used when swimming.
3 AfterShokz OPENRUN PRO bone conduction headphones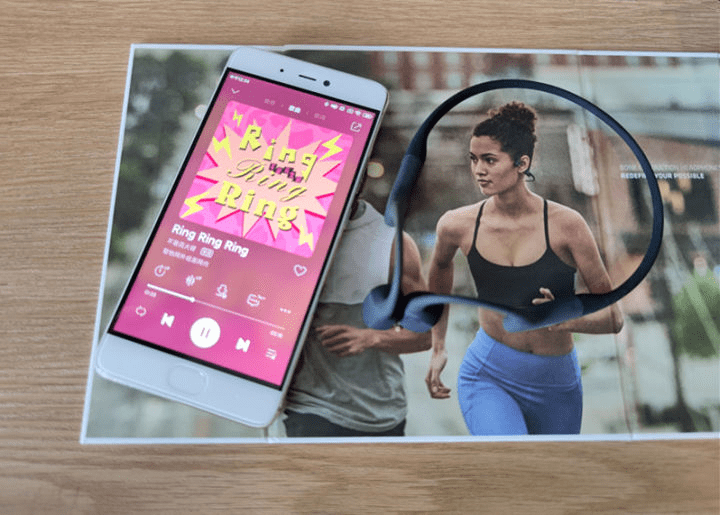 Recommended reason:
Openrun Pro are ear mounted style headphones. But thanks to the lightweight materials such as titanium alloy used in the basic frame of the headphones, the overall weight of the headphones is only 26g, and there is no feeling of weight when worn. It is worth mentioning that the headphones have an IP67 waterproof and dustproof grade, and that they can be washed and rinsed with water. In addition to benefiting from the plating process on its surface, of course, also because of the overall body design, Openrun Pro have better waterproof characteristics. In addition, they also uses dual silicon microphones. In the right side of the headphones, you can see the microphone cut-out reserved for the microphone. With CVC's noise reduction algorithm, they can effectively eliminate the impact to calls in complex environments.
4.Earsopen PEACE Bone Conduction Headphones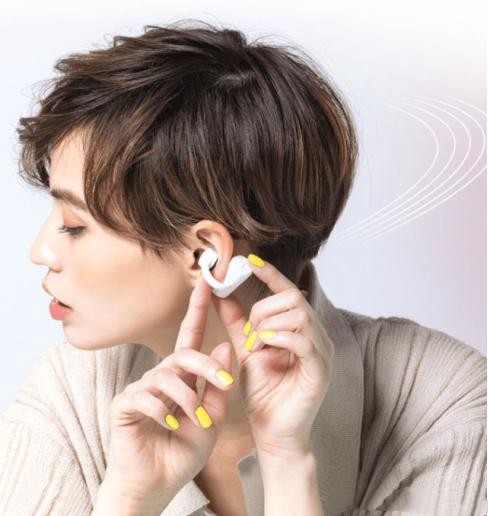 Recommended reason:
Earsopen PEACE is a bone conduction headphone with a novel wearing method. It adopts a clip-on design, which has a certain stability in wearing. It can be worn only by clipping it in the ear canal, and it also supports single ear wearing. IPX7 waterproof performance can also be easily competent for waterproof and sweat-proof work. With the charging case, it can complete the daily wear and use of electricity for nearly a week. The only disadvantage is that the price is slightly higher and the charging case area is a bit bulky. If you carry it in a sports field, you will feel a certain weight, and you will feel uncomfortable if you wear it for a long time.
5.Haylou PurFree bone conduction headphones
Recommended reason:
Haylou PurFree performs well overall, the headphone is only weighs 28g, there is almost no weight sense to wear. And the surface of the headphones is made of soft materials, and the wearing comfort is good. In terms of sound quality, it is also equipped with directional audio directional technology. It is a technology that allows the timbre to be concentrated and dive deeper at low frequencies, so that the rhythm of the song will be stronger. The battery life is good, and it lasts for 8 hours of music playback.
The waterproof grade is not high, and there is no built-in storage, which may be its disadvantage.
Among the several bone conduction headphones recommended above, Wissonly and Aftershokz are the two products with the best overall performance, both in terms of sound quality, safety, comfort and sound leakage reduction.Considering the cost performance ratio, Wissonly will be better and worth recommending.
Comment