Are Bone Conduction Headphones Safer Than Common Headphones and Best Bone Conduction Headphones Review
Feb 10,2023 | David
Bone conduction headphones are becoming popular among sports fans. We always see people wearing headphones that don't have to be tucked into their ears when they are running, riding, or working out. They looks cool, so what exactly are bone conduction headphones? Are they safer than other headphones?
What are bone conduction headphones?
Bone conduction headphones, as the name suggests, are headphones that use bones to conduct sound. They actually use the principle of sound transmission in solids, and directly transmit sound to the auditory nerves through the skull to achieve sound transmission and perception. Compared with traditional headphones, due to the different transmission paths, they do not need the earbud part of traditional headphones, or even do not need to touch the ears at all. They ensure that the ear canal hygiene will not be affected, so they are healthier and more hygienic.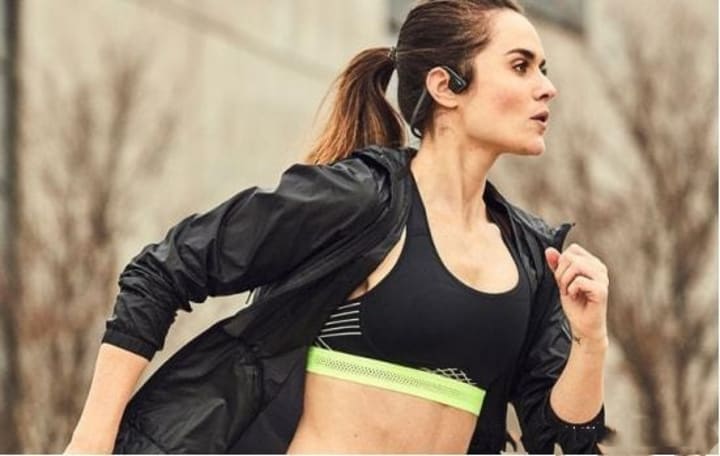 From the appearance design, bone conduction headphones are non-in-ear headphones. They mainly have three designs: hanging-ear type, clip-on type, headband type. The hanging-ear bone conduction headphones are to hang on the auricle, and the vibration unit is put close to the temple to transmit sound by the skull; Clip-on types are clamped on the ears, and the vibration unit is placed close to the auricle, and the sound is transmitted by the bones on the auricle. A headband type is used to tie the vibrating unit to the head to transmit sound through the skull. Among the three designs, hanging-ear type are the mainstream.
Bone conduction headphones are a new application of old technology. Bone conduction technology is very mature and safety is very good, so you can use them with confidence.
Are bone conduction headphones safer than common headphones?
Just to get straight to my point, bone conduction headphones are safer and healthier than common headphones, they are the healthiest kind of headphones. There are several reasons.They cause less hearing damage, less damage to cranial nerves and auditory nerves than traditional headphones, and are safer during wearing.
Bone conduction headphones are safer because it is less harmful to hearing
First of all, because hearing damage generally occurs in the eardrum and inner ear, bone conduction headphones rely on human bones to transmit sound, and they do not need to pass through the ear canal and tympanic membrane, so damage to the tympanic membrane can be avoided. Compared with conventional headphones, the vibration waves of bone conduction headphones are also relatively moderate, which will have less impact on auditory hair cells, so they are the headphones that cause the least damage to the ears.
Bone conduction headphones are safer because it does less damage to the auditory nerve
Next, let me talk about the problem of electromagnetic waves. Most electronic products have problems with electromagnetic waves, but the strength of electromagnetic waves varies. The electromagnetic waves of traditional headphones are relatively stronger, and it is easier to cause damage to the human brain and hearing nerves. The electromagnetic waves of bone conduction headphones are extremely weak, they have the same intensity as the electromagnetic waves existing in nature, and will not cause damage to the human brain and hearing nerves.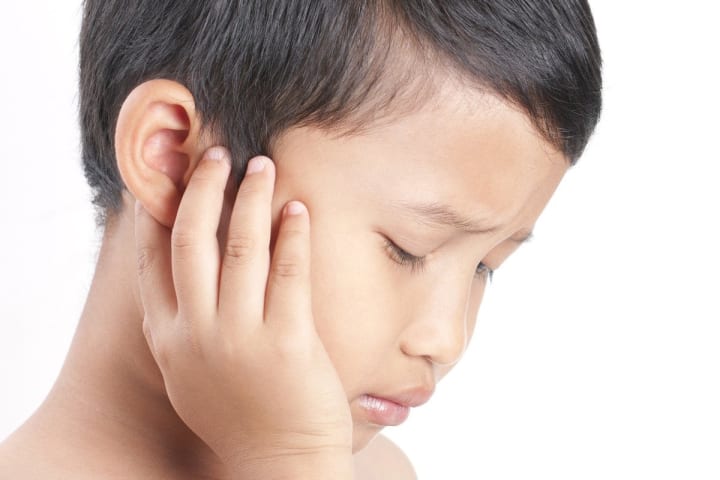 Bone conduction headphones are safer because they help you pay attention to environmental sound to protect your safety
The way bone conduction headphones are worn can also help the wearer avoid the dangers of wearing them. They don't need to be plugged into the ear canal when you wear them, and you can still keep an eye on the surrounding environment while listening to music with them. For example, if you wear bone conduction headphones when crossing the road, you will not be in danger because you cannot hear the sound of the horn; when you are exercising outdoors, you can also hear the sound behind you by wearing them to avoid some dangerous situations.
In addition to safety, bone conduction headphones have many advantages, such as comfortable to wear, clean and hygienic, high waterproof level and so on.
Of course, there are two small disadvantages of bone conduction headphones, that is, the sound quality is not perfect, and there is a slight sound leakage problem. However, with the advancement of technology, these two problems have been greatly improved. The better bone conduction headphones do a good job in improving sound quality and preventing sound leakage.
Best bone conduction headphones review in 2023
1. wissonly Hi Runner bone conduction headphones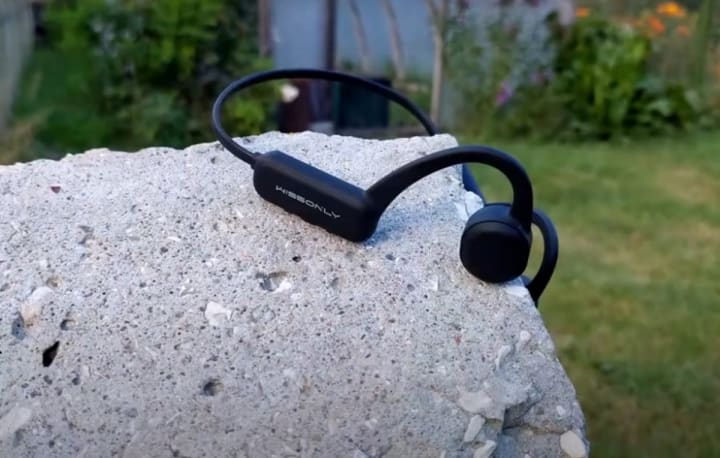 Recommended reason:
Wissonly bone conduction headphones are recognized by the market with its leading bone conduction vibrator technology. Their team has accumulated more than 10 years in the field of bone conduction technology, which has been affirmed in terms of product quality and hearing protection effect.
Wissonly Hi Runner uses a large-size bone conduction vibrator, which increases the vibration area by 35%. When you wear it, the diffusion direction of sound quality will be more comprehensive, the coverage will be wider, and the sound will be more stereo. Its sound will be deeper in low frequency and more transparent in high frequency. They have also made a lot of efforts in the technology of sound leakage reduction, including the built-in reverse sound wave system and the all-closed-body design, thus reducing the sound leakage by 90%.
It is comfort: Wissonly Hi Runner's whole body is made of high-tech and low-sensitivity silicone, which contains no chemical components to avoid allergy. The overall touch is as silky as baby's skin, which can avoid uncomfortable situations when worn for a long time.
Wissonly Hi Runner bone conduction headphones are also equipped with a new Bluetooth 5.0 chip, which has stronger anti-interference ability, and can easily cope with various outdoor complex scenes, so as to ensure that the good mood during exercise will not be disturbed by disconnection. The stable connection also brings ultra-low delay performance. Listening to songs, chasing dramas and playing games meet all the daily demands for headphones.
2. Philips A6606 bone conduction headphones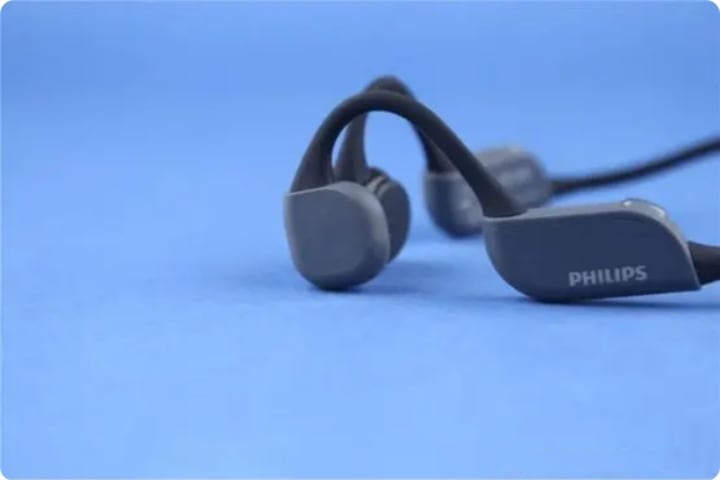 Recommended reason:
It is equipped with a night run lamp for safe lighting, which turns on the LED lamp when running at night, and showing the position and ensuring safety. Built-in 15mm bone conduction vibrator and open acoustic structure in headphones bring a wide sense of space, while allowing you to enjoy a shocking bass effect.
It has IP67 dustproof and waterproof certification, which can completely prevent dust from entering headphones, and it can be used normally even in rainy days, but it can't be used when swimming.
3.AfterShokz OPENRUN PRO bone conduction headphones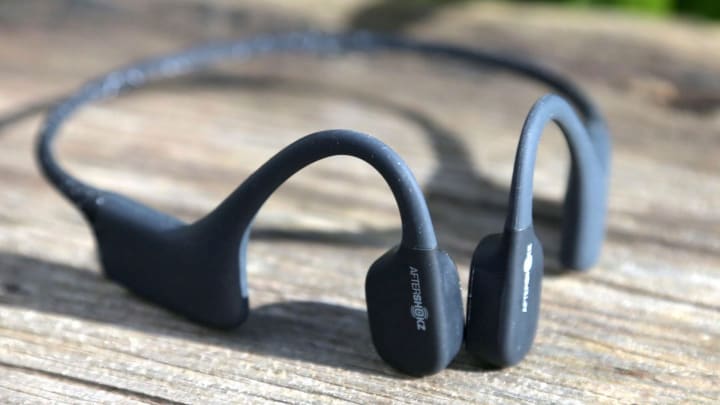 Recommended reason:
The body of the Openrun Pro weighs only 26g, and it adopts Qualcomm QCC3024 low-energy chip +PremiumPitch 2.0 improved double suspension vibration transmission system and suspension damping technology, CVC call noise reduction algorithm and double silicon microphone. The battery life lasts for 8 hours, and the charging method is magnetic charging. The charging interface has a liquid residue detection function to ensure that it has a good waterproof performance. Its waterproof grade is IP67, and there is no problem with normal sweat. A short period of rain can be used, but it can't be used for swimming.
4.Earsopen PEACE bone conduction headphones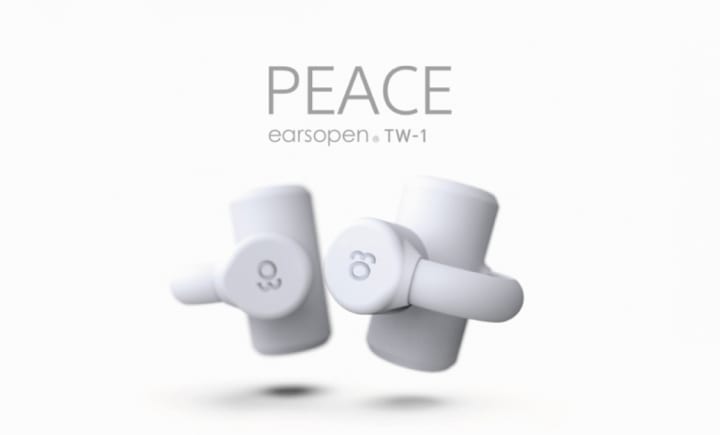 Recommended reason:
Unlike other bone conduction headphones, this one has a charging case. The "T" shaped structure makes it stable as long as it is clamped on the ear. But due to the design of the clip ear, it may be a little uncomfortable after wearing it for a long time. It adopts the Bluetooth version of 5.0, can connect stably in a short distance and without obstacles. It reaches IPX7 level in waterproofing, can be immersed underwater for thirty minutes. In terms of sound quality, the sound quality of the human voice is clear, and the extension of the high tone is also good, but it will still appear turbid at the low frequencies.
5. vidonn F3 bone conduction headphones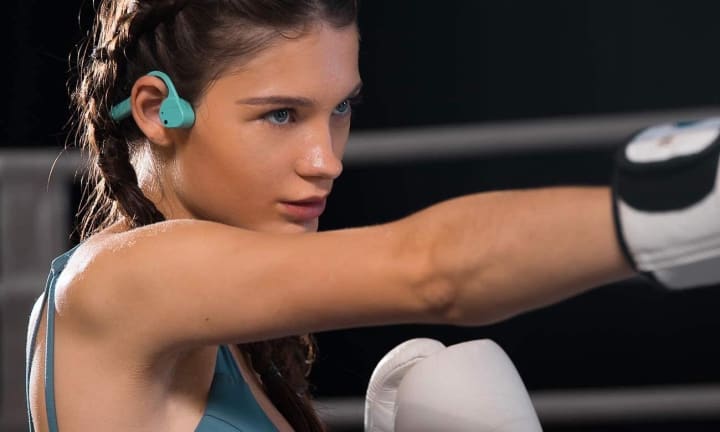 Recommended reason:
The Vidonn F3 bone conduction headphones weigh only 29g, and there is no discomfort whether you have it hanging neck or hinging ears for a long time. The ear arm of the bone conduction vibrator is on the outside, leaving space for the glasses leg to pass, which solves the embarrassing situation of not being able to wear glasses when wearing headphones.
The charging port of Vidonn F3 bone conduction headphones is the universal standard MICRO-USB interface. It adopts a soft rubber plug to waterproof, but the soft rubber plug is not connected to the body, there will be a risk of loss. The manufacturer gives two spare soft rubber plugs in the box.
This is an entry-level product, and it's hard to expect good performance in terms of sound quality and leak prevention, but it's enough for everyday use.
Comment