Are Bone Conduction Headphones Safe and Best Headphones with Bone Conduction in 2023
Feb 22,2023 | David
In daily life, the sound of teeth colliding can be clearly heard by us, but people around us cannot hear it. This is probably the nearest case of bone conduction technology around us. When you collide your teeth, you may hardly imagine that this sound transmission method will be applied by talented engineers to create the latest popular product-bone conduction earphones.
what are bone conduction headphones?
Bone conduction headphone is a type of headphone using bone conduction technology. Its biggest feature is that it uses bone conduction to transmit sound, uses human bones as the medium for transmitting sound, and directly transmits sound to the auditory nerve to form hearing.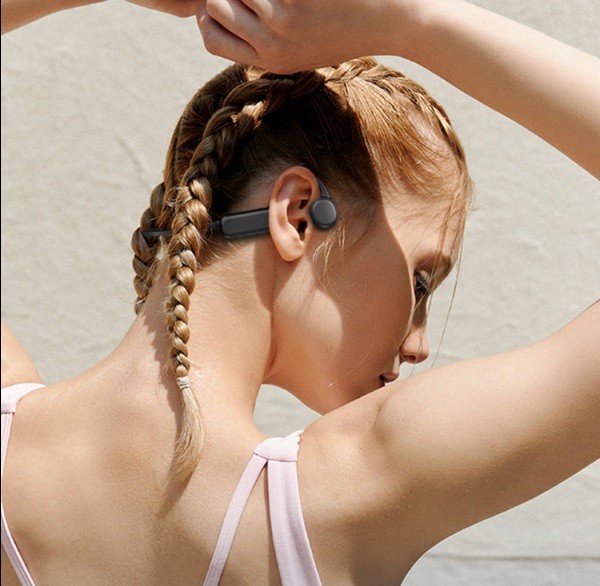 This distinctive technical feature has also revolutionized the way it is worn. The wearing method of bone conduction earphones has changed from traditional in-ear wearing to hanging ear wearing. When wearing it, you only need to hang the earphone on the auricle and put the vibration unit close to the temple, and the whole ear is completely open. The change in the way of sound transmission and wearing has made bone conduction headphones another type of earphone, which is a huge upgrade compared to traditional earphones. Many ear doctors also highly recommend them, because they are better and healthier for ears.
Are bone conduction headphones safe?
We often hear people worry about the safety of bone conduction headphones, but we can promise that they do not harm the human body at all.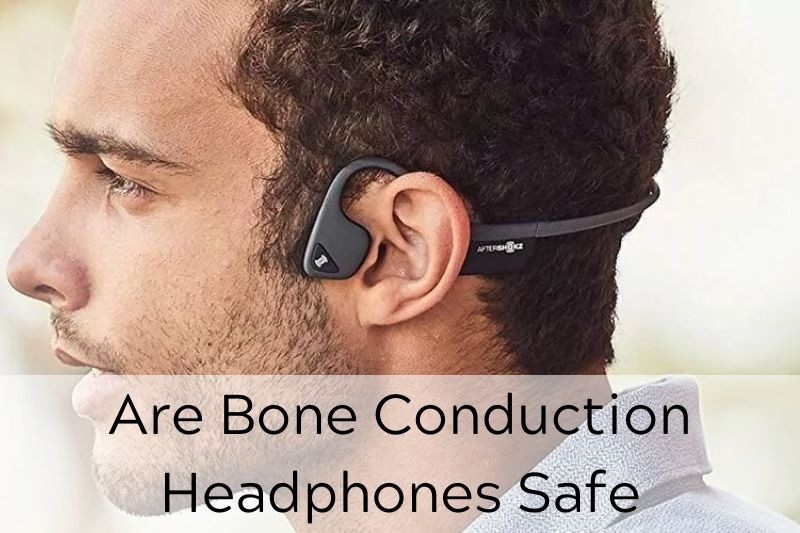 First of all, due to the sound transmission method of bone conduction headphones, they do not need to pass through the ear canal and tympanic membrane, which can avoid damage to the tympanic membrane. Moreover, the vibration waves of them are relatively moderate, and the impact on auditory hair cells will be less, so they are the headphones that cause the least damage to the ears.
Secondly, traditional earphones have problems with electromagnetic waves, which can cause damage to the human brain and hearing nerves. The electromagnetic waves of bone conduction headphones are extremely weak, which is the same intensity as the electromagnetic waves existing in nature. So they will not cause damage to the human brain and hearing nerves.
Moreover, bone conduction headphones can help avoid the dangers of wearing them. It does not need to occupy the ear canal when wearing it. In addition to hearing the sound in the headphone, you can also hear the sound of the outside world. Wearing them when crossing the road will not be in danger because you can't hear the sound of the horn; when you are exercising outdoors, you can also avoid some dangerous situations.
It can be seen that bone conduction headphones are relatively safe, but safety is not absolute. If you use them to listen to music at high volume for a long time, it will still cause damage to the cochlea.
In addition to safety, bone conduction headphones have many advantages, such as comfortable wearing, cleanliness, high waterproof level, etc.
Of course, bone conduction headphones have some drawbacks, the two most prominent being sound quality and sound leakage.Compared with traditional earphones that focus on sound quality, their sound quality is weaker, but this does not mean that their sound quality is poor. In fact, some bone conduction headphones with better quality have very good sound quality.
Sound leakage has always been a common problem with bone conduction headphones, mainly because the vibration of the bone conduction vibration unit drives the vibration of the headphone body, resulting in sound leakage. However, with the advancement of technology, better bone conduction headphones do a good job in preventing sound leakage, and the problem of sound leakage has basically been solved.
Bone conduction headphones are safer than common headphones,and they have a lot of advantages, They are your best sports headphones.So how can you find your most suitable one of them? Let me recommend a few headphones.
Best headphones with bone conduction in 2023
1. Wissonly Hi Runner bone conduction headphones
Reason for recommendation:
wissonly's core team is a team engaged in the research and development of bone conduction products earlier. They have accumulated 10 years' technology in this field. They have adopted the best acoustic laboratory in the Eastern Hemisphere for sound adjustment. Wissonly Hi Runner has good technical solutions to the problems of sound leakage, sound quality and waterproof of pseudo-bone conduction headphones.
Wissonly bone conduction vibrator adopts a unique full-wrapped design, which makes the vibrator work in a closed environment, reducing the impact on the shell, thus reducing the vibration of the shell and finally reducing the sound leakage by 90%.
Wissonly uses a large-size bone conduction vibrator, and the effective vibration area of the vibrator is increased by 35% through structural optimization. At the same time, the sound transmission direction is optimized, the sound loss is reduced, and the sound is more concentrated.
Wissonly Hi Runner adopts integrated molding technology, with no holes in the headphones' body and it is no splicing, which realizes IPX8 waterproof, and can be used for swimming and bathing. Even in the depth of 20 meters, diving is no problem.
It also has 32G of built-in memory, which can store 5000 songs. You can use it as amp3 player when you don't have a mobile phone.
In a word, Wissonly Hi Runner is a product with powerful functions, stable technology and high cost performance.
2. Philips A6606 bone conduction headphones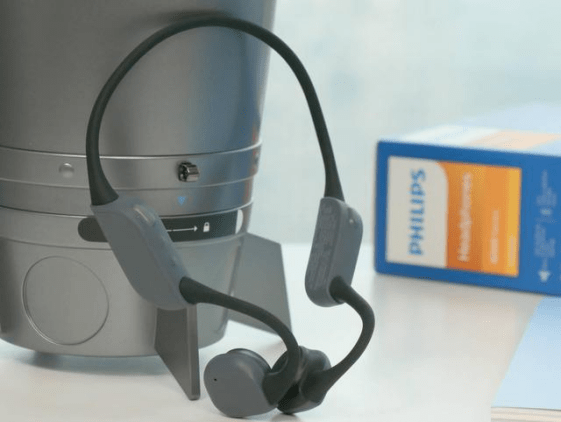 Reason for recommendation:
The headphones have a compact structure that is completely ergonomically designed.
They are stable to wear, and cannot be shaken off in rough sport, which helps you to do movements without restraint during exercise. They are open headphones that do not need to be plugged into the ear. This keeps the ear canal fresh, healthy and comfortable.
They support IP67 waterproof grade, daily sweating is no problem. But after all, they are not professional-grade waterproof, can not be used in swimming.
3 AfterShokz OPENRUN PRO bone conduction headphones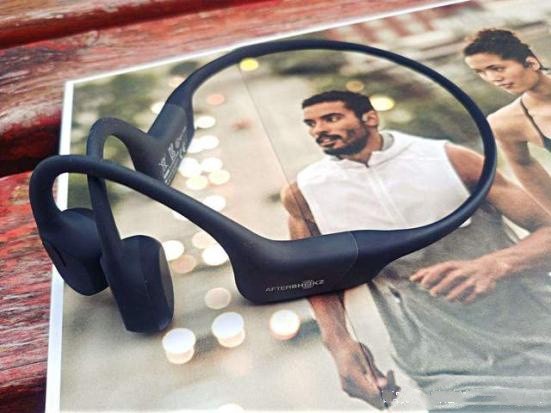 Reason for recommendation:
Openrun Pro are ear mounted style headphones with bone conduction. But thanks to the lightweight materials such as titanium alloy used in the basic frame of the headphones, the overall weight of the headphones is only 26g, and there is no feeling of weight when worn. It is worth mentioning that the headphones have an IP67 waterproof and dustproof grade, and that they can be washed and rinsed with water. In addition to benefiting from the plating process on its surface, of course, also because of the overall body design, Openrun Pro have better waterproof characteristics. In addition, they also uses dual silicon microphones. In the right side of the headphones, you can see the microphone cut-out reserved for the microphone. With CVC's noise reduction algorithm, they can effectively eliminate the impact to calls in complex environments.
4.Earsopen SS900 headphones with bone conduction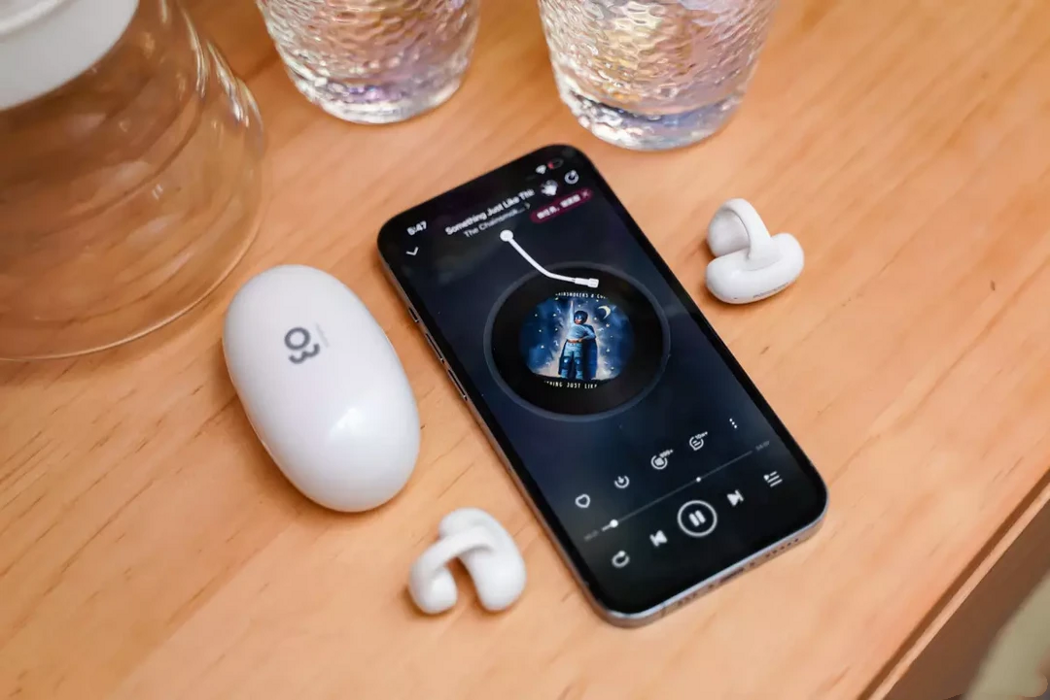 Reason for recommendation:
With the support of AVV's precise vertical vibration technology, the vibration intensity and frequency of SS900 is improved, which makes up for shortage of sound quality caused by small sound producing area of 10mm small size vibration unit, and makes the low frequency sound more full. The 7.5g body weight is better with the clip-on ear type, which makes it more portable. However, the clip-on ear type makes the ears uncomfortable after wearing for a long time, which is its disadvantage.
5.Haylou PurFree bone conduction headphones
Reason for recommendation:
Its body surface is made of silicone material, which is very comfortable. The small size body is its relatively big advantage, which makes it light and without a sense of weight while wearing. The sound quality is good in the field bone conduction headphones, of course, it cannot be compared with traditional noise-canceling headphones. The battery life is good, you can listen to music for 8 hours, and it also supports fast charging.
In terms of waterproof feature, its waterproof grade reaches IP67, daily sweating, short-term rain, or washing are all no problem to it, but it cannot be used in swimming.
It should be noted that the prices and functions of the above products are different. You can choose them according to your needs. I prefer the products of Wissonly and Aftershokz. Their sound quality and sound leakage reduction are excellent. I have been using Wissonly recently. It has a very high cost performance ratio. I like it very much.
Comment