Are bone conduction headphones good for your ears?
Feb 08,2023 | David
When some people who love sports are running or cycling outside, you may see that they wear headphones on their ears but not tuck into the ear. In fact, the headphones are probably bone conduction headphones.
Bone conduction headphones are headphones made based on bone conduction technology. The more complete statement of bone conduction technology should be bone conduction sound transmission technology. It directly uses human bones as a sound transmission medium, So sound waves do not need to pass through the external auditory canal and tympanic membrane,But pass directly to the inner ear.Bone conduction headphones have less harm to your ears,they are safe and health.
Are bone conduction headphones good for your ears?
Bone conduction headphones are good for the ears, they cause less damage to the ears and are the healthiest kind of headphones.
1. Does not harm the ear canal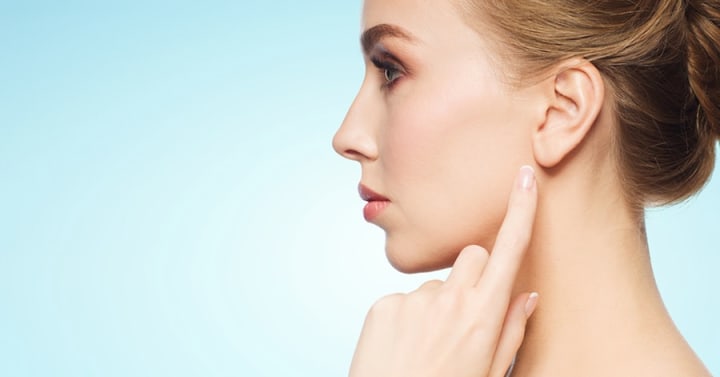 Bone conduction headphones do not need to be plugged into the ear canal when wearing them, so the damage to the ears caused by wearing headphones will not happen.
2. No damage to the eardrum
Bone conduction headphones do not need to use the ear canal and eardrum to transmit sound, so the eardrum will not be damaged.
3. Does not harm the cochlea
The vibration waves of bone conduction headphones are relatively gentle and stable, and will not damage the cochlea.
4. Does not harm the auditory nerve
The electromagnetic waves of bone conduction headphones are weak, which is close to the intensity of electromagnetic waves in nature, so they will not damage the auditory nerve.
Special attention should be paid to the fact that if any headphone is used at high volume for a long time, it will cause damage to the ears, and the same goes for bone conduction headphones. Therefore, pay attention to volume control when using bone conduction headphones, and it is recommended that the volume not exceed 60%. At the same time, every 2-3 hours of use, you should rest for 10-15 minutes.
In addition to the advantage of being good for the ears, bone conduction headphones have many advantages, such as
1. They are safer
They do not need to be inserted into the ear canal when worn. While listening to music, you can still pay attention to the surrounding sound. When exercising outdoors, wearing with bone conduction headphones, you can also hear the sound behind you, so as to avoid some dangerous situations.
2. They are more hygienic:
Bone conduction headphones do not need to be worn in the ear, even if they are worn for a long time, they can keep the ear canal clean and hygienic, avoiding the growth of bacteria caused by blocking the ear canal, which can cause otitis media, otitis media and other diseases;
3. They are more comfortable:
Bone conduction headphones are very light, and there is no sense of weight when worn, and the surface of many bone conduction headphones is made of skin-friendly soft materials, which is very comfortable to wear.
Bone conduction headphones that are good for the ears are also safer, more hygienic, and more comfortable headphones. These advantages make them popular at an extremely fast speed.
So,why they are so safe and health?The secret is how they work
How do bone conduction headphones work?
First, let's look at how we hear sound. The sound we hear every day, generally through the vibration of the air, first reaches the ear and vibrates the eardrum. The vibration transmitted to the eardrum further vibrates the auditory ossicles, and finally reaches the spiral organ - the cochlea, so that the sound can be perceived.
However, there are other ways of transmitting sound to the cochlea besides passing it through the eardrum. In fact, by vibrating the "bones" like vibrating air, the vibrations are transmitted to the cochlea. When the vibration reaches the cochlea, the cochlea perceives the sound and transmits the it to the brain center to form hearing. This is the sound transmission principle of bone conduction.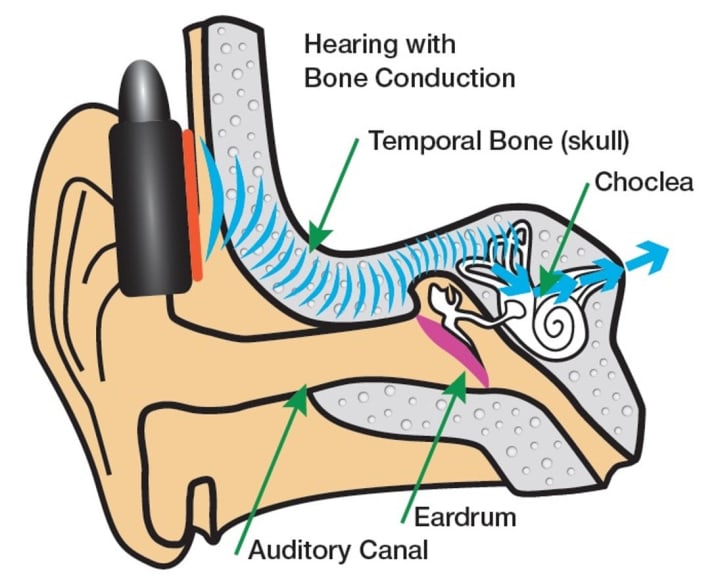 In our daily life, there are many cases of hearing sound through bone conduction. For example, when we eat biscuits, we can clearly hear the sound of the biscuits being crushed. Dolphins and whales are some of the best bone conduction animals in nature, using the bones near their jaws to catch vibrations in the water to hear sound.
Bone conduction headphones are products that use bone conduction technology. When they work, they usually attach the sounding unit to the bones near the temple. When the vocal units vibrate, they vibrate the skull and transmit the vibrations to the cochlea, allowing sound to be heard. This is how bone conduction headphones work.
The safety and health of bone conduction headphones are really known by more people, and they are becoming more and more popular. If you are also interested in this kind of headphones, please do not hesitate to buy them. They are really worth it. Next, I will recommend some excellent headphones for you.
1. Wissonly Hi Runner bone conduction headphones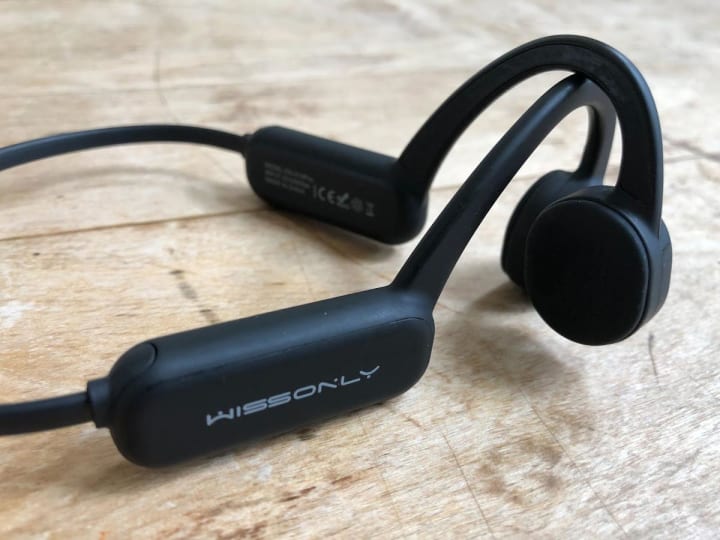 Reason for recommendation:
The Wissonly team has always attached great importance to the opinions of customers. It is said that their Hi runner model invited thousands of users to participate in the test, and that they constantly adjusted the design based on customer feedback. It is said that because of this, the product launch time was delayed by 3 months compared to the original plan time. I was so moved by this story that I bought their products.
Wissonly Hi Runner attaches great importance to sound quality. Their sound source adopts a large-sized vibrator, and through the clever structural design, the vibration area is increased by 35%. So the sound range is wider and the sound is more powerful. They have also made a lot of efforts in the treatment of sound leakage. The headphones' body is sealed and integrated to minimize sound leakage.
Hi Runner are also equipped with a new Bluetooth 5.0 chip. They have stronger anti-interference ability, and can easily cope with various complex outdoor scenes without disconnection. They support IPX8 waterproof grade higher than the industry standard, are equipped with 32G body memory. They have stable connection and low latency performance. In listening to songs, chasing dramas, or playing games, they can meet all daily needs for headphones.
The Wissonly Hi Runner weigh less than 30g, have no weight bearing when worn, are very comfortable, and are very suitable for long-term use during sports.
2.Philips A6606 bone conduction headphones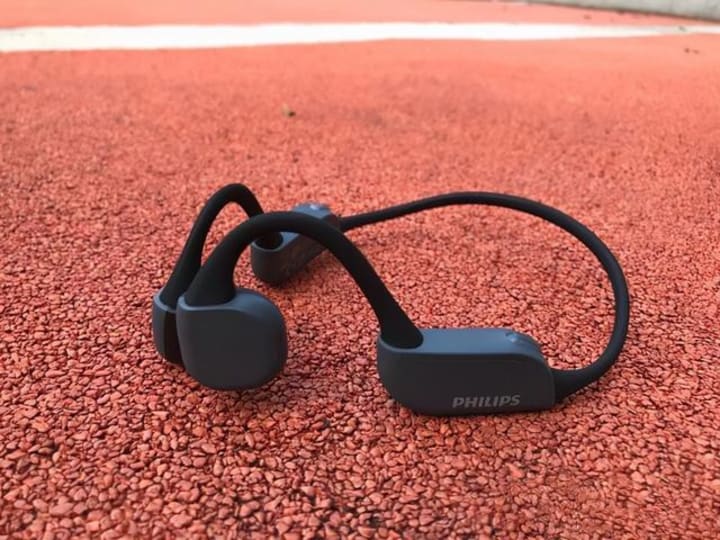 Reason for recommendation:
The Philips A6606 that weighs 35g is light and compact in the palm of the hand. With the skin-friendly material on the surface of the body, there is no pressure to wear on the pinna. It is equipped with LED night running lights on both sides of the rear end of the body. It can be worn in night walking and low visibility scenes and illuminate the road behind, so that the people around can perceive your own position and respond in time in the face of emergency situations. The safety factor for outdoor wearing is relatively high. It also supports IP67-rated water resistance and can support 9 hours of continuous music playback time, which is also good overall.
3.AfterShokz OPENRUN PRO bone conduction headphones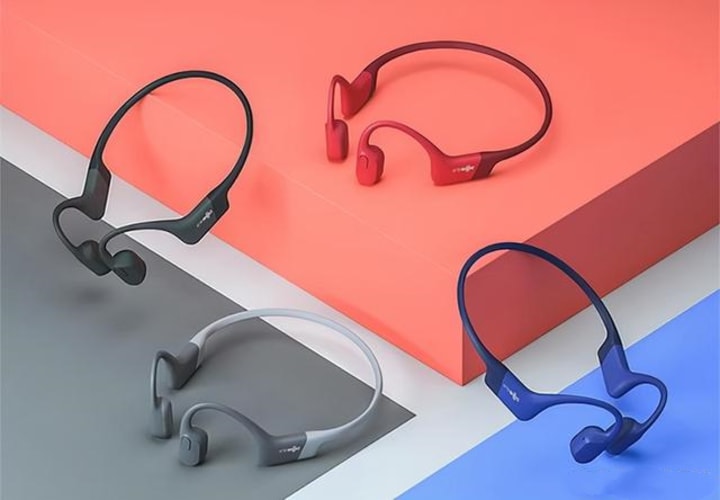 Reason for recommendation:
Openrun Pro is the flagship product of Aftershokz, which is equipped with PremiumPitch 2.0+ technology, with good overall sound quality, rich low frequency sound, delicate intermediate frequency sound and strong high frequency sound penetration! It's IP67 waterproof, and it's basically enough to sweat during daily exercise. It's fine to get caught in the rain for a short time, but it's not suitable for swimming! In addition, it has no built memory, so it can't be used as MP3, that is to say, it can't be used where there is no Bluetooth signal.
4.Earsopen peace tw-1 bone conduction headphones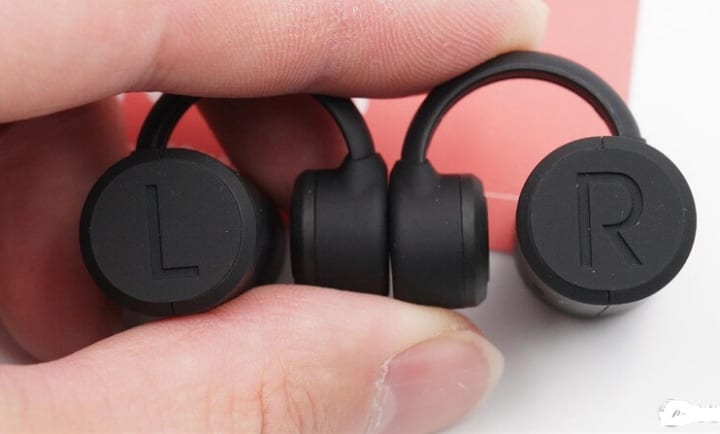 Reason for recommendation:
Peace tw-1 is different from the traditional bone conduction headphones, and it adopts a unique ear clip form, which has certain firmness. However, the wearing process is a bit complicated, and it is impossible to finish wearing with one hand. IP67 waterproof level can easily cope with rainy days, but it is not suitable for swimming. The Bluetooth version of 5.0 keeps the connection stable during music transmission.
5.Haylou PurFree bone conduction headphones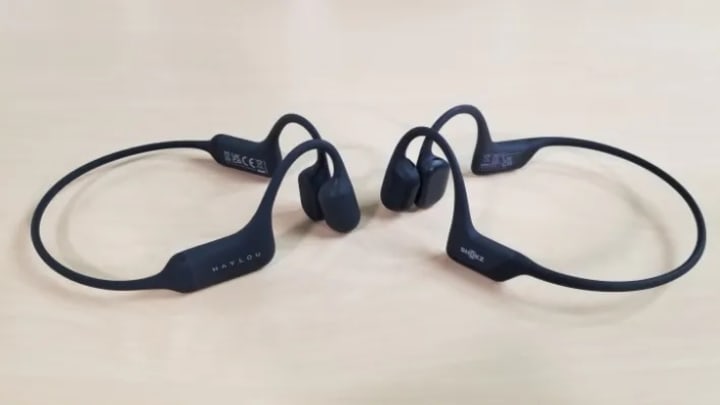 Reason for recommendation:
Haylou PurFree uses Qualcomm QCC3044 chip to make Bluetooth connection more stable, and also supports dual-device connection. And it also has microphone call noise reduction technology to make people's voices clearer. It is very light and is an open headphone, which also makes it have a better wearing experience. It is IP67 waterproof grade, and general sweat does not affect its work. It just cannot be used in swimming. It doesn't have built-in memory and can't be used when there's no cell phone signal, which is perhaps one of its drawbacks.
Among the above five products, I finally chose wissonly and Philips. I use wissonly more because its functions are much stronger than Philips.And it has a high cost performance. It is very worth recommending
Comment