Are Bone Conduction Earphones a Stupid Tax Product and Do They Have Advantages?
Mar 06,2023 | David
Bone conduction earphones are undoubtedly the most favored electronic products in the past 2 years, and their popularity speed is much faster than people's expectations. Whether you're running, cycling, or working out, you always see some people wearing bone conduction earphones to enjoy music while exercising. So, this popular product, does it have to be a good product? Or an stupid tax product?
Are bone conduction earphones an stupid tax product?
First of all, the conclusion is that bone conduction earphones are not stupid tax products, they are indeed a revolutionary product. They and traditional headphones have a huge difference in sound transmission method. And this difference makes them more suitable for wearing in sports.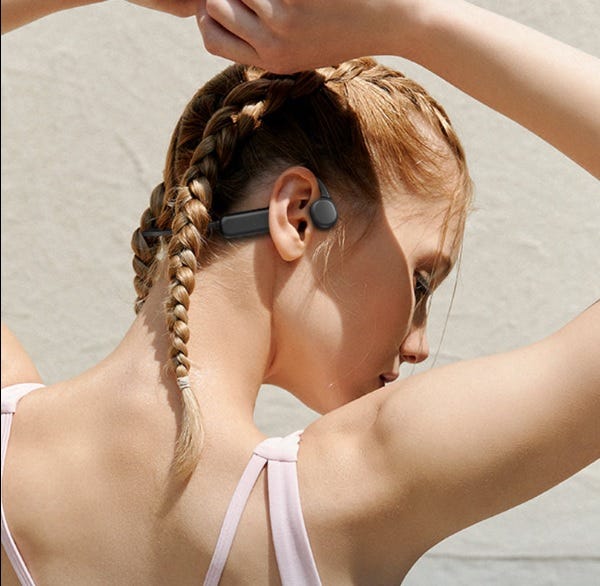 (1) Revolutionary sound transmission method: We all know traditional headphones rely on air to transmit sound while bone conduction earphones rely on bones to transmit sound, and their sound transmission path is shorter ,and that they are better for the ear.
(2) Revolutionary wearing method: We no longer need to stuff the headphones into the ears, nor to put them to cover the ears, but to hang the headphones on the pinna. This wearing method is more comfortable, and better protects the eardrum and ear canal.
(3) Suitable for more scenes: listening to songs during exercise, but at the same time also sensing the surrounding environmental sounds, avoiding danger.
The above characteristics show that bone conduction earphones are indeed another kind of headphones different from traditional headphones, and that they do create new value and are not a stupid tax product.Their unique sound transmission method and wearing method is a part of their working principle.
How do bone conduction earphones work
If you want to understand how do bone conduction earphones work, you must first know what "bone conduction" is. "Bone conduction" is one of the two main ways of sound transmission (the other is air conduction). It transmits sound through the mandibular bone of the human body to the cochlea. And then sound stimulates the auditory hair cells in the cochlea, thereby generating electrical signals that allow us to hear sound. These technical principles may sound obscure, but there are also cases of "bone conduction" sound transmission in life. For example, when eating, we can clearly hear the chewing sound; we still can clearly hear our own voice when covering our ears and speaking. These are "bone conduction" that helps us to hear sound. Take hearing the sound of chewing when eating as an example, during the eating and chewing process, the vibrations caused are transmitted through the bones to the inner ear to get us to hear sound.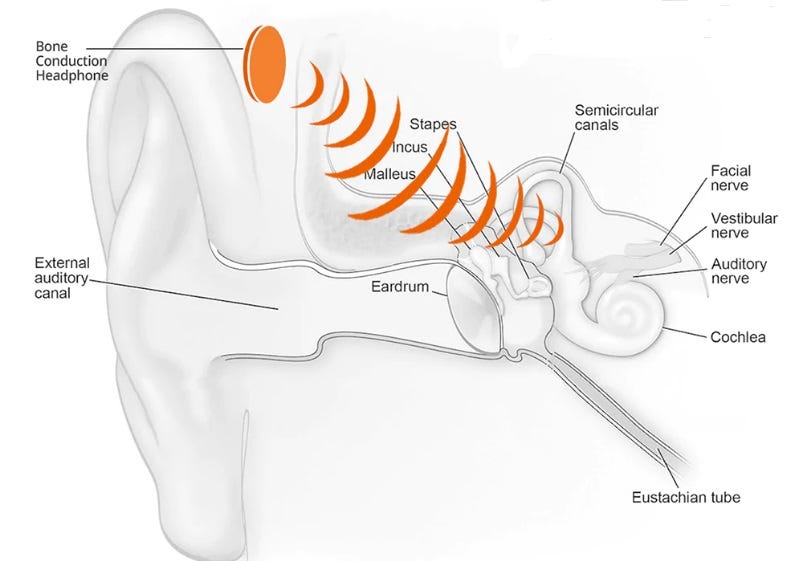 Bone conduction earphones are headphones based on bone conduction technology. The working principle is to use the vibrator on the sound unit to turn the sound signal into mechanical vibration, which causes bone resonance and conducts sound to the inner ear, so as to achieve the result of listening by"bone conduction".
Their unique working principle bring them a lot of benefits.
Advantages of bone conduction earphones
Bone conduction earphones have three very prominent advantages.
Advantage 1 of bone conduction earphones: safer to use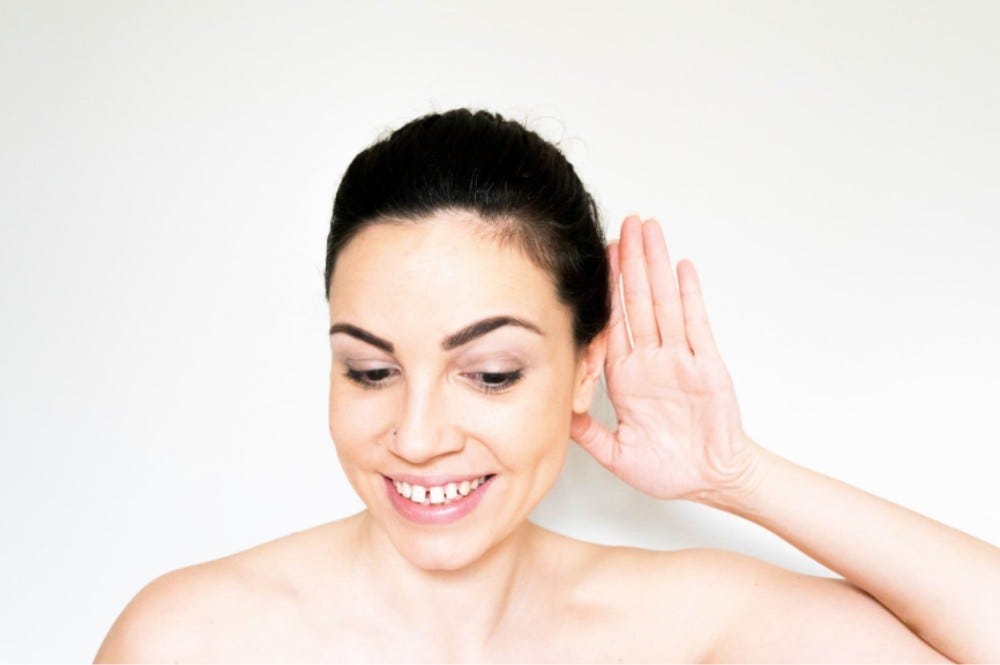 Compared with common headphones, bone conduction earphones are placed on the cheekbones in front of the ears when in use. They conduct sound directly through the skull bone to the inner ear, keeping your ears open at all times, which does not interfere with any external ambient sound entering the ear. The wearer can even chat with friends around him while listening to music. Therefore, you can hear the sound of the outside world by wearing bone conduction earphones during outdoor sports, on buses and subways, running, and cycling. The wearer can maintain awareness of the surrounding environment at all times to avoid accidents. Therefore, they can provide higher security than common headphones.
Bone conduction headset advantage two: more hygienic to use
Whether it's headphones or earbuds, covering your ears when using them can make your ears stuffy, which can lead to the growth of bacteria inside your ears. Especially when the ear canal is blocked, the inside will become humid and hot, and bacteria will grow more rapidly. Therefore, wearing in-ear headphones is also one of the important reasons for many young people's ear canal inflammation. What about bone conduction earphones? They don't cause these problems. Because they do not touch or cover the ears, they can keep the ears hygienic and clean.
Advantage three of bone conduction earphones: more healthy use
bone conduction earphones do not need to be worn in the ear, so the injury caused by the headphone rubbing against the ear canal is avoided. Moreover, the vibration wave of them is smaller than that of ordinary headphones, and the damage to hair cells in the ear can be reduced by about 80%. Therefore, bone conduction earphones are more ear-friendly and healthier to wear than ordinary headphones.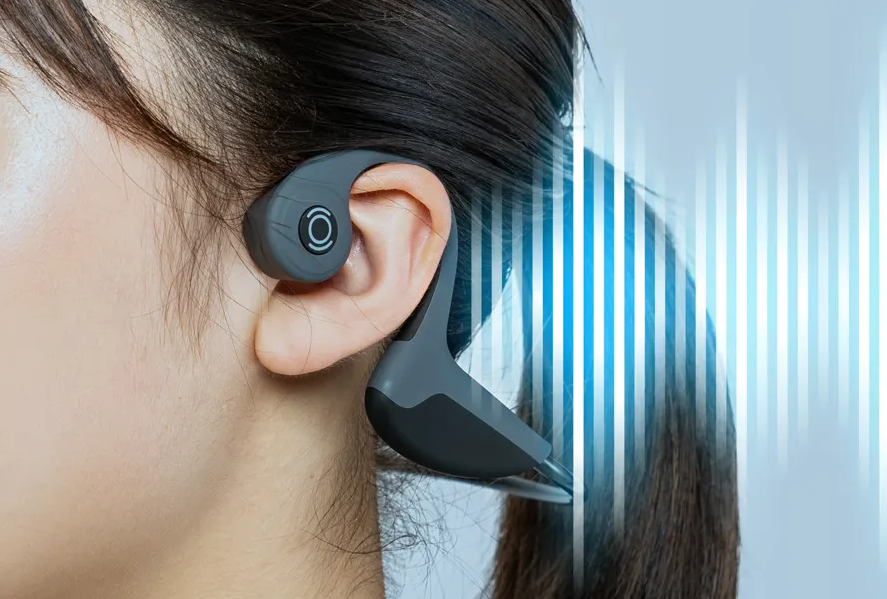 Of course, bone conduction earphones are not 100% perfect, and they have drawbacks, such as their sound quality being difficult to achieve the effect of traditional noise-canceling headphones. They really release the ears, which also lose the "sound insulation" or noise reduction effect of traditional headphones, so in extremely noisy environments, it will be difficult for bone conduction earphones to transmit sound to your inner ear. However, the sound quality of them has improved a lot compared to the previous two years with technological progress. Some mainstream brands like wissonly and aftershokz have excellent sound quality.
In general,bone conduction earphones have more advantages than disadvantages, which is why they are becoming more and more popular. Now, I will recommend some excellent headphones.
1. Wissonly Hi Runner bone conduction earphones
Recommended reason:
Wissonly team has relatively strong technical strength. They have 10 years of experience in bone conduction product research and development, which is the basis for making good products. Wissonly focuses on the concept of healthy enjoyment of good sound quality. The headphone brand features no harm to the ears, and it is also the first brand to propose the concept of not listening to songs in the ear. Wissonly's completely not-in-ear design reduces the damage to the eardrum. Its surface is made of silicone skin-friendly material, which is very safe and comfortable to wear.
Wissonly Hi Runner bone conduction earphones have made a lot of improvements in sound quality and anti-sound-leakage. The official claimed that its sound quality has reached the Hi-Fi level. I have measured it and think that the sound quality is indeed good, but that it does not really reach the Hi-Fi sound quality, and that it can only be said it is very close the level. Such sound quality,in the field of bone conduction earphones,it is good enough that I have not yet encountered a product that can surpass it in sound quality. In order to solve the problem of sound leakage, Wissonly developed fully closed anti-sound-leakage technology. It improved the vibration unit, body design, software optimization and other directions, and finally it reduced the sound leakage effect by 90%.
Other performance are also very good, such as its 32G memory, IPX8 waterproof level, 5.0 Bluetooth connection protocol, 10 hours of ultra-long battery life, etc.. You can go to its official website for this.
2.Philips A6606 bone conduction earphones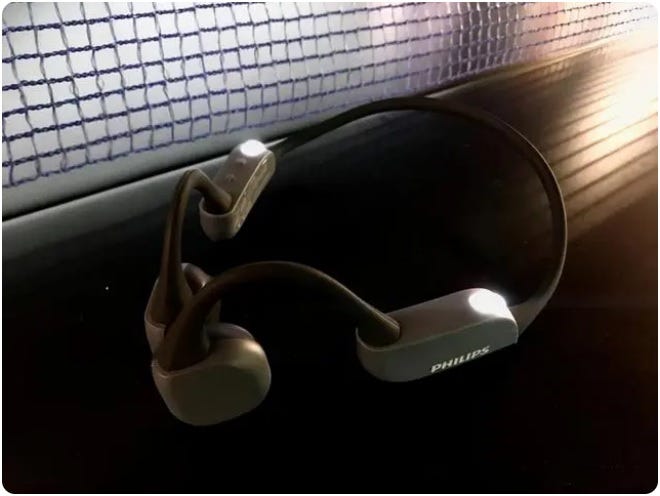 Recommended reason:
With IPX7 waterproof property, Philips A6606 can be soaked in water for a short time, and has good waterproof performance. At the same time, surprisingly, LED night run lamps are arranged at both ends of the fuselage, which can light up the rear road at night, thus ensuring its own safety factor. The unique bone conduction vibrator makes its sound quality good, and the double shrapnel structure can reduce the distortion. However, when playing high-frequency sound, there will be obvious vibration. If you can accept the vibration of medium and high frequency, it is also good.
3.AfterShokz OPENRUN PRO bone conduction earphones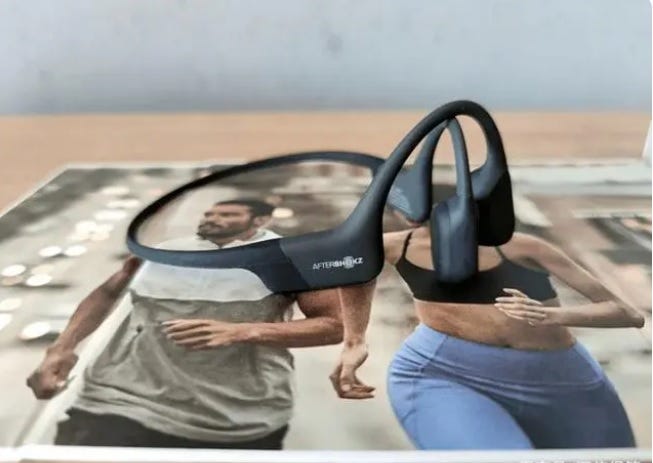 Recommended reason:
Openrun Pro bone conduction earphones have IP67 waterproof rating, they are waterproof, sweatproof, and dustproof. They are no problem to get caught in the rain or splashed with water. Even in outdoor sports, when encounter bad weather, you will be not afraid at all, they let you enjoy the fun of sports all the time.
In addition, the headphones do not need to be plugged into the ears. Their comfort is just amazing. Their is no need to poke the ear like a drill any more. And you do not have to worry about that after you wear them for a long time, your ear canal will itch and be uncomfortable, and as well as breed bacteria. The whole body surface is silicone material, their net weight is 28g, and they are comfortable and lightweight.
4.Earsopen peace tw-1 bone conduction earphones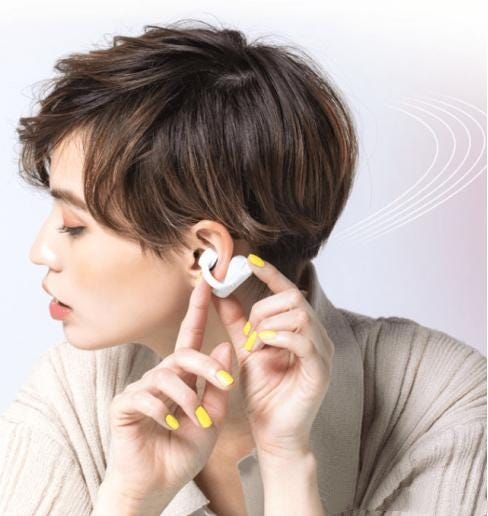 Recommended reason:
It can't be worn in the ear, and it won't cause ear discomfort or damage eardrums for a long time. The wearing method of ear clip is different from other bone conduction earphones. This kind of wearing method is a little troublesome and can't be worn with one hand, but it can make the headphones have good stability and won't fall off during intense exercise. Its sound quality anti- sound-leakage are very well, and it can't be heard within normal social distance.
Its disadvantage is that the ear-clip wearing method may make you feel uncomfortable after a long time.
5. vidonn F3 bone conduction earphones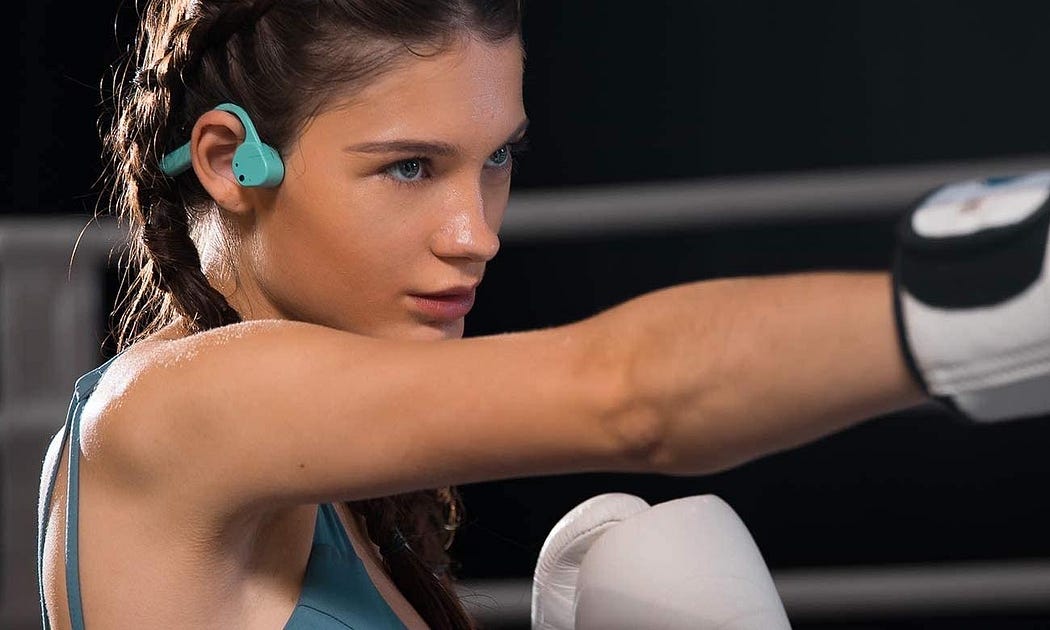 Recommended reason:
The Vidonn F3 bone conduction earphones weigh only 29g, and there is no discomfort whether you have it hanging neck or hinging ears for a long time. The ear arm of the bone conduction vibrator is on the outside, leaving space for the glasses leg to pass, which solves the embarrassing situation of not being able to wear glasses when wearing headphones.
The charging port of Vidonn F3 bone conduction earphones is the universal standard MICRO-USB interface. It adopts a soft rubber plug to waterproof, but the soft rubber plug is not connected to the body, there will be a risk of loss. The manufacturer gives two spare soft rubber plugs in the box.
This is an entry-level product, and it's hard to expect good performance in terms of sound quality and leak prevention, but it's enough for everyday use.
Among the several bone conduction earphones recommended above, wissonly and aftershokz are my favorite brands. Compared with them, wissonly is more cost-effective and worth buying.
Comment