Aftershokz opencomm bone conduction headphone review
Sep 05,2023 | David
AfterShokz, which uses bone conduction technology, is a brand known to consumers for its professional sports headphones. However, due to the increased demand for video conferencing and online conferencing due to the epidemic, AfterShokz also combines the open characteristics of its bone conduction technology with the DSP boom microphone to enhance radio reception, providing a comfortable and open call experience for ethnic groups who need to talk for a long time and creating AfterShokz OpenComm bone conduction call headphones.I believe many people have seen the related review of this product online, but they are all third parties.And this article will change the angle: real users use review.
Basic information of aftershokz opencomm: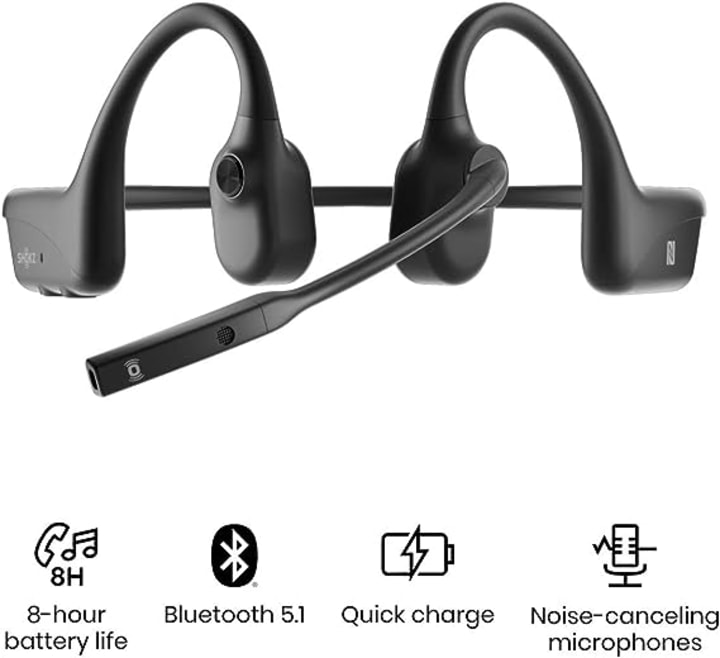 Product Dimensions:6.65 x 5.31 x 2.7 inches
Item Weight:1.16ounces
ASIN:B09CGYBZVG
Item model number:C102
Batteries:1 Lithium Polymer batteries required.(included)
Charging Time:1 Hour
Fast Charging:No
Item Weight:33 Grams
Units:1.0 Count
Number Of ltems:1
Manufacturer:Shokz Limited Corporation
Aftershokz opencomm bone conduction headphone review from users:
Product name: aftershokz opencomm Price: $159.95
Rating: 4.4 Where to buy: Amazon or official website.
User review 1:
User:Skeptical Observer Nation:United States
"This is my 3rd pair of Bone Conduction headphones and the last one I will need to buy. As for as hearing people there is not a lot of difference but the mic on the Shokz are by FAR the best. The last two pair every other call people were asking what I said, but not on these. I use them 40hrs a week and a 150 calls a day and they are awesome."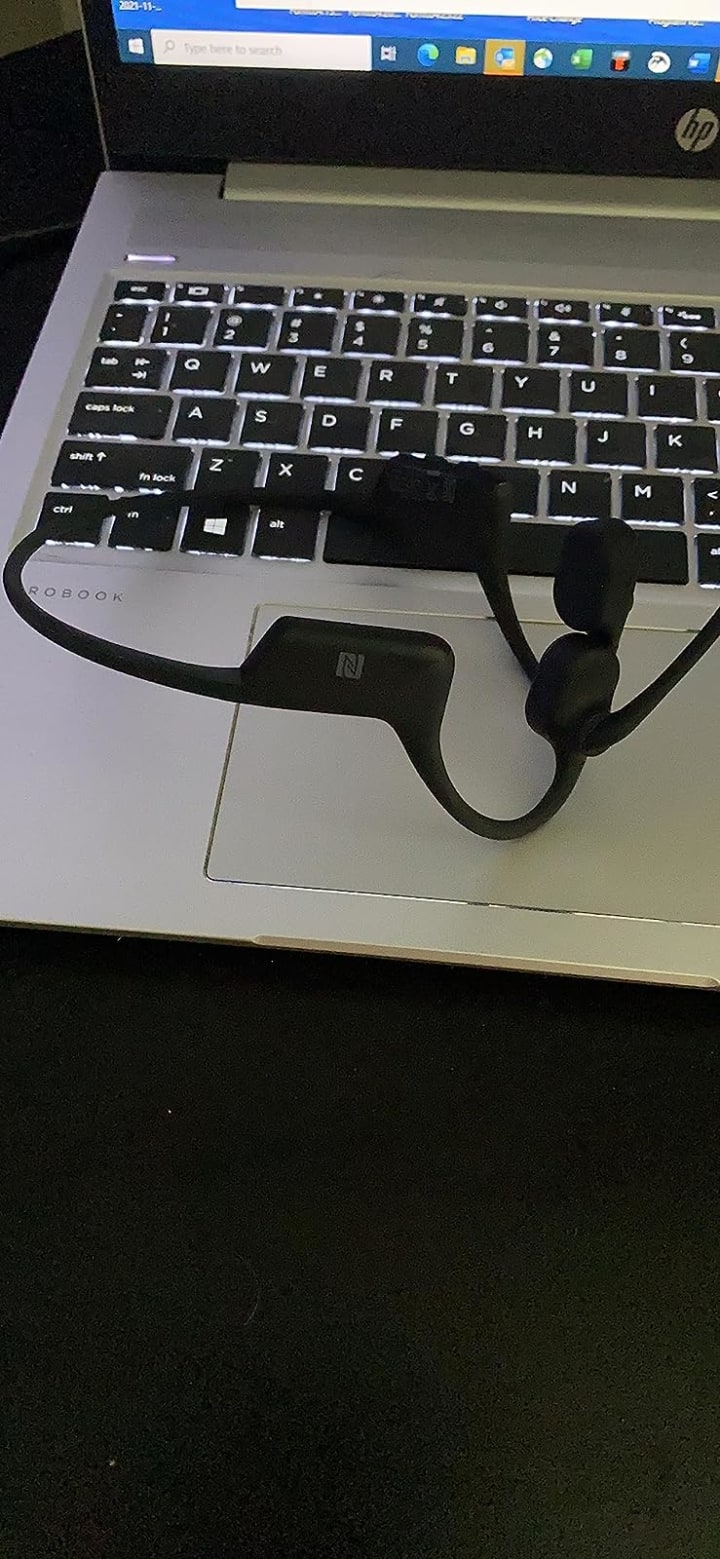 User review 2:
User:Am Shopper Nation:United States
"I'm a truck driver and I bought this bone conduction headphone because I wanted a headphone that didn't cover or plug my ears. The speaker volume is hard to hear at times and there's a vibrations near my ear when the volume is all the way up. The mic has good, clear sound no problem there. But I would say these headphones are not good to hear out of in loud working environments. Also I have a small head and the band that goes around the back of my head stick out to far and move everytime I put my hat on, glasses on, adjust my hair or lean my head back on something. So this why I give it 3 stars. Only good thing about this headset is that it charges in about 30 min, the clear sound of the mic, and it doesn't plug my ears."
User review 3:
User:P. Casilla Nation:United States
"I really like how well this bone conduction headphone is made it seems to be pretty rugged pretty much sweatproof easy to charge and when you're wearing it you often don't even feel it. Sound quality is great and people seem to have no issue with hearing me on it the majority of the time. I love the fact that I could sink it to my cell phone and my desktop at the same time it actually affiliates with both and I can use it to do Dictation work as well as enjoy videos or music without disturbing anyone.
It kind of sucks that the Bluetooth USB receiver is a separate item you have to purchase for the desktop system but other than that it works great."
User review 4:
User:Alex Common Nation:United States
"This works fabulously with phones and such. It's probably the best headset you can get for portable devices.
Update - I had to return these, sadly. They simply don't play well with Windows.
However... it simply will NOT work with Windows PC. This is partially Microsoft's fault, partially Shokz's fault. It uses default Microsoft drivers for the headset, which are absolutely terrible. Shokz should've dealt with this before releasing the product. Apparently the only way to get their PC dongle, which is ridiculous. Seems like a money-grab. Did not test with Mac or other computers.
I'm debating sending this back, which is a shame, because they're pretty good otherwise.
Other complaint : mic boom is way way to short. Only reaches down to my cheek. Other "pro" mic booms go to your mouth area."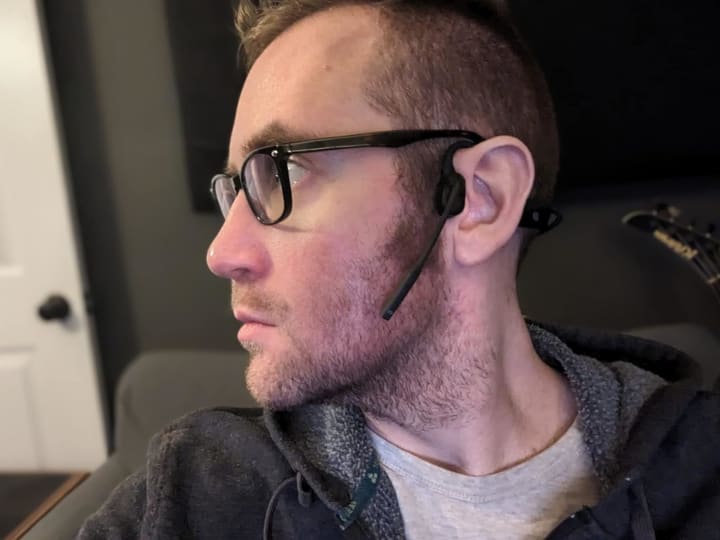 User review 5:
User:D. Stamper Nation:United States
"I love this thing. Its a life changing experience if you work with your hands and stopping for phone calls. THe sound and my voice all worked great for a few months. When it stopped working good they sent me a new one with no problem for a few more months. Just so you know, I If you work outside in the south you'll need to not use it. Sweat even in small amounts will make not work. You can dry it out for a few days inside with the A?C running but it will be more sensitive to dampness. Pretty sad that it didn't work for me. Great customer service at least. Maybe give the sports model a try. Thanks for reading."
User review 6:
User:Robert Ferguson Sr. Nation:United States
"I have heard before I bought these types did not work as stated. I had no such problem. I have an open convertible Scout truck. Makes its own amount of noise, added to surrounding traffic noise. I love these because I hear my music from my phone as if I was in a sealed sedan, and can take and make calls as such.
Had them a few months without incident! Love them!"
User review 7:
User:steve Nation:United States
"I have been looking for a headset that not only has good sound quality but also when talking to people they can hear me clearly without interference or echoing. I have been using my headset for a week and am impressed with the quality of the sound and the volume when listening to music. Also, people can hear me clearly on phone calls even when in a moving vehicle. After trying several different brands of bone conduction headphones, I have to say this is the best I have tried. My wife was so pleased with the performance she also bought a pair."
User review 8:
User:Shelia Nation:United States
"I work in a noisy environment and need to be able to hear things around me as well as not being able to have anything in my ears for risk of ear infections. these fit my bill and work!!!
I use it all day and have yet to run it down or have an issue. This is my second pair, the first pair lasted 3 years and I only had to replace it due to loaning it to my brother in law and he would not give it back. Made him pay for 1/2 of th enew one though.. LOL"
User review 9:
User:andersonwire Nation:United States
"I was somewhat skeptical about spending the money on these and not being happy. I wear eyeglasses and it matters to me to how a bluetooth fits on my ears. I am too happy to have found this style doesn't interfere with my glasses. The comfort is unbelievable! Lightweight and full of quality! I hope to have this bluetooth for many years! I'm very picky and I picked the right one!"
User review 10:
User:lourdes mo Nation:United States
"The bone conduction headphones is very strong and good quality, very loud, a bit uncomfortable in the ear part. It is not a noise cancellation that's for sure cause ppl be asking me what's that noise which it could be my signals. I'm a truck driver so finding a good set has been one hella hard find and I thought with this one this is it but nope! Oh yeah and Do not last long as they stated, I have a cheaper kind that lasts me a whole day and some. And now the light that shows that it's charging it's on and won't go away although I am not charging it which is so super annoying because I don't mind paying good money for items as long as they last me a long time and by that I mean years not just months?!!! So right now I'm extremely disappointed"
The above is the real user review of Opencomm . It can be seen that this headset is really convenient and practical for business people. However, its problem is also obvious: it uses fewer scenes and may not be suitable for daily life or sports. Bone conduction headphones suitable for various scenes can also be found in the market to replace it, such as Wissonly Hi Runner bone conduction headphone,which costs only 99.99 dollars.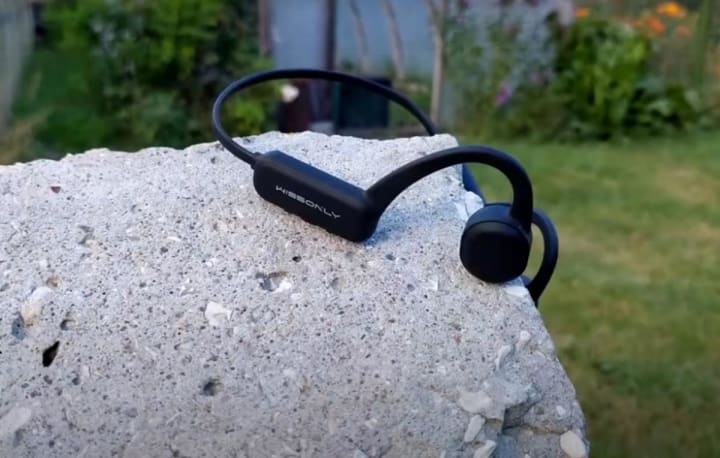 Wissonly is a brand known for its technology and the fastest growing brand in recent times. Their R&D team are all technical experts in the field of bone conduction headphones. As early as 2012, they started to develop bone conduction headphones that don't hurt ears. With advanced bone conduction vibration technology, they have been recommended by the majority of otologists!
What impresses me most about Wissonly Hi Runner is their excellent sound quality. They are equipped with a large-size directional bone conduction vibration unit, which increases the effective sounding area by 35% through structural optimization, thus making the sound range wider and the sound more stereoscopic and shocking. At the same time, they have also improved the problem of sound quality loss caused by low sound transmission efficiency of traditional bone conduction headphones. Together with world-class audio tuner, they have customized an exclusive sound quality output scheme for Wissonly Hi Runner headphones in the world's top tuning laboratory. More than 20 audio tuners have been adjusted for 85,036 times, finally showing a really good sound quality which belongs to bone conduction.
In terms of wearing comfort, the overall frame of Wissonly Hi Runner is made of adjustable aerospace-grade titanium steel, which can adapt to different sizes of head circumference and ensure the stability of wearing. The surface of the headphones is made of high-tech low-sensitivity silicone, which does not contain chemical ingredients to avoid allergies. The overall touch of the headphones is as smooth as a baby's skin, avoiding discomfort when worn for a long time.And its weight is very light, less than 30g, and it will not feel heavy when worn. As the flagship outdoor sports model of the Wissonly brand, it is the most comfortable and cost-effective model in all bone conduction at present.
As the core component of the product, the headphones plays a key role in the product experience. Wissonly Hi Runner is equipped with Bluetooth 5.0 chip, and the Bluetooth connection is very stable. It also has 32G of built-in memory, and it also supports IPX8 waterproof, which can even be used for diving.The microphone of Wissonly Hi Runner is a internal microphone, which is very convenient for daily calls.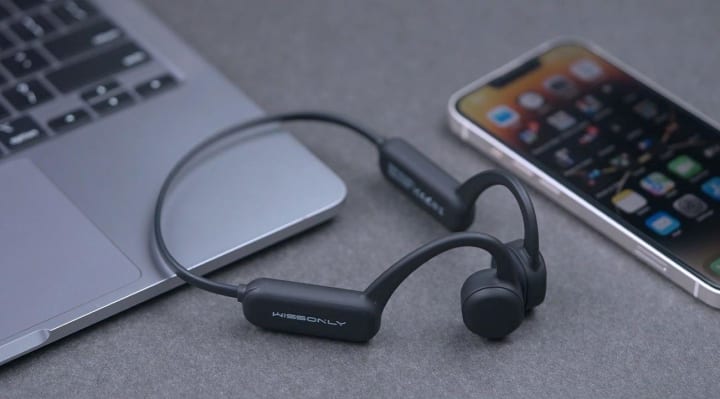 Comment