Wireless Headphones Review: JBL Tune 760NC
Nov 09,2023 | David
As the beginning of headphones, JBL's noise-cancelling headphones have always been the industry benchmark. In 2021, JBL released a new style of its flagship headphones JBL Tune 760NC. These headphones feature an over-ear design for comfort and functionality. The active noise cancelling feature blocks out unnecessary distractions so you can focus on what matters, for up to 35 hours. So are they worth buying? This article collects the real reviews of JBL Tune 760NC by some users for reference.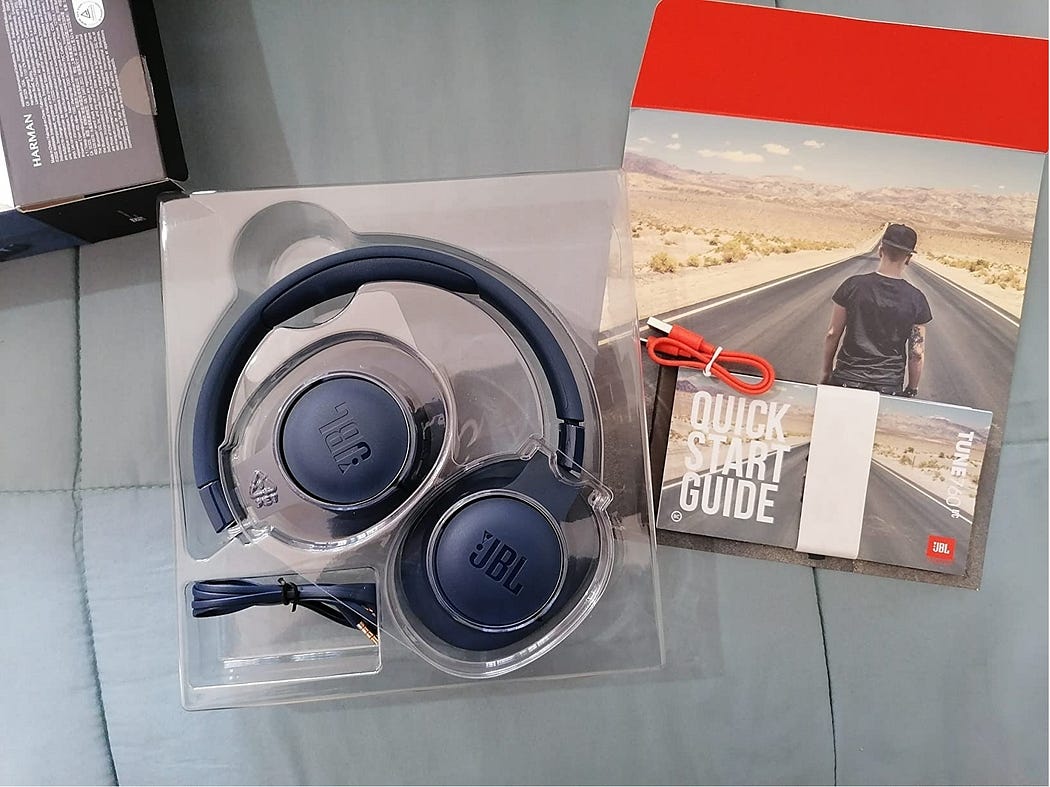 Product parameter about JBL Tune 760NC: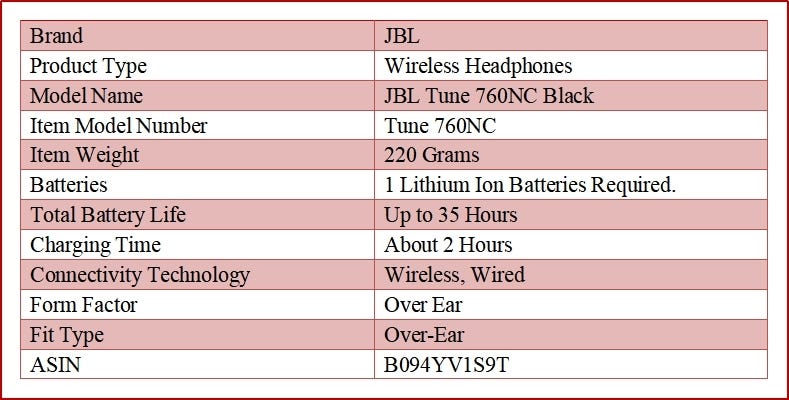 JBL Tune 760NC reviews from users
Product name: JBL Tune 760NC
Price: $92
Rating: 4.3 (out of 5)
Where to buy: Amazon.com or JBL Official Website
Review 1: ★★★★★
"My Insignia headphones had much deeper and better base. otherwise the sound is O.K.. Insignia does not make those any more. I was very upset when I found out that I needed Bluetooth as I didn't think my TV had Bluetooth, but it did. One of the caretakers helped me set it up. I am 82 and need help with Teck stuff. Now I need help with the noise cancellation."
Review 2: ★★★★☆
"Are comfortable and good but bass is eh I was expecting a better bass cause its JBL so I expected a little better but so far it's good. Noise cancelling isn't the best and can't be compared to the Sony or Bose headphones but it's good for its price."
Review 3: ★★★☆☆
"When I first received these in mid-October I was thrilled with the sound quality and the noise cancellation. I use them every day. Yesterday about two months into usage the lining on the left cup came up. At first, I was hoping to pop it back into place but after inspecting it closely it's only held together by a thin band of glue. So while the sound quality is great beware of the material."
Review 4: ★☆☆☆☆
"These headphones shipped without product support, and without support on their app, but they don't tell you that.
I spent hours on my flight out of the country trying to figure it out, frustrated, only to be told on their support chat that these headphones are not supported "yet".
The audio is terrible unless you set up the equalizers, which you can't do without the app. The speakers also start to show signs of blowing out at 3/4 volume, and the NC feature crackles if the ambient noise doesn't agree with it."
Review 5: ★★★★☆
"I was very excited to receive these headphones. I had read rave reviews from independent publications, as well as customer reviews. I was unprepared for how uncomfortable the headphones would be to wear with my glasses. That is my only complaint about these headphones. Looking for in-ear noise cancelling ear buds now."
Review 6: ★★★☆☆
"Noise cancellation is very bad, it has a strange sound like rain and interference when noise cancellation is activated, over time that gets annoying and tiring and makes the ear hurt. The sound quality is good, but it feels like it lacks more volume.
I don't recommend it if you're looking for deep bass sound since these headphones don't have them. The battery is very good, I've been with them for almost two months and I've only charged it twice, considering that I use them a lot.
Despite being a cheap version of JBL, the quality of the materials is moderately good and not very light."
Review 7: ★★★★☆
"If you are looking for noise-cancelling headphones this is a great low-cost option. Obviously, if you want top-of-the-line noise cancellation you'd have to look elsewhere but for the cost, I think these are great. It could block more noise, and the base could be stronger but other than that they are great. Wore them on the airplane and blocks a good amount of noise while listening to music. Battery life is great."
Review 8: ★★★☆☆
"(+) best battery life available.
Supports BT connection to 2 devices.
ANC is quite good, only for covering low frequency hums, not mid to high frequency noises. (I never tried Bose).
(-)Shape, would hurt the top of my head after 1 hour.
Sound, it's a little boomy, unlike JBL Live series, and very poor in mid. Highs are too crisp. In brief it sounds very good if you listen to modern music (elector, modern pop, punchy music), but very bad with blues, jazz, classical, and I believe anything before the 90s. Try JBL Live760 for that."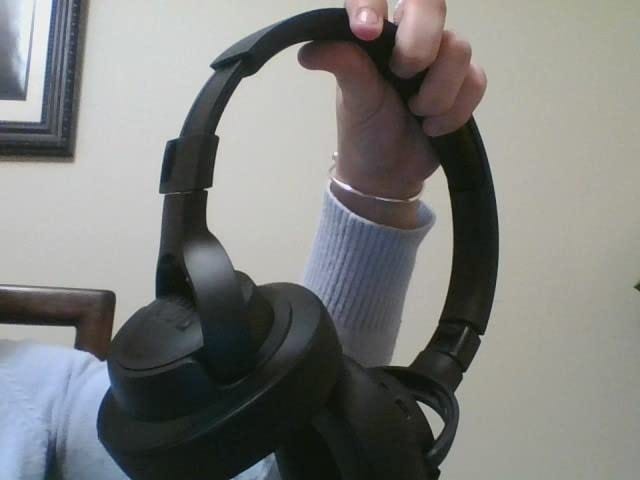 Review 9: ★★★★★
"When brands say their devices battery last so and so hours, it's usually not true and end up dying way faster than anticipated. But these headphones actually last you for a long time on a full charge. I accidentally left it on for who knows how long and after was still able to use it for at least a week before needing a charge. Great noise cancellation, great sound quality. Delivers decent bass and its comfort is astonishing."
Review 10: ★☆☆☆☆
"The Tune 760NC headphones creaked loudly when being put on or taken off, and whenever I moved my jaw or neck while wearing them.
Additionally, the sound output quality was passable at best (wired or Bluetooth to any of my myriad MAC IOS, Windows, Linux, and IOS devices). Extremely overly brassy, sometimes to the point of distortion when listening to spoken word."
Regarding the positive and negative reviews given by most users, we can analyze that the overall performance of these wireless headphones are quite good, but there are still some shortcomings, such as: the audio is unstable and the sound will be intermittent during exercise, and the material is made of plastic, which is of poor quality. So, if you need a headphone for office or sports, we highly recommend the Wissonly Hi Runner bone conduction headphones.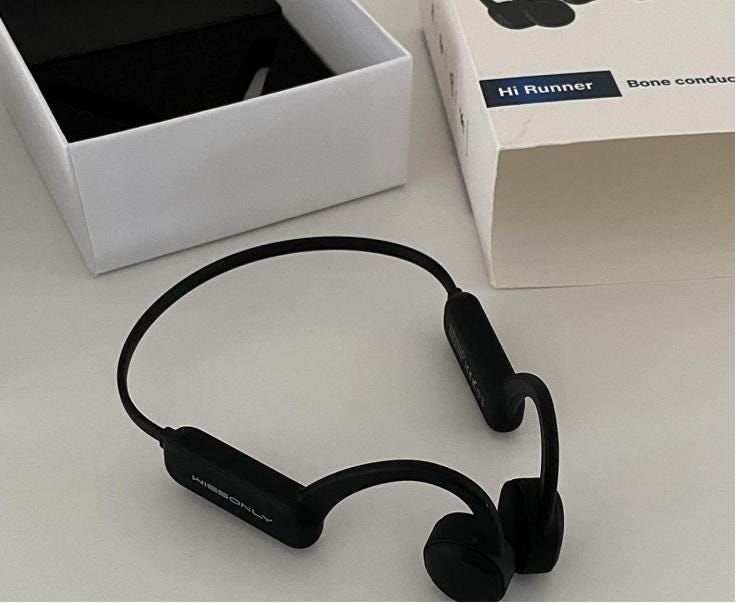 Here are the reasons for the recommendation:
This is the most configured bone conduction headphones on the market.
Wissonly bone conduction headphones are the first brand I started to contact. When they recommended it on the online crowdfunding platform, I noticed it. After saw that many people were recommending, and I bought it. This Hi runner I used for a few months, and the overall performance was better than I expected.
Some bone conduction headphones leak sound, and you know that I take privacy very seriously, so I'm very concerned about anti-sound-leakage technology. Wissonly Hi Runner does a very good job in the field. Its body is sealed, and through structural optimization and algorithm adjustment, its sound leakage is minimized.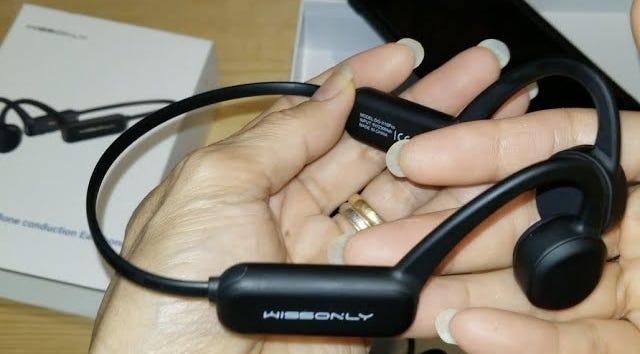 The official claim they can eliminate 90% of sound leakage. I do not have professional equipment to test, but I have tried and found that at 60%-70% volume, the sound is completely inaudible at a distance of 1.5 meters, which makes me very satisfied. I have actually compared it with other bone conduction headphones, and the Wissonly Hi Runner has currently the best sound leakage reduction solution in bone conduction headphones.
Hi Runner is also particularly comfortable in the wearing experience. Because the material of the whole machine is high-tech hypoallergenic silicone, and it is coupled with the ergonomic design that conforms to the structure of the human ear, so that users will not bring any burden to the ear under long-term wear.
The overall frame of these headphones are made of adjustable aerospace-grade titanium steel, which has strong bending resistance and strong wearing stability. It will not fall easily after long-term wearing. In addition, it is very lightweight, weighing only 28g, which is comfortable to wear.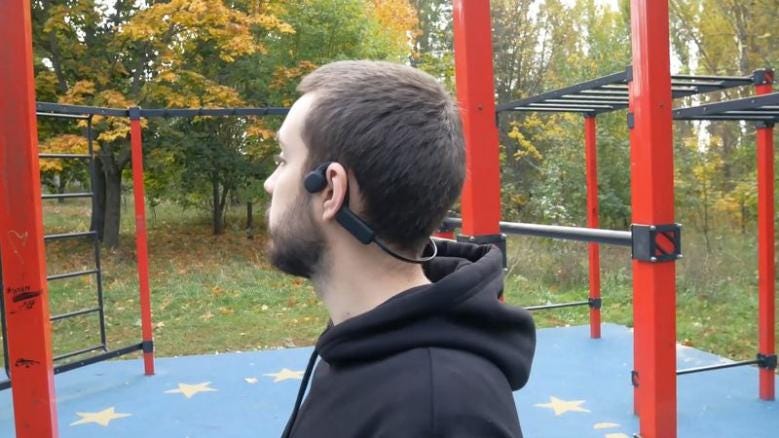 Sound quality as the core performance is undoubtedly worth mentioning. Hi Runner uses a large-sized vibration unit, the sound range is wider, the sound is more three-dimensional and deeper, so the sound quality is undoubtedly very good. And it is also equipped with a Bluetooth 5.0 chip, the connection is more stable. And it will not be disconnected when used, which is a good experience.
The Wissonly Hi Runner also comes with 32GB of built-in storage that can store 5,000 songs, so you can use it completely as an MP3 player to enjoy music without your phone when you go out for a run.
Comment