What is the difference between bone conduction headsets and common headsets?
Feb 28,2023 | David
In the last 2 years, bone conduction headsets are becoming more and more popular. Whether you go out for running, cycling, or going to the gym, you can see someone wearing them. As a star technology product, they are very different from common headphones. Undoubtedly they are not another headphones, but another kind of headphones.
What is the difference between bone conduction headsets and common headphones
Their biggest difference is the way to transmit sound. bone conduction headsets use bones to transmit sound, while common headsets are air conduction headsets that use air to transmit sound. To understand this difference, I did a test. First put on bone conduction headsets, and then plugged my ears with my fingers, at this time I found that the sound became louder rather, which is amazing! But when I wear the common headphones, when I do the same action, I find the sound becomes smaller.This is the secret of bone conduction transmitting sound!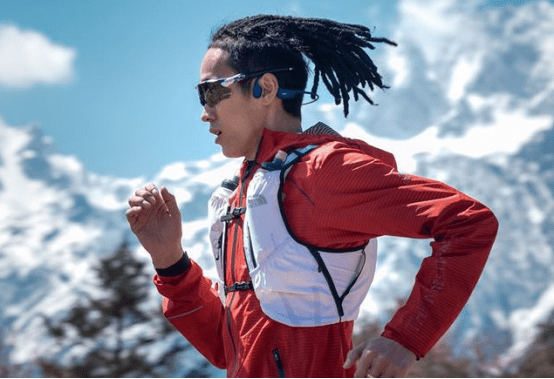 The difference in sound transmission mode makes that you do not need to stuff the bone conduction headsets into the ear and only need to attach the vibrating unit to the temple to allow the ear to hear the sound. This feature also gives more design space for the headphones, and designers design them as hanging-ear type or clip-on-ear type so that they are more comfortable to wear. And because bone conduction headsets do not need to transmit sound through the air, their body do not need to leave holes for sound waves to enter and exit, which also allows them to have a better waterproof level.
How do bone conduction headsets work
To understand how bone conduction headsets work, take me back to my middle school physics class. We know that there are three kinds of media that transmit sound, namely solid, air and liquid. Among the devices that transmit sound, it is more common to use air as the medium, such as speakers and common headphones. From this point of view, we can regard traditional headphones as air conduction headphones. They use air as the medium to transmit sound to the eardrum through "air conduction way", and then transmit the sound to the auditory nerve through the vibration of the periosteum and hear music.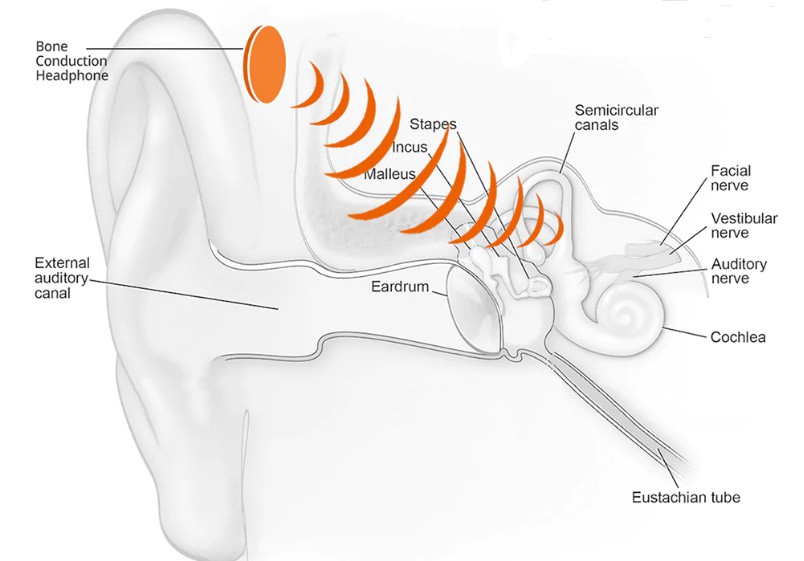 Bone conduction headsets are another type of headphones that transmit sound waves through solid resonance, allowing sound vibrations to cause bone vibrations. Then through the medium of bones, it is directly transmitted to the auditory spirit. Therefore, you only need to put the sound unit close to the ear to hear the sound played. Because of this, bone conduction headsets do not need to be plugged into or wrapped around the ears, so they will not cover the ear canal, so that the eardrum can still receive external sounds normally, which allows the wearer to listen to music while paying attention to the surrounding environment .
The working principle of bone conduction can be seen everywhere in our life. When we eat nuts, we can clearly hear the sound of the nuts being crushed, but others cannot hear it. This is the vibration generated by our crushed nuts, which is transmitted to the auditory nerve through the bones and is "heard" by us. The principle of sound transmission is bone conduction.
This unique working principle makes bone conduction headsets have many advantages
Advantages of bone conduction headsets
Bone conduction headsets have three very prominent advantages.
safer to use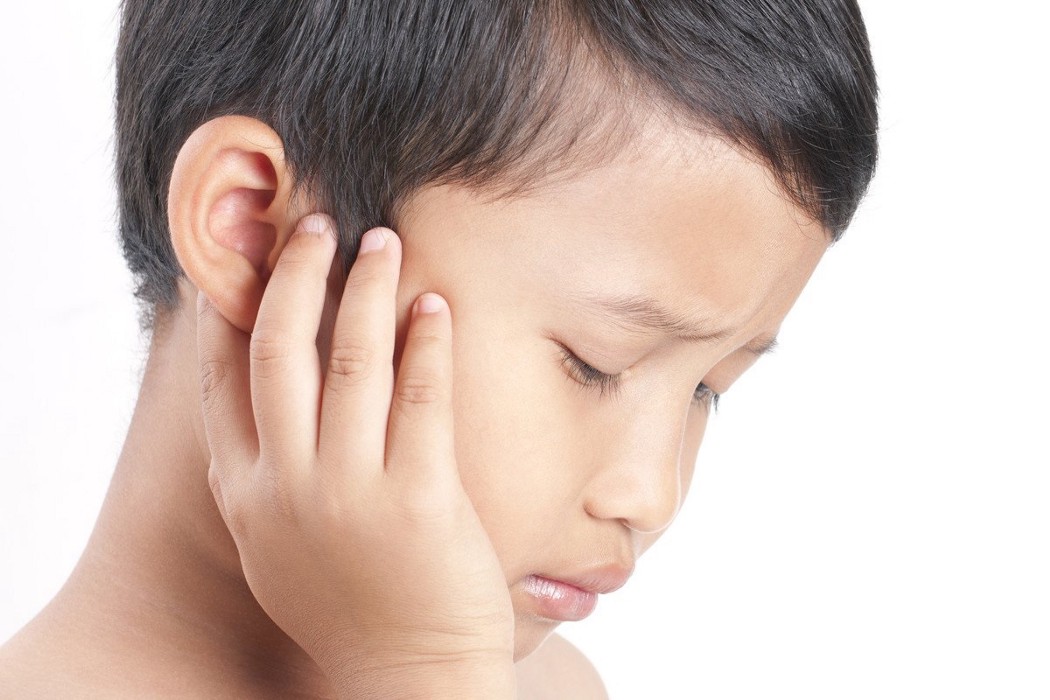 Compared with common headsets, bone conduction headsets are placed on the cheekbones in front of the ears when in use. They conduct sound directly through the skull bone to the inner ear, keeping your ears open at all times, which does not interfere with any external ambient sound entering the ear. The wearer can even chat with friends around him while listening to music. Therefore, you can hear the sound of the outside world by wearing bone conduction headsets during outdoor sports, on buses and subways, running, and cycling. The wearer can maintain awareness of the surrounding environment at all times to avoid accidents. Therefore, they can provide higher security than common headphones.
2. more hygienic to use
Whether it's headphones or earbuds, covering your ears when using them can make your ears stuffy, which can lead to the growth of bacteria inside your ears. Especially when the ear canal is blocked, the inside will become humid and hot, and bacteria will grow more rapidly. Therefore, wearing in-ear headphones is also one of the important reasons for many young people's ear canal inflammation. What about bone conduction headsets? They don't cause these problems. Because they do not touch or cover the ears, they can keep the ears hygienic and clean.
3. more healthy use
bone conduction headsets do not need to be worn in the ear, so the injury caused by the headphone rubbing against the ear canal is avoided. Moreover, the vibration wave of them is smaller than that of ordinary headphones, and the damage to hair cells in the ear can be reduced by about 80%. Therefore, bone conduction headsets are more ear-friendly and healthier to wear than ordinary headphones.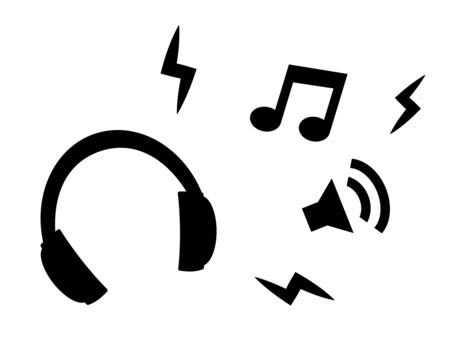 Of course, bone conduction headsets are not 100% perfect, and they have drawbacks, such as their sound quality being difficult to achieve the effect of traditional noise-canceling headphones. They really release the ears, which also lose the "sound insulation" or noise reduction effect of traditional headphones, so in extremely noisy environments, it will be difficult for bone conduction headsets to transmit sound to your inner ear. However, the sound quality of them has improved a lot compared to the previous two years with technological progress. Some mainstream brands like wissonly and aftershokz have excellent sound quality.
It can be said that bone conduction headsets are good for using, and the following i will recommends several good headphones to everyone.
1. Wissonly Hi Runner bone conduction headsets
Recommended reason:
Wissonly bone conduction brand insists on technological innovation, its bone vibration technology is relatively leading. The team has 10 years of technical accumulation in the field of bone conduction. So they have mastered the core technology of the field, which is very important for the quality of the product.
Wissonly has exclusive sound leakage reduction technology and bone vibration technology, which are all applied to Wissonly Hi Runner bone conduction headsets. They can effectively reduce the problem of sound leakage by 90%. The latest bone vibration technology improves the overall sound quality performance of the headphones to make sound more spatious sense, and the sound quality characteristics are more prominent.
The overall body of Hi Runner is made of memory titanium that can self-adjust the contact area. So the headphones give people a good wearing experience and more users are taken into account.
As the core component of the product, the headphones chip plays a key role in the experience of the product. Wissonly Hi Runner are equipped with a Bluetooth 5.0 chip for a more stable connection. They also have 32G of built-in memory which is very important to me. I use the headphones completely as an MP3. They can store 5000 songs, which is crazy!
2. Philips 7607 bone conduction headsets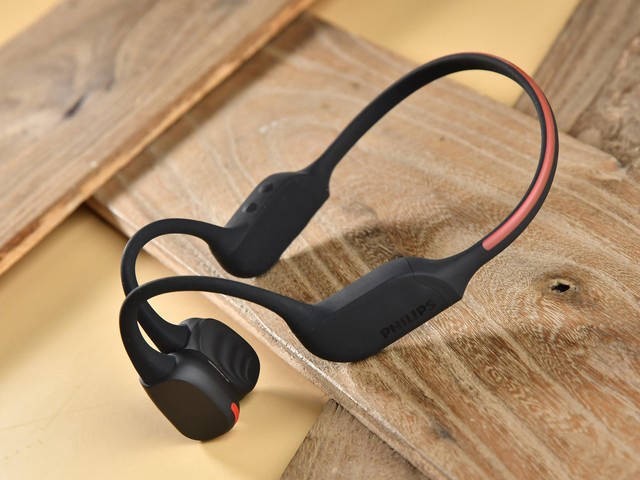 Recommended reason:
They use a 17mm large-scale sound unit that makes their low-frequency sound more delicate, and that makes middle and high frequency sound clearer and not harsh. IP67 waterproof performance allows them to have a waterproof and sweatproof function in daily wear, and to be no problem in the face of sudden rain in a short time. When you wear them at night, LED night running lights make passing vehicles perceive your own location, so the safety factor is higher.
3.AfterShokz OPENRUN PRO bone conduction headsets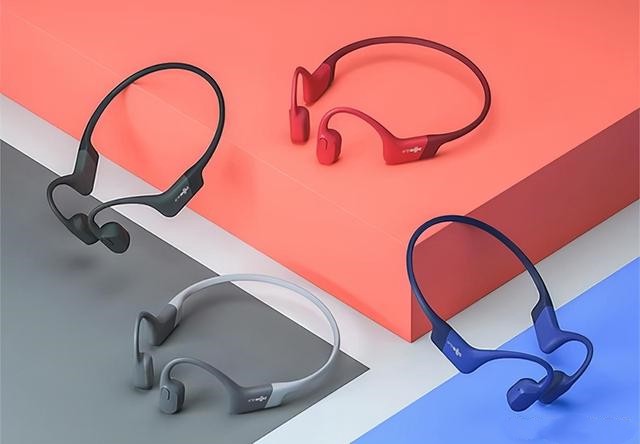 Recommended reason:
Openrun Pro bone conduction headsets have IP67 waterproof rating, they are waterproof, sweatproof, and dustproof. They are no problem to get caught in the rain or splashed with water. Even in outdoor sports, when encounter bad weather, you will be not afraid at all, they let you enjoy the fun of sports all the time.
In addition, the headphones do not need to be plugged into the ears. Their comfort is just amazing. Their is no need to poke the ear like a drill any more. And you do not have to worry about that after you wear them for a long time, your ear canal will itch and be uncomfortable, and as well as breed bacteria. The whole body surface is silicone material, their net weight is 28g, and they are comfortable and lightweight.
4.earsopen SS900 bone conduction headsets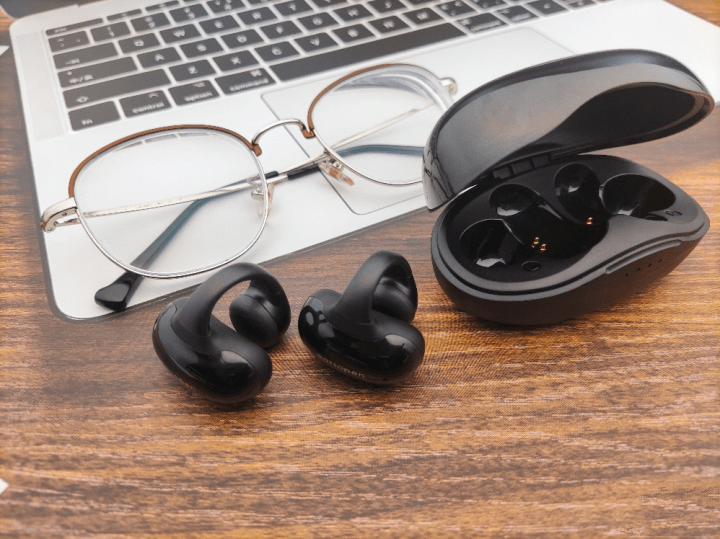 Recommended reason:
Different from other bone conduction headsets, this earsopenSS900 is mainly worn by pinching ears, which requires both hands to finish wearing. Its' IPX7' s waterproof grade can achieve the effect of short-time immersion under water, and it is easy to face the daily sweat. The 8g single side headphone body can play a comfortable and non-inductive role in the whole wearing process, but it will be a little uncomfortable when worn for a long time due to the wearing way of clip ears.
5.Nank Runner CC3 bone conduction headsets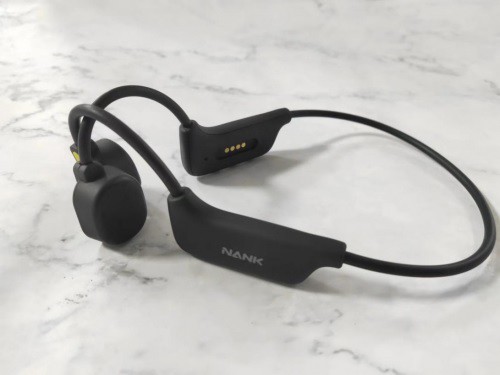 Recommended reason:
The titanium alloy body of the Runner cc2 bone conduction headsets is more flexible and durable, and there is no need to worry that the paint of wearing the headphones for a long time. Their weight is so light that you don't even feel their presence while wearing them. The headphones are equipped with a Bluetooth 5.0 chip, which makes the Bluetooth connection more stable. The sound quality and sound leakage reduction performance are also very good. The Runner cc2 also reach the IPX6 waterproof rating, so there is no problem with rain and sweat.
Among the several bone conduction headsets recommended above, Wissonly and aftershokz are my favorite brands. Compared with them, Wissonly is more cost-effective and worth buying.
Comment