What Is Bone Conduction Headphones and How About Their Safety?
Jan 09,2023 | Sylvia
In recent years, you may find that more and more people around you are wearing a kind of earphone clipped to the edge of the temple. Most of these headphones are bone conduction headphones.
So, what is bone conduction headphones?
They are sound transmission devices that transmits sound through the vibration of the skull so that people can perceive speech.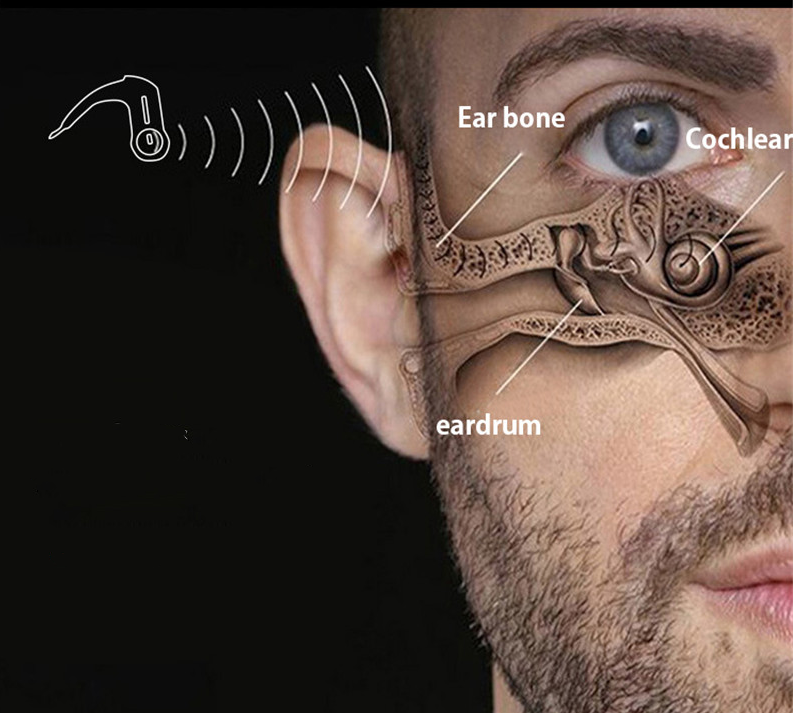 In physics, sound can be transmitted through solids, air, and liquids as media. Traditional earphones transmit sound through the air, while bone conduction headphones transmit sound through the solid of the skull.
Bone conduction device include conduction speaker and bone conduction microphone:
(1) Bone conduction speakers are used to listen to the sound. It converts the electromagnetic signal into sound waves (also called vibration signals) directly through the bone to the auditory nerve and makes the brain center feel the sound.
(2) The bone conduction microphone is used to collect sound. It uses the slight vibration of the head and neck bones caused by human speech to collect sound signals and convert them into electromagnetic signals.
Bone conduction headphone is a kind of headphone with high safety. To help you understand their safety, let's first understand their working principles.
What is the working principle of bone conduction headphones?
First of all, let us understand the principle of bone conduction technology. Bone conduction is a method of sound conduction, that is, by converting sound into mechanical vibrations of different frequencies. It transmits the sound to the cochlea through the human skull, bony labyrinth, and inner ear lymph fluid. After the auditory signal is sensed by the spiral organ in the cochlea, the auditory signal is converted into a nerve impulse. The auditory nerve continues to transmit the nerve impulse to the auditory center, and finally to the auditory cortex, where sound is perceived.Compared with the classic sound conduction method of generating sound waves through the diaphragm, bone conduction saves many steps of sound wave transmission, and can achieve clear sound reproduction in a noisy environment, and the sound waves will not affect others due to diffusion in the air.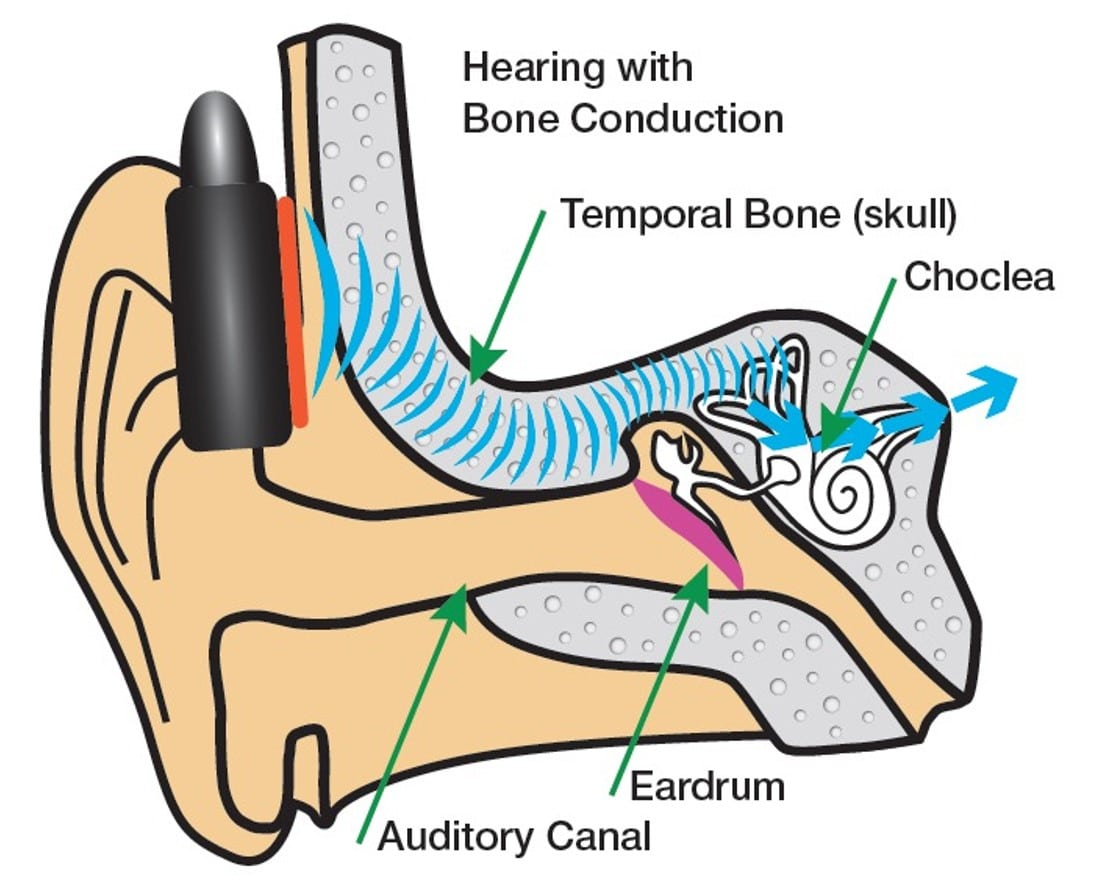 Bone conduction technology is a mature technology, and its practicability and safety have long been verified. As early as the 18th century, Beethoven, who was deaf in both ears, could continue to create music by biting a wooden stick connected to the piano and hearing the sound of the piano. This is probably the earliest example of the application of bone conduction.
Bone conduction headphones are a new type of earphones based on bone conduction technology. You only need to put the sound unit close to your ears to hear music. Because of this, they do not need to be plugged into or wrapped around the ear, so they will not cover the ear canal, making the ear canal more hygienic and the eardrum healthier.
How about the safety of bone conduction headphones?
Bone conduction headphones are a new application of mature technology, and their safety has early been verified.
First of all, bone conduction headphones have very little damage to hearing. We all know that hearing damage generally occurs in the eardrum and inner ear. When we wearing them,sound do not need to pass through the eardrum, so they do not damage the eardrum. Because the oscillation of them is relatively moderate, the headphones also have less effect on auditory hair cells in the inner ear. Moreover, the electromagnetic waves of them are extremely weak that they will not cause harm to human brain nerves and hearing nerves.
Secondly, bone conduction headphones can still keep you paying attention to ambient sounds when worn, which can help you to avoid many accidents. They are not worn into the ear, Whether in running, cycling, walking or commuting, etc., wearing the headphones to listen to songs, you can still hear the surrounding sounds, and can communicate with others normally, so as to avoid the danger caused by not hearing external sounds.
In addition, bone conduction headphones that do not need to be plugged in the ear canal when worn, are very helpful for maintaining ear hygiene. They do not block the ear canal due to sweating for a long time to deposit a large number of bacteria, and so also reduce ear inflammation and other conditions.
Of course, The safety of any product is relative, and 100% safe products do not exist, and so are bone conduction headphones. Under the premise of long-term continuous use at high volume, they still have the risk of hearing damage. This point also needs to be paid attention to when they are used. It should be noted that any headphones will have hearing damage problems when used at high volume for a long time. Bone conduction headphones are still the safest and healthiest of all headphones.
For your safety, we recommend that you choose bone conduction headphones with mature technology. They are some excellent headphones below.
1. Wissonly Hi Runner bone conduction headphones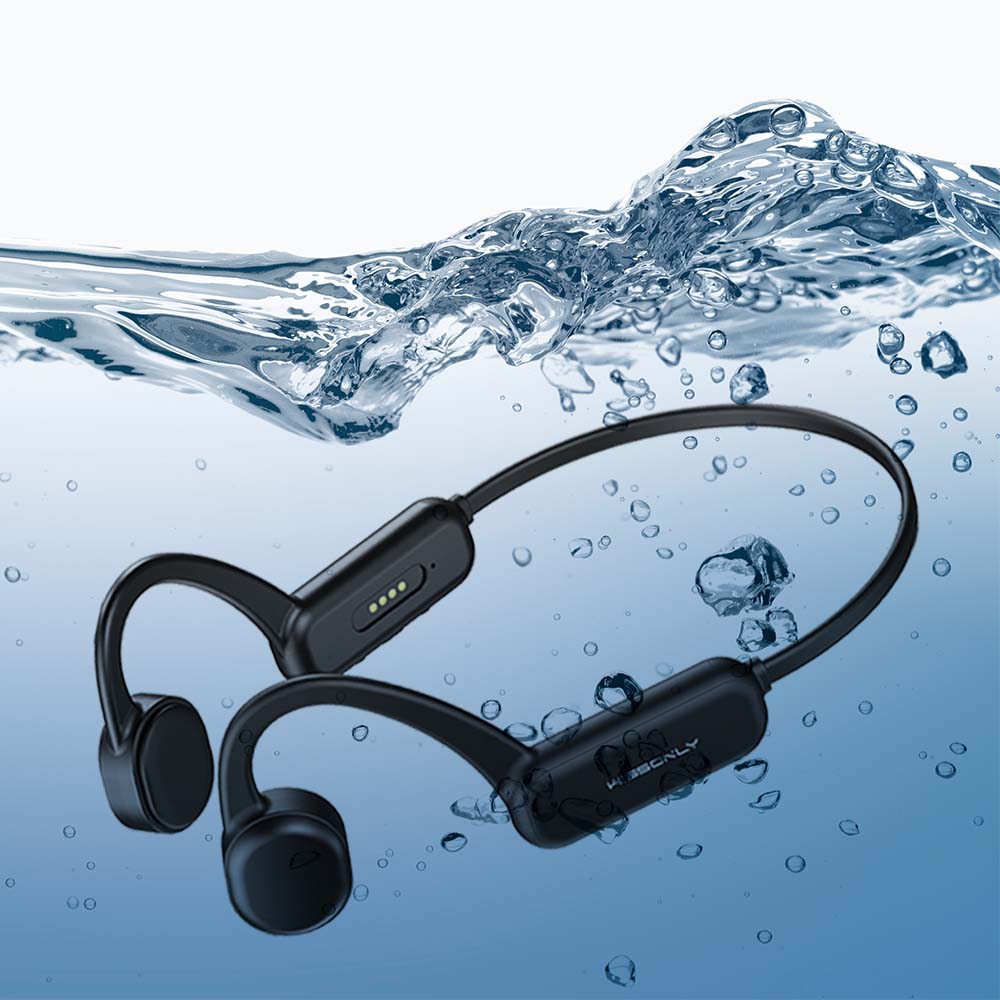 Their team is one of the best talents in the field of bone conduction. The product director was once the core engineer of a first-line brand, and has accumulated 10 years' experience in the field of bone conduction technology. Wissonly Hi Runner increases the vibration area of the sound source vibrator by 35% through excellent structural design, which makes the music feel more spatial and immersive. It is also excellent in sound leakage reduction. The fully wrapped design reduces the vibration of the shell, and the structural optimization makes the sound leakage wave be offset, thus avoiding 90% sound leakage, which is much better than the bone conduction headphones of the same price on the market.
The fully-enclosed design of Wissonly Hirunner bone conduction headphones makes its waterproof grade to IPX8, which means that you can wear it for bathing, swimming and even diving within 20 meters. Even better, the Hi Runner headphones has a built-in storage of 32GB, which can store 5,000 songs. It can still be used without the mobile phone. It supports both MP3 mode and Bluetooth mode. It is equipped with Bluetooth 5.0 chip, which makes it superior to most bone conduction headphones in transmission distance, connection stability and power consumption.
2. Philips A6606 bone conduction headphones

Reason for recommendation:
This Philips A6606 bone conduction headphones, with an ergonomic design, will not fall off no matter how you move. The surface of its body is made by soft silicone, which greatly improves the comfort of wearing. It has reached the IP67 waterproof rating, and sweating profusely during daily sports is not a problem to it. The headphones are also equipped with night running lights, and the brightness is strong enough that the cyclists or vehicles behind you can notice you when you are running at night. The headphones are equipped with Bluetooth 5.2 technology which has a faster transmission distance and lower power consumption than 5.0, but this one cannot be used in swimming.
3.AfterShokz OpenSwim bone conduction headphones

Reason for recommendation:
The body of the headphone is made of skin-friendly silicone, and its light body is only weighs 36g. It has ergonomic structure of the ear design, no matter running, jumping, wearing glasses without pressure, more intimate details. The waterproof performance of OpenSwim reaches IP68 level, which is suitable for swimmers. A long strip structure design is adopted at the sound generating part, so that the loudspeaker has a larger surface area and higher sound transmission efficiency. With its own 4G memory, it can use as a mp3 player.Its battery life reach 8 hours, no matter about long time using.But this headphones does not support Bluetooth and calling functions.
4.Earsopen PEACE bone conduction headphones

Reason for recommendation:
Unlike other bone conduction headphones, this one has a charging case. The "T" shaped structure makes it stable as long as it is clamped on the ear. But due to the design of the clip ear, it may be a little uncomfortable after wearing it for a long time. It adopts the Bluetooth version of 5.0, can connect stably in a short distance and without obstacles. It reaches IPX7 level in waterproofing, can be immersed underwater for thirty minutes. In terms of sound quality, the sound quality of the human voice is clear, and the extension of the high tone is also good, but it will still appear turbid at the low frequencies.
5.Nank Runner CC3 bone conduction headphones

Recommended reason:
Runner CC2 has a solid button area on the outside, which is very convenient to use. The surface of the headphone body is made of soft material, which makes it very comfortable to be attached to the ear. It is really stable to wear with the ear-hanging scheme, supports Bluetooth 5.0, and the earphone signal is very stable during use. The sound quality is quite satisfactory, and the sense of music rhythm and space is well controlled.
Among the above five bone conduction headphones, my favorite ones are Wissonly and Philips. These two brands have the strongest technology, and the sound quality and sound leakage reduction of the products are very good. Wissonly's product parameters are better and cost-effective, so you can buy without hesitation.
Comment