What Is Bone Conduction Headphones and Can Others Hear The Sound from Them?
Mar 11,2023 | David
In daily life, the sound of teeth colliding can be clearly heard by us, but people around us cannot hear it. This is probably the nearest case of bone conduction technology around us. When you collide your teeth, you may hardly imagine that this sound transmission method will be applied by talented engineers to create the latest popular product-bone conduction earphones.
what is bone conduction headphones?
Bone conduction headphone is a type of headphone using bone conduction technology. Its biggest feature is that it uses bone conduction to transmit sound, uses human bones as the medium for transmitting sound, and directly transmits sound to the auditory nerve to form hearing.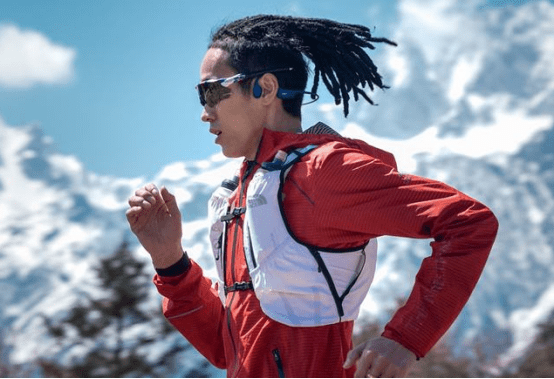 This distinctive technical feature has also revolutionized the way it is worn. The wearing method of bone conduction earphones has changed from traditional in-ear wearing to hanging ear wearing. When wearing it, you only need to hang the earphone on the auricle and put the vibration unit close to the temple, and the whole ear is completely open. The change in the way of sound transmission and wearing has made bone conduction headphones another type of earphone, which is a huge upgrade compared to traditional earphones. Many ear doctors also highly recommend them, because they are better and healthier for ears.
Can others hear the sound from bone conduction headphones?
Under normal volume, with a social distance of more than 1 meter, it is difficult for others to hear the sound of bone conduction headphones. Therefore, the privacy protection of the headphones is still good, and you can use them with confidence.
The reason why some people worry that "others will hear the sound of bone conduction headphones" is mainly because the headphones generally have the problem of sound leakage. However, due to the advancement of technology, mainstream bone conduction headphone brands have solved the problem of sound leakage well. Under normal social distance, your privacy is still guaranteed.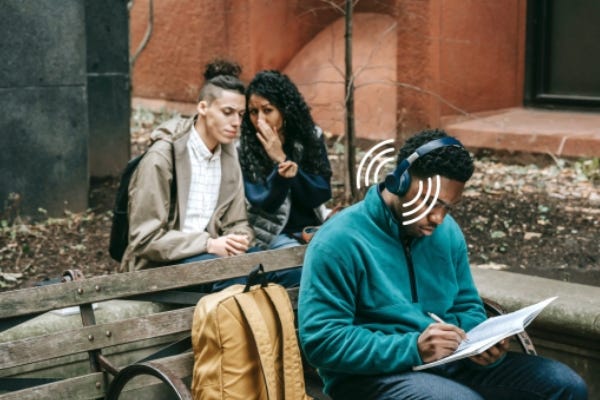 From the point of view of the principle of sound, all bone conduction headphones have the problem of sound leakage. Because they rely on the vibration of the sound unit to generate vibration waves, and drive the bone to vibrate to transmit the sound to the inner ear, so that it can be heard by people. Therefore, when the headphones are working, their shells will vibrate together with the sounding unit, and the shells will drive the air to vibrate, resulting in sound leakage. For the same headphone, when the volume is higher, the sound unit vibrates more, the air vibrates more, and the problem of sound leakage will be more serious.
Excellent bone conduction headphone brands have made a lot of efforts to solve the problem of sound leakage of headphones, and mainly adopted the following methods to reduce the problem of sound leakage.
lIntegrated body: The headphones body is designed as an integrated body without holes, so that there is no air in the body, and the air vibration caused by the sound unit is also reduced;
lShock-absorbing design of the body: through structural optimization, the shock-absorbing function of the body is improved, and the vibration of the body caused by the vibration of the sound unit is reduced;
lInverted-phase sound wave: The anti-phase sound wave is used to cancel the sound wave of the sound leakage, thereby eliminating the sound leakage.
lIt should be said that their efforts have paid off. The sound leakage problem of some excellent brands of bone conduction headphones has been well resolved.
Although bone conduction headphones have the problem of sound leakage, it has to be said that they have several outstanding advantages: they allow you to keep your attention on the ambient sound while listening to music, which is very safe; they will not hurt your ears, can Keeping the ear canal hygienic and more. These advantages are why they have become popular.
Next, I will recommend several excellent bone conduction headphones, some of which have little sound leakage, such as Wissonly and Aftershokz.
1. wissonly Hi Runner bone conduction headphones
Recommended reason
Wissonly's core team is a team engaged in the research and development of bone conduction products earlier. They have accumulated 10 years' technology in this field. They have adopted the best acoustic laboratory in the Eastern Hemisphere for sound adjustment. Wissonly Hi Runner has good technical solutions to the problems of sound leakage, sound quality and waterproof of pseudo-bone conduction headphones.
Wissonly bone conduction vibrator adopts a unique full-wrapped design, which makes the vibrator work in a closed environment, reducing the impact on the shell, thus reducing the vibration of the shell and finally reducing the sound leakage by 90%.
Wissonly uses a large-size bone conduction vibrator, and the effective vibration area of the vibrator is increased by 35% through structural optimization. At the same time, the sound transmission direction is optimized, the sound loss is reduced, and the sound is more concentrated.
Wissonly Hi Runner adopts integrated molding technology, with no holes in the headphones' body and it is no splicing, which realizes IPX8 waterproof, and can be used for swimming and bathing. Even in the depth of 20 meters, diving is no problem.
It also has 32G of built-in memory, which can store 5000 songs. You can use it as amp3 player when you don't have a mobile phone.
In a word, Wissonly Hi Runner is a product with powerful functions, stable technology and high cost performance.
2.Philips 7607 bone conduction headphones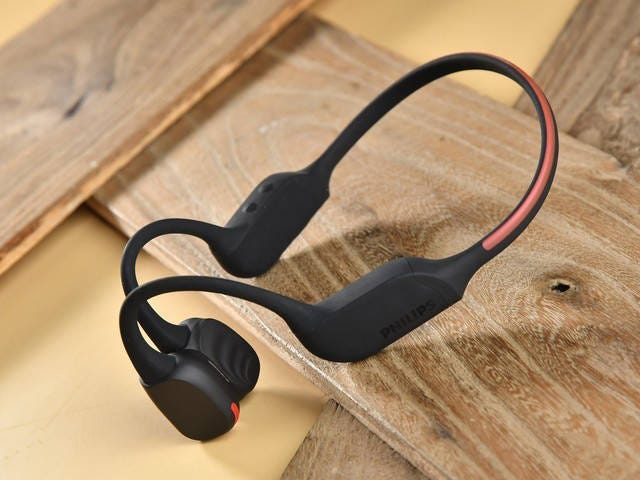 Recommended reason
Its sounding unit adopt a large-size vibrator of 17mm, which makes it have the effect of high, medium and low triple-frequency balance in sound quality performance. The low-frequency dive is sufficient, the medium and high frequencies are clear and not harsh, but there will be some missing sounds. It is also equipped with an intimate LED night run lamp at the rear end of the body, which can turn on the LED by turning on the key three times in a row. It also has three modes, which is suitable for wearing at night, so that people around it can perceive their own position and ensure their own safety factor to a certain extent.Its IPX6 waterproof rating is not afraid of sweat in daily wear.
3.AfterShokz OPENRUN PRO bone conduction headphones
Recommended reason
All-weather sports companionship. The body weight of Afershokz Openrun Pro headphones is only 26 grams, but it has up to 8 hours of long battery life. It supports IP67 super standard waterproof grade, is not afraid of sweat and rain, and not afraid of the challenges brought by bad weather. It is a trustworthy all-weather running headphones. However, it is not professional-grade waterproof after all, and it is not suitable for swimming and diving, so you must consider it clearly before purchasing.
4.earsopen FIT BT-1 bone conduction headphones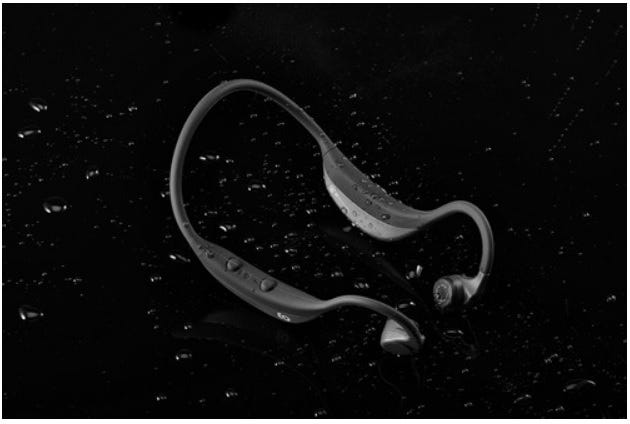 Recommended reason
Earsopen FIT BT-1 bone conduction headphone, the new favorite of Japanese headphone industry, has an open listening experience and can also accept external sound. It has the BONE AUDIO feature with super telepresence, which has better listening effect.It adopts the exclusive latest AVV technology, with its correct vibration earsopen device, and improves the bone conduction ability by leaps and bounds.It also has fashionable and high-quality streamline design,it use light body material and weight of only 34g. Its waterproof, dustproof and anti-skid performance is also good.
It can be safely used indoors and outdoors, and it is comfortable to wear and moves freely.
5.Nank Runner CC3 bone conduction headphones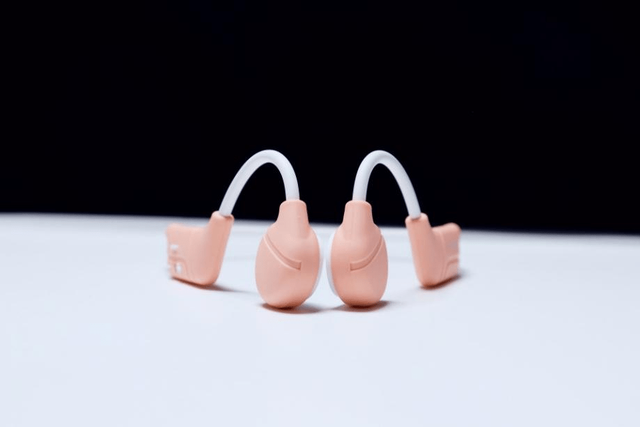 Recommended reason:
Runner CC2 is made of titanium alloy, with a body weight of 28g, and the overall wearing experience is good. The sound quality and sound leakage are better than their previous products, but they still need to be improved. The headphones also support high-definition call noise reduction, which is a plus.
The ability of this headphone is relatively average, and there are no special highlights or obvious shortcomings. As an entry-level bone conduction headphone, it is still qualified.
As mentioned above, wissonly and aftershokz are two of the most mature brands in terms of bone conduction technology. Their sound quality and sound leakage reduction performance are excellent. The product parameters of Wissonly are the best, and it is worth buying.
Comment