What Are Wireless Bone Conduction Earphones and Best Bone Conduction Earphones in 2023
Feb 06,2023 | Sylvia
Wireless bone conduction headphones are becoming more and more popular. While running and riding, you can see people wearing a new type of music-listening device around their auricle, which is bone conduction headphones. You may be wondering, shouldn't the earphones be plugged into the ears, or shouldn't they cover the ears? Why can I hear the sound when I just hang it nearby my ear? Why are bone conduction earphones so amazing? What kind of amazing technology product is it?
What are wireless bone conduction earphones?
Bone conduction earphones are a new type of earphone based on bone conduction technology. It does not need to transmit sound through the air in the ear canal like traditional earphones but transmits sound through the skull. Therefore, when using it, just hang it on the temple, close to the skull, and hear the music. They convert music signals into mechanical vibrations, which are then transmitted to the inner ear through the skull, and finally allow the auditory nerve to perceive the sound.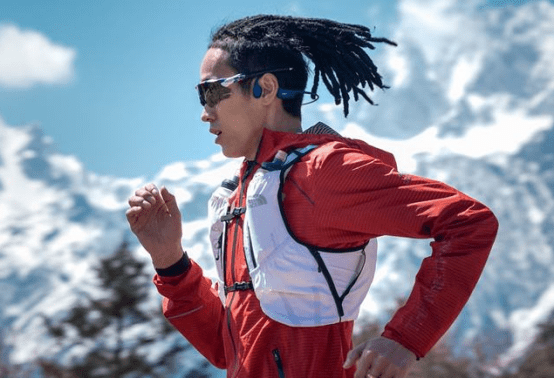 Wireless bone conduction earphones are not a new technology product. Bone conduction is also a mature technology, which is widely used in the military, fire protection, hearing aids, and other fields. The application of bone conduction technology in the field of electronic products is a matter of recent years, such as bone conduction headphones, bone conduction speakers, bone conduction helmets, etc., are very successful examples.
The working principle of wireless bone conduction earphones
The propagation medium of sound includes solid, liquid, and air. In general, there are two ways for sound waves to enter the inner ear of the human body: air conduction and bone conduction. It then travels to the inner ear via the auditory ossicles. Bone conduction is the vibration of sound waves through the bones of the head such as the skull and jaw, which transmits the sound to the inner ear. It is another very important hearing method besides air transmission. People use this method to manufacture many bone conduction hearing devices.
Traditional headphones mainly transmit sound through the air, while wireless bone conduction earphones use the temporal bone of the head to transmit sound. It transmits sound directly to the auditory nerve in the form of sound waves, instead of passing through the air to the eardrum and then to our auditory nerve.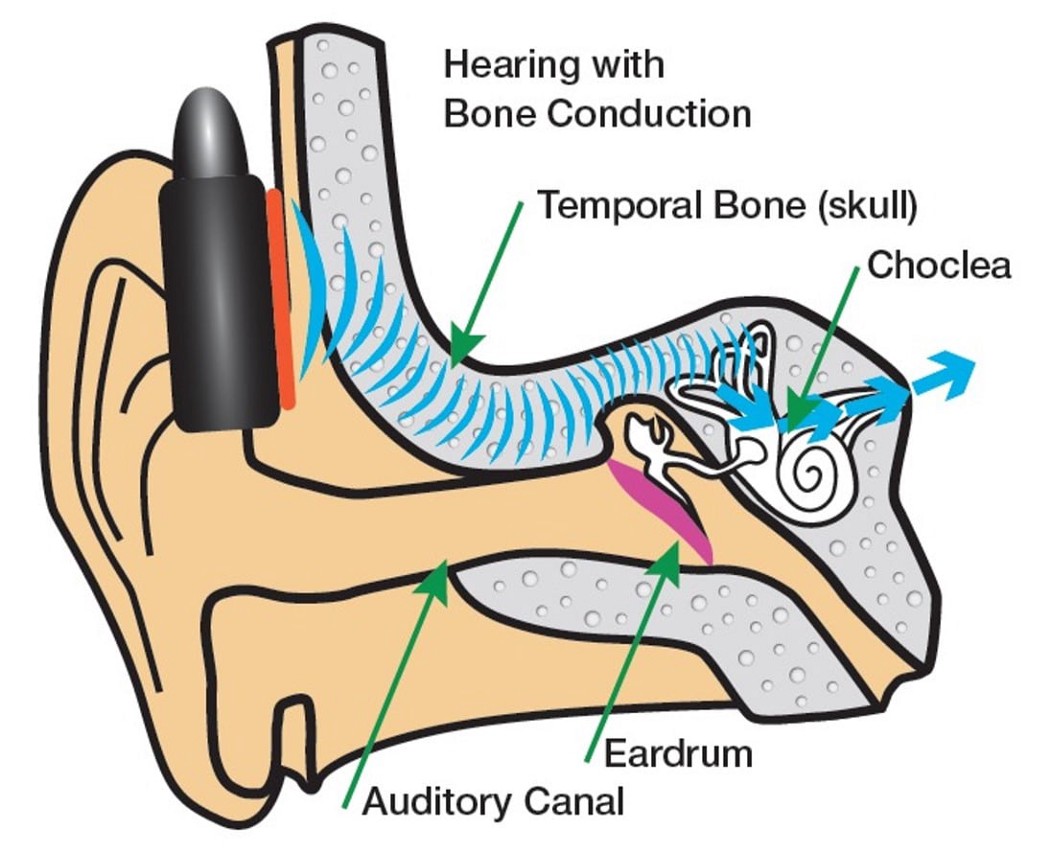 Currently, bone conduction hearing devices mainly include electromagnetic bone conduction earphones and piezoelectric bone conduction headphones. Electromagnetic bone conduction headphones have better working performance, but they have electromagnetic radiation, which is easy to cause harm to the user's body. Piezoelectric wirelss bone conduction earphones use piezoelectric vibrators as sounding components. When people wear it the human body is less affected by electromagnetic radiation which also has the advantages of small size and low power consumption.
What are the benefits of wireless bone conduction headphones
Since wireless bone conduction earphones do not require the use of both ears, they also bring some health benefits. They do not need to be stuffed into the ear when worn, they can keep the inside of the ear canal clean and hygienic. And the surface of them is smooth, easy to clean, and its body can keep clean. Traditional air conduction headphones are worn either into the ear or covering throughout the ear, which will cause bacteria to deposit inside the ear. So bone conduction headphones are of great help to the ear health. They use the working principle of bone conduction to transmit sound that does not need to pass through the eardrum. So unless the volume is turned up too much, normal volume will not affect hearing when the headphones are used.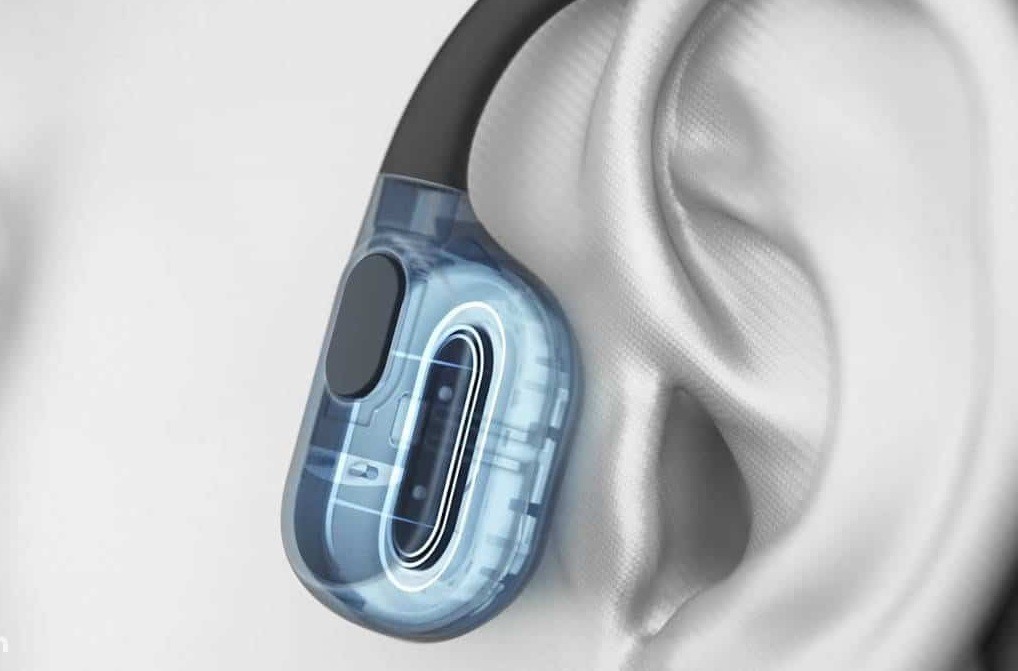 Wireless bone conduction earphones are also very friendly to be used in sports scenes. Wireless headphones themselves are sport-friendly, and the non-in-ear characteristics make them more suitable for sports scenes than other headphones. They are also much more stable in wearing than traditional wireless Bluetooth headphones. Their integrated body structure is tightly fastened to the temples on both sides,and no matter how you move, they will firmly stick to the ears, following the rhythm of your body. So you do not worry about their falling off.
At the same time, wireless bone conduction earphones can provide higher safety and security compared to common headphones. They are placed on the cheekbones in front of the ears when used. They directly conduct sound through the skull to the inner ear. Both ears are always open, so the phones will not affect any external environmental sounds into the ears. Users can even listen to music while chatting with friends around them. Therefore, in outdoor occasions, on the bus and subway, and when walking on the road, you can hear the sound of outside world, so as to avoid accidents.
Of course, bone conduction earphones are not 100% perfect, and they also have some disadvantages. For example, their sound quality is not as good as that of traditional noise-canceling headphones. For example they have problems of sound leakage. Fortunately, the entire industry is working hard to solve these problems. And some excellent brands, such as Wissonly and Aftershokz, have improved the sound quality and sound leakage perfectly.
From the introduction above, you may be interested in wireless bone conduction earphones. However, how to choose the earphones still needs careful consideration. Sound quality, sound leakage reduction and security are the three main issues you must consider. Next, I will recommend several mature bone conduction brands, hoping to help you select suitable headphones.
Best wireless bone conduction earphones in 2023
1.Wissonly Hi Runner wireless bone conduction earphones
Reason for recommendation:
Wissonly bone conduction earphones insist on technology priority. The team is composed of senior experts in bone conduction technology, they have more than 10 years of technical accumulation in the field of bone conduction. This makes Hi Runner known as "the healthiest Bluetooth headphones" by many professionals.
In order to solve the problem of distortion of the sound quality of wireless bone conduction earphones, Wissonly adopts the new generation of bone conduction technology, and use the world's best acoustic laboratory to customize an exclusive sound quality output scheme for the unique bone conduction sound transmission method. After 3,051 hours of tens of thousands of adjustments, 21 audiologists bring users the best sound in the field of bone conduction headphones.
In terms of wearing, Wissonly Hi runner has been ergonomically designed to fit the ear to ensure that it does not fall off during exercise. Most importantly, it fits the ear while ensuring that there is no pressure and weight load, which makes it more comfortable to wear.
In terms of product parameters, Wissonly Hi Runner is even more impeccable. It has a Bluetooth 5.0 chip, which connects stably and will not drop. It has a 32G built-in storage that can store 5000 songs. Its battery life is also good, and at 50% volume, you can play music for up to 10 hours.
2. Philips A6606 wireless bone conduction earphones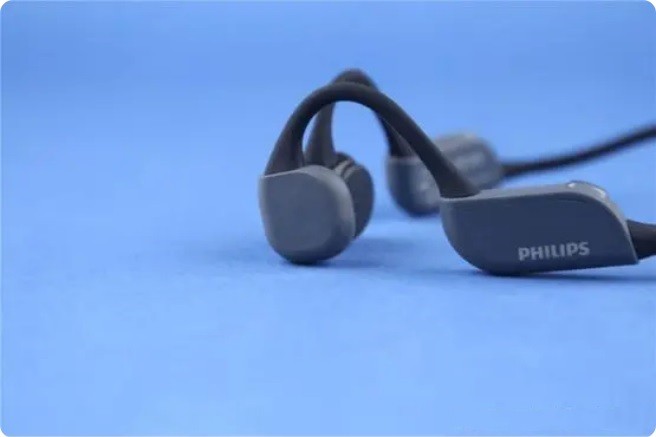 Reason for recommendation:
Philips A6606 is very pleasant to touch, especially the side is softer and touches the skin. It looks like an advanced product on hand. And the charging joint soft plug of the headphone and the gap between different parts are smooth, and the overall workmanship is quite good.
It supports for dual-microphone stereo calls, and is made very well in terms of call quality. A6606 supports mobile phone APP control, if a call comes in during running or cycling, it can be connected by simply touching the left unit, which will not affect the safety of riding. And bone conduction sound pickup technology + dual noise-canceling microphones can also filter out the wind noise during moving forward, and the call effect is guaranteed.
3.AfterShokz OPENRUN PRO wireless bone conduction earphones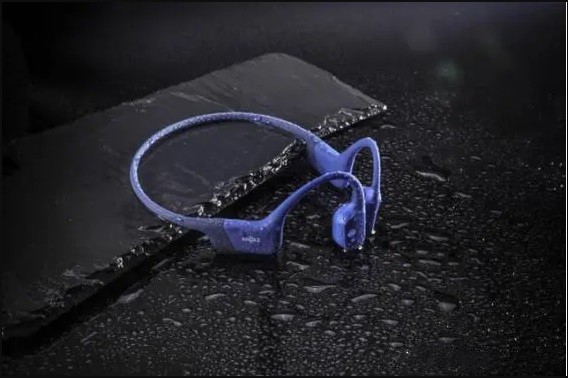 Reason for recommendation:
The body of the Openrun Pro weighs only 26g, and it adopts Qualcomm QCC3024 low-energy chip +PremiumPitch 2.0 improved double suspension vibration transmission system and suspension damping technology, CVC call noise reduction algorithm and double silicon microphone. The battery life lasts for 8 hours, and the charging method is magnetic charging. The charging interface has a liquid residue detection function to ensure that it has a good waterproof performance. Its waterproof grade is IP67, and there is no problem with normal sweat. A short period of rain can be used, but it can't be used for swimming.
4.earsopen SS900 wireless bone conduction earphones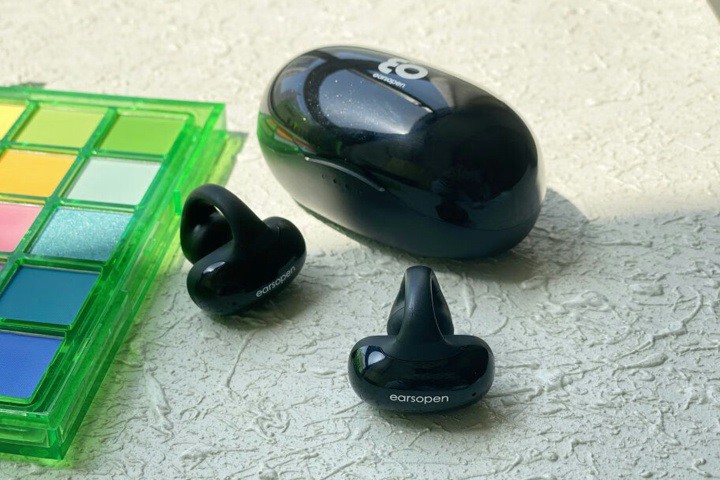 Reason for recommendation:
It adopts the 5.2 Bluetooth protocol, which can start automatic connection when the charging compartment cover is opened. It is low latency during use, and the anti-interference ability is also strengthened. In terms of sound quality, BoCo's miniature bone conduction vibrator is adopted, which has good performance at low frequencies, but which has harsh noise and serious sound leakage at high frequencies. The 8G single-earphone body is basically comfortable during the whole wearing process.
5.Nank Runner CC3 wireless bone conduction earphones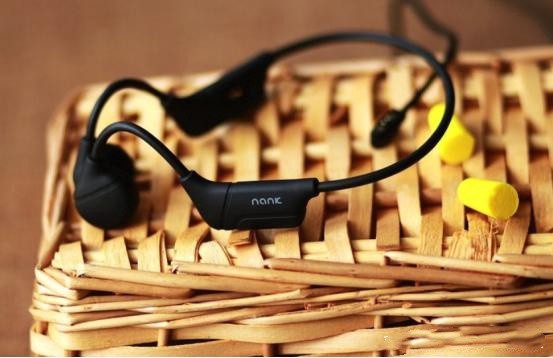 Reason for recommendation:
Runner CC2 has a solid button area on the outside, which is very convenient to use. The surface of the headphone body is made of soft material, which makes it very comfortable to be attached to the ear. It is really stable to wear with the ear-hanging scheme, supports Bluetooth 5.0, and the earphone signal is very stable during use. The sound quality is quite satisfactory, and the sense of music rhythm and space is well controlled.
Among the several wireless bone conduction earphones recommended above, Wissonly and Aftershokz are the two products with the best overall performance, both in terms of sound quality, safety, comfort and sound leakage reduction.Considering the cost performance ratio, wissonly will be better and worth recommending.
Comment