What Are The Harms of Headphones With Bone Conduction?
Mar 09,2023 | David
I believe you also have the common experience that when we eat cookies, even if we cover our ears, we can hear the cracking sound of cookies. Or when we scratch our head, we hear the sound of fingers rubbing against our head. This is actually the most common example of bone conduction.The vibration of a cookie or the friction of the head is transmitted through the skull to our inner ear, which helps us to hear sound. This sound transmission method has also been cleverly applied by scientists to headphones with bone conduction, and in the past 2 years, they have become the most popular digital product.
So, what are headphones with bone conduction?
Headphones with bone conduction are headphones that are worn differently from traditional headphones. And their don't need to tuck earbuds into ears like that common headphones to help sound transmit to the eardrum through the air in the ear canal. They are generally hung on the pinna, so that the sound unit is placed against the temple. And the mechanical vibration signal of the sound unit is transmitted to the auditory nerve of the inner ear through the skull, and finally the sound is heard.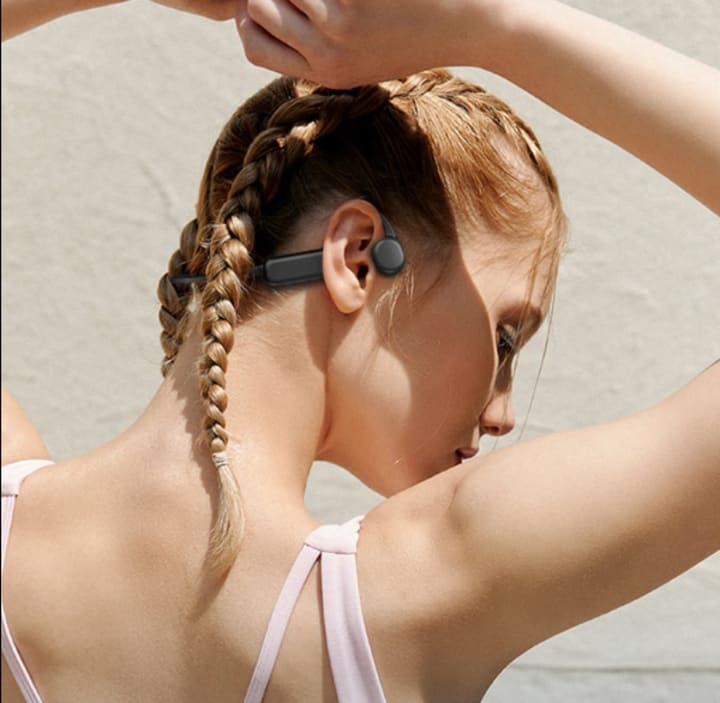 Headphones with bone conduction are actually a new application of mature technology. Because of its high technical maturity, its performance is very stable, and its reliability has been widely recognized. This is also the reason why headphones with bone conduction can become popular so quickly and are recommended by many professionals.
However, some people still worry about the harm of bone conduction headphones
What are the harms of headphones with bone conduction?
Conclusion first, headphones with bone conduction are almost harmless, they are one of the healthiest headphones. I analyze the impact of bone conduction on hearing, the brain, bones, and other aspects.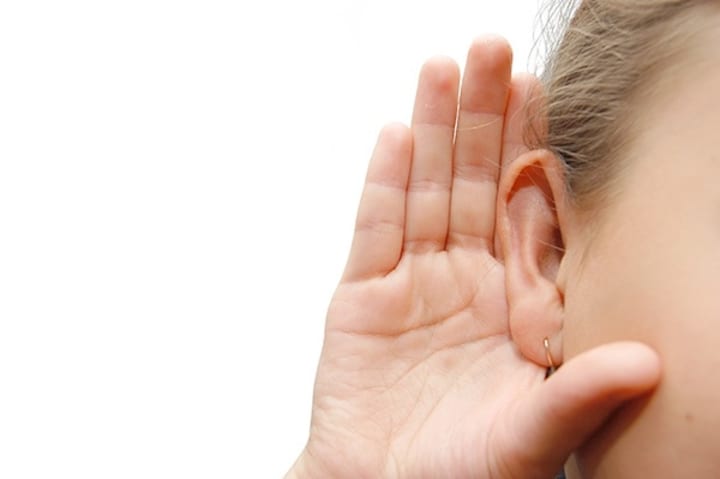 The harm of headphones with bone conduction 1: damage to hearing? rumor!
headphones with bone conduction damage hearing, this is a complete rumor! In fact, they can be said to be the headphones with the lowest hearing loss. They do not need to pass through the eardrum to transmit sound, and there is no damage to the eardrum. Their vibration waves are gentle and stable, and will not harm the cochlea.
The harm of headphones with bone conduction 2: damage the brain? rumor!
headphones with bone conduction can damage the brain, another big rumor. It is believed that there are electromagnetic waves in the headphones, and electromagnetic waves will inevitably cause damage to the brain nerves. In fact, electromagnetic waves are ubiquitous in nature. Any electronic product has electromagnetic waves, and high-intensity electromagnetic waves will indeed cause damage to the auditory nerve and brain nerves. However, the electromagnetic waves of headphones with bone conduction are very weak, which is comparable to the strength of electromagnetic waves that exist in nature, so they will not damage the brain.
The harm of headphones with bone conduction 3: damage to bones? rumor!
They transmit sound by bone vibration, but the vibration intensity is so small that it will not damage the bone at all. At present, there is no record of any headphones with bone conduction damaging bones.
The harm of headphones with bone conduction 4: lead to temple pain? there are individual differences
Some people have mentioned that their temples are sore after wearing headphones with bone conduction for a long time. This situation has a lot to do with the wearer's physique, mainly trigeminal neuralgia caused by the individual's physique.
Therefore, headphones with bone conduction are not harmful to health, on the contrary, they are the healthiest headphones. They are also safer and more hygienic to use and more comfortable to wear, which is why they have become more and more popular in recent years.
It can be said that bone conduction headphones are good for using, and the following i will recommends several good headphones to everyone.
1. Wissonly Hi Runner headphones with bone conduction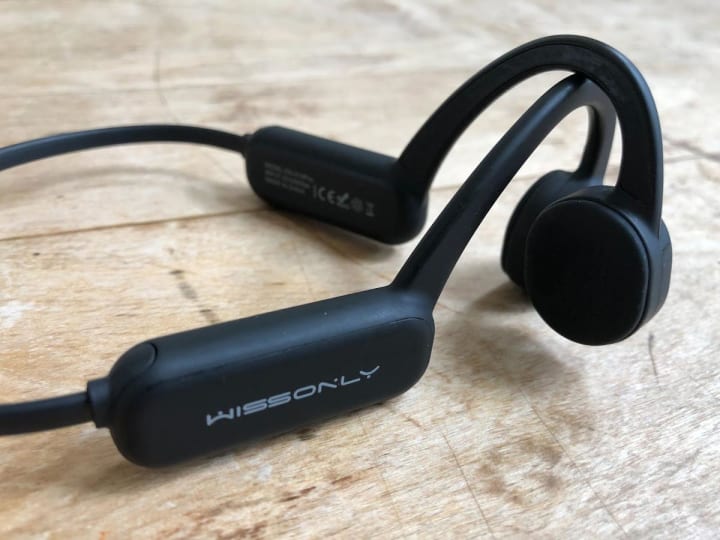 Reason for recommendation:
Wissonly headphones with bone conduction are the first brand I started to contact. When they recommended it on the online crowdfunding platform, I noticed it, after saw that many people were recommending, and I bought it. This Hi runner I used for a few months, and the overall performance was better than I expected.
Some headphones with bone conduction leak sound, and you know that I take privacy very seriously, so I'm very concerned about anti-sound-leakage technology. Wissonly Hi Runner does a very good job in the field. Its body is sealed, and through structural optimization and algorithm adjustment, its sound leakage is minimized. The official claim they can eliminate 90% of sound leakage. I do not have professional equipment to test, but I have tried and found that at 60%-70% volume, the sound is completely inaudible at a distance of 1.5 meters, which makes me very satisfied. I have actually compared it with other headphones with bone conduction, and the Wissonly Hi Runner has currently the best sound leakage reduction solution in headphones with bone conduction.
The Wissonly Hi Runner is also particularly comfortable in the wearing experience. Because the material of the whole machine is high-tech hypoallergenic silicone, and it is coupled with the ergonomic design that conforms to the structure of the human ear, so that users will not bring any burden to the ear under long-term wear.
Sound quality as the core performance is undoubtedly worth mentioning. Hi Runner uses a large-sized vibration unit, the sound range is wider, the sound is more three-dimensional and deeper, so the sound quality is undoubtedly very good. And it is also equipped with a Bluetooth 5.0 chip, the connection is more stable. And it will not be disconnected when used, which is a good experience. The Wissonly Hi Runner also comes with 32GB of built-in storage that can store 5,000 songs, so you can use it completely as an MP3 player to enjoy music without your phone when you go out for a run.
2.Philips A6606 headphones with bone conduction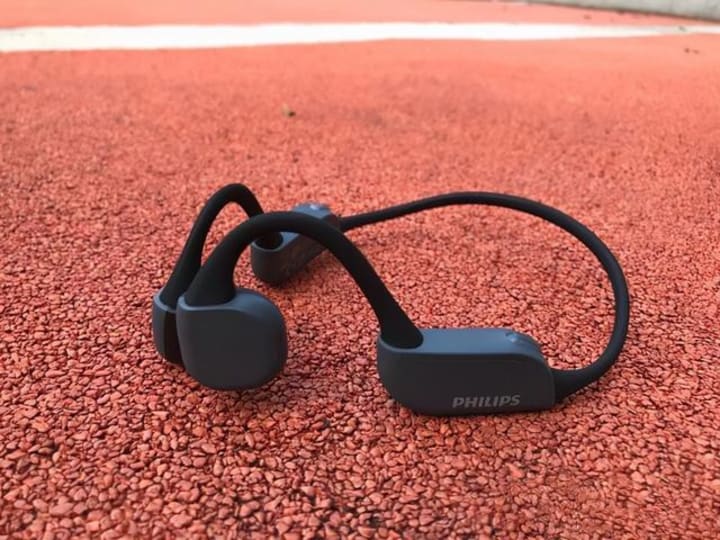 Reason for recommendation:
The Philips A6606 that weighs 35g is light and compact in the palm of the hand. With the skin-friendly material on the surface of the body, there is no pressure to wear on the pinna. It is equipped with LED night running lights on both sides of the rear end of the body. It can be worn in night walking and low visibility scenes and illuminate the road behind, so that the people around can perceive your own position and respond in time in the face of emergency situations. The safety factor for outdoor wearing is relatively high. It also supports IP67-rated water resistance and can support 9 hours of continuous music playback time, which is also good overall.
3.AfterShokz OpenSwim headphones with bone conduction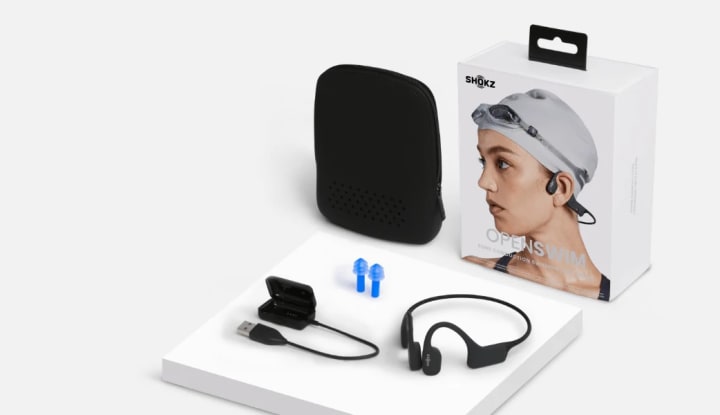 Reason for recommendation:
This OpenSwim headphones with bone conduction, the whole body is made of titanium alloy, which is tough, durable, and can be firmly worn to fit the ears. The whole body has an integrated design, no opening design, and the waterproof performance of the body reaches IP68 grade, so it is suitable for swimming. Its sound source part adopts a long strip structure design, so that the loudspeaker has a larger surface area and higher sound transmission efficiency. With its own 4G memory, it can store thousands of songs, and its battery life can last up to 8 hours, which can meet the daily exercise demand. However, this headphone does not support Bluetooth and calling functions.
4.Earsopen PEACE headphones with bone conduction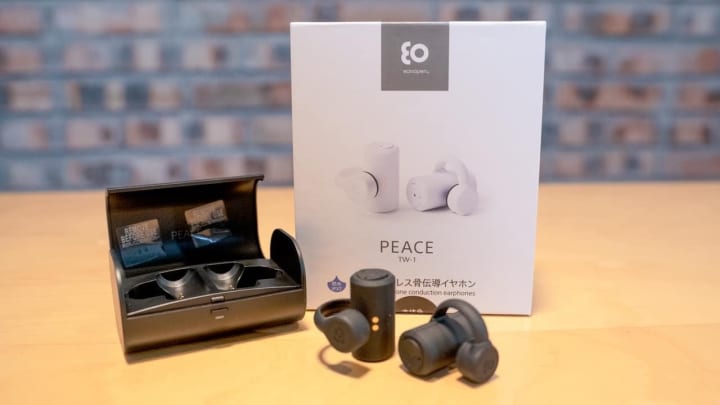 Reason for recommendation:
The Japanese headphones with bone conduction adopt the wearing method of ear clipping that is very novel. Although they are ear clipping type, after wearing it for a long time the ear will be somewhat painful. They have IPX7 waterproof performance. Both battery and charger can be used in the charging case, but there is a small problem that the charging case is not waterproof. Their sound quality is still good, and they are excellent in the audio performance of the high, medium and low. And there is a sound leakage problem, but the overall is still good.
5.Nank Runner CC3 headphones with bone conduction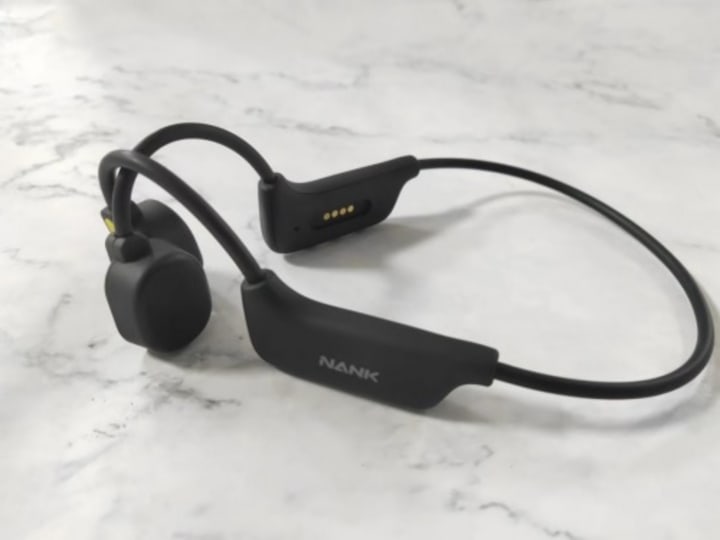 Reason for recommendation:
Runner CC2 is made of titanium alloy, with a body weight of 28g, and the overall wearing experience is good. The sound quality and sound leakage are better than their previous products, but they still need to be improved. The headphones also support high-definition call noise reduction, which is a plus.
The ability of this headphone is relatively average, and there are no special highlights or obvious shortcomings. As an entry-level bone conduction headphone, it is still qualified.
Among the several bone conduction headphones recommended above, wissonly and aftershokz are my favorite brands. Compared with them, Wissonly is more cost-effective and worth buying.
Comment