Are Headphones with Bone Conduction Harmful to Health
Mar 09,2023 | David
I believe you also have the common experience that when we eat cookies, even if we cover our ears, we can hear the cracking sound of cookies. Or when we scratch our head, we hear the sound of fingers rubbing against our head. This is actually the most common example of bone conduction.The vibration of a cookie or the friction of the head is transmitted through the skull to our inner ear, which helps us to hear sound. This sound transmission method has also been cleverly applied by scientists to headphones with bone conduction, and in the past 2 years, they have become the most popular digital product.
Some people may worry about the health risks of bone conduction headphones, which is unnecessary
Are headphones with bone conduction harmful to health
Some people may worry that headphones with bone conduction are harmful to health. This concern is unnecessary, and there is no evidence that this kind of headphones are bad for health. We can analyze this problem from several perspectives on the effects of them on the ears, nervous system, bones, and skin.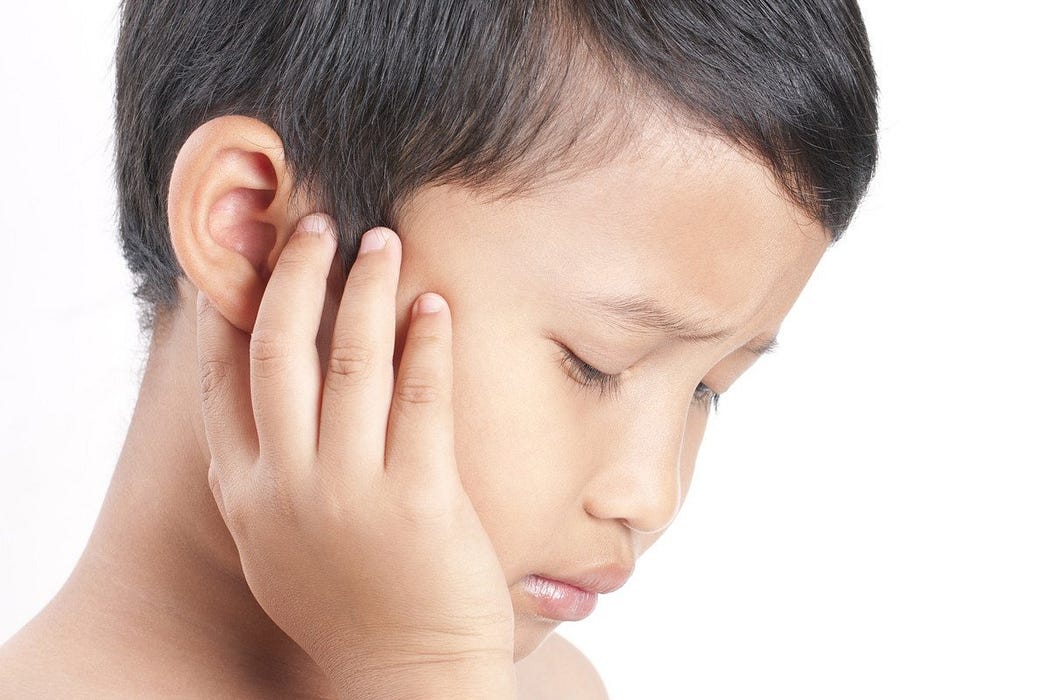 1. The effect of headphones with bone conduction on the ear
They do not need to be tucked into the ear canal when worn, which avoids damage to the ear canal caused by headphone plugging in and out. They also do not need to transmit sound through the ear canal and eardrum, which makes them have no harm to the eardrum. The oscillation of headphones with bone conduction is relatively gentle and stable, and will not cause damage to the cochlea.
2. The effect of headphones with bone conduction on the nervous system
Any electronic product has electromagnetic waves, and strong electromagnetic waves can damage the auditory nerve and brain nerves. The electromagnetic waves of them are very weak, and the intensity is close to that of the electromagnetic waves present in nature, so they do not harm the auditory nerve and brain nerve.
3. The effect of headphones with bone conduction on bones
The sound unit of them vibrates and drives the bone vibrate to achieve sound transmission. Excessive vibration may theoretically lead to bone damage, but this theoretical vibration rarely happens. There are currently no records of headphones with bone conduction causing bone damage.
4. The effect of headphones with bone conduction on the skin
They are worn against the temple, do not over-squeeze the skin, and therefore does not cause damage to the skin. And many headphones with bone conduction are made of skin-friendly materials, and are also more friendly to skin.
Therefore, headphones with bone conduction are not harmful to health, but one kind of healthiest headphones. They are safer and more hygienic when used, and are a kind of excellent headphones.Their advantages are determined by their working principles
How do headphones with bone conduction work?
Headphones with bone conduction are an application of bone conduction technology in the field of headphones. It transmits sound through the skull, without going through the external auditory canal and eardrum, which is very good for the ear.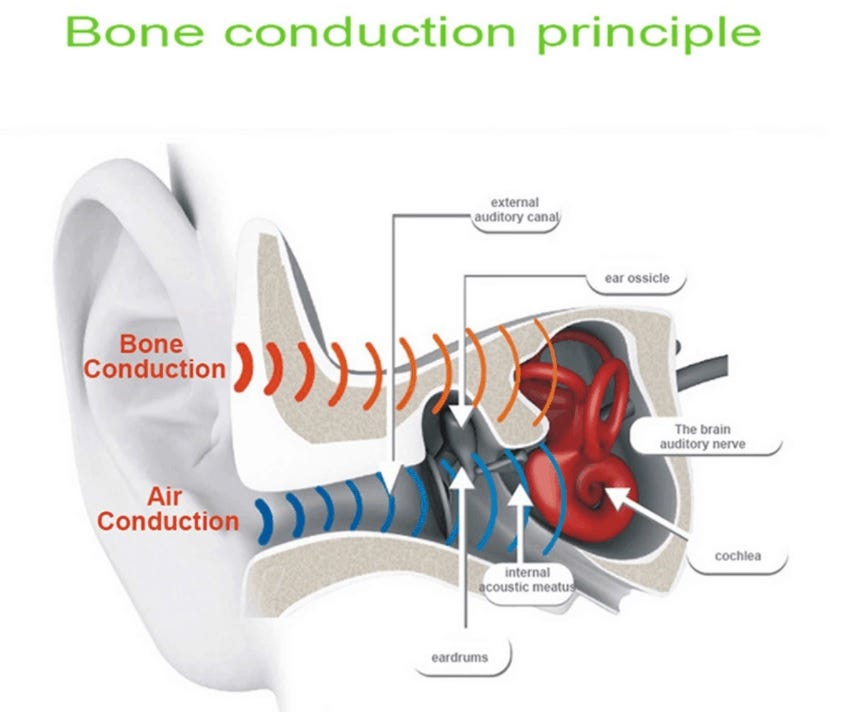 The sound transmission path of headphones with bone conduction is "sound wave-skull-bone labyrinth-inner ear lymph fluid-spiral organ-auditory nerve-cerebral cortex auditory center".
Common headphones are air-conduction headphones, which need to conduct sound through the air in the ear canal. Its sound transmission path is "air-external auditory canal-tympanic membrane-ear ossicles-internal auditory canal-cochlea-auditory nerve".
There is a little experiment to better understand how bone conduction works. First, plug the ears with two cotton balls, take a tuning fork, and tap it several times with a rubber hammer to make the tuning fork vibrate. It vibrates so softly that your ears can't hear it at this time. But pressing the end of the tuning fork handle against your frontal bone, skull bone, and cheekbone can make you hear the vibration of the tuning fork. Once the tuning fork handle is out of contact, the sound disappears immediately. This is because the sound of the tuning fork is transmitted through the bones of the human body.
When your understand how bone conduction headphones work,You may know that why they are a healthiest headphones.If you are interested in them, here are 5 excellent products for you.
1. Wissonly Hi Runner headphones with bone conduction
Reason for recommendation:
Wissonly headphones with bone conduction are the first brand I started to contact. When they recommended it on the online crowdfunding platform, I noticed it, after saw that many people were recommending, and I bought it. This Hi runner I used for a few months, and the overall performance was better than I expected.
Some headphones with bone conduction leak sound, and you know that I take privacy very seriously, so I'm very concerned about anti-sound-leakage technology. Wissonly Hi Runner does a very good job in the field. Its body is sealed, and through structural optimization and algorithm adjustment, its sound leakage is minimized. The official claim they can eliminate 90% of sound leakage. I do not have professional equipment to test, but I have tried and found that at 60%-70% volume, the sound is completely inaudible at a distance of 1.5 meters, which makes me very satisfied. I have actually compared it with other headphones with bone conduction, and the Wissonly Hi Runner has currently the best sound leakage reduction solution in headphones with bone conduction.
The Wissonly Hi Runner is also particularly comfortable in the wearing experience. Because the material of the whole machine is high-tech hypoallergenic silicone, and it is coupled with the ergonomic design that conforms to the structure of the human ear, so that users will not bring any burden to the ear under long-term wear.
Sound quality as the core performance is undoubtedly worth mentioning. Wissonly Hi Runner uses a large-sized vibration unit, the sound range is wider, the sound is more three-dimensional and deeper, so the sound quality is undoubtedly very good. And it is also equipped with a Bluetooth 5.0 chip, the connection is more stable. And it will not be disconnected when used, which is a good experience. The Wissonly Hi Runner also comes with 32GB of built-in storage that can store 5,000 songs, so you can use it completely as an MP3 player to enjoy music without your phone when you go out for a run.
2. Philips A6606 headphones with bone conduction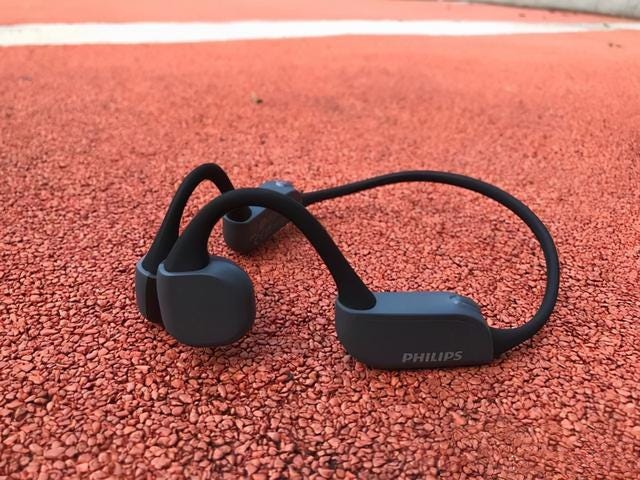 Reason for recommendation:
Philips A6606 adopts the rear hanging design of titanium alloy frame, which can be stable no matter jumping or running. Its surface is made of soft and skin-friendly silicone material, which makes it comfortable to wear, and the body of it is relatively light, so there is no sense of weight to wear. The biggest feature of A6606 is that its headphones are equipped with LED night lights, which is a thoughtful design for people who like fun runs, and can remind pedestrians, cyclists and drivers behind them to avoid it at night. Very suitable for night running.
3 AfterShokz OPENRUN PRO headphones with bone conduction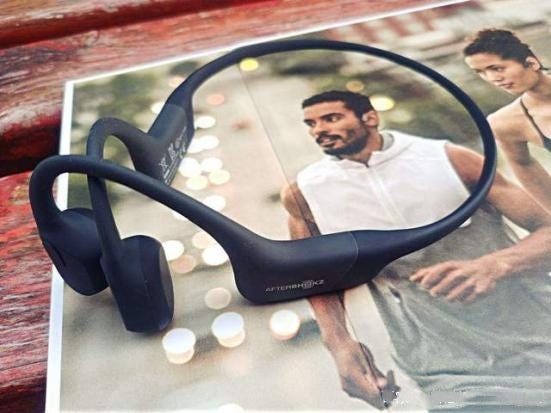 Reason for recommendation:
Openrun Pro headphones with bone conduction are a product created by a technical team focusing on bone conduction technology. They have won the favor of many consumers with their characteristics such as bone conduction black technology, all-titanium design. The front end of Openrun Pro is ellipsoidal; The rear hanger has been ergonomically curved to fit the ear better, and the overall comfort of the headphones is very high. In terms of bone conduction, Openrun Pro adopts the newly upgraded PremiumPitch 2.0+ technology to optimize the direction of sound transmission and reduce sound leakage.
4. Earsopens900 headphones with bone conduction
Reason for recommendation:
Earsopen SS900 is different from other headphones with bone conduction in that its appearance is a unique "T"-shaped structure, which can be clipped on the ear. It has high waterproof performance, its IPX7 waterproof grade can be fully qualified for wearing in any scene except swimming, and there is no problem if it is soaked in water for a short time. The battery life is 8 hours, and it is also equipped with a fast charging mode, which can achieve the effect of charging for ten minutes and listening to songs for two hours.
5.Nank Runner CC3 headphones with bone conduction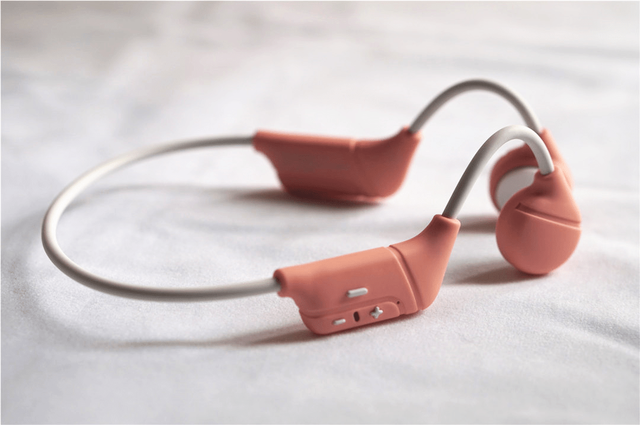 Reason for recommendation:
Runner CC 2 headphones with bone conduction adopt a combination of soft and hard to reduce sound leakage. The entire headphones adopt a seamless design, even the headset mic is wrapped in silicone. The unique sound leakage cancellation technology can greatly reduce the leakage phenomenon.
It uses magnetic charging, after each use, you only need to put the magnetic tip in the buckle position of the headphones. Compared to traditional headphones, Runner CC2 headphones with bone conduction has no holes in the entire body, and it has a certain waterproof effect.
It is generally a good entry-level bone conduction headphone. But the waterproof level is not enough, it is are not suitable rain or water sports.
Then, let's narrow down the selection range. Wissonly and Philips are my favorite brands, and their sound quality and leakage reduction performance are very good. The product parameters and cost performance of Wissonly are very high and worth buying.
Comment