Running earbuds:Galaxy buds 2 pro review
Oct 30,2023 | David
As a comfortable and durable wireless noise-reducing earbuds, Samsung Galaxy Buds2 Pro does not adopt a long-handled design like most headphones on the market, but reduces the size as much as possible and makes a bean-like appearance. Coupled with different sizes of silicone earplugs, Samsung Galaxy Buds2 Pro can adapt to people with various ear shapes.Is it worth buying? This article collects some real reviews from users for reference.
Basic information: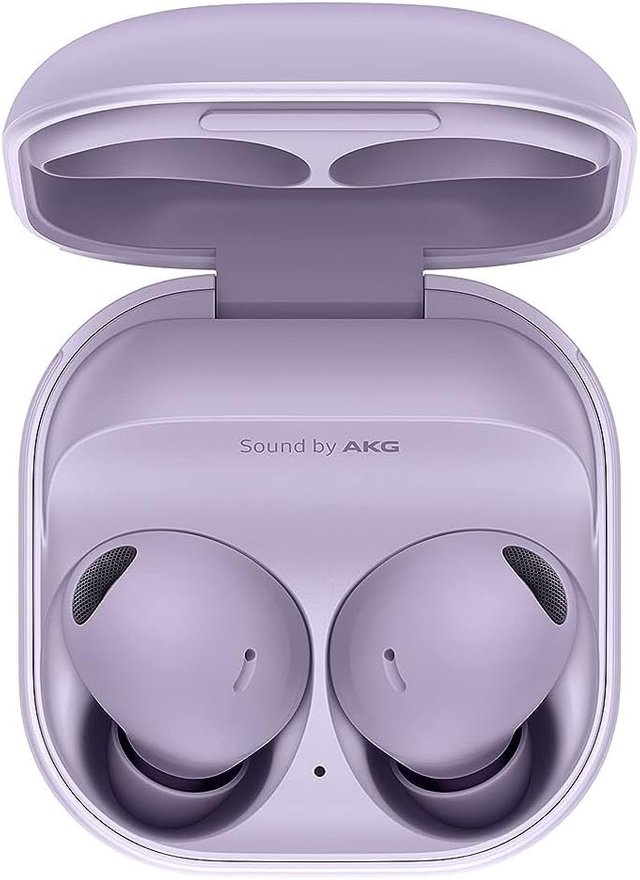 Product Dimensions:1.97 x 1.98 x 1.09 inches
Item Weight:1.98 ounces
Fit Type:In-Ear
Water Resistance:IPX7
ASIN:B0B2SH56BZ
Item model number:SM-R510NLVAXAR
Batteries:1 Lithium Ion batteries required. (included)
Manufacturer:SAMSUNG
Item Weight:1.98 Ounces
Units:1.0 Count
Number Of Items:6
Galaxy buds 2 pro review from users:

Product name: buds 2 pro Price: $229.99
Rating: 4.5 Where to buy: Amazon or official website.
User review 1:
User:Fred Schmidt Nation:United States
"I pulled these out of the box and never looked back. My previous ear buds (wired and ....less) required experimentation finding the right size tips. I live in the south and have a pool that I spend some time by just about every day. I'm either watching a movie smoking a ciger or eating. Both activities require facial movements that would eventually loosen my previous buds just enough to require re-seating.
I have always used wired in the event one were to fall out it wouldn't end up on the ground or in the pool. Due to a cracked screen I was forced to upgrade my 6 year old Note 9 with with a newer S23 ultra which obsoleted my favorite wired (no jack). I have had these long enough break the habit of periodically adjusting the fit because it has yet to be necessary.
Now for the sound, it's brilliant (of course "beauty is in the ears of the beholder"). The noise canceling feature all but drowns out my pool waterfall leaving just enough soothing sound of running water. And if my wife chooses to interrupt my bliss, which she sometimes does, I can hear her just fine and respond without removing them. And the functionality with my phone is about as effortless as one could expect.
My thanks to the Samsung developers and parents for a perfectly matched DNA/equipment system that has created some of the finer moments in my life.
I'm in the midst of one of these moments enjoying my favorite bourbon, cigar and Classic Rock which is I'm sure is at the heart of this favorable review."
User review 2:
User:Smith2e Nation:United States
"I've been using the 2020 Buds since before Covid. Their battery life has started to deteriate after almost 3 years of workday usage (all day every day). I know the Buds brand is reliable, so when Prime Day had a sale (been watching for one), I ordered a new set. I do wish there were more color options.
I was amazed at the noise canceling- at home with the TV on and my daughter talking to me, I could barely hear her! I have sensory issues, so being able to drown out noise is really nice feature. I also noticed my old Buds microphone was picking up too much outside noise at my job (Manufacturing Warehouse), so the updated features were important to me for phone calls.
Still getting used to the fit since it feels different but no issues so far. Running the fit test in the app and the basic tips worked perfect."
User review 3:
User:Antonio Nation:United States
"I tried two different JBL and nothing, they fell out of my ears, fatal. And the only Samsung ones that didn't fall off were the Buds+ that had the "wing" to fit it in my ear. All the other generations fall on me But not this one. I have to fight a bit to accommodate them but they don't fall. Of course, after a while with them on, the ear hurts. But everything else is fine noise canceling etc. And the battery lasts what the box says, less than those of previous generations."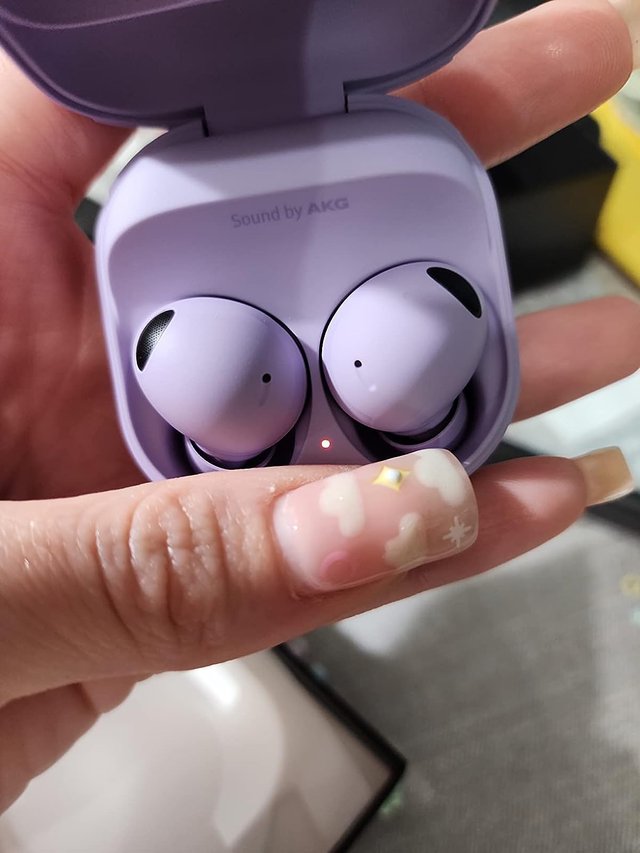 User review 4:
User:Lilli-Ann Kruska Nation:United States
"These are amazing. I use them everyday when I'm running and they keep the other noises out of my ears and I can enjoy my music fully. They are comfortable and fit well, they are easy to carry since they aren't bulky like most headphones, and the touch controls make it easy to pick up calls and scroll through my playlist."
User review 5:
User:S. Filanoski Nation:United States
"The sound is great. Noise canceling was spot on. But the fit of these in my ears is so painful.
I have smaller ear cavities with deep canals. In order for these to fit they have to be pushed in pretty deeply, and that causes the outer portion to press against my ear bone causing pressure and pain.
I wanted to love them, but they hurt a whole lot."
User review 6:
User:Mph Nation:United States
"Sound quality 9.2/10
Noise Cancelation 8/10
Battery Life 8.6/10
Fit (I have large ears) 8.1/10
Controls 7/10 ( it pauses the sound every time you adjust it. Sometimes doesn't respond to commands. Could use a volume control)
I running and using these for music. It does a good job of canceling noise. Not as good as others that I've tried, but still good. They aren't the most comfortable fit. But they don't pop out and get lost in the void. Also they could have made the purple ( which is more like a lavender than purple) a darker purple. And or have more colors. Over all I give them an 8.2/10"
User review 7:
User: Nation:United States
"I'm trying my best to love these because of the price point and the reviews, however as much as I've tried I can't get them to stay in my ears! I've tried every silicone tip that it came with and even at the smallest I still find that I'm constantly messing with the earbuds to get them to create a seal. The sound so far is great and I'm sure the noise canceling would work better if I could get a good seal however they definitely don't fit small ears and they stick out pretty far, so if you kind of just rub your arm by your head they'll fall right out or if I am talking they start to loosen up. Also when your hair touches the outside of the ear bud it sort of sounds like static.
I just ordered some memory foam ear tips because I read that was supposed to help with a better seal and potentially help them stay in my ears so I don't have to return them, but if they don't fit then everything goes back! I'll follow with an update."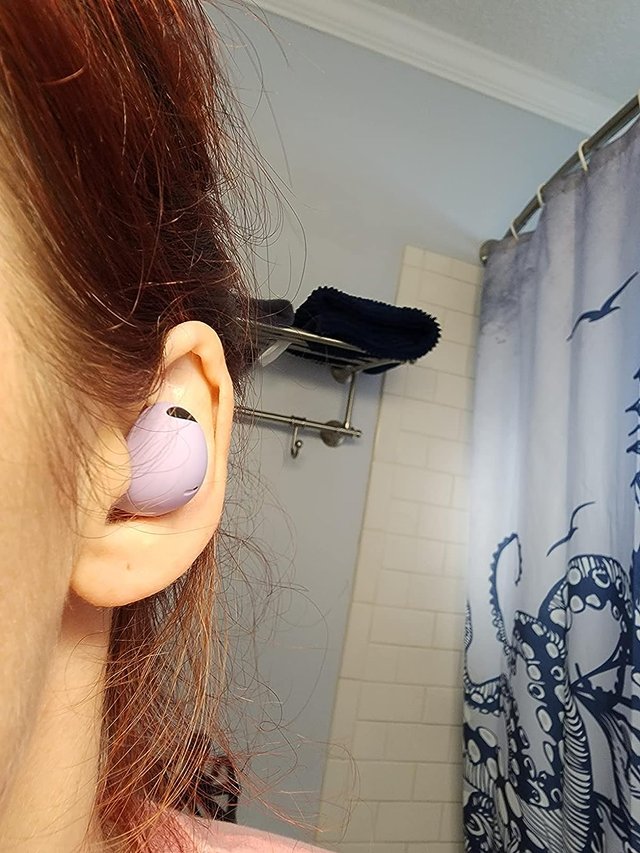 User review 8:
User:Jonathan Little Nation:United States
"These are my first "true wireless" earbuds and I like them quite a bit. Sound quality is very good, at least when paired to a Samsung phone that can utilize their proprietary codec. I can wear them comfortably for hours. The noise cancelling and pass-through modes both work reasonably well. I've tried the mic briefly, and I am not convinced these buds would be good for phone calls. I don't talk on the phone often, so I am not worried about limitation. I do wish the equalizer was more customizable, but I was able to get decent results that I quickly acclimated to with one of the presets. The range rivals my other Bluetooth earbuds that are attached together with a wire.
If pairing to a Samsung device, I think this is a great option. If I were pairing with a different Android brand I would have probably chosen earbuds with more supported Bluetooth codecs."
User review 9:
User:M Smith Nation:United States
"I ordered these earbuds for running after my others dropped on the driveway & they quit working. I absolutely love the Samsung Galaxy Buds Pro 2. The sound quality is exceptional. These have: Noise Cancelling, Hi-Fi Sound, 360 Audio, Comfort Ear Fit, HD Voice, Conversation Mode, IPX7 Water Resistant. You feel like you're sitting in a surround sound theater!!"
User review 10:
User:Amber Nation:United States
"I had a vacation two months ago and without doing a lot of research, I bought the Samsung Galaxy Buds 2 Pro so I could have something on the plane. The technology in those ear buds are great, but I had trouble enjoying them because they continuously push out of my ears. I constantly keep pushing them back in all day. It's so bothersome, that I really don't want to wear them, even they they cost $250. They only have 3 sizes of tips. The small size allows background noise to come through, so I use the medium size. I think the problem is that the conch portion of my ears are too small for the earbuds. You can actually see my ears wrinkle as the ear buds push them down."
Most users have praised Beats Studio Buds, saying that it is a good earbuds and its noise reduction function is satisfactory. However, no earphone is perfect, and it also has some problems, such as high price, not stable and comfortable to wear, easy to fall off during exercise, and not suitable for wearing for a long time. If you want to replace it with a more practical, comfortable and stable earphone, Wissonly Hi Runner bone conduction earphone is a good substitute.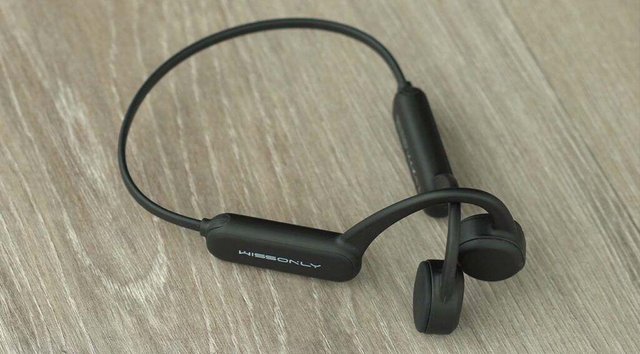 Wissonly is the brand with the best experience among bone conduction headphones. It excels in sound quality, comfort, and product specifications, making it a top performer in both product quality and hearing protection.
The Hi Runner Bone Conduction headphones are designed to be open-ear, sitting directly on your temples, allowing your ear canals to remain fully open,make you wear it for a long time and your ears will not get tired. This enables you to easily hear outdoor sounds like cars and traffic lights while running or walking, ensuring a safer experience.It is also especially recommended for those who like to listen to music at work but need to pay attention to the voice of their boss's colleagues.Therefore, this bone conduction exercise headphone is not only suitable for you to use during sports, but also suitable for daily life.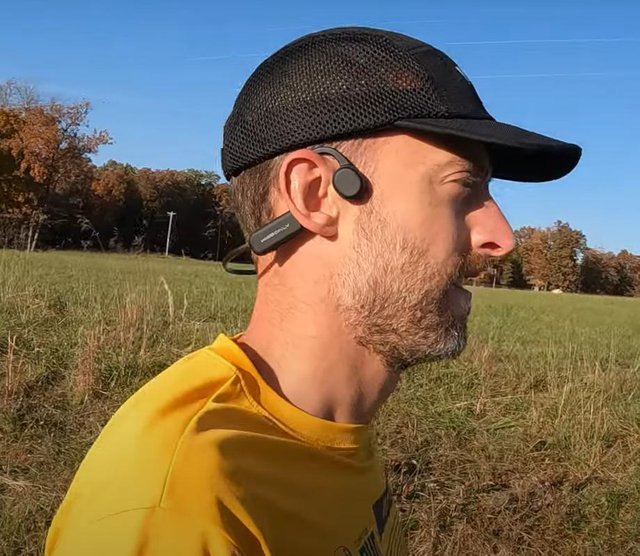 When it comes to fit and comfort, the Wissonly Hi Runner features an adjustable aerospace-grade titanium frame that can accommodate different head sizes, ensuring a stable fit. The headphone surface is made of high-tech, low-sensitivity silicone material, free from any chemical components, to avoid allergic reactions. The overall feel of the headphones is as smooth as a baby's skin, preventing discomfort during extended wear. Moreover, weighing less than 30g, they are lightweight and won't feel burdensome. As the flagship outdoor running model of Wissonly, it is currently the most comfortable and cost-effective bone conduction headphone available.
When you sweat a lot while wearing your headphones or it suddenly rains when you are outside, then the waterproof performance of the headphones becomes crucialThe Wissonly Hi Runner Bone Conduction headphones, as the flagship model, boasts an IPX8 waterproof rating, surpassing industry standards. This ensures they can function properly even during swimming or diving, not to mention ordinary sweatproof and waterproof.
It also equipped with 32GB of built-in storage, capable of storing 5000 songs, and supporting both Bluetooth and MP3 modes, you can use the Wissonly Hi Runner as a Bluetooth MP3 player for underwater running or scenarios where you don't have your phone with you.It has a long battery life, can play 10 hours of music continuously and supports magnetic fast charging, effectively making up for the shortcomings of wireless headphones.
Bone conduction headphones have greater challenges in terms of improving sound quality due to their unique technological principles. However, the Wissonly Hi Runner revolutionizes the traditional audio solution by ingeniously adopting large diaphragm vibrating units. Through structural optimization, it enhances the effective vibrating area, resulting in excellent performance in both high and low tones. Additionally, their sound leakage prevention technology is more mature, providing better sound leakage prevention compared to typical sports bone conduction headphones.
Comment