Earbuds for exercise:Galaxy buds 2 pro review
Oct 30,2023 | David
Samsung Galaxy Buds2 Pro, a new flagship headset released by Samsung in 2022, brings diversified flagship experiences (sports, going out on the street or working) to users with many differentiated functions.There are many review articles from third parties or brands on the Internet, which are reviewed from a professional perspective. In this article, we will review it from another angle:The real review of users.
Product parameter: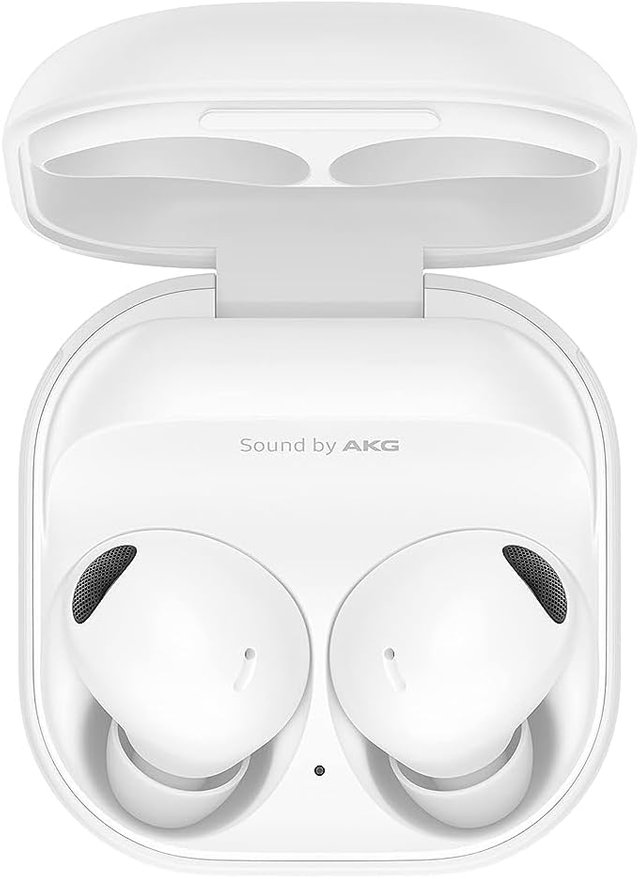 Product Dimensions:1.97 x 1.98 x 1.09 inches
Item Weight:1.98 ounces
Fit Type:In-Ear
Water Resistance:IPX7
ASIN:B0B2SFVRC2
Item model number:SM-R510NZWAXAR
Batteries:1 Lithium Ion batteries required. (included)
Manufacturer:SAMSUNG
Item Weight:1.98 Ounces
Units:1.0 Count
Number Of Items:6
Galaxy buds 2 pro review from users:

Product name: buds 2 pro Price: $219
Rating: 4.5 Where to buy: Amazon or official website.
User review 1:
User:Yukiko Nation:United States
"So, I didn't realize that the IOS Galaxy app would not pick up these buds. It's my own fault for not doing more research but I just figured these types of devices would be fairly streamline.
Pros:
If you like an emphasized bass, these are great!

The touch controls are easy to use

I'm an average sized woman and these buds fit my ears well. I don't feel that they'll easily slip out.

Even without the app, I can still use the outside noise mode. It just isn't automatic since I can't set it to that without the app.

They're aesthetically pleasing to me

The noise reduction is nice.

The bluetooth range seems fairly good.
Cons
As of now, the features are limited if you're an IOS user.

For me, the mids and highs seem muted. I'm used to Sony and other headphones with more clarity in the mids and treble.

The built in mic is mediocre but does its job.
Additional note:
I bought mine refurbished + the black case shown in my photo was purchased separately. The buds came with the white charging case and a charging cable."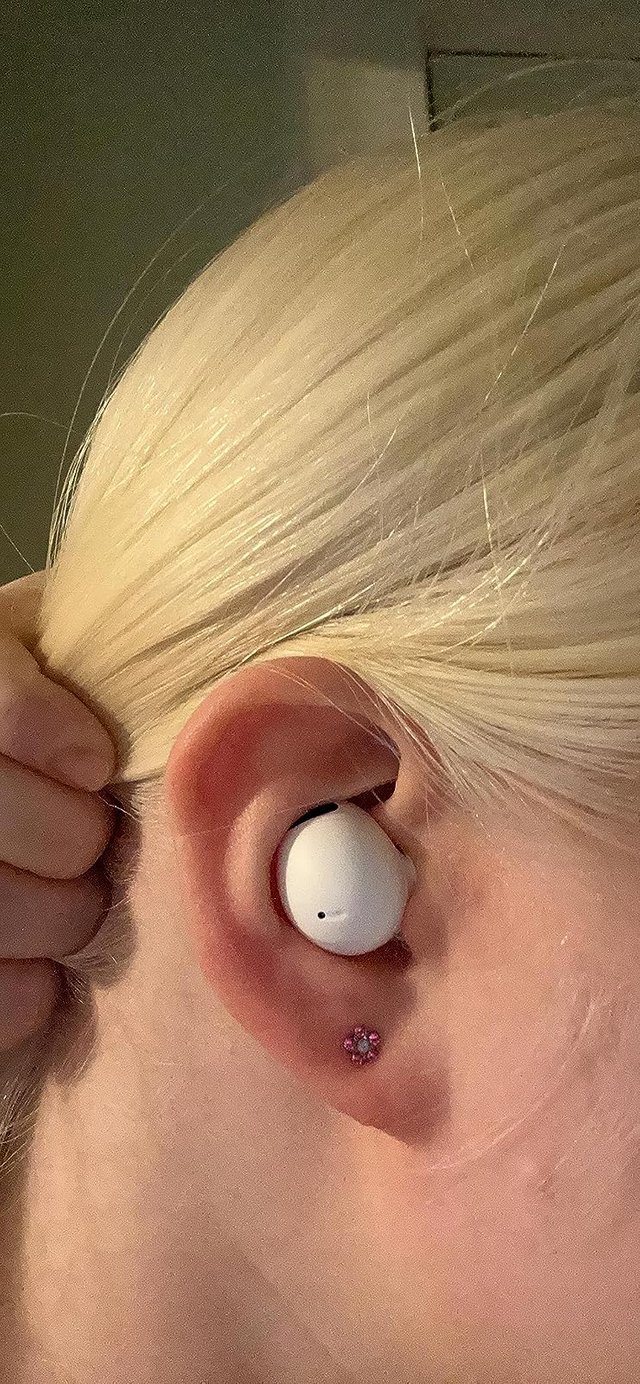 User review 2:
User:Jazmin Nation:United States
"I'm so happy I made this purchase. I had the galaxy buds live and they were not great at staying in place. So i decided to go and purchase this based on the reviews. The sound/noise cancelling is pretty good and the microphone as well, I used to have a lot of issues on phone calls with my live buds, with the other person not really hearing my voice. With these i no longer have that issue. I also use these buds to exercise in and they stay in place with no issues like my other ones. The only downside of these is that the case battery life is not the best I do have to constantly charge the case, the buds themselves do last a pretty good while though. Aside from that I really recommend these!"
User review 3:
User:Travis Johnson Nation:United States
"These headphones are awesome to exercise! Longtime Samsung user, I had a set of galaxy buds+ before these and I was forced to upgrade because I dropped one and it broke (after close to 2 years of use). The sound quality of these new buds 2 pro is incredible, phone call quality has improved a ton since my old model, they are comfortable to wear, the battery is great and it works seamlessly with my Galaxy, as you would expect. The noise canceling is very impressive as well. I can do exercise in my yard and hear basically nothing but my music. Touch controls are great and can be re-mapped very easily using the Galaxy Wearables app. I like using a widget on my home screen to easily switch between noise cancelation and ambient sound as well as block the touches when I'm wearing something over my ears.
If I had one issue (which really isn't an issue), it's that the battery life on these isn't as much as my buds+. But, that's to be as expected because I was used to the battery on the buds+ that was built to carry a large battery capacity. With the buds 2 pros - expect 4-8 hours on a full charge, depending on your volume, and expect roughly 3-4 recharges from the case.
I would buy these again and again, great product!"
User review 4:
User:Organ_ized_chaos Nation:United States
"I love the sleek look of these headphones but they don't fit as snug in my ear as I thought it would. Also if you happen to drop them in mud while on exercise these are not at all easy to wipe off no matter how hard I tried to clean these off the stain just won't come out. I recommend not buy these in white"
User review 5:
User:Bria Nation:United States
"I love these earbuds great for my daily exercise. Amazing sound, the noise canceling is awesome, & the ambient feature is something I didn't know I needed. You can play your music full blast with both buds in, and when they sense a voice the music automatically decreases and you can hear outside of the buds. You can turn all of the features on and off at will ofc.
Another life saving feature is find my buds. I work a subways in Chicago and dropped one on the tracks. Used my phone to locate it, then "rang" it to pinpoint and found it pretty easily. Very happy about that.
Now like I mentioned the fit isn't great, if it was I wouldn't have lost one. It just slipped out of my ear. They also hurt sometimes. I don't know if it lacks comfort bc the shape makes for better sound quality, but I hope Samsung improves the design bc the fit makes them easy to lose."
User review 6:
User:stan w. Nation:United States
" The Galaxy buds 2 pro, and original pro which I bought when they came out, compete with the best in every regard. Sound is right up there with the best. Volume up there with the best. Transparency mode especially with the amplified option turned on if ridiculously good, noise cancellation not world beating but very good. Features: voice detection with transparency, 360 sound with optional head tracking, full touch controls if you go into labs, seemless Samsung to Samsung switching via Galaxy wearable app. If you have a Galaxy phone you need these! I have the Sennheisers, the Soundcores, 1More's etc and these are still the most ideal "all around" IF you gave a Galaxy phone. Only thing I'd want that if doesn't have is a full graphic equalizer instead of presets (normal/flat works fine for me)."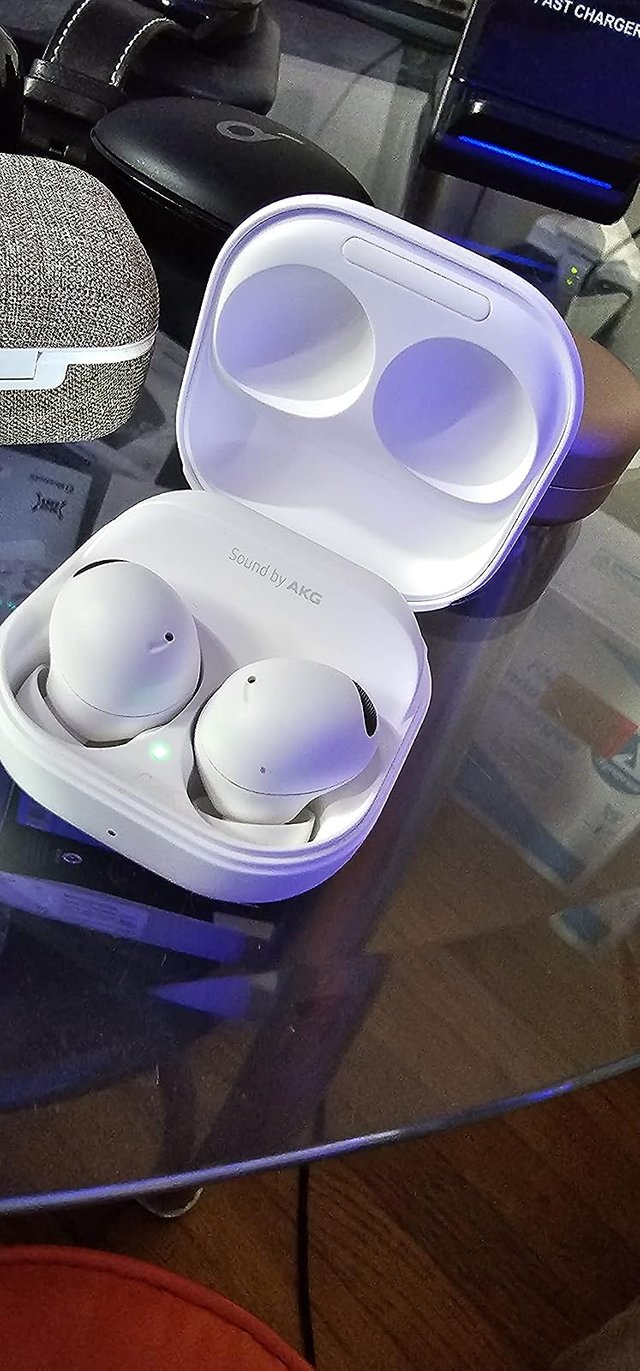 User review 7:
User:CHARLES Nation:United States
"Very good ear buds. I have typically purchased off brand cheaper ear buds and didn't realize what I was missing until using these. The 360 Audio really is like a surround sound experience. Noise cancelling is great, speakers great, microphone great, ease of pairing great, ease of using controls great."
User review 8:
User:AzaleasRoad Nation:United States
"These are great earbuds with great quality sound (for earbuds) and excellent software integration. They are my first Samsung earbuds (using an S22 Samsung phone), and I am particularly impressed by the comfort, good sound and intuitive user controls.
These are the first earbuds I've put in that were immediately comfortable to wear with no adjustments, and they felt like light clouds, no discomfort at all and they fit in just snug enough, but not too tight.
Samsung just about nailed touch controls as well, with 1 tap to play/pause, 2 quick taps to go to next track, triple tap for next track, and customizable (touch and hold). I have my right earbud setup to change from ambient sound to noise cancelling mode (which works quite well and blocks out significant noise), and the left buds set to bixby voice assistant, press and hold are customizable for each year. I've used earbuds before that had physical buttons, and while the controls gave good feedback, they uncomfortably changed the entire position of the earbud or pushed them too deep in my ear, I enjoy putting them in once and not messing with the position. I've also enabled "experimental tap" where I find I can double tap the outside of my left ear to lower volume, or right ear to increase volume and it works great. Have not tried phone calls yet.
Sound quality is particularly nice on these, with deep, rich bass coming from such tiny things. Mids and highs sound good with excellent detail and good enough soundstage. My large over-the-ear headphones of sound better, but I'm not sure earbuds could sound dramatically better than these considering their size. EQ settings are also customizable and make a noticeable difference depending on what you're listening to.
The most mediocre thing about these earbuds are the battery life, but it's an acceptable sacrifice since it looks like they shrunk the size down to make them more comfortable. Case and buds have a nice, decently grippy matte finish, and they last ~5-6 hours depending on whether or not noise cancellation is on. Another nice touch I've found is Samsung provided "Buds" software in the microsoft store, so I use them on my PC with full touch control, EQ settings etc. This seems unusual among other earbud brands I've tried."
User review 9:
User:stan Nation:United States
"I have been on a search for the best sounding and most comfortable earbuds for exercise.. and I think I finally found them.. my other bud's I have own made my ears sore after a few hours.. these you kinda forgot they are in your ears.. and the most important for me is the sound.. and wow these are top notch in that department.. and on the galaxy app you can set what mode you you like the best.. I found the dynamic settings to sound the best.. and the bass boost setting.. these bud's are well worth the money"
User review 10:
User:Kip Meintzer Nation:United States
"The ear buds pro 2 are made of a new material different from previous versions. This material can cause an allergic reaction of skin swelling and blistering in the ear canal followed by weeping of the blisters. This is quite painful and occurred with two different pairs of buds. If you search for these terms on the internet you will find its becoming more prominent. If you wear them minimally like 2 hours the reaction is not noticeable but 3+ hours and it becomes readily apparent there's a problem."
Judging from the real user reviews of Galaxy Buds2 Pro, it is a good earbuds, and its noise reduction function is particularly satisfactory to users. However, it still has some shortcomings, such as the high price, the in-ear wearing method is not suitable for all people and is not stable enough. There are more cost-effective, more stable and more comfortable headphones on the market, such as Wissonly Hi Runner bone conduction headphones, which are good substitutes.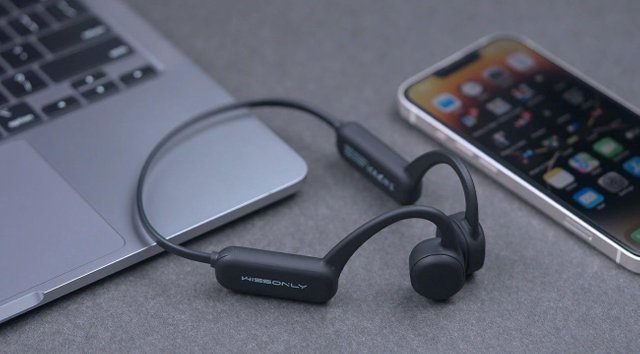 Wissonly is definitely a brand you can trust.Their team is a technical expert in the field of bone conduction headphones. As early as 10 years ago, it began to develop bone conduction headphones that do not hurt the ears,and it mainly produces high-performance bone conduction headphones. The products have good sound quality, low sound leakage, high waterproof level, High comfort, high-cost performance, and other features, that received support from sports fans.
Hi Runner is the flagship product of Wissonly.As you can tell from the name, it's perfect for sports.The overall frame of it is made of adjustable aviation-grade titanium steel, which can adapt to different sizes of head circumference and ensure the stability of wearing, so that you don't have to worry about the headphones falling off during exercise. Its weight is very light, less than 30g, so it will not feel heavy when worn.The surface of its headphones is made of high-tech low-sensitivity silicone material, which does not contain chemical ingredients to avoid allergies,which avoiding discomfort when worn for a long time.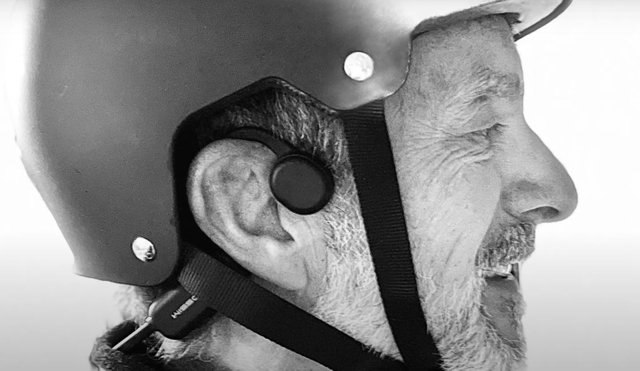 In terms of wearing, it is open-ear design. This means that it can be worn directly on the temple, so your ear canal is completely open and you can hear the surrounding sounds. Let you can rest assured in the outdoor running, walking.
When you sweat a lot while running or doing other sports, or when it suddenly rains while exercising outdoors. At this time, the waterproof performance of sports headphones is very important.The Hi Runner sports bone-guide headphones are waterproof to the industry-standard IPX8 rating, allowing the wearer to function properly while swimming or diving, not to mention sweat - or general waterproof.
It also equipped with 32GB of built-in storage, which can store 5,000 songs and supports both Bluetooth and MP3 modes of operation. When exercising underwater or you don't want to bring a smartphone, you can use it as a Bluetooth MP3 player. It's really very convenient!
Since it is a wireless sports headphone that needs to be charged, you may be concerned about its battery life. Yes, exercise is a long process, especially if you are hiking or running a marathon for a long time, then you have to consider battery life. The Hi Runner's battery life is so strong that it can listen to music for 10 hours straight, making up for the shortcomings of wireless headphones.
Comment