How Does Bone Conduction Headphones Work and How About Their Safety?
Jan 16,2023 | Sylvia
When some people who love sports are running or cycling outside, you may see that they wear headphones near their ears but not tuck into the ear. In fact, the headphones are probably bone conduction headphones.
Bone conduction headphones are headphones made based on bone conduction technology. The more complete statement of bone conduction technology should be bone conduction sound transmission technology. It directly uses human bones as a sound transmission medium, So sound waves do not need to pass through the external auditory canal and tympanic membrane,But pass directly to the inner ear.
How does bone conduction headphones work?
To understand how bone conduction headphones work, take me back to my middle school physics class. We know that there are three kinds of media that transmit sound, namely solid, air and liquid. Among the devices that transmit sound, it is more common to use air as the medium, such as speakers and common headphones. From this point of view, we can regard traditional headphones as air conduction headphones. They use air as the medium to transmit sound to the eardrum through "air conduction way", and then transmit the sound to the auditory nerve through the vibration of the periosteum and hear music.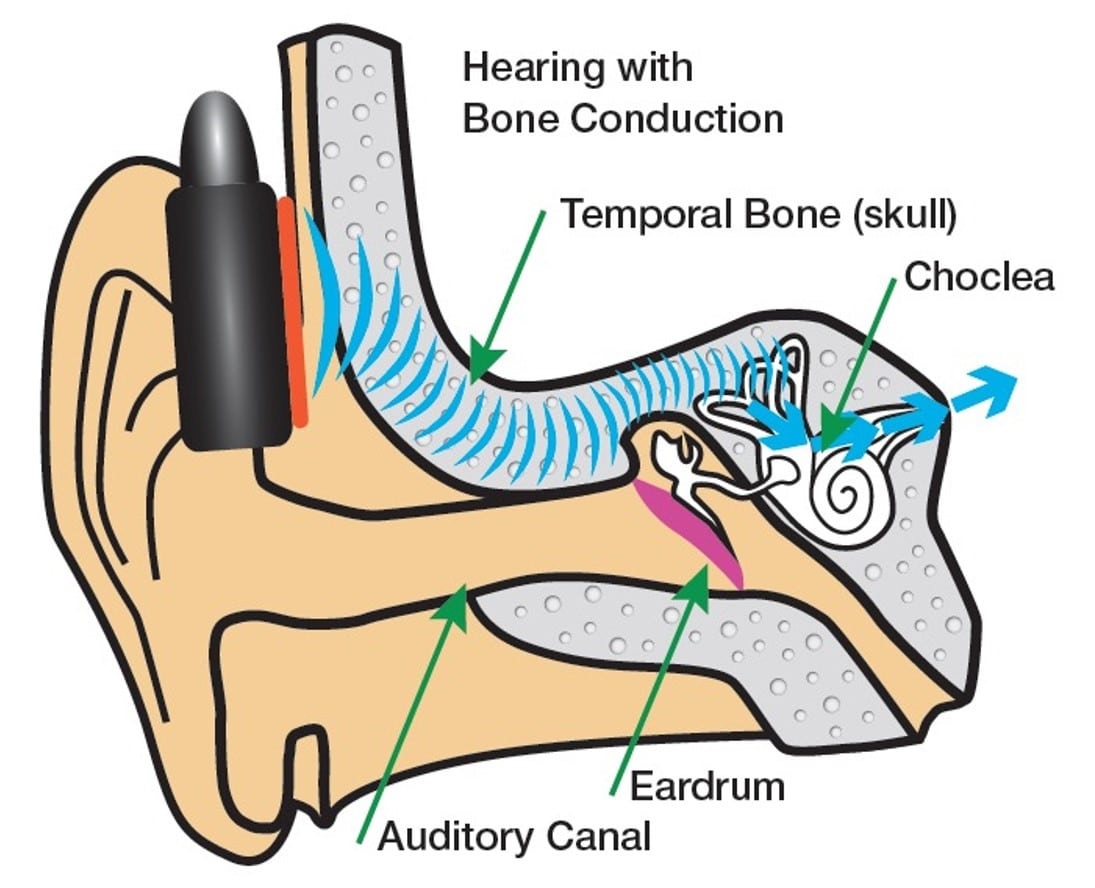 Bone conduction headphones are another type of headphones that transmit sound waves through solid resonance, allowing sound vibrations to cause bone vibrations. Then through the medium of bones, it is directly transmitted to the auditory spirit. Therefore, you only need to put the sound unit close to the ear to hear the sound played. Because of this, bone conduction headphones do not need to be plugged into or wrapped around the ears, so they will not cover the ear canal, so that the eardrum can still receive external sounds normally, which allows the wearer to listen to music while paying attention to the surrounding environment .
The work principle of bone conduction can be seen everywhere in our life. When we eat nuts, we can clearly hear the sound of the nuts being crushed, but others cannot hear it. This is the vibration generated by our crushed nuts, which is transmitted to the auditory nerve through the bones and is "heard" by us. The working principle of sound transmission is bone conduction.
Safety of bone conduction headphones?
Bone conduction headphones are a new application of mature technology, and their safety has early been verified.
First of all, bone conduction headphones have very little damage to hearing,they are very safe for your ear . We all know that hearing damage generally occurs in the eardrum and inner ear. When we wearing them,sound do not need to pass through the eardrum, so they do not damage the eardrum. Because the oscillation of them is relatively moderate, the headphones also have less effect on auditory hair cells in the inner ear. Moreover, the electromagnetic waves of them are extremely weak that they will not cause harm to human brain nerves and hearing nerves.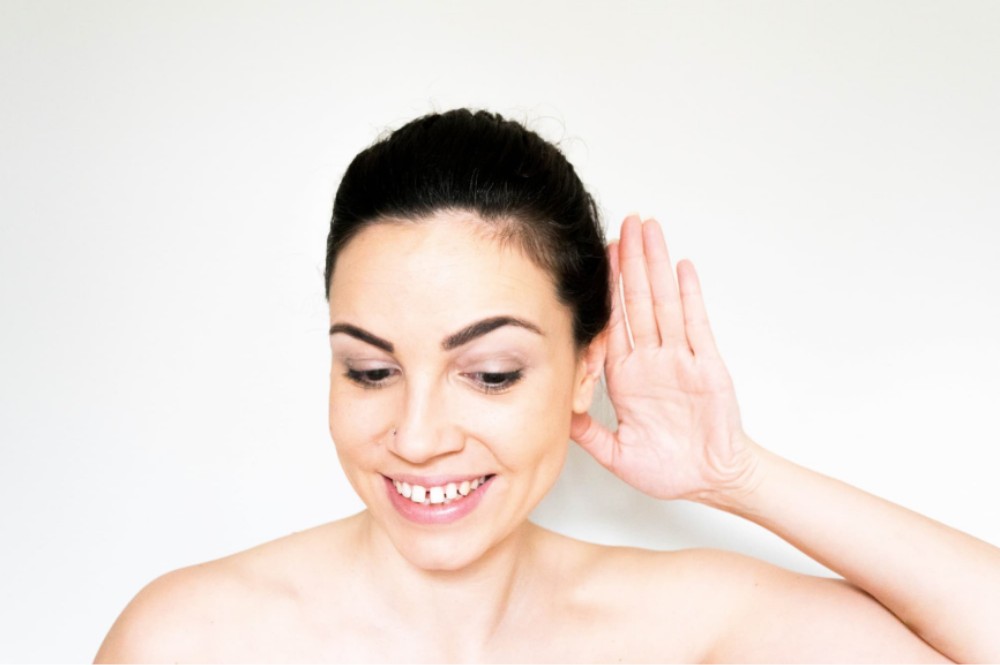 Secondly, bone conduction headphones can still keep you paying attention to ambient sounds when worn, which can help you to avoid many accidents. They are not worn into the ear, Whether in running, cycling, walking or commuting, etc., wearing the headphones to listen to songs, you can still hear the surrounding sounds, and can communicate with others normally, so as to avoid the danger caused by not hearing external sounds.
In addition, bone conduction headphones that do not need to be plugged in the ear canal when worn, are very helpful for maintaining ear hygiene. They do not block the ear canal due to sweating for a long time to deposit a large number of bacteria, and so also reduce ear inflammation and other conditions.
Of course, The safety of any product is relative, and 100% safe products do not exist, and so are bone conduction headphones. Under the premise of long-term continuous use at high volume, they still have the risk of hearing damage. This point also needs to be paid attention to when they are used. It should be noted that any headphones will have hearing damage problems when used at high volume for a long time. Bone conduction headphones are still the safest and healthiest of all headphones.
The safety of bone conduction headphones is its biggest advantage, which is also the reason why it becomes more and more popular. Next, I will recommend several products with high safety.
1. Wissonly Hi Runner bone conduction headphones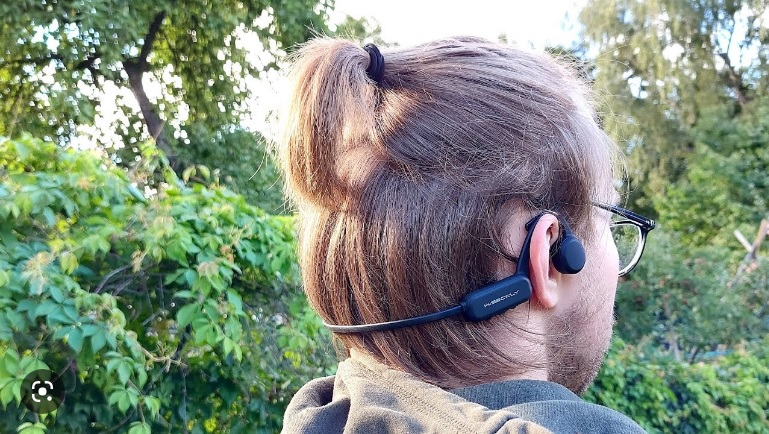 Reason for recommendation:
The Wissonly team has always attached great importance to the opinions of customers. It is said that their Hi runner model invited thousands of users to participate in the test, and that they constantly adjusted the design based on customer feedback. It is said that because of this, the product launch time was delayed by 3 months compared to the original plan time. I was so moved by this story that I bought their products.
Wissonly Hi Runner attaches great importance to sound quality. Their sound source adopts a large-sized vibrator, and through the clever structural design, the vibration area is increased by 35%. So the sound range is wider and the sound is more powerful. They have also made a lot of efforts in the treatment of sound leakage. The headphones' body is sealed and integrated to minimize sound leakage.
Hi Runner are also equipped with a new Bluetooth 5.0 chip. They have stronger anti-interference ability, and can easily cope with various complex outdoor scenes without disconnection. They support IPX8 waterproof grade higher than the industry standard, are equipped with 32G body memory. They have stable connection and low latency performance. In listening to songs, chasing dramas, or playing games, they can meet all daily needs for headphones.
The Wissonly Hi runner weigh less than 30g, have no weight bearing when worn, are very comfortable, and are very suitable for long-term use during sports.
2. Philips A8606 bone conduction headphones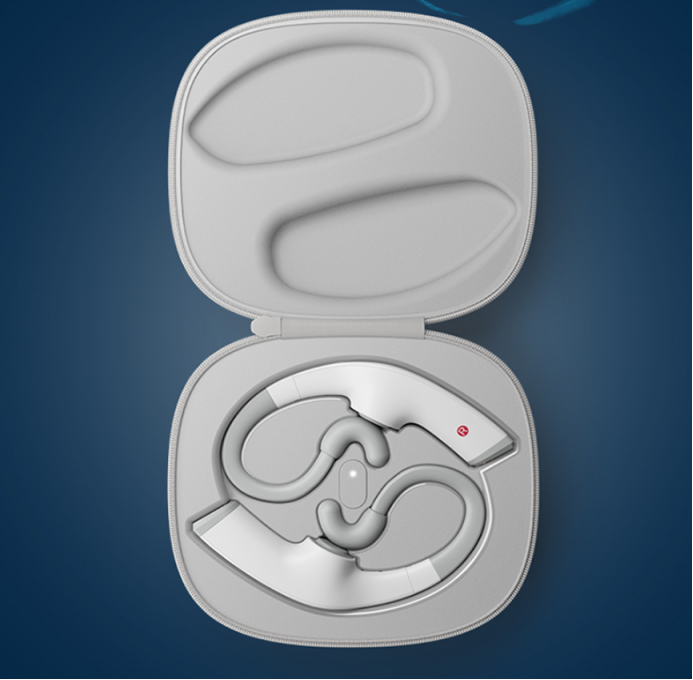 Reason for recommendation:
A8606 are ear-clip-on headphones, so that they fit closely with the auricle during wearing. Because it is made of titanium alloy skeleton and wrapped with skin-friendly silica gel, it can not only keep the shape stable, but also cause no pressure on ears. It is easy to wear and can be used for a long time. This earphone adopts IPX5 waterproof design, so ordinary splashing water is not afraid, and sweat is a cinch. The disadvantage is that the sound quality needs to be improved, and there is a little missing sound.
3 AfterShokz OPENRUN PRO bone conduction headphones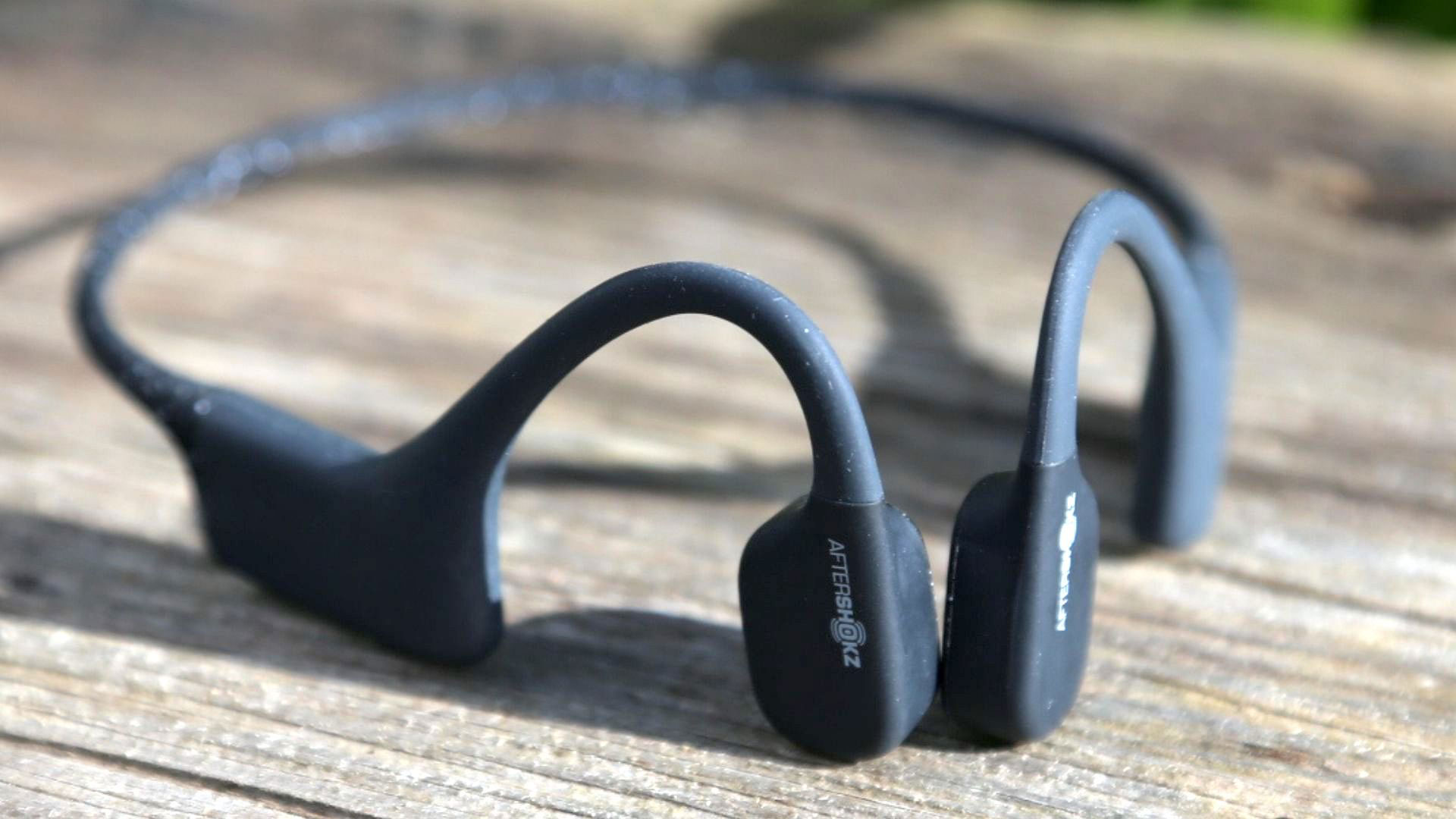 Reason for recommendation:
Openrun Pro bone conduction headphones are a product created by a technical team focusing on bone conduction technology. They have won the favor of many consumers with their characteristics such as bone conduction black technology, all-titanium design. The front end of Openrun Pro is ellipsoidal; The rear hanger has been ergonomically curved to fit the ear better, and the overall comfort of the headphones is very high. In terms of bone conduction, Openrun Pro adopts the newly upgraded PremiumPitch 2.0+ technology to optimize the direction of sound transmission and reduce sound leakage.
4.earsopen SS900 bone conduction headphones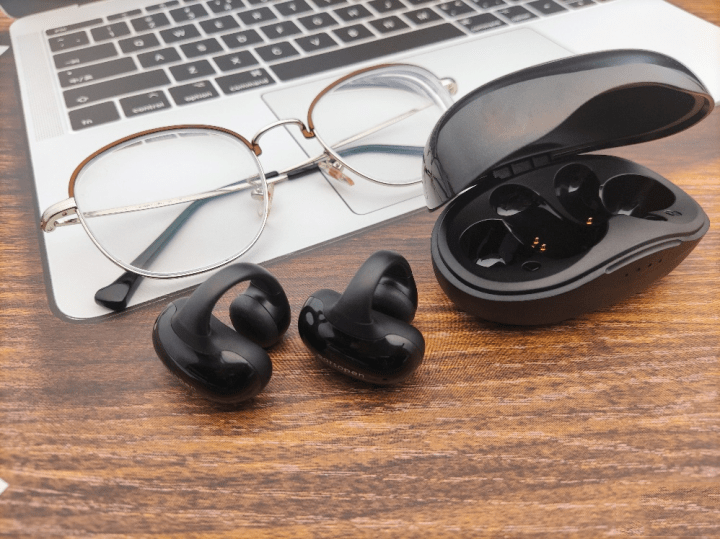 Reason for recommendation:
It adopts the 5.2 Bluetooth protocol, which can start automatic connection when the charging compartment cover is opened. It is low latency during use, and the anti-interference ability is also strengthened. In terms of sound quality, BoCo's miniature bone conduction vibrator is adopted, which has good performance at low frequencies, but which has harsh noise and serious sound leakage at high frequencies. The 8G single-earphone body is basically comfortable during the whole wearing process.
5.Nank Runner CC3 bone conduction headphones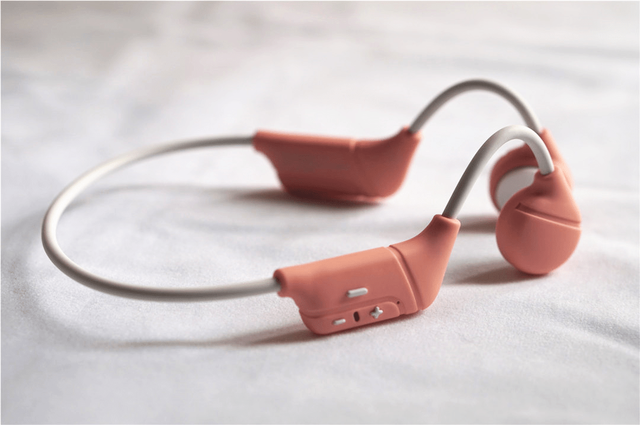 Reason for recommendation:
Runner CC2 has a solid button area on the outside, which is very convenient to use. The surface of the headphone body is made of soft material, which makes it very comfortable to be attached to the ear. It is really stable to wear with the ear-hanging scheme, supports Bluetooth 5.0, and the earphone signal is very stable during use. The sound quality is quite satisfactory, and the sense of music rhythm and space is well controlled.
As a new type of headphones, bone conduction headphones are more popular than expected. For most people who love sports, it is necessary to have such headphones. Among the above five products, Wissonly and Aftershokz are the two brands with the strongest technical strength and better product quality. I choose Wissonly myself because of its higher cost performance.
Comment