How Does Bone Conduction Headphones Work and Can Others Hear Them?
Feb 13,2023 | David
When some people who love sports are running or cycling outside, you may see that they wear headphones on their ears but not tuck into the ear. In fact, the headphones are probably bone conduction headphones.
So what exactly are bone conduction headphones?
Simply put, bone conduction headphones are headphones made based on bone conduction technology. The more complete statement of bone conduction technology should be bone conduction sound transmission technology. It directly uses human bones as a sound transmission medium, So sound waves do not need to pass through the external auditory canal and tympanic membrane,But pass directly to the inner ear.
How do bone conduction headphones work?
When it comes to the working principle of bone conduction headphones, you must first understand the "essence of sound". Simply put, the sounds we hear every day are vibrations in the air. For example, have you ever seen a scene of "loud high-pitched sound shatters a glass window"on TV? This phenomenon is caused by the treble that transmits strong air vibrations to the glass window, causing the glass window to resonate.
We hear sound as vibrations in the air. Sound travels through the ear canal to the eardrum, then through a spiral organ called the cochlea to the brain, where it is finally perceived by us. While standard headphones that fit into the ear canal use this "standard" path to transmit air vibrations to the brain, bone conduction headphones work quite differently.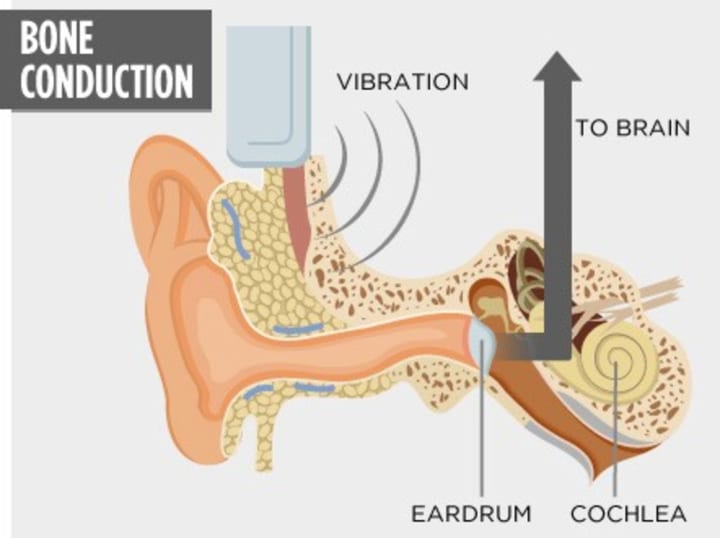 The sound transmission path of standard headphones: sound source vibration → external auditory canal → eardrum → cochlea → brain
The sound transmission path of bone conduction headphones: sound source vibration → skull → cochlea → brain
So, with bone conduction headphones, you can enjoy music without ear canals or eardrums. Bone conduction headphones do not need to be plugged into the ear canal when worn, which will cause less damage to the eardrum and better hygiene for the ear canal, so they are the healthiest headphones.
Can others hear bone conduction headphones?
Under normal volume, with a social distance of more than 1 meter, it is difficult for others to hear the sound of bone conduction headphones. Therefore, the privacy protection of the headphones is still good, and you can use them with confidence.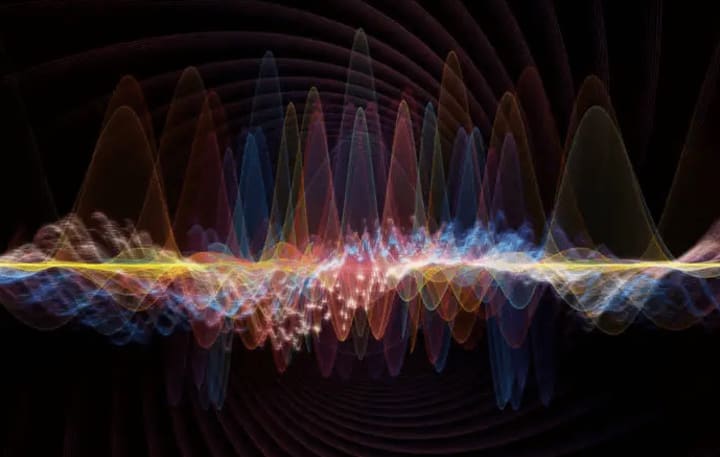 The reason why some people worry that "others will hear the sound of bone conduction headphones" is mainly because the headphones generally have the problem of sound leakage. However, due to the advancement of technology, mainstream bone conduction headphone brands have solved the problem of sound leakage well. Under normal social distance, your privacy is still guaranteed.
From the point of view of the principle of sound, all bone conduction headphones have the problem of sound leakage. Because they rely on the vibration of the sound unit to generate vibration waves, and drive the bone to vibrate to transmit the sound to the inner ear, so that it can be heard by people. Therefore, when the headphones are working, their shells will vibrate together with the sounding unit, and the shells will drive the air to vibrate, resulting in sound leakage. For the same headphone, when the volume is higher, the sound unit vibrates more, the air vibrates more, and the problem of sound leakage will be more serious.
Excellent bone conduction headphone brands have made a lot of efforts to solve the problem of sound leakage of headphones, and mainly adopted the following methods to reduce the problem of sound leakage.
Integrated body: The headphones body is designed as an integrated body without holes, so that there is no air in the body, and the air vibration caused by the sound unit is also reduced;
Shock-absorbing design of the body: through structural optimization, the shock-absorbing function of the body is improved, and the vibration of the body caused by the vibration of the sound unit is reduced;
Inverted-phase sound wave: The anti-phase sound wave is used to cancel the sound wave of the sound leakage, thereby eliminating the sound leakage.
It should be said that their efforts have paid off. The sound leakage problem of some excellent brands of bone conduction headphones has been well resolved.
Although bone conduction headphones have the problem of sound leakage, it has to be said that they have several outstanding advantages: they allow you to keep your attention on the ambient sound while listening to music, which is very safe; they will not hurt your ears, can Keeping the ear canal hygienic and more. These advantages are why they have become popular.
The advantages of bone conduction headphones are obvious. Most of the disadvantages have been solved. Therefore, it is an excellent headphone and worth buying. Now I will recommend some headphones for you.
1. Wissonly Hi Runner bone conduction headphones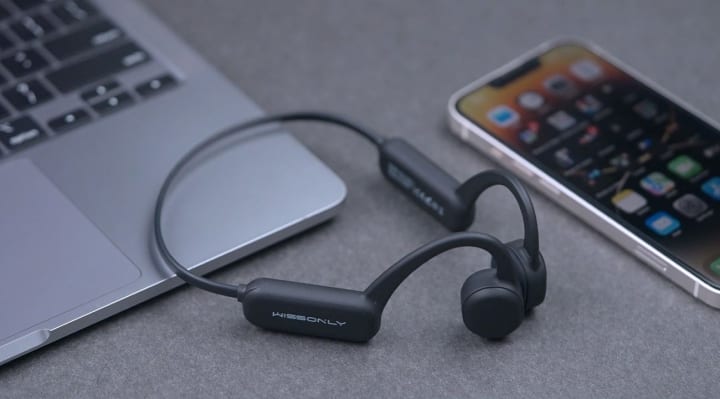 Recommended reason:
The Wissonly team has always attached great importance to the opinions of customers. It is said that their Hi runner model invited thousands of users to participate in the test, and that they constantly adjusted the design based on customer feedback. It is said that because of this, the product launch time was delayed by 3 months compared to the original plan time. I was so moved by this story that I bought their products.
Wissonly Hi Runner attaches great importance to sound quality. Their sound source adopts a large-sized vibrator, and through the clever structural design, the vibration area is increased by 35%. So the sound range is wider and the sound is more powerful. They have also made a lot of efforts in the treatment of sound leakage. The headphones' body is sealed and integrated to minimize sound leakage.
Hi Runner are also equipped with a new Bluetooth 5.0 chip. They have stronger anti-interference ability, and can easily cope with various complex outdoor scenes without disconnection. They support IPX8 waterproof grade higher than the industry standard, are equipped with 32G body memory. They have stable connection and low latency performance. In listening to songs, chasing dramas, or playing games, they can meet all daily needs for headphones.
The Wissonly Hi Runnerweigh less than 30g, have no weight bearing when worn, are very comfortable, and are very suitable for long-term use during sports.
2.Philips 7607 bone conduction headphones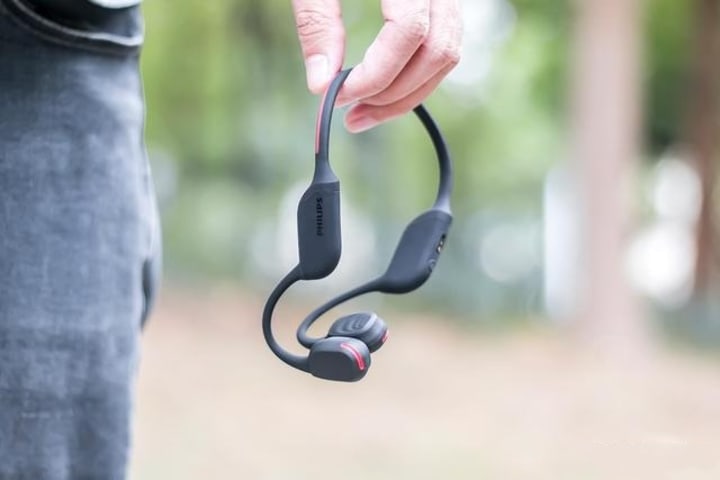 Recommended reason
Its sounding unit adopt a large-size vibrator of 17mm, which makes it have the effect of high, medium and low triple-frequency balance in sound quality performance. The low-frequency dive is sufficient, the medium and high frequencies are clear and not harsh, but there will be some missing sounds. It is also equipped with an intimate LED night run lamp at the rear end of the body, which can turn on the LED by turning on the key three times in a row. It also has three modes, which is suitable for wearing at night, so that people around it can perceive their own position and ensure their own safety factor to a certain extent.Its IPX6 waterproof rating is not afraid of sweat in daily wear.
3.AfterShokz OPENRUN PRO bone conduction headphones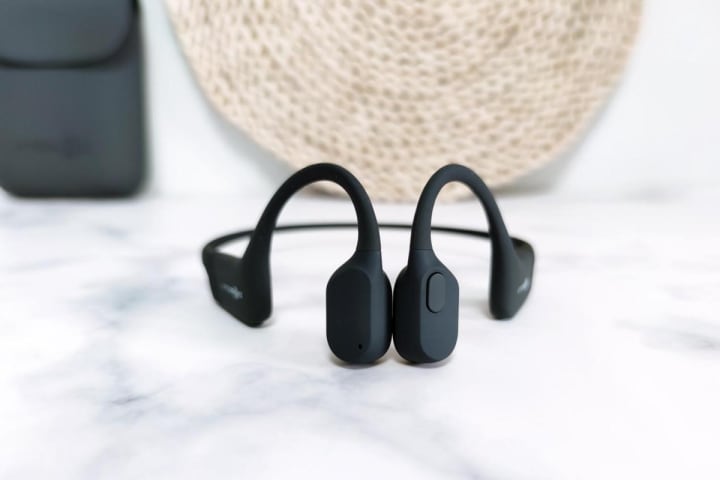 Recommended reason:
AfterShokz Openrun Pro's headphones are very light, weighs only 26g. It's very light and comfortable to run on your ears. The whole machine is made of titanium alloy, and the headphones on both sides are wrapped with skin-friendly silica gel, which make it has a IP67 waterproof grade. It can be drenched in the rain, splashed with water and washed, and there is no problem even in bad weather during outdoor sports. The structure adopts the back-hanging design and can't be worn in the ear, which is very friendly to users who often wears it. The whole machine is also equipped with Bluetooth 5.0 three-core chip, which can realize fast connection, stable sound quality connection within 10 meters, and intelligent identification by algorithm, which can effectively filter the ambient sound and make the voice clearer.
4.Earsopen peace tw-1 bone conduction headphones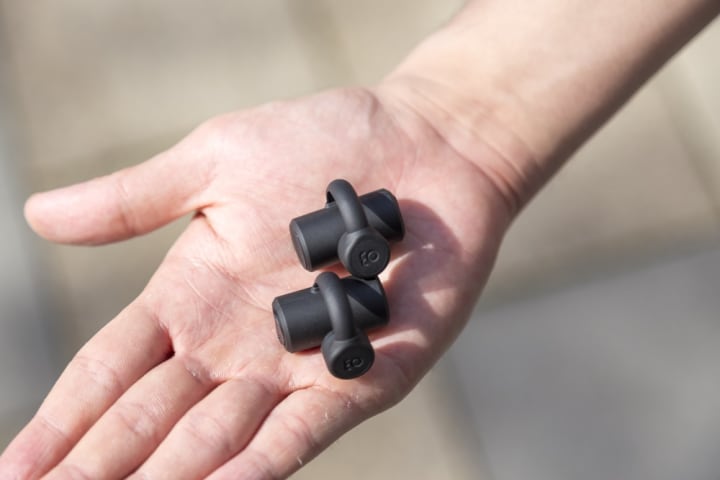 Recommended reason:
It can't be worn in the ear, and it won't cause ear discomfort or damage eardrums for a long time. The wearing method of ear clip is different from other bone conduction headphones. This kind of wearing method is a little troublesome and can't be worn with one hand, but it can make the headphones have good stability and won't fall off during intense exercise. Its sound quality anti- sound-leakage are very well, and it can't be heard within normal social distance.
Its disadvantage is that the ear-clip wearing method may make you feel uncomfortable after a long time.
5 Nank Runner CC3 bone conduction headphones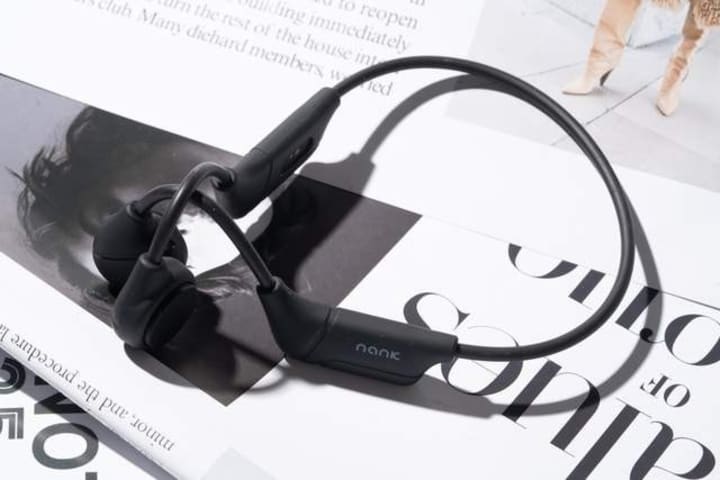 Recommended reason:
Runner CC3 are equipped with the latest Bluetooth 5.3 chip. They can achieve stable connection during exercise, and even when you are running in the mountains with poor signal, there will be no disconnection with them.
They are also equipped with MP3 mode with 4G built-in memory, which helps you to enjoy music when the phone is not with you. The Runner CC3 weight 28g, and is compact and very comfortable to wear.
Among the above five products, Wissonly and Philips are the most technologically powerful.Philips is a well-known brand. Their products have always been very good. Wissonly is a brand founded by engineers with ten years of experience in the field of bone conduction. Their product parameters are very good and the cost performance is very high, which is worth recommending.
Comment