How Do Wireless Bone Conduction Headphones Work and Their Advantages?
Feb 06,2023 | Sylvia
Have you ever heard music with headphones on while walking on the road, when the car behind you honks to remind you, everyone around you heard it, but you didn't know it; or when you listened to music while wearing headphones in the office at work, even if your boss yells next to you, it can't wake up your ears that were kidnapped by music. These awkward moments happen a lot in life, and they're always unpleasant. However, there is a kind of headphone that can perfectly help you avoid these embarrassments, that is wireless bone conduction headphones .
How do wireless bone conduction headphones work?
When we speak, we ourselves actually hear the sound through the air (air conduction) and through the bones (bone conduction) at the same time. We may have become so used to it that we think that hearing our own voice is just transmit through the air. As an example,when you close your mouth while brushing your teeth, this ensures that there is no air-conducted sound, but you can still hear the brushing sound, and it is clearly heard, it is the sound through the bone.
Bone conduction technology is actually the technology of transmitting sound through bones. During the transmission process, the sound source causes the bone to resonate, thereby transmitting the vibration to the cochlea, which is the principle of bone conduction technology.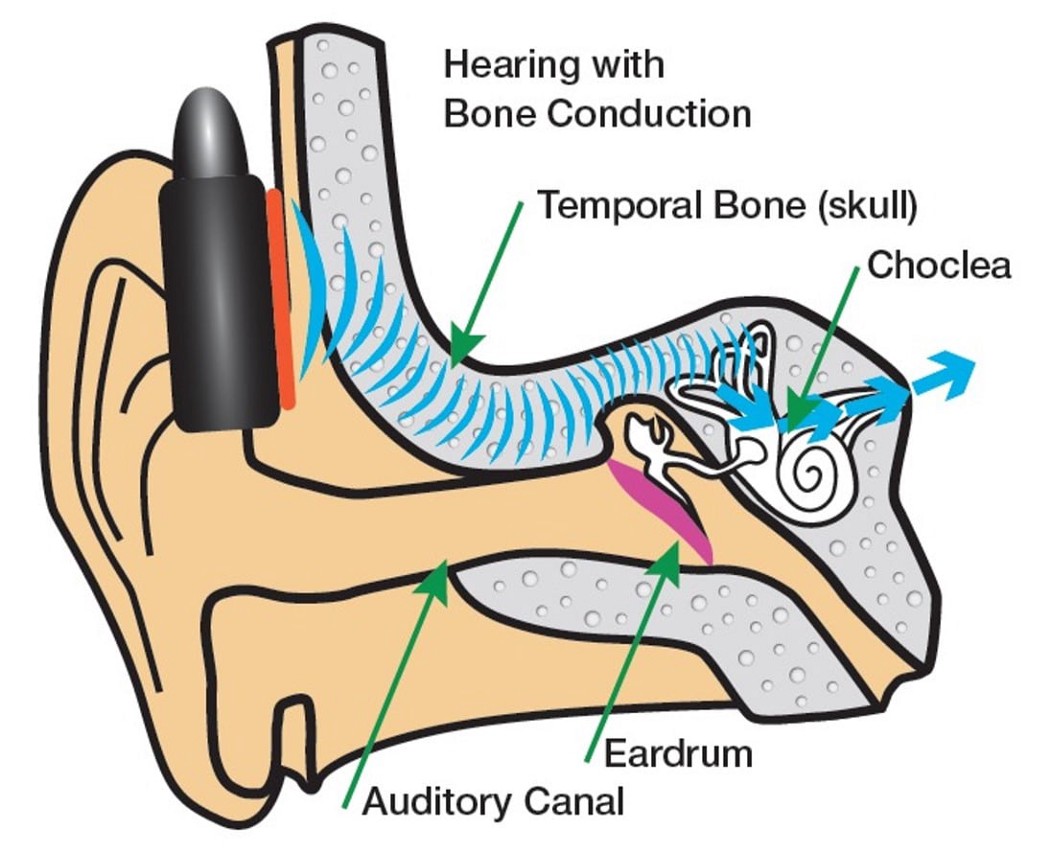 Wireless bone conduction headphones are headphones manufactured based on bone conduction technology. When they work, people only need to stick the sound unit on the temple, and the sound unit will convert the sound signal into mechanical vibration, drive the skull to vibrate, and the skull will transmit the vibration to the cochlea. After the cochlea perceives the sound, it will be transmitted to the auditory nerve and brain. Finally, the sound is formed. This is how wireless bone conduction headphones work.
Therefore, wireless bone conduction headphones can hear the sound without being plugged into the ear. They can well protect the eardrum and maintain the hygiene of the ear canal, which is very helpful for ear health.
Advantages of wireless bone conduction headphones
Bone conduction headphones have three very prominent advantages.
Advantage 1: safer to use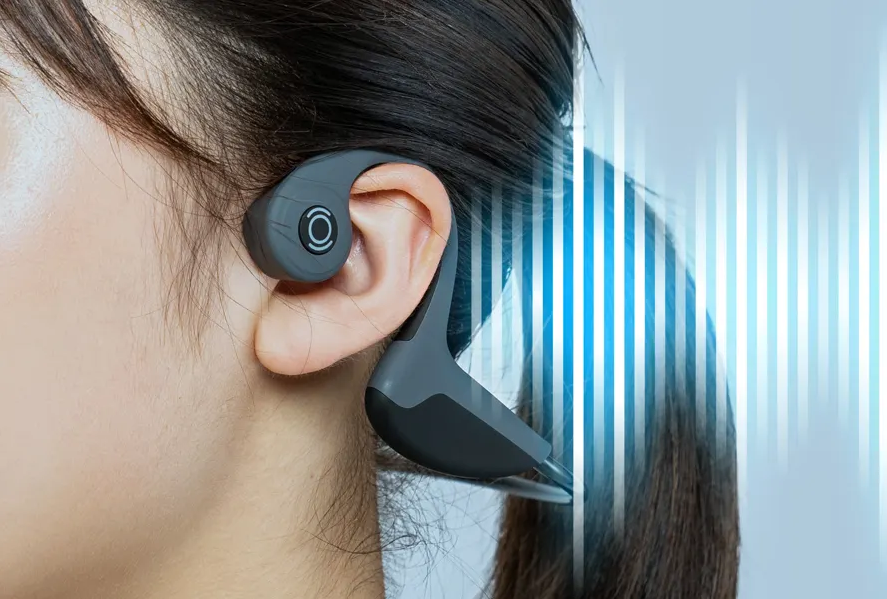 Compared with common headphones, wireless bone conduction headphones are placed on the cheekbones in front of the ears when in use. They conduct sound directly through the skull bone to the inner ear, keeping your ears open at all times, which does not interfere with any external ambient sound entering the ear. The wearer can even chat with friends around him while listening to music. Therefore, you can hear the sound of the outside world by wearing bone conduction headphones during outdoor sports, on buses and subways, running, and cycling. The wearer can maintain awareness of the surrounding environment at all times to avoid accidents. Therefore, they can provide higher security than common headphones.
advantage two: more hygienic to use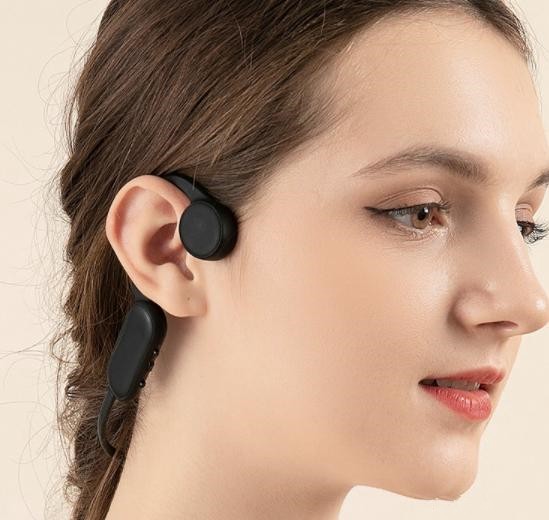 Whether it's headphones or earbuds, covering your ears when using them can make your ears stuffy, which can lead to the growth of bacteria inside your ears. Especially when the ear canal is blocked, the inside will become humid and hot, and bacteria will grow more rapidly. Therefore, wearing in-ear headphones is also one of the important reasons for many young people's ear canal inflammation. What about wireless bone conduction headphones? They don't cause these problems. Because they do not touch or cover the ears, they can keep the ears hygienic and clean.
Advantage three: more healthy use
Wireless Bone conduction headphones do not need to be worn in the ear, so the injury caused by the headphone rubbing against the ear canal is avoided. Moreover, the vibration wave of them is smaller than that of ordinary headphones, and the damage to hair cells in the ear can be reduced by about 80%. Therefore, bone conduction headphones are more ear-friendly and healthier to wear than ordinary headphones.
Of course, bone conduction headphones are not 100% perfect, and they have drawbacks, such as their sound quality being difficult to achieve the effect of traditional noise-canceling headphones. They really release the ears, which also lose the "sound insulation" or noise reduction effect of traditional headphones, so in extremely noisy environments, it will be difficult for bone conduction headphones to transmit sound to your inner ear. However, the sound quality of them has improved a lot compared to the previous two years with technological progress. Some mainstream brands like wissonly and aftershokz have excellent sound quality.
Here are some bone conduction headphones with good sound quality below.
1. Wissonly Hi Runner wireless bone conduction headphones
Reason for recommendation:
This is the fastest growing brand of bone conduction headphones in the last six months. The team are all engineers with 10 years of accumulation in the field of bone conduction technology. They started to develop bone conduction headphones that don't hurt ears as early as 2012. To solve the problem of sound leakage of bone conduction headphones, wissonly has made comprehensive improvement in the aspects of vibrator, body design and software optimization. The final result has been applied to Wissonly Hi Runner, and the final sound leakage can be reduced by 90% after laboratory test. I actually used the test myself. At a distance of 2cm, the volume reached 70%, but I still didn't hear the sound of the headphones, which protected my privacy.
Wissonly Hi Runner's body is made of titanium, which can self-adjust the fitting position to ensure a good wearing experience for headphones, so that more people can wear it. As the core component of the product, the headphones plays a key role in the product experience. Hi Runner model is equipped with Bluetooth 5.0 chip, which makes Bluetooth connection faster and more stable. It also has 32GB of built-in storage so you can use it as an MP3 player.
Other parameters of Wissonly Hi Runner are also excellent. For example, the waterproof level reaches IPX8, and you can wear it to swim or even dive. The battery life reaches 8–10 hours, which is very important to me, because I go out for sports on weekends, and I go out for a whole day.
2.Philips A6606 wireless bone conduction headphones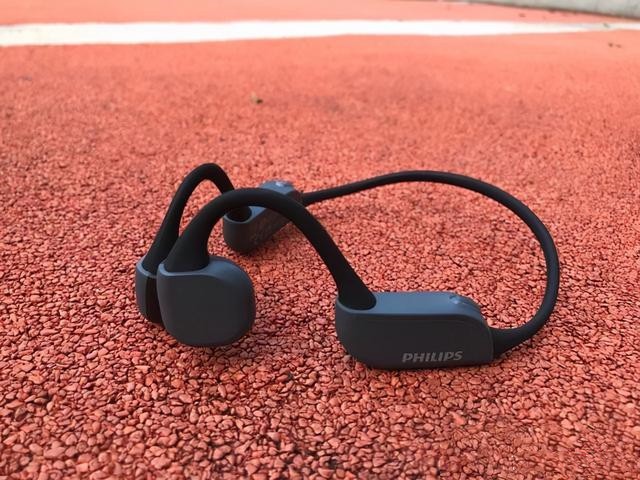 Reason for recommendation:
With IPX7 waterproof property, Philips A6606 can be soaked in water for a short time, and has good waterproof performance. At the same time, surprisingly, LED night run lamps are arranged at both ends of the fuselage, which can light up the rear road at night, thus ensuring its own safety factor. The unique bone conduction vibrator makes its sound quality good, and the double shrapnel structure can reduce the distortion. However, when playing high-frequency sound, there will be obvious vibration. If you can accept the vibration of medium and high frequency, it is also good.
3.AfterShokz OPENRUN PRO wireless bone conduction headphones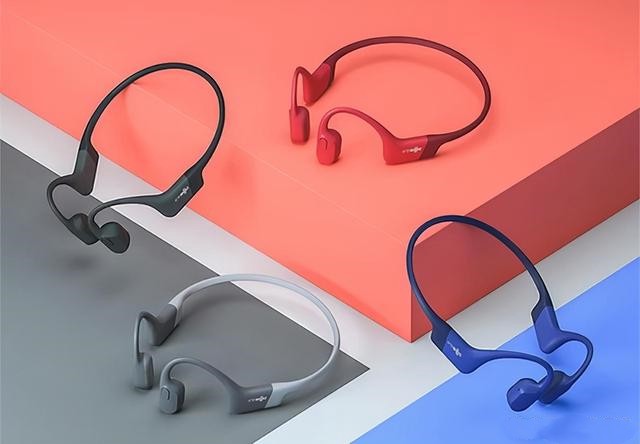 Reason for recommendation:
Openrun Pro bone conduction headphones with ergonomic ear-sticking design, which is worn by hanging ears, it have a light body, so they are comfortable and stable to wear. It supports IP67 waterproof, adopts magnetic contact to avoid water seepage for charging, and in order to be waterproof, it is coated with antioxidant nano-coating to isolate water vapor on the chip. Normal sweat and ordinary washing are no problem, even in the rain for a short time is ok, but it can't be used for swimming.
4.Earsopen PEACE wireless bone conduction headphones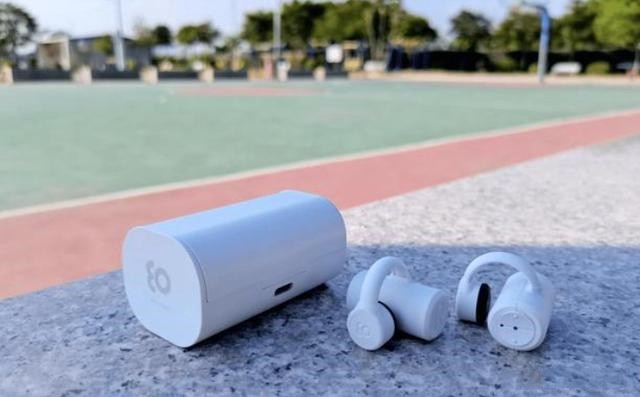 Reason for recommendation:
The Japanese bone conduction headphones adopt the wearing method of ear clipping that is very novel. Although they are ear clipping type, after wearing it for a long time the ear will be somewhat painful. They have IPX7 waterproof performance. Both battery and charger can be used in the charging case, but there is a small problem that the charging case is not waterproof. Their sound quality is still good, and they are excellent in the audio performance of the high, medium and low. And there is a sound leakage problem, but the overall is still good.
5. Nank Runner CC3 wireless bone conduction headphones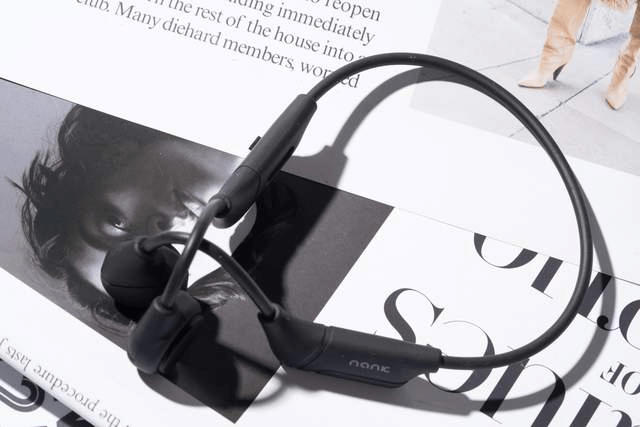 Reason for recommendation:
The Runner cc2 headphone's body is fully enclosed design. The waterproof ability is greatly improved, reaches the level of LPX6, it can easily resist daily rain and sweat. It has a built-in low-energy Bluetooth 5.0 chip that has fast connection and stable signal. In terms of reducing sound leakage, the Runner CC 2 is still relatively small in sound leakage. The sound quality is also OK, and it is a good entry-level bone conduction headphone.
Among the several headphones recommended above, Wissonly, Philips and Aftershokz are the three brands with the best technology, and their product quality is very good. If your budget is not high, but you have high requirements for product performance, Wissonly is the best choice.
Comment