Best Bone Conduction Headphones Review in 2023
Feb 06,2023 | Sylvia
Summary:Facts about bone conducton headphones:What are they?How do they work?Pros and cons of them.Best Bone conduction headphones review in 2023.
What are bone conduction headphones?
Bone conduction headphones are headphones that are worn differently from traditional headphones. They don't have earbuds in your ears like common headphones do, and they don't need the sound to travel through the air in the ear canal to the eardrum like common type do. They are generally hung on the auricle, so that the sound unit is against the temple, and the mechanical vibration signal of the sound unit is transmitted to the auditory nerve of the inner ear through the skull, and finally people hear the sound.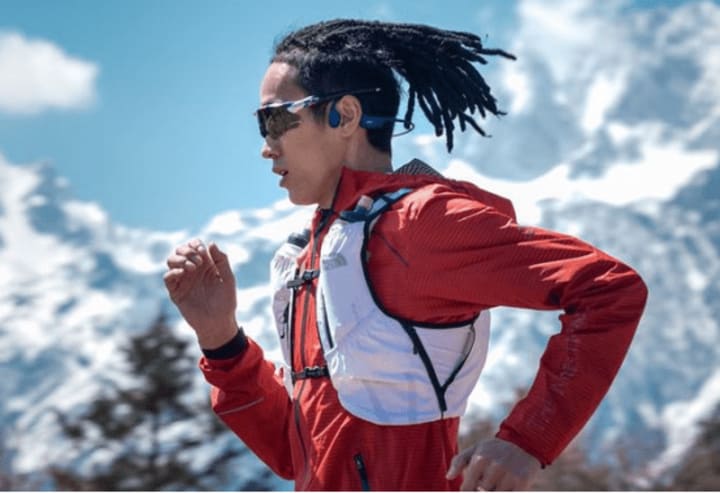 Bone conduction technology is widely used in the military, emergency rescue, hearing assistance and other fields. Bone conduction headphones are a new application of this technology in the field of consumer electronics. They are mainly positioned in the field of sports headphones. The existing products include running headphones, swimming headphones, cycling headphones and so on. They are becoming more and more popular due to the advantages that traditional headphones do not have, such as safety, health, hygiene, etc.
How do bone conduction headphones work?
Let's start with a story. Beethoven was a great composer, and he is still loved by many people with representatives such as "Fate Symphony", "Eroica Symphony ", "Ode of Joy Symphony " and so on. In fact, Beethoven suffered from hearing impairment in his later years. Even in this state, he continued to compose, which is a bit bizarre. How did he do it? When playing, Beethoven held his baton in his mouth and put the other side on the piano,and then hear the sound.. This was the earliest application case of bone conduction.
In Beethoven's case, the vibrations caused by the piano as a source of sound are transmitted through the baton to the jawbone on the side of the mouth, and then from the frontal bone to the inner ear, which eventually formed hearing.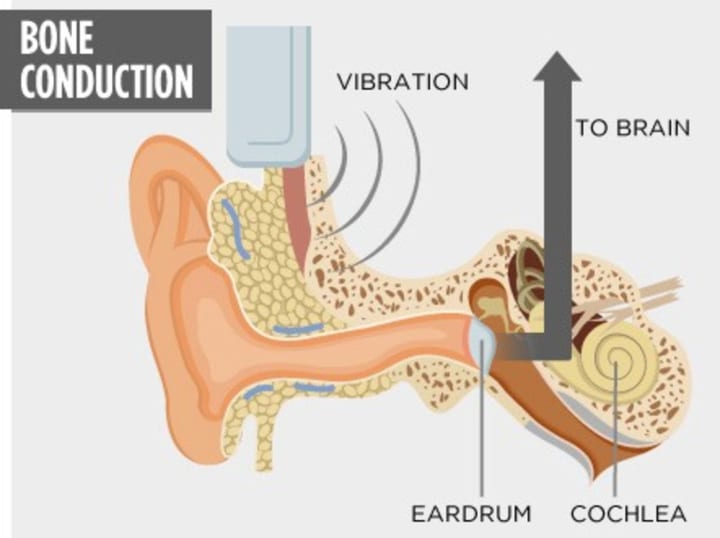 You may have found that the entire sound transmission process was the participation of solids such as batons and bones, without the participation of air and the eardrum. This seems to be a little deviated from our daily cognition. If we look through the physics books in middle school, we could know that there are three mediums for sound transmission: namely air, liquid and solid. Human bones are solids, and of course, they can also act as a medium for transmitting sound.
With the above knowledge, it would be easy for us to understand how bone conduction headphones work.
Bone conduction headphones are a type of headphones manufactured by using bone conduction technology. Bone conduction is a sound conduction method with bones as the medium. It converts sound into mechanical vibrations of different frequencies to transmit sound waves through the human skull, bone labyrinth, inner ear lymph, spiral organ, and auditory center.
When they work, you only need to put the sound unit close to the temple, do not need to stuff them into the ear canal. They are good to the cleaning of the ear canal, and cause no harm to the eardrum.
Advantages of bone conduction headphones
It does not occupy the ear canal when in use. In addition to hearing the sound in the headphone, it can also hear the sound of the outside world, so that you are not isolated from the outside world, which can ensure your safety. For example, if you wear headphones when crossing the road, you won't be in danger because you can't hear the horn. That means if you often exercise outdoors, you can avoid dangerous situations. It allows you to listen to all directions while listening to music, protecting yourself without hindering others. Safety is the most prominent advantage of them. Because of this advantage, bone conduction headphones are very popular among sports fans.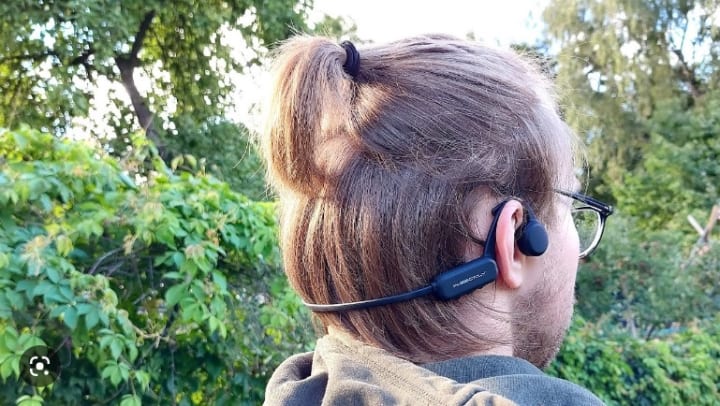 Bone conduction headphones do not need to be tightly plugged into the ears, they are very comfortable to wear. It perfectly avoids ear pain caused by wearing in-ear earphones for a long time. The comfort of wearing is a near-perfect advantage for sports fans who need to wear it for a long time. To further improve wearing comfort, mainstream brands of bone conduction headphones also make the fuselage very light and use soft and skin-friendly materials for the fuselage surface. Companies like wissonly and Aftershokz have made great efforts in this regard.
Bone conduction headphones have another advantage: Since the headphones do not need to be plugged into the ear when worn, it is very helpful to maintain the internal hygiene of the ear. It will not cause a lot of bacteria to accumulate in the ear canal due to sweating for a long time during exercise. Compared with traditional earphones, it is more hygienic and healthy.
Of course, bone conduction headphones also have some disadvantages. For example, the sound quality may not be as good as traditional noise-canceling headphones, such as more or less sound leakage problems. These two problems are mainly caused by the sound generation principle of bone conduction headphones, and they are difficult to solve to a 100% extent. However, some excellent bone conduction headphones have made a lot of efforts to solve these two problems and they achieved good results. The sound quality of these headphones is generally very good, and the sound leakage problem has almost been solved.
Best Bone Conduction Headphones Review in 2023
1. Wissonly Hi Runner bone conduction headphones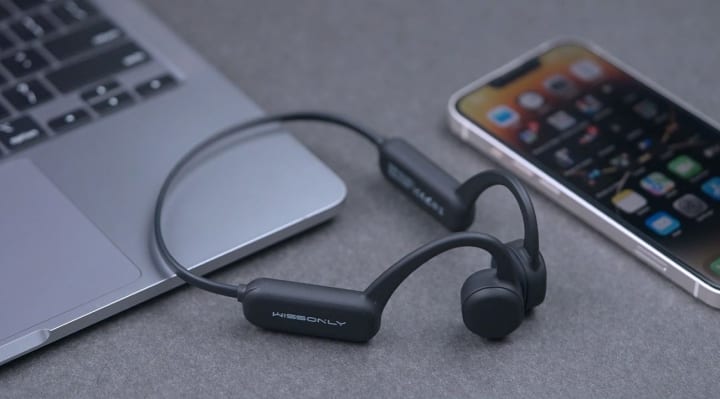 Recommended reason:
This is the fastest growing brand of bone conduction headphones in the last six months. The team are all engineers with 10 years of accumulation in the field of bone conduction technology. They started to develop bone conduction headphones that don't hurt ears as early as 2012. To solve the problem of sound leakage of bone conduction headphones, wissonly has made comprehensive improvement in the aspects of vibrator, body design and software optimization. The final result has been applied to Wissonly Hi Runner, and the final sound leakage can be reduced by 90% after laboratory test. I actually used the test myself. At a distance of 2cm, the volume reached 70%, but I still didn't hear the sound of the headphones, which protected my privacy.
Wissonly Hi Runner's body is made of titanium, which can self-adjust the fitting position to ensure a good wearing experience for headphones, so that more people can wear it. As the core component of the product, the headphones plays a key role in the product experience. Hi Runner model is equipped with Bluetooth 5.0 chip, which makes Bluetooth connection faster and more stable. It also has 32GB of built-in storage so you can use it as an MP3 player.
Other parameters of Wissonly Hi Runner are also excellent. For example, the waterproof level reaches IPX8, and you can wear it to swim or even dive. The battery life reaches 8-10 hours, which is very important to me, because I go out for sports on weekends, and I go out for a whole day.
2. Philips A6606 bone conduction headphones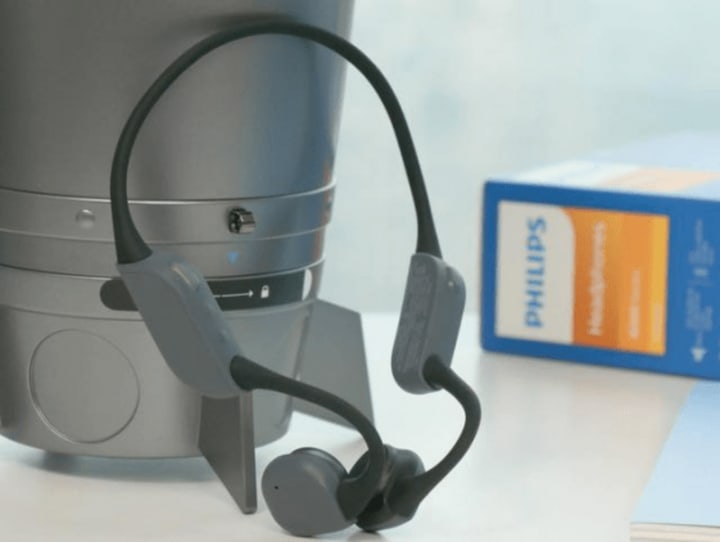 Recommended reason:
The A6606 uses a titanium alloy frame. It is very stable to wear during running and has less shifting, helping you to exercise without feeling weight. The unique way of transmitting sound of bone conduction headphones bypasses the air, reduces noises, but is most afraid of having stethoscope effect. The A6606 is designed so that the frame of the headphones does not touch the back of the head, avoiding the "stethoscope effect" during exercise, so you can hear more precise and clear sound details.
3.AfterShokz OPENRUN PRO bone conduction headphones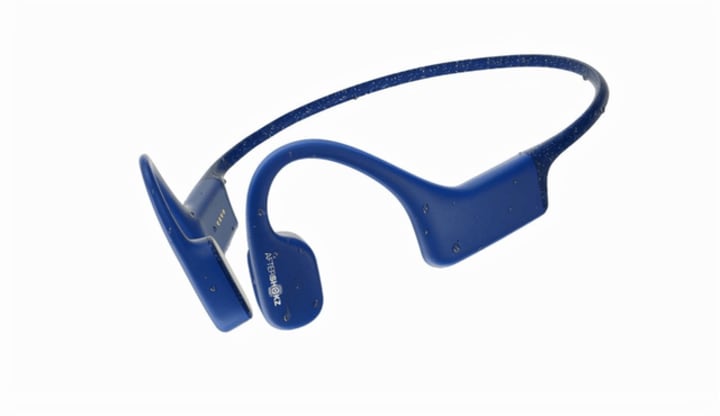 Recommended reason:
It has improved the sound quality and sound leakage reduction, and can connect two Bluetooth devices at the same time.Duo to its ergonomic ear-sticking design,it has high wearing comfort. There are two sizes, 16.2cm and 18.7cm. Girls suggest the mini version.
4.earsopen FIT BT-1 bone conduction headphones
Recommended reason:
Earsopen FIT BT-1 bone conduction headphone, the new favorite of Japanese headphone industry, has an open listening experience and can also accept external sound. It has the BONE AUDIO feature with super telepresence, which has better listening effect.It adopts the exclusive latest AVV technology, with its correct vibration earsopen device, and improves the bone conduction ability by leaps and bounds.It also has fashionable and high-quality streamline design,it use light body material and weight of only 34g. Its waterproof, dustproof and anti-skid performance is also good.
It can be safely used indoors and outdoors, and it is comfortable to wear and moves freely.
5.Nank Runner CC3 bone conduction headphones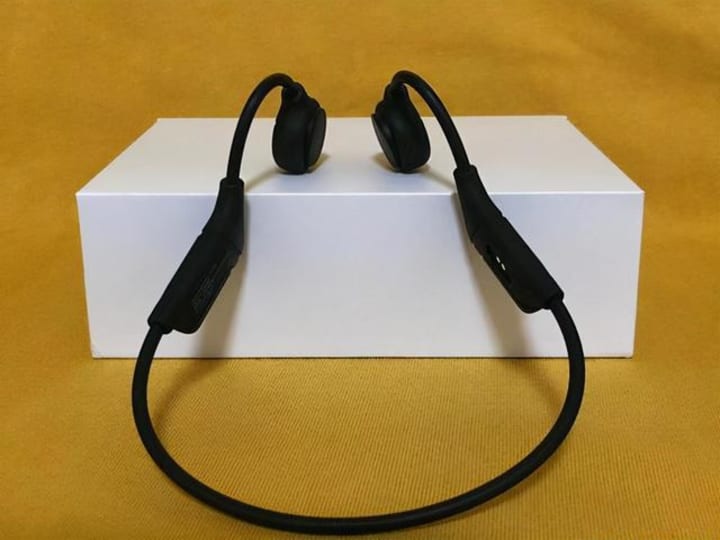 Recommended reason:
Its headphones' body is designed with a titanium alloy rear-hanging body, which is light in weight, and it doesn't feel heavy when worn. The ear-hanging design is also very convenient to wear, so you don't have to worry about falling off. The whole headphone adopts seamless design, and even the earphones are wrapped in silica gel, which can greatly reduce sound leakage. As magnetic charging is adopted, after each use, it is only necessary to put the magnetic suction head at the buckle position of the headphone. Compared with the previous products, the sound quality is obviously improved, but it still needs to be improved. Those who have low requirements for sound quality can choose it.
Comment