How Do Bone Conduction Headphones Work and How About The Safety of Them?
Mar 13,2023 | David
I believe you also have the common experience that when we eat cookies, even if we cover our ears, we can hear the cracking sound of cookies. Or when we scratch our head, we hear the sound of fingers rubbing against our head. This is actually the most common example of bone conduction.The vibration of a cookie or the friction of the head is transmitted through the skull to our inner ear, which helps us to hear sound. This sound transmission method has also been cleverly applied by scientists to bone conduction headphones, and in the past 2 years, they have become the most popular digital product.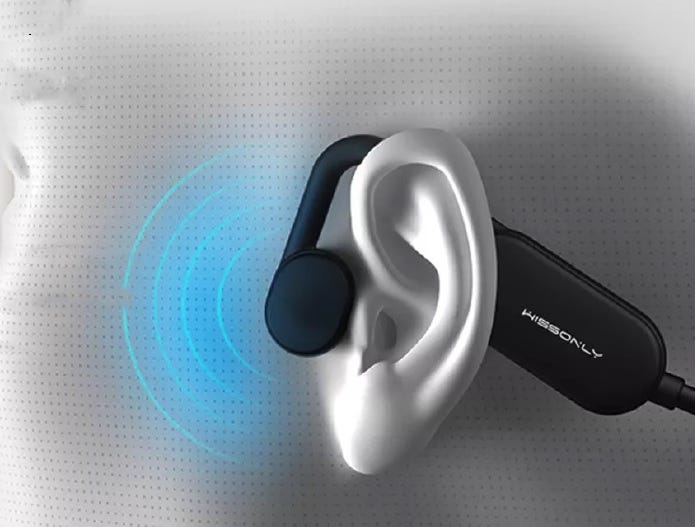 Bone conduction headphones are headphones that are worn differently from traditional headphones. And their don't need to tuck earbuds into ears like that common headphones to help sound transmit to the eardrum through the air in the ear canal. They are generally hung on the pinna, so that the sound unit is placed against the temple. And the mechanical vibration signal of the sound unit is transmitted to the auditory nerve of the inner ear through the skull, and finally the sound is heard.
Bone conduction headphones are very safe and health.
The safety of bone conduction headphones?
Bone conduction headphones are a new application of mature technology, and their safety has early been verified.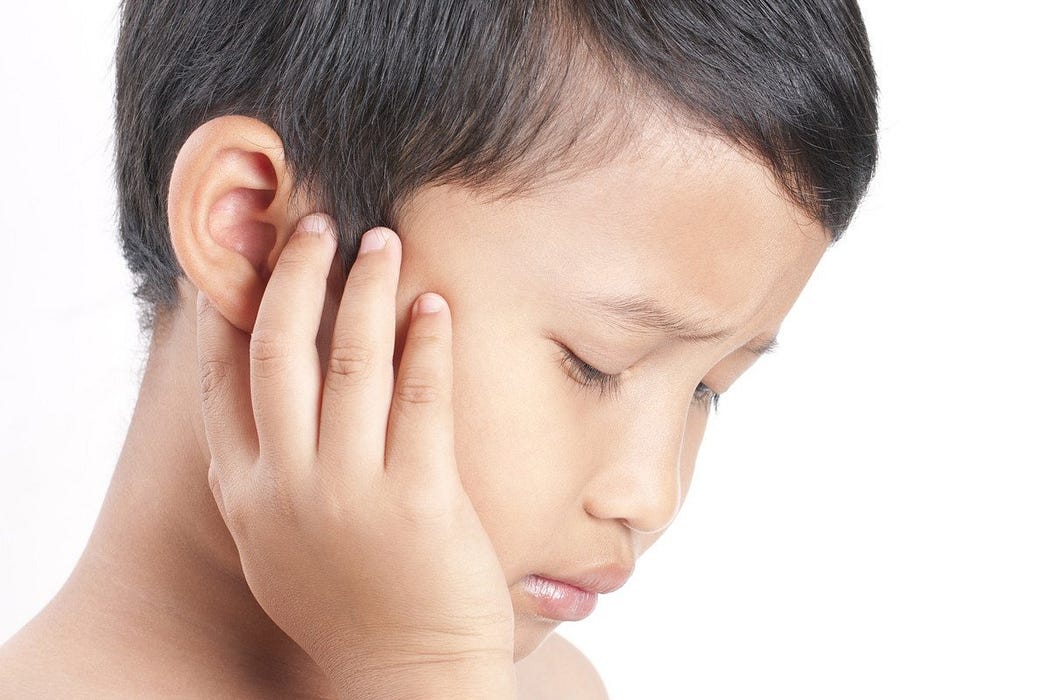 First of all, bone conduction headphones have very little damage to hearing. We all know that hearing damage generally occurs in the eardrum and inner ear. When we wearing them,sound do not need to pass through the eardrum, so they do not damage the eardrum. Because the oscillation of them is relatively moderate, the headphones also have less effect on auditory hair cells in the inner ear. Moreover, the electromagnetic waves of them are extremely weak that they will not cause harm to human brain nerves and hearing nerves.
Secondly, bone conduction headphones can still keep you paying attention to ambient sounds when worn, which can help you to avoid many accidents. They are not worn into the ear, Whether in running, cycling, walking or commuting, etc., wearing the headphones to listen to songs, you can still hear the surrounding sounds, and can communicate with others normally, so as to avoid the danger caused by not hearing external sounds.
In addition, bone conduction headphones that do not need to be plugged in the ear canal when worn, are very helpful for maintaining ear hygiene. They do not block the ear canal due to sweating for a long time to deposit a large number of bacteria, and so also reduce ear inflammation and other conditions.
Of course, The safety of any product is relative, and 100% safe products do not exist, and so are bone conduction headphones. Under the premise of long-term continuous use at high volume, they still have the risk of hearing damage. This point also needs to be paid attention to when they are used. It should be noted that any headphones will have hearing damage problems when used at high volume for a long time. Bone conduction headphones are still the safest and healthiest of all headphones.
So why they are so safety?Because of their working principle.
How do bone conduction headphones work?
Bone conduction headphones are headphones based on bone conduction technology. Bone conduction is a sound conduction method with bones as the medium. It converts sound into mechanical vibrations of different frequencies, and transmits sound waves through the human skull, bone labyrinth, inner ear lymph fluid, spiral organ, and auditory center.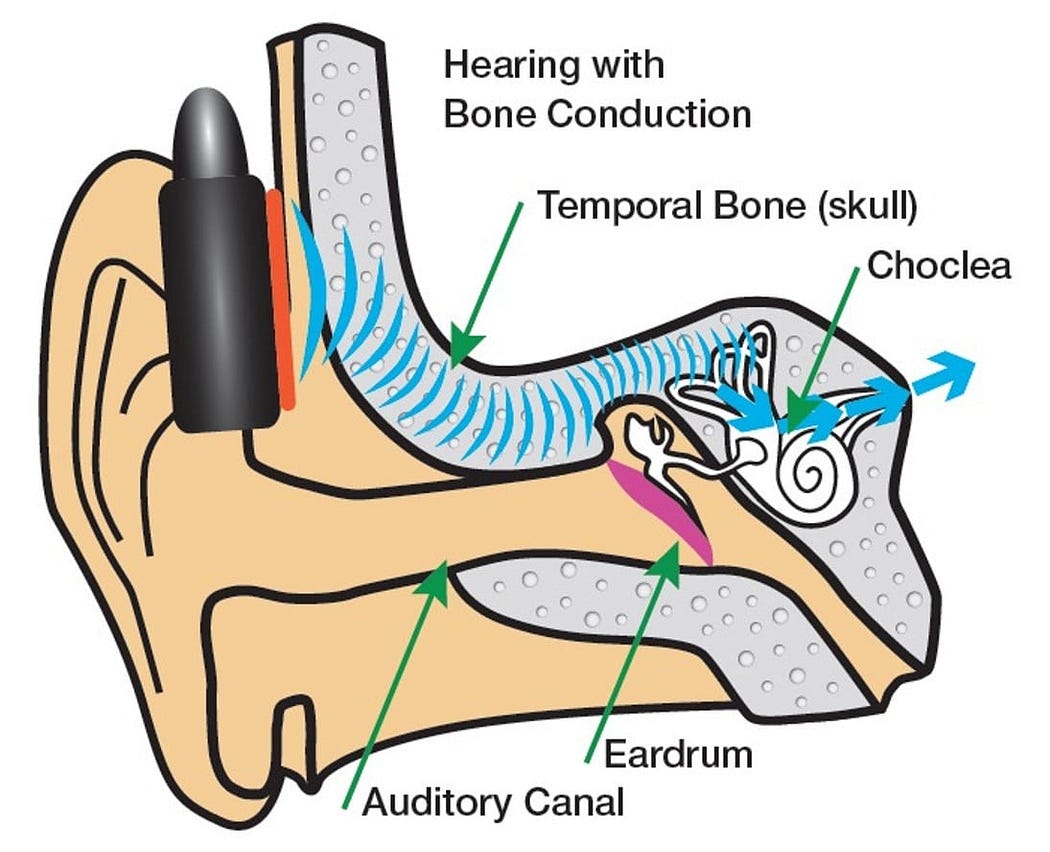 Compared with the classic sound conduction method of transmitting sound waves through the eardrum, bone conduction saves many steps of sound wave transmission, and it can achieve clear sound reproduction in noisy environments, and sound waves will not affect others due to diffusion in the air.
In fact, the principle of bone conduction is not mysterious. Each of us has experienced it in our daily life. When you eat, you hear the sound of the food being bitten off, but others cannot hear this sound, because the vibration of the food is transmitted to your auditory central nerve through the teeth and bones, and finally the sound is produced. This is an example of classic bone conduction. You can also knock your teeth now. Did you hear the sound? This is the sound passing through your skull to the auditory nerve, which also uses the principle of bone conduction.
A large number of earphone manufacturers have joined the field of bone conduction headphones. Which one is the best? I will give you some recommendations
1.Wissonly Hi Runner bone conduction headphones
Reason for recommendation:
As a veteran electronic product fans, I can responsibly tell you that the Wissonly bone conduction headphones are true bone conduction, which can protect hearing, so they are recommended by many otologists.
At the same time, Wissonly Hi Runner is also very good in terms of sound quality. It uses a 360 surround vibration unit, which can increase the vibration area by 35% compared with traditional bone conduction headphones.They reduces the loss during bone conduction sound transmission, and which makes the sound more powerful.
Wissonly Hi Runner bone conduction headphones are made of memory titanium that can be self-adjusted, which can ensure that the headphones have a good wearing experience and take into account more users.
In terms of functionality, as the flagship model of Wissonly Brand, Wissonly Hi RUNNER supports IPX8 waterproof level which is higher than the industry standard, and it can be worn in diving. It is equipped with 32G body memory, as well as the latest Bluetooth 5.0. Its product performance and experience have been comprehensively improved, truly making bone conduction headphones suitable for more life scenarios.
2. Philips A6606 bone conduction headphones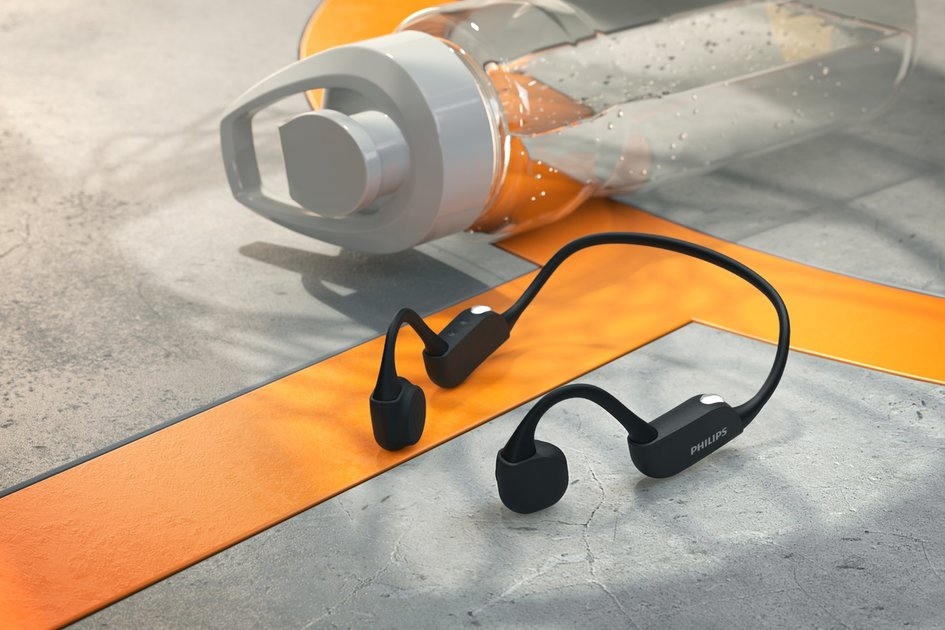 Reason for recommendation:
Philips A6606 adopts the rear hanging design of titanium alloy frame, which can be stable no matter jumping or running. Its surface is made of soft and skin-friendly silicone material, which makes it comfortable to wear, and the body of it is relatively light, so there is no sense of weight to wear. The biggest feature of A6606 is that its headphones are equipped with LED night lights, which is a thoughtful design for people who like fun runs, and can remind pedestrians, cyclists and drivers behind them to avoid it at night. Very suitable for night running.
3.AfterShokz OPENRUN PRO bone conduction headphones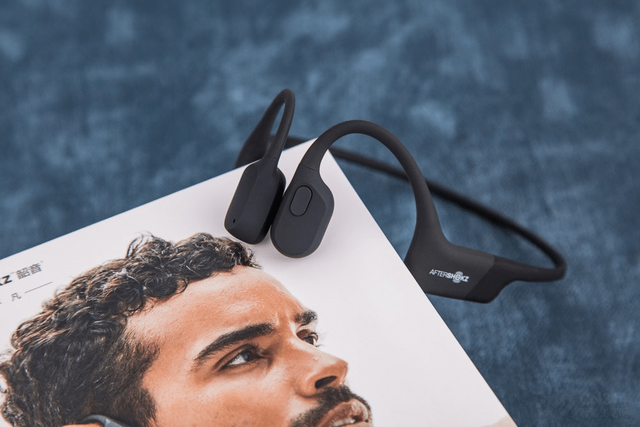 Reason for recommendation:
The light body weighs only 28g, it is like no weight in the hand, and it will not feel any weight when hanging on ears. Because of the characteristics of bone conduction headphones, there is no need to be stuffed into the ears or wrap the ears. And there will be no swelling or squeezing feeling when worn for a long time, which keeps the ears fresh and breathable. Its sound leakage reduction technology is also good, which can effectively suppress sound leakage and better protect personal privacy. It has a high-strength titanium alloy rear hanger. Before each pair of headphones leaves the factory, the official will carry out repeated tests to ensure that the quality passes. The body has high toughness, and it can be restored to its original shape when bent at will. You can toss it during the exercise, and don't have to worry about the damage caused by bending of the headphones.
4.earsopen FIT BT-1 bone conduction headphones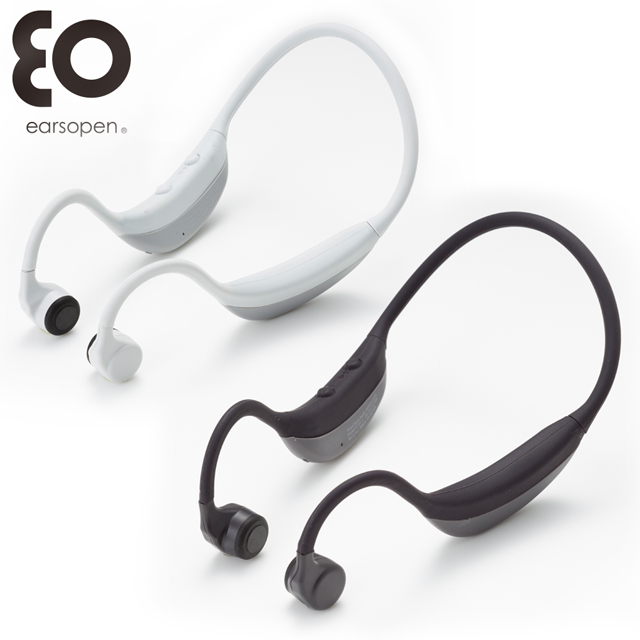 Reason for recommendation:
Earsopen FIT BT-1 bone conduction headphone, the new favorite of Japanese headphone industry, has an open listening experience and can also accept external sound. It has the BONE AUDIO feature with super telepresence, which has better listening effect.It adopts the exclusive latest AVV technology, with its correct vibration earsopen device, and improves the bone conduction ability by leaps and bounds.It also has fashionable and high-quality streamline design,it use light body material and weight of only 34g. Its waterproof, dustproof and anti-skid performance is also good.
It can be safely used indoors and outdoors, and it is comfortable to wear and moves freely.
5.Nank Runner CC3 bone conduction headphones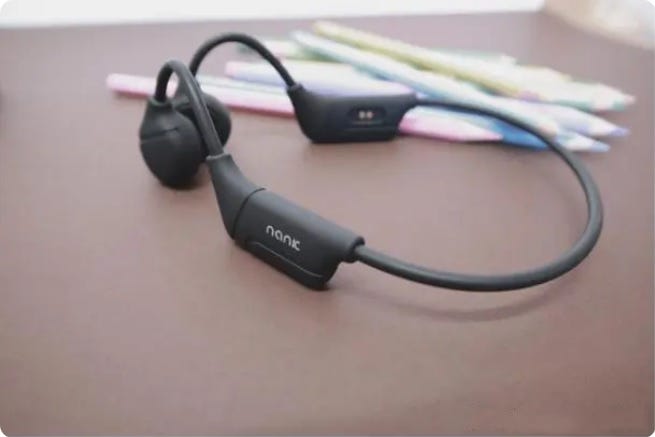 Reason for recommendation:
Among entry-level headphones, the Runner CC3 still performs well. Its body is wrapped in a layer of skin-friendly material, which will not feel uncomfortable to wear during exercise, and the firmness is also good, which can firmly lock the headphones on the ears.
It also has an MP3 mode with 4G memory, which can save nearly 1,000 songs. You can enjoy listening to songs without a mobile phone. The waterproof level and battery life are average, and it is not suitable for swimming.
Among the above five Bluetooth bone conduction headphones, Wissonly and Philip are my favorites. Their products are of excellent quality. In contrast, if I have to choose one, I will choose Wissonly because it has better cost performance.
Comment