Can Others Hear The Sound from Wireless Bone Conduction Earphones?
Mar 13,2023 | David
This is an era of frequent disasters, but also an era of heroes. At the scene of emergencies such as earthquakes, fires, and floods, there are always respectable firefighters who are desperate to save lives. Various equipment enters the rescue scene with firefighters, among which communication equipment is the most important. The harsh environment of the rescue site is a huge challenge for firefighters to communicate.
To solve this problem, people have equipped firefighters with a new communication artifact--tactical wireless bone conduction earphones to help firefighters listen to clear instructions in noisy and harsh environments, so that they can accurately and quickly reply to information. Tactical wireless bone conduction earphones relatively bulky. Based on the same principle of sound transmission, engineers have developed this type of headphones for ordinary users. In the past two years, they have become a phenomenon-level earphone product and are very popular among young people.
Bone conduction earphones are earphones that "attach the sounding unit to the temple and other parts, convert the sound into mechanical vibration by the sounding unit, cause the bone to vibrate through the mechanical vibration, and conduct the sound to the auditory nerve from the bone". Simply put, wireless bone conduction earphones are headphones that use human bones as the sound transmission medium.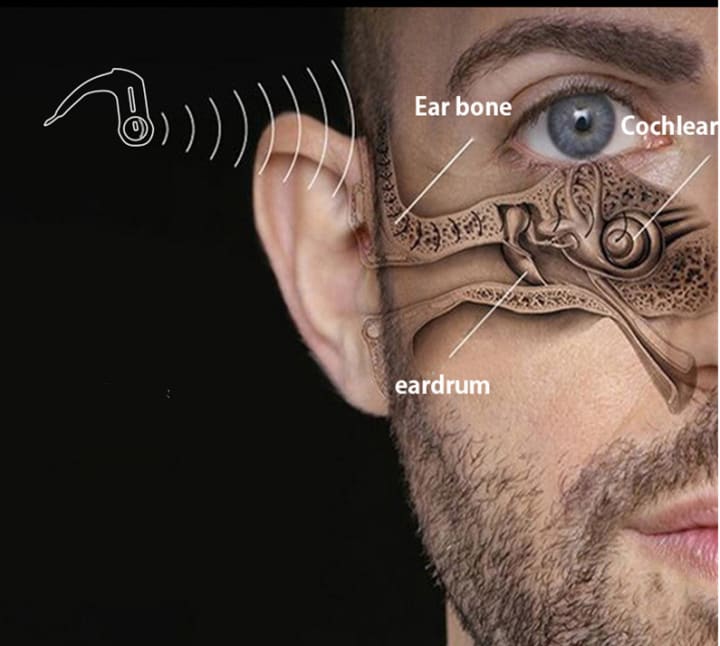 Wireless bone conduction earphones are a new application of mature technology. Its technology is widely used in the military, fire protection, hearing aids, and other fields. Daily listening to music is a newly expanded application field of bone conduction earphones. However, it is foreseeable that the field of listening to music will make wireless bone conduction earphones more popular.
Bone conduction earphones are safer than common earphones,and they have a lot of advantages, They are your best sports headphones.
However, they also have some disadvantages, such as sound leakage.
Can others hear the sound from wireless bone conduction earphones?
Under normal volume, with a social distance of more than 1 meter, it is difficult for others to hear the sound of wireless bone conduction earphones. Therefore, the privacy protection of the headphones is still good, and you can use them with confidence.
The reason why some people worry that "others will hear the sound of wireless bone conduction earphones" is mainly because the earphones generally have the problem of sound leakage. However, due to the advancement of technology, mainstream bone conduction earphone brands have solved the problem of sound leakage well. Under normal social distance, your privacy is still guaranteed.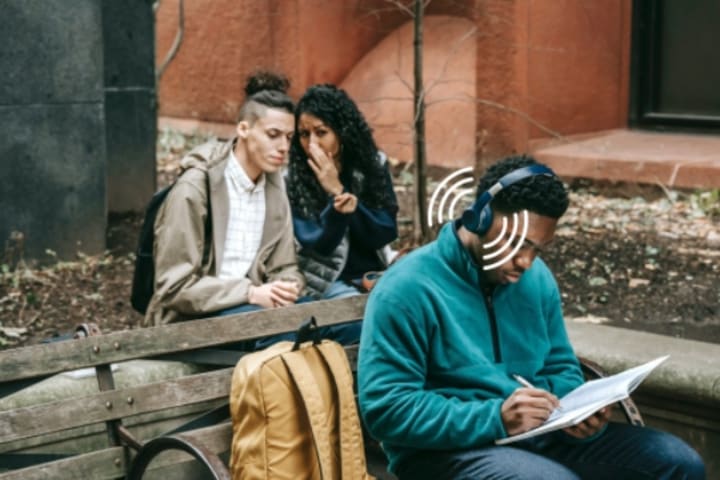 From the point of view of the principle of sound, all wireless bone conduction earphones have the problem of sound leakage. Because they rely on the vibration of the sound unit to generate vibration waves, and drive the bone to vibrate to transmit the sound to the inner ear, so that it can be heard by people. Therefore, when the headphones are working, their shells will vibrate together with the sounding unit, and the shells will drive the air to vibrate, resulting in sound leakage. For the same headphone, when the volume is higher, the sound unit vibrates more, the air vibrates more, and the problem of sound leakage will be more serious.
Excellent bone conduction earphone brands have made a lot of efforts to solve the problem of sound leakage of earphones, and mainly adopted the following methods to reduce the problem of sound leakage.
Integrated body: The headphones body is designed as an integrated body without holes, so that there is no air in the body, and the air vibration caused by the sound unit is also reduced;
Shock-absorbing design of the body: through structural optimization, the shock-absorbing function of the body is improved, and the vibration of the body caused by the vibration of the sound unit is reduced;
Inverted-phase sound wave: The anti-phase sound wave is used to cancel the sound wave of the sound leakage, thereby eliminating the sound leakage.
It should be said that their efforts have paid off. The sound leakage problem of some excellent brands of wireless bone conduction earphones has been well resolved.
Although wireless bone conduction earphones have the problem of sound leakage, it has to be said that they have several outstanding advantages: they allow you to keep your attention on the ambient sound while listening to music, which is very safe; they will not hurt your ears, can Keeping the ear canal hygienic and more.
Now that we are sure that bone conduction earphones are safe.So how to choose the most appropriate earphones? My suggestion is to choose brands with accumulated technology in this field. These brands are excellent in terms of sound quality, sound leakage reduction technology, safety, etc. Next, I will recommend some excellent earphones.
1. Wissonly Hi Runner wireless bone conduction earphones
Recommended reason:
Wissonly bone conduction vibration unit optimization technology is one of the best technical solutions in the industry, because their team has accumulated in the field of bone conduction for 10 years, which is highly respected by people in the industry in terms of product quality and hearing protection.
Once, there was a saying that the sound quality of wireless bone conduction earphones was average. However, Wissonly Hi Runner refreshes this knowledge. It is excellent in sound quality. It uses a 360-degree bone conduction vibration unit, which can increase the vibration area by 35% compared with traditional wireless bone conduction earphones. Moreover, its loss of bone conduction sound transmission is lower, making the sound more shocking and powerful.
Wissonly Hi Runner has added a number of innovative features to make wireless bone conduction earphones better integrated into many scenes in life. It supports IPX8 diving waterproof, which is very good for me who loves swimming. What's crazy is that it can still work normally under 20 meters of water! It also has 32GB of memory, so it can play music even if it is not connected to a mobile phone. I basically use it as an MP3 player, and I don't take my mobile phone for running at night. It uses the Bluetooth 5.0 chip, and outdoor activities can make the connection more stable.
In terms of appearance, Wissonly Hi Runner adopts classic black color, and its simple appearance involves matching whatever clothes you wear in any scene.
2.Philips A6606 wireless bone conduction earphones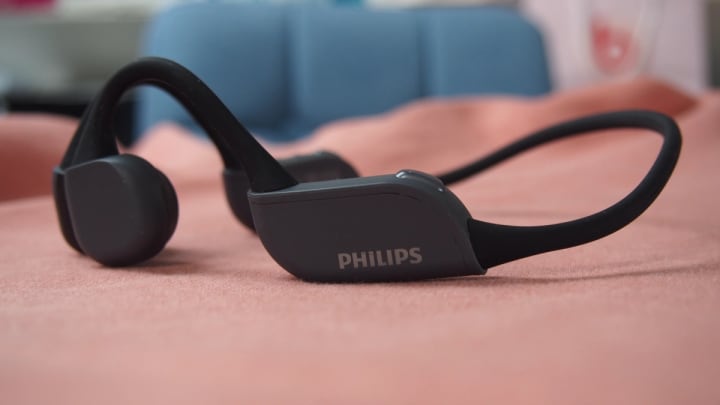 Recommended reason:
With IPX7 waterproof property, Philips A6606 can be soaked in water for a short time, and has good waterproof performance. At the same time, surprisingly, LED night run lamps are arranged at both ends of the fuselage, which can light up the rear road at night, thus ensuring its own safety factor. The unique bone conduction vibrator makes its sound quality good, and the double shrapnel structure can reduce the distortion. However, when playing high-frequency sound, there will be obvious vibration. If you can accept the vibration of medium and high frequency, it is also good.
3.AfterShokz OPENRUN PRO wireless bone conduction earphones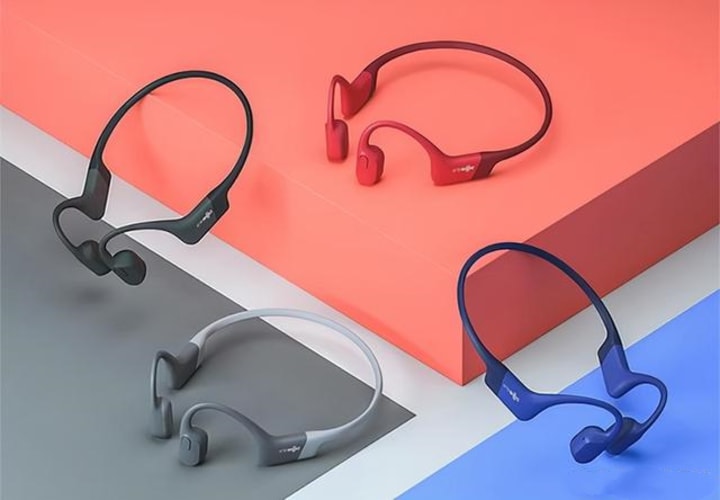 Recommended reason:
Openrun Pro wireless bone conduction earphones are worn in an ear-hanging structure with both ears. The body frame is made of titanium alloy, which makes the weight of the headphones very light, only 26g, and there is no sense of weight when wearing them. The body is made of soft and skin-friendly silicone material, which also makes it more comfortable to wear. As the body is integrated, this also makes Openrun Pro inherently has a good waterproof performance. Its waterproof rating reaches IP67, and there is no problem in sweating and getting wet in the rain. However, it is not professional waterproof after all. Therefore, it can't be used when swimming.
4.earsopen SS900 wireless bone conduction earphones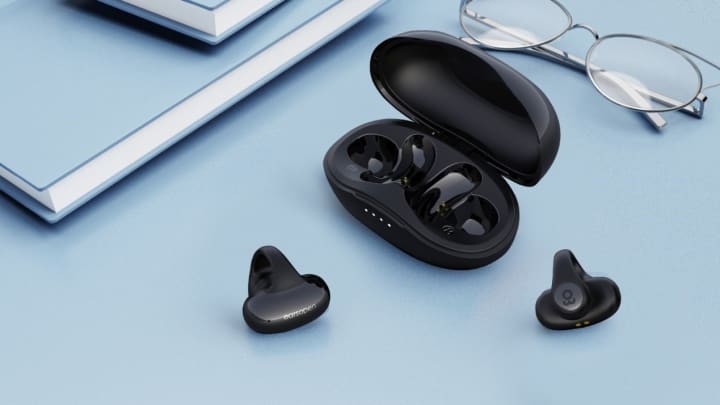 Recommended reason:
It adopts the 5.2 Bluetooth protocol, which can start automatic connection when the charging compartment cover is opened. It is low latency during use, and the anti-interference ability is also strengthened. In terms of sound quality, BoCo's miniature bone conduction vibrator is adopted, which has good performance at low frequencies, but which has harsh noise and serious sound leakage at high frequencies. The 8G single-earphone body is basically comfortable during the whole wearing process.
5.Haylou PurFree wireless bone conduction earphones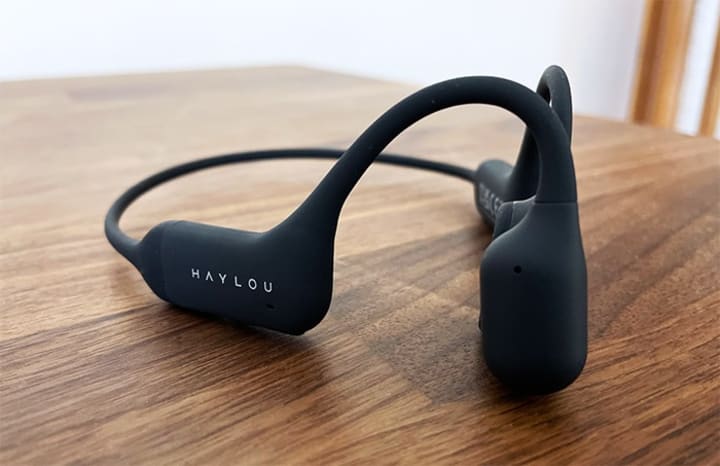 Recommended reason:
Haylou PurFree performs well overall, the headphone is only weighs 28g, there is almost no weight sense to wear. And the surface of the headphones is made of soft materials, and the wearing comfort is good. In terms of sound quality, it is also equipped with directional audio directional technology. It is a technology that allows the timbre to be concentrated and dive deeper at low frequencies, so that the rhythm of the song will be stronger. The battery life is good, and it lasts for 8 hours of music playback.
The waterproof grade is not high, and there is no built-in storage, which may be its disadvantage.
Among the several bone conduction earphones recommended above, my favorites are Wissonly and Philips. Philips is a famous brand. The quality of its products is good, but the cost performance is poor. Wissonly is a fast-growing brand created by senior engineers. Their team has more than 10 years of technology accumulation in this field,their products are well configured and cost-effective.
Comment