Earbuds for workout:Bose soundsport free earbuds review
Oct 30,2023 | David
Bose soundsport free earbuds's charging box adopts a solid color design, and the headphones have three color matching styles to choose from. The single earphone of this earphone is only 9 grams, and this compact appearance will not make you feel any discomfort during exercise. This headset is designed with shark fins for the sports crowd, so you don't have to worry about the headset falling off accidentally when you are doing strenuous workouts.So, is this earbuds good? This article sorts out some real user reviews to help answer.
Product information: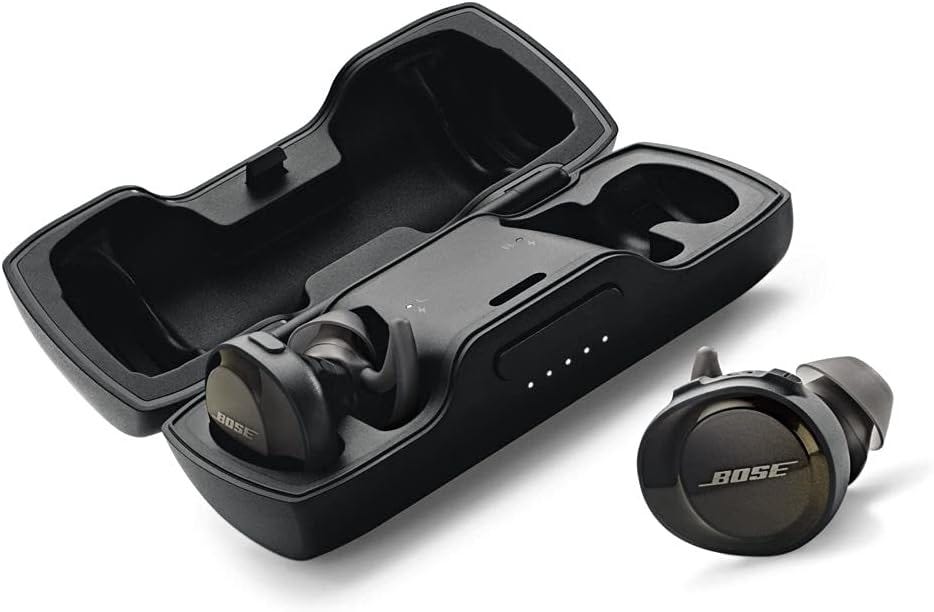 Product Dimensions:1.2 x 1 x 1.25 inches
Item Weight:0.317 ounces
Fit Type:In-Ear
Sweat & Weather Resistant:IPX4
ASIN:B0748G1QLP
Item model number:774373–0010
Batteries:1 LR44 batteries required. (included)
Manufacturer:Bose Corporation
Charging Time:2 Hour
Item Weight:9 Grams
Units:1.0 Count
Number Of Items:1
Bose soundsport free earbuds review from users:
Product name:soundsport free Price: $229.99
Rating: 4.3 Where to buy: Amazon or official website.
User review 1:
User:K. Maheriya Nation:United States
"I like that these headphones fit snugly on the ear and I don't fear that they would fall out. Great for using during a workout. Sound quality is great, especially the bass. As many reviewers have pointed out, bass cannot be compared to larger over-the-ear headphones; however, for smaller earbuds style pieces, these provide good bass without sounding too bloated. This is one place where I can tolerate Bose's psychoacoustics.
What I didn't like:
1) I would have liked more "in-the-ear" style fit of the earbuds tips. I also don't like the oval shape of the tips: with other earbuds I could twist the tip enough to get a good seal with the ear canal. These headphones don't make complete seal and as a result sound quality is not consistent (depends on the seal each time you use it). I end up adjusting it often to check if I can get better sound.
2) BT drop: as many reviewers have noticed, Bluetooth dropouts do happen if the cellphone is not close enough; especially if there is a wall between the headphones and the cellphone. It is not a big issue since I keep the cellphone around while using them, but it is annoying when it does happen.
Overall, I really like these headphones."
User review 2:
User:One time customer Nation:United States
"I had planned on using these for a 2 week trip, but I had to quit using them because they hurt my ears so much. The smaller size ear tip wouldn't reliably hold it in my ear, so that's not an option. After an hour of use the earbud tips were causing so much discomfort in my ears that I went back to using my QC-25's.
Since I can't return them now I'll have to find someone to give 'em to because I sure can't use 'em. Maybe my wife since I haven't gotten her that pair yet.
Original review immediately after buying the Bose earbuds -
Head and shoulders above the other earbuds I've tried. So is the price, but they deliver on every penny you shell out.
Easy to insert, stay in nicely, very comfortable to wear, and they produce the expected Bose sound quality. In a quiet room — not an airplane — these sound every bit as good as my Bose QC 25 over-the-ear headphones. I haven't tested the noise cancellation, so I can't comment on that. And not being a workout-aholic I can't comment on the moisture wicking aspects either.
THE ONLY PROBLEM WITH THESE IS … the price!. HATE the price, but love the product — so much so I'm getting my wife a set!
Full disclosure … I received absolutely NOTHING for this purchase and review and I don't own any shares in Bose."
User review 3:
User:Alicia Nation:United States
"The battery stopped holding a charge after 8 months. I thought they would be a good replacement for my $35 over the ear headphones, but i was wrong. I rarely found a good use for them other than the small size for traveling. I charged them in preparation for a 4 hr plane ride and they let me down with a dead battery. The app interface doesn't add value other than being required to pair up with a phone. It was hard to tell if they were "in" so as to not fall out without a mirror. Writing this out makes me realize why they had such little use to start with. I was really excited to splurge on Bose brand… only to be disappointed."
User review 4:
User:Gabe Nation:United States
"Soundsport Free. Key word "SPORT." I bought these because I read that these do not have passive noise cancelling ear tips. This is why:
1) Those who go jogging or bike riding know that noise cancellation is not so recommended. You need to be aware of surroundings and any potential situation going on around you.
2) Because these sit on your ears comfortably, not necessarily IN your ear canals, you don't run into the common issue where your sweat breaks the seal of ear buds that go IN your ear canal. When you sweat with passive noise cancelling earbuds, the sound is terrible when the seal breaks and the earbuds slip out. That's not an issue with Soundsport Free earbuds.
3) Earphones that go IN your ear canal give you that "thumping" noise where you hear every step you take when you go jogging. It's annoying and they really don't have a place in workout earphones. These Soundsport Frees don't give you that problem.
I bought these in Oct. 2018, and I have the latest firmware updates. I have not had any bluetooth connectivity issues at all. Zero issues at all.
Audio quality is great. Best I've ever heard on any earphones, and I have the B&O Play H3 and an assortment of Sony earphones.
Summary: If you want something that is pick-up-and-go, solidly built, great sounding, "let's focus on our workout" earphones, these are it."
User review 5:
User:Alan R. Nation:United States
"I purchased these headphones to replace the older wireless bose headphones with the cord that ran between the two buds. I have to say they are pretty awesome!
The sound quality is even better than the older version ones. I have tried other brands of wireless headphones like these and there is no comparison in the sound department.
The buds fit snuggly in your ears. There is absolutely no chance they will fall out of your ears. I even turned my head towards the ground and shook my head very quickly. They didn't budge.
The charging case is sweet. It has lights on the outside of the case indicating how much of charge it has. And it holds more than one full charge.
Through the bose connect app you can use find my buds. It is just like find my iPhone. You can even make each bud individually beep from the app in case you misplace them.
My old version ones lost the piece on the side of the buds that said bose on them. The new ones don't have that piece that could pop off. It was just cosmetic but still annoying.
Overall these headphones are well worth the money and I highly recommend them. You won't be disappointed. And the small fee for the warranty is totally worth it. I normally don't purchase warranties either."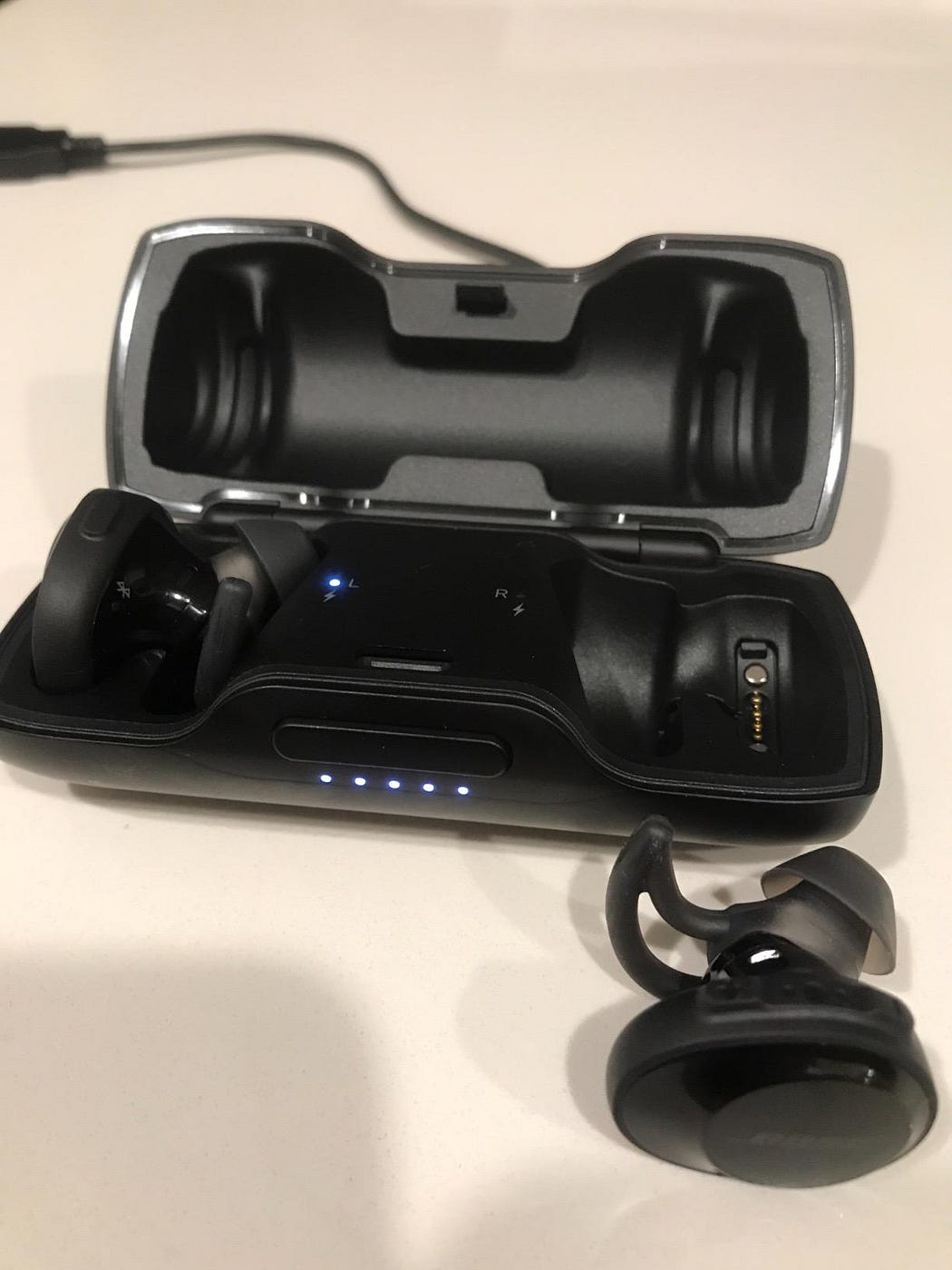 User review 6:
User:LJ Nation:United States
"I got this instead of apple airpods and am very happy with it. I saw some reviews about connection quality so I was worried, but I have so far had zero issues. I believe if there were issues they were fixed by a firmware update that I was prompted to download the first time I turned them on. The range is pretty good too and you can get pretty far away without experiencing a drop in connection.
I like the bose connect app that goes along with them; the ability to find a lost bud is pretty cool. The charging case is very handy and a great idea as nothing is worse then going to the gym then getting there and finding out you don't have any music. The sound quality is great, but you can still hear what is going on around you. Running outdoors with sound canceling buds is a safety issue so this is good. I had a cheap wireless pair of earbuds, and while those were still decent, the sound quality on these blows those out of the water.
They come with 3 sizes of inserts which is good since everyone has differently sized ears. With the right size these will stay inside snugly and won't fall out during a workout. They are very comfortable and they feel secure without causing any ear pain or feeling like they are tugging on your ear canal. They are a bit large, but still lightweight."
User review 7:
User:Kelsey Brennecke Nation:United States
"These headphones deliver the sound quality you expect from Bose. Packaging was beautiful. Getting the Bose app and syncing the phones to my phone was easy and intuitive. The case for the phones is sleek and charges the headphones well. I like that the case has a magnetic component so the earbuds lightly (but securely!) snap into their spots and I don't have to worry about them falling out when I open the case. The volume button on the headphones is a little delayed so changing loudness is kind of annoying.
Just like many other reviews, they definitely stick out so they look a little funny. However, I've had them about a month now and I don't really notice that anymore. I do a variety of workouts (HIIT, yoga, running, walking my dog, weights, etc.) and they have held up well to all of the movements. My only issue is that when I get really sweaty, they can get loose in my ears when they were once nice and snug so the moisture wicking capability could be better."
User review 8:
User:Micah Nation:United States
"They laugh at me. Make fun of me. Say I look like an orgre, calling me Shrek because of how much these stick out of my ears. But I cant hear them. Because these earbugs are awesome!!!"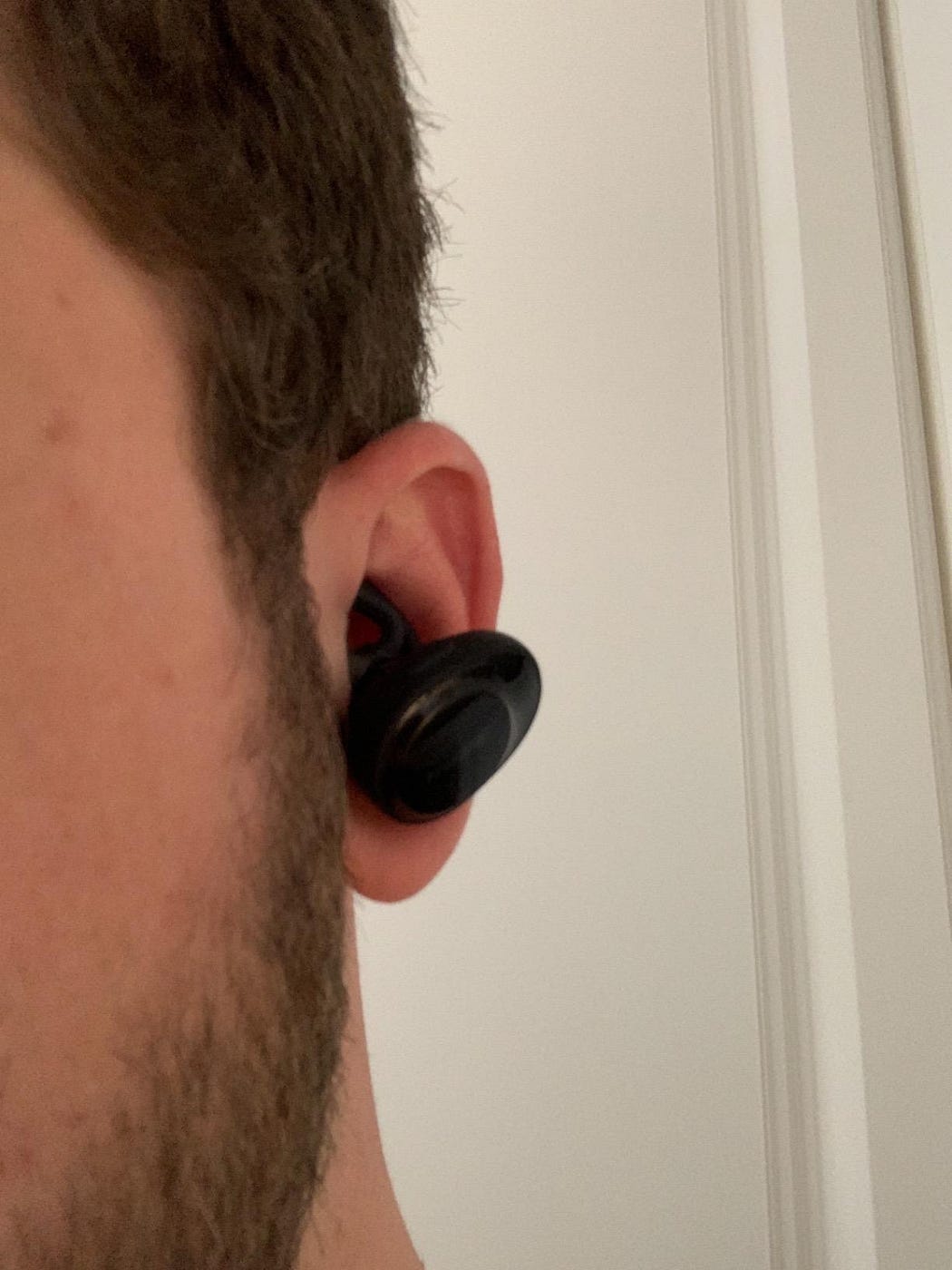 User review 9:
User:Techiedude Nation:United States
"Wow! So I wanted to spend some time with the Bose wireless headphones before reviewing them; find the good, bad, ugly, as it were. I have seen the same issue others are reporting about the left earphone going silent. I've fixed it one of two ways: putting both of the earphones back in the charger or just pressing and holding the button on the left one to re-sync. With that said, it happens rarely, not even once a month; wouldn't even consider it worth returning them for. The sound is phe-nom-enal. Simply w.o.w. I recently ran my batteries all the way down and had to use an old wired pair and there was no comparison. I workout about two hours/day, six days a week and I only have to plug the base in at the end of the week. I forgot recently and that won't happen again lol I received a warning that the batteries were at 50%, they went for another 1hr 10m before I got a low battery warning, at which point they only lasted another five minutes. Lesson learned: charge em after 10–12hrs of usage. They aren't cheap, but they are really, really good. If your budget can afford em, I don't think you'd be disappointed."
User review 10:
User:Robert Nation:United States
"These buds sound sound great when listening to music. That's about all of the good feedback I have. I'm normally a huge Bose fan. These miss several marks.
1. Only 1 bud works on phone calls. Both buds do not work. Is not an available feature. In fact it's written in the app instructions that phone calls only use 1 bud. Why??? This is dumb.
2. No ambient noise setting. So when they are in your ears, you can not hear any noise around you. Walking your dog, afraid you'll get run over by a car? Well the good news is the music you were listening to sounded great. Be prepared to keep your head on a swivel.
3. No equalizer setting in the application. So you want right or left balance? You want more highs or lows? Too bad, you get what you get.
Before this purchase I have always be ecstatic at every Bose product I have purchased. These ear buds bust that bubble. They lowered their bar. They missed the mark. Someone fell down on the job. They are still making bank off a very old design, generation 1 headset.
The cost of these devices are significantly more expensive and they lack common features that you can get in other ear buds. I can only hope for a product update some day."
These are some real user reviews of bose soundsport free earbuds. Generally speaking, most users are satisfied with its functions. However, it is not without its shortcomings, such as its in-ear wearing way, which makes the earbuds easy to fall off and causes ear discomfort, and the price is expensive.Therefore, if you expect to find a comfortable and cost-effective workout headphone,Wissonly Hi Runner bone conduction headphone with open-ear design is recommended.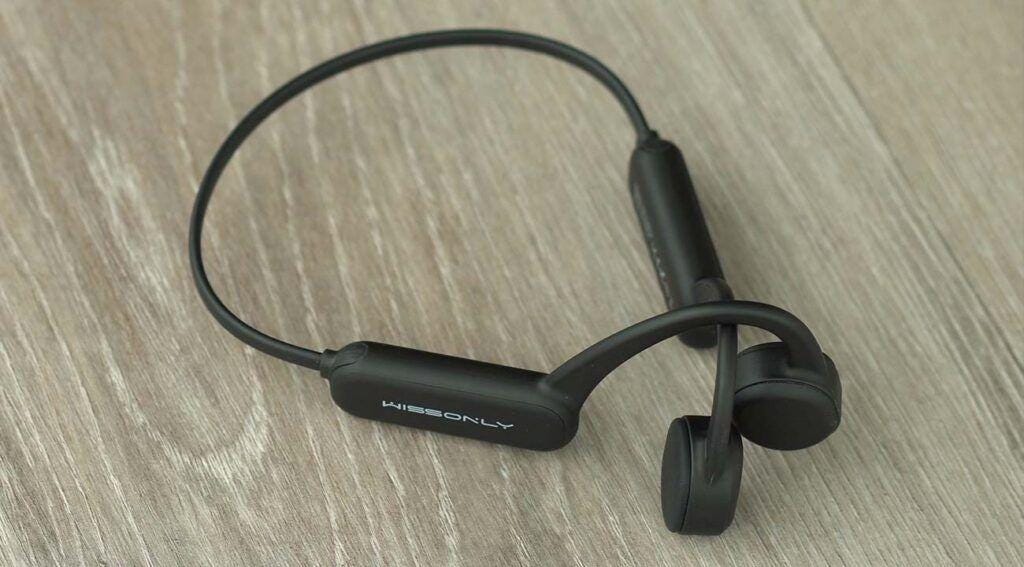 Wissonly is the brand with the best experience among sports bone conduction headphones. It excels in sound quality, comfort, and product specifications, making it a top performer in both product quality and hearing protection.
The Hi Runner Bone Conduction headphones are designed to be open-ear, sitting directly on your temples, allowing your ear canals to remain fully open. This enables you to easily hear outdoor sounds like cars and traffic lights while running or walking, ensuring a safer experience.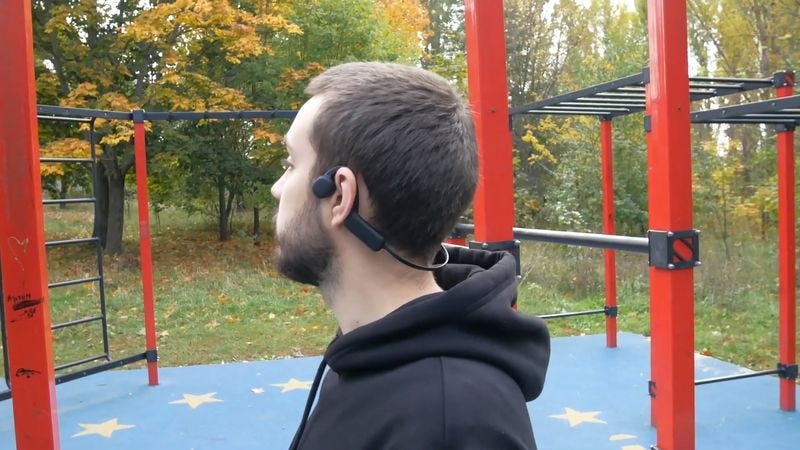 When it comes to fit and comfort, the Wissonly Hi Runner features an adjustable aerospace-grade titanium frame that can accommodate different head sizes, ensuring a stable fit. The headphone surface is made of high-tech, low-sensitivity silicone material, free from any chemical components, to avoid allergic reactions. The overall feel of the headphones is as smooth as a baby's skin, preventing discomfort during extended wear. Moreover, weighing less than 30g, they are lightweight and won't feel burdensome. As the flagship outdoor running model of Wissonly, it is currently the most comfortable and cost-effective bone conduction headphone available.
Waterproof performance becomes crucial when you sweat a lot during workouts or get caught in the rain while running outdoors. The Wissonly Hi Runner Bone Conduction headphones, as the flagship model, boasts an IPX8 waterproof rating, surpassing industry standards. This ensures they can function properly even during swimming or diving, not to mention regular sweat and splash protection.
Quipped with 32GB of internal memory, capable of storing 5000 songs, and supporting both Bluetooth and MP3 modes, you can use the Wissonly Hi Runner as a Bluetooth MP3 player for underwater running or scenarios where you don't have your phone with you.
Bone conduction headphones have greater challenges in terms of improving sound quality due to their unique technological principles. However, the Wissonly Hi Runner revolutionizes the traditional audio solution by ingeniously adopting large diaphragm vibrating units. Through structural optimization, it enhances the effective vibrating area, resulting in excellent performance in both high and low tones. Additionally, their sound leakage prevention technology is more mature, providing better sound leakage prevention compared to typical sports bone conduction headphones.
Its battery life is impressively strong, allowing for 10 hours of continuous music playback, effectively compensating for the drawbacks of wireless headphones.
As for the price, the Wissonly Hi Runner is only $99.99, making it truly cost-effective, as other brands offering similarly performing products are generally priced at $150 or higher.
Comment