Do Bone Conduction Headphones Leak Sound and Are They Safe?
Jan 11,2023 | Sylvia
In recent years, you may find that more and more people around you are wearing a kind of earphone clipped to the edge of the temple. Most of these headphones are bone conduction headphones.
Bone conduction headphones are sound transmission devices that transmits sound through the vibration of the skull so that people can perceive speech.
In physics, sound can be transmitted through solids, air, and liquids as media. Traditional earphones transmit sound through the air, while bone conduction headphones transmit sound through the solid of the skull.
Bone conduction device include conduction speaker and bone conduction microphone:
(1)Bone conduction speakers are used to listen to the sound.
(2)The bone conduction microphone is used to collect sound.
Do bone conduction headphones leak sound?
Bone conduction headphones will leak sound, but now some mature brands have found a solution to the problem of sound leakage, such as wissonly and Aftershokz have done a good job in reducing sound leakage.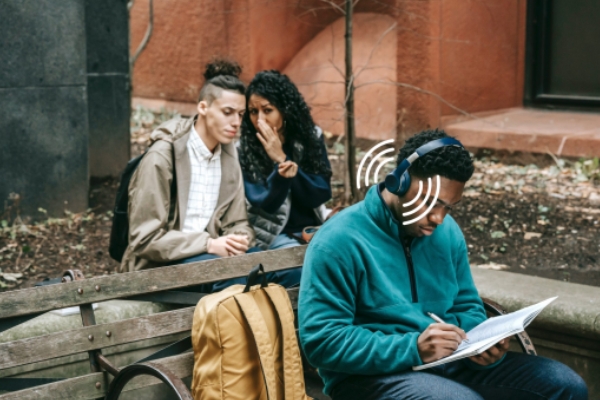 The sound leakage problem of bone conduction headphones is mainly due to the fact that they convert sound into mechanical vibration through the sound unit, and vibrate the bone to transmit sound. When the headphone is working, the shell of the headphone will be vibrated together by the sound unit, and the shell will vibrate the surrounding air, so sound leakage will occur. In other words, the shell of the bone conduction headphone becomes the "amplified speaker" of the headphone, spreading the sound to the surroundings.
From the principle of the sound leakage phenomenon, we can easily see that all bone conduction headphones have sound leakage problems. Those headphones that claim to have no sound leakage at all are basically fake.
It's just that some bone conduction headphones may have made more efforts to reduce sound leakage. For example, some headphones use anti-phase sound waves to offset the sound waves of sound leakage, or through the integrated design of the body without holes, reduce the air vibration caused by the vibration unit, thereby reducing sound leakage. There are also some brands that optimize the structural design and increase the shock absorption function of the body to reduce sound leakage. It should be said that with the efforts of the entire industry, the sound leakage of bone conduction headphones has also been greatly improved.
Although bone conduction headphones have the problem of sound leakage, it has to be said that they have several outstanding advantages.They are safe,health,hygienic and comfortable.
Safer: Wear them without blocking your ears, which allows you to maintain awareness of your surroundings and make outdoor sports safer;
Healthier: They use bones to transmit sound and do not need to use the eardrum, which avoids damage to the eardrum and can protect hearing well;
More hygienic: bone conduction headphones do not need to be worn in the ear, even if worn for a long time, they can keep the ear canal clean and avoid the growth of bacteria;
More comfortable: They are very light, there is no feeling of weight when wearing them, and the wearing comfort is very high.
The advantages are determined by their working methods,next, let's understand how they work.
How do bone conduction headphones work?
When it comes to the working principle of bone conduction headphones, you must first understand the "essence of sound". Simply put, the sounds we hear every day are vibrations in the air. For example, have you ever seen a scene of "loud high-pitched sound shatters a glass window"on TV? This phenomenon is caused by the treble that transmits strong air vibrations to the glass window, causing the glass window to resonate.
We hear sound as vibrations in the air. Sound travels through the ear canal to the eardrum, then through a spiral organ called the cochlea to the brain, where it is finally perceived by us. While standard headphones that fit into the ear canal use this "standard" path to transmit air vibrations to the brain, bone conduction headphones work quite differently.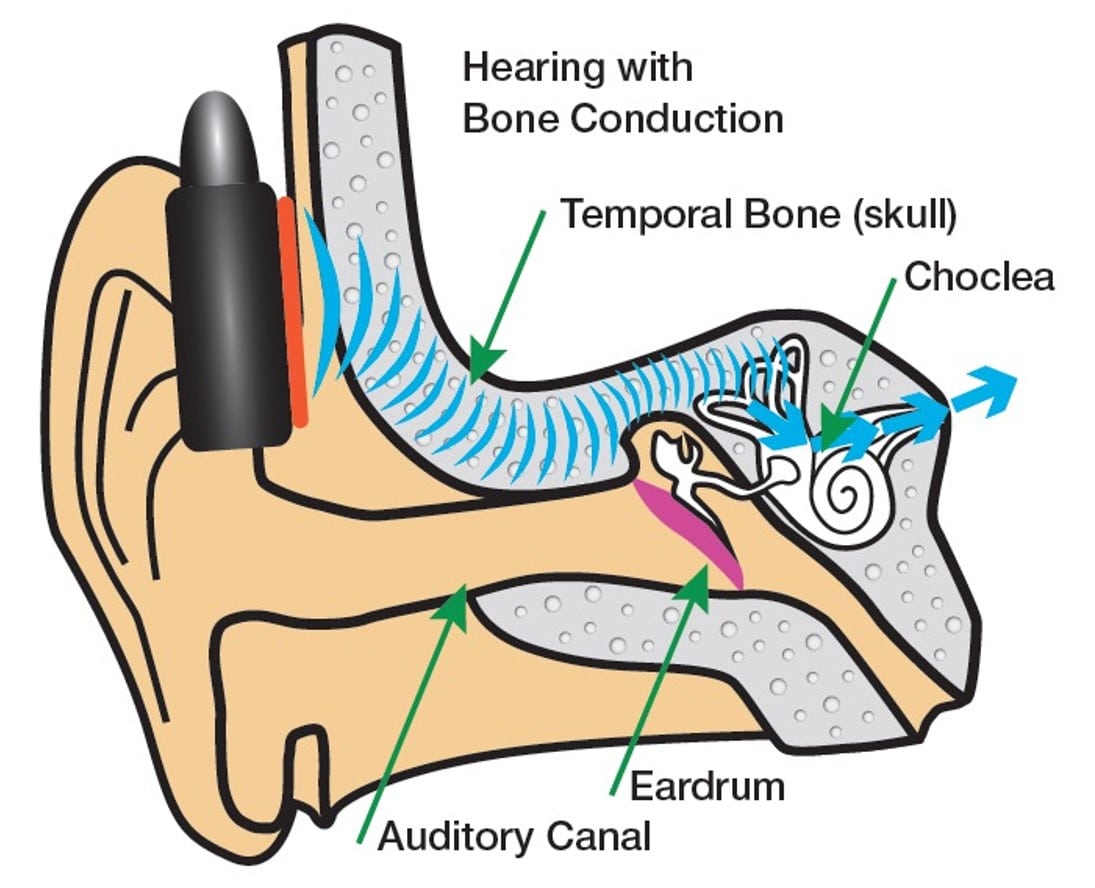 The sound transmission path of common headphones: sound source vibration → external auditory canal → eardrum → cochlea → brain
The sound transmission path of bone conduction headphones: sound source vibration → skull → cochlea → brain
So, with bone conduction headphones, you can enjoy music without ear canals or eardrums. Bone conduction headphones do not need to be plugged into the ear canal when worn, which will cause less damage to the eardrum and better hygiene for the ear canal, so they are the safest and healthiest headphones.
Here are some excellent bone conduction headphones,Among them, wissonly and aftershokz are the two brands I use most.
1. Wissonly Hi Runner bone conduction headphones
Recommended reason
Wissonly bone conduction headphones is the first brand I came into contact with. I first found it on the crowdfunding website. Later, I bought it after seeing many people's recommendations in some online running forums. After my long-term comparative test, the overall function of this Hi Runner model product is very powerful, which greatly exceeds my expectations.
Their team is one of the best talents in the field of bone conduction. The product director was once the core engineer of a first-line brand, and has accumulated 10 years' experience in the field of bone conduction technology. Wisonly Hi Runner increases the vibration area of the sound source vibrator by 35% through excellent structural design, which makes the music feel more spatial and immersive. It is also excellent in sound leakage reduction. The fully wrapped design reduces the vibration of the shell, and the structural optimization makes the sound leakage wave be offset, thus avoiding 90% sound leakage, which is much better than the bone conduction headphones of the same price on the market.
The fully-enclosed design of Wissonly Hirunner bone conduction headphones makes its waterproof grade to IPX8, which means that you can wear it for bathing, swimming and even diving within 20 meters. Even better, the Hi Runner headphones has a built-in storage of 32GB, which can store 5,000 songs. It can still be used without the mobile phone. It supports both MP3 mode and Bluetooth mode. It is equipped with Bluetooth 5.0 chip, which makes it superior to most bone conduction headphones in transmission distance, connection stability and power consumption.
2.Philips 7607 bone conduction headphones

Recommended reason
Its sounding unit adopt a large-size vibrator of 17mm, which makes it have the effect of high, medium and low triple-frequency balance in sound quality performance. The low-frequency dive is sufficient, the medium and high frequencies are clear and not harsh, but there will be some missing sounds. It is also equipped with an intimate LED night run lamp at the rear end of the body, which can turn on the LED by turning on the key three times in a row. It also has three modes, which is suitable for wearing at night, so that people around it can perceive their own position and ensure their own safety factor to a certain extent.Its IPX6 waterproof rating is not afraid of sweat in daily wear.
3.AfterShokz OPENRUN PRO bone conduction headphones

Recommended reason
Openrun Pro bone conduction headphones with ergonomic ear-sticking design, which is worn by hanging ears, it have a light body, so they are comfortable and stable to wear. It supports IP67 waterproof, adopts magnetic contact to avoid water seepage for charging, and in order to be waterproof, it is coated with antioxidant nano-coating to isolate water vapor on the chip. Normal sweat and ordinary washing are no problem, even in the rain for a short time is ok, but it can't be used for swimming.
4.Earsopen peace tw-1 bone conduction headphones

Recommended reason
PEACE TW-1 bone conduction headphones have a small and exquisite appearance. The surface is made of high-grade soft silicone material, and the weight is only 9g. You only need to hang them on the ear like earrings, they are more comfortable to wear and will not cause allergies. At the same time, they also have IP67 waterproof grade, and direct rinsing after exercise is not a problem, but they are not suitable for swimming. The sound quality and anti-sound-leakage performance are not bad, and the daily sports use can be satisfied.
The disadvantage is the clip-on wearing method, and wearing it for a long time may cause discomfort.
5.Haylou PurFree bone conduction headphones

Recommended reason
Its body surface is made of silicone material, which is very comfortable. The small size body is its relatively big advantage, which makes it light and without a sense of weight while wearing. The sound quality is good in the field bone conduction headphones, of course, it cannot be compared with traditional noise-canceling headphones. The battery life is good, you can listen to music for 8 hours, and it also supports fast charging.
In terms of waterproof feature, its waterproof grade reaches IP67, daily sweating, short-term rain, or washing are all no problem to it, but it cannot be used in swimming.
Comment