Bone conduction headphone:shokz opencomm uc review
Sep 13,2023 | David
Bone conduction headphones can liberate both ears outdoors, and can also hear internal and external sounds. For consumers who need business purposes, Shokz's OpenComm uc is a suitable product.So is Shokz opencomm uc worth buying? There are many review articles from third parties or brands on the Internet, which are reviewed from a professional perspective. In this article, we will change the angle: sorting out the real review of users.
Basic information of shokz opencomm uc: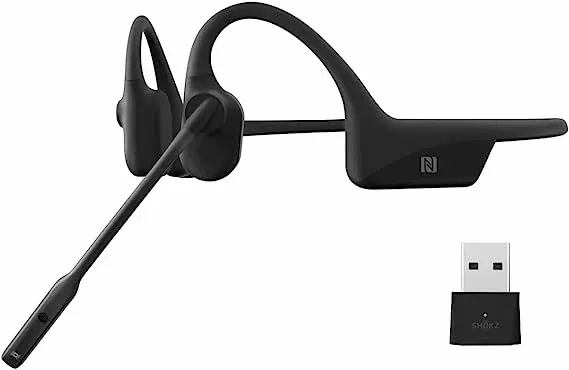 Product Dimensions:5.31 x 2.7 x 6.65 inches
Item Weight:1.16ounces
ASIN:B09F572Q69
Item model number:C102
Batteries:1 Lithium Polymer batteries required.(included)
Charging Time:1 Hour
Fast Charging:No
Item Weight:33 Grams
Units:1.0 Count
Number Of ltems:1
Manufacturer:Shokz Limited Corporation
Shokz opencomm uc bone conduction headphone review from users:
Product name: shokz opencomm uc Price: $199.95
Rating: 4.4 Where to buy: Amazon or official website
User review 1:
User:Dawn D. Nation:United States
"I love these for almost every situation: calls, audiobooks, music, zoom calls. It was not ok on an airplane! I was so excited to try out these on the airplane: when my ears got clogged I would still get to hear! But no. The environment needs to be quiet for you to hear. Otherwise, loved it!"
User review 2:
User:Lord Happy Nation:United States
"I've tried any number of android-centric buds and headsets and all failed because of the sound quality reported by the folks who I was calling. These are spectacular for use in cars and office, or any other place where you don't have a lot of outside surrounding noise. They are not good for planes, trains or loud external environments. They are comfortable and after you get used to the slight pressure on the temples, can be worn for hours. The battery life has been as-advertised. I get 10-12 hours of non-stop, and I mean non-stop, use out of a charge, or two workdays if its more generalized use. I bought a set for the office and one that goes around with me because I sometimes leave things elsewhere and it was just better to have the 2nd set."
User review 3:
User:MichiganFan Nation:United States
"In my opinion, either you will like or dislike the Shokz bone conduction wireless headphone. For me it takes too much time to adjust to wearing them. They feel weird listening to a phone conversation and hearing the noise in my environment at the same time. I normally hear traditional wired or wireless headsets for work and pleasure.
I used the headset on my pc and phone. I used Zoom, played a few games and held a few business calls.
The sound is clear, but the volume for me was too low. People could hear me while I tested the headset. I couldn't get the volume up loud enough. Which was frustrating for me. It takes some time to get used to the bone conduction. It felt weird to me. I've come to the conclusion that they aren't for me.
With that being said there are many things to like:
They are lightweight
The boom can be moved up/down as needed
The headset was comfortable on my head
You definitely can hear your surroundings
You can use/connect to 2 devices at the same time (phone and pc)
Finally, the notice canceling feature needs improvement and music doesn't good when wearing compared to other headsets I've tried.
I would suggest someone new to bone conduction headsets try* them first. If this type of headset is familiar to you, give it a try too."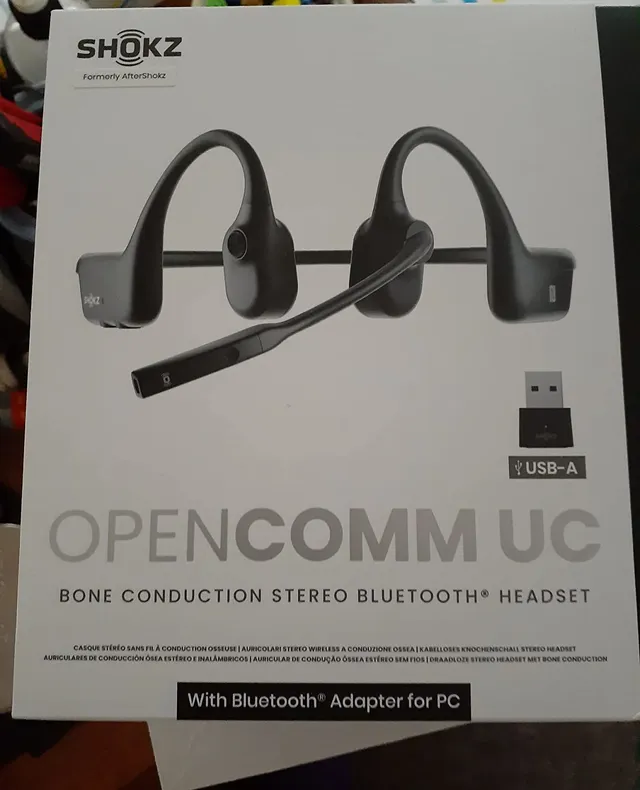 User review 4:
User:MJ Nation:United States
"I was really excited to buy these. My roommate has a pair and I had the opportunity to sample them before buying. I bought them for and had them delivered on my birthday. I unboxed them, charged them and tried them for a few continuous hours. Returned them the next day. Why?
Sound quality is subpar to most headsets less than half the price.
They highlight the idea you can hear both the surroundings AND the headset. Not really. Either you have to turn them up so loud you can't hear anything else or turn them down and not hear headset clearly.
No embedded mute. - This, above all was my main reason for returning the headset. For a unit priced at $199 you'd expect feature you can get in a $20 headset. I can't see a reason why this functionality can't be added or hasn't. It's a big pain to have to return to PC or device to mute yourself during a dynamic group conversation.
The USB connected they charge $40 for is Bluetooth as well. Which means it's limited by the same tech as embedded PC or Device Bluetooth. Again, a far less expensive wireless headset works much better and has much better distance.
The other two headsets I own are a Steelseries ($350) and Corsair ($80). Both outperform this headset by far. Both use 900mhz USB dongle vs. the BT tech. Which is far superior for distance use.
Lastly, there are many "knockoffs" that are significantly less expensive and just as good."
User review 5:
User:Lauren Nation:United States
"I can't wear earbuds or ear phones, so I had was very excited to get my Shokz bone conduction headphone. They worked great, but when I tried to use them for Teams at work, I had the horrible beeping when on mute. I tried everything with that pair, but nothing worked. So, based the reviews I read, it looked like this pair of Shokz had solved the beeping problem. I'm happy to report NO BEEPING WHEN ON MUTE!! Thank you Shokz!"
User review 6:
User:Kindle Customer Nation:United States
"Took a few days to adjust to these. Weird itching at first that went away. Some folk' voices tickle! With base you feel the vibration. But these are great for all day use. I never use my over ear headphones and don't like when I use my earbuds now"
User review 7:
User:Thierry【ツ】 Nation:France
"Wearing hearing aids and not being able to get them to work with my office landline phone, I tested and adopted this headset.
Good hearing, top mic.
✔ The +
can be worn at the same time as hearing aids

very good battery life

can be worn with glasses, but the thinner the legs are and closer to the head, the more comfortable wearing the headphones is

very good microphone sound except in noisy environments
❌ The -
Hoping to have enlightened you on whether or not to choose this purchase."
User review 8:
User:JG Nation:United States
"Absolutely LOVE these! I have been looking for a great quality WFH headset and these fit the bill! Super lightweight, doesn't hurt my head! They charge quickly and really cancel noise! And I can hear what's going on around me! My husband says I talk loud with headsets because I can't hear myself but these are different! Highly worth the money! I spent hundreds and hundreds of dollars on headsets and I finally found the ones I love!"
User review 9:
User:Mike Wilson Nation:United States
"Works great and easy to use.
Not too keen on the tickling that occurs when louder noises occur but have gotten used to it.
It has improved my online conference calls and phone interactions."
User review 10:
User:PB Nation:United Kingdom
"Very good with iPhone. Light, comfortable, good sound. But though it pairs with Intel iMac (I bought the dearer version with special Bluetooth dongle) it doesn't work, doesn't show up in sound prefs etc, and Shokz has ignored the details of my emails to their support desk. Is it good as a phone headset? Very good. As a computer headset for Intel iMac? Rubbish. Would I buy it or anything of theirs again? No."
Judging from the above user review of Opencomm uc, it is a very good and practical earphone for business people. But its shortcomings are also obvious, such as too expensive, too bulky and not suitable for other scenes. Therefore, if you expect to find a bone conduction earphone that is suitable for a variety of scenes and cost-effective, the Wissonly Hi Runner bone conduction headphone is highly recommended.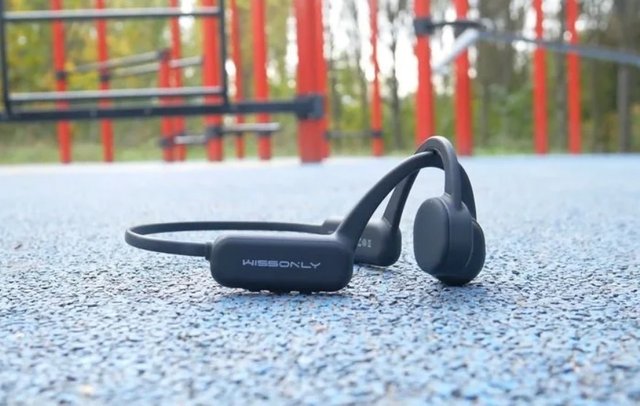 Wissonly is the brand with the best experience among bone conduction headphones. It excels in sound quality, comfort, and product specifications, making it a top performer in both product quality and cost effectiveness.
When it comes to fit and comfort, the Wissonly Hi Runner features an adjustable aerospace-grade titanium frame that can accommodate different head sizes, ensuring a stable fit. The headphone surface is made of high-tech, low-sensitivity silicone material, free from any chemical components, to avoid allergic reactions. The overall feel of the headphones is as smooth as a baby's skin, preventing discomfort during extended wear. Moreover, weighing less than 30g, they are lightweight and won't feel burdensome. As the flagship outdoor running model of Wissonly, it is currently the most comfortable and cost-effective bone conduction headphone available.
When you sweat a lot while wearing your headphones or it suddenly rains when you are outside, then the waterproof performance of the headphones becomes crucialThe Wissonly Hi Runner Bone Conduction headphones, as the flagship model, boasts an IPX8 waterproof rating, surpassing industry standards. This ensures they can function properly even during swimming or diving, not to mention ordinary sweatproof and waterproof.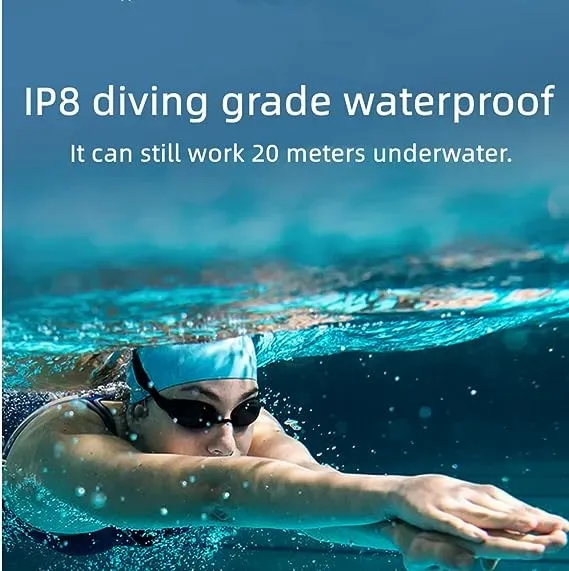 Its built-in microphone is especially recommended for business people who need frequent calls and daily use.Generally speaking, this kind of bone conduction earphone is not only suitable for use in exercise, but also suitable for use in daily life and work.
It also equipped with 32GB of built-in storage, capable of storing 5000 songs, and supporting both Bluetooth and MP3 modes, you can use the Wissonly Hi Runner as a Bluetooth MP3 player for underwater running or scenarios where you don't have your phone with you.It has a long battery life, can play 10 hours of music continuously and supports magnetic fast charging, effectively making up for the shortcomings of wireless headphones.
Bone conduction headphones have greater challenges in terms of improving sound quality due to their unique technological principles. However, the Wissonly Hi Runner revolutionizes the traditional audio solution by ingeniously adopting large diaphragm vibrating units. Through structural optimization, it enhances the effective vibrating area, resulting in excellent performance in both high and low tones. Additionally, their sound leakage prevention technology is more mature, providing better sound leakage prevention compared to typical sports bone conduction headphones.
Comment