Best workout earbuds:Bose Sound Sport wireless eadbuds review
Oct 30,2023 | David
Bose Sound Sport wireless earbuds have dual connections of Bluetooth and NFC, and has a built-in talking microphone. It is equipped with shark fin silicone earmuffs, has waterproof and sweat-resistant functions, beautiful appearance and other practical skills, so that workouts are not constrained, so it is very popular among people who love sports.There are many review articles about it on the Internet, but most of them are from a third-party perspective. In this article, some real user reviews of Bose Sound Sport wireless earbuds are collected to help people who want to know"How does this earbud perform in all aspects" to further analysis it.
Product parameter:
Product Dimensions:6 x 8 x 2 inches
Item Weight:4.8 ounces
Form Factor:In Ear
ASIN:B079NBHFJD
Item model number:761529-0020-cr
Batteries:1 Lithium Ion batteries required.
Manufacturer:Bose Corporation
Item Weight:0.3 Pounds
Units:1.0 Count
Number Of Items:1
Bose soundsport wireless earbuds review from users:

Product name: bose soundsport Price: $114.49
Rating: 4.0 Where to buy: Amazon or official website.
User review 1:
User:Lynch2810 Nation:United States
"I bought these after trying some Beats that were on sale around the holidays. The beats had a terrible sound to them and hurt my hears after wearing for less than a few minutes. These are very comfortable and don't disappoint as a Bose product. I use them with an Apple Watch and they work well. I really enjoy the Bose app to listen to music and my favorite stations. I would recommend getting the battery charging case If you keep these in your gym bag to keep them charged up but as is I get about 10+ days of working out before needing to charge."
User review 2:
User:Rey808 Nation:United States
"I've used the original wired soundsports for years and loved it; they stayed in the ear great and sounded good. I'd say these soundsports wireless has more bass to them, so if you like bass, these are for you. I would say that they don't stay put as good as the wired soundsports; they start sliding out slightly every once in a while so i would have to readjust them which i do find annoying.
As far as the battery charge, i've used it on 3 workout sessions at 1.5 hours each without having to recharge them. I do have the charging case which is kind of nice, but it's kind of a pain to charge; you gotta open the little usb cover and stick it in. Also, It's also a really hard to take the connector out of the headphones.
I don't haven't really tried any other wireless sports headphones, but i think these are great."
User review 3:
User:eriiick512 Nation:United States
"3 years later, 3 years is what these earbuds gave me and I have to say they are worth every penny. The durability is fantastic, sound quality is great for what you are paying for, they are pretty comfortable even with long usage. My only gripe with them per-se is the on/off button which you have to press down on the plastic to do so and can be a bit annoying. But overall they are wonderful! I got them as a junior in high school and they lasted me all the way until my sophomore year in college, they could've lasted even longer but I sorta messed up the controls and exposed the circuits while it was pouring. They are definitely worth rebuying again."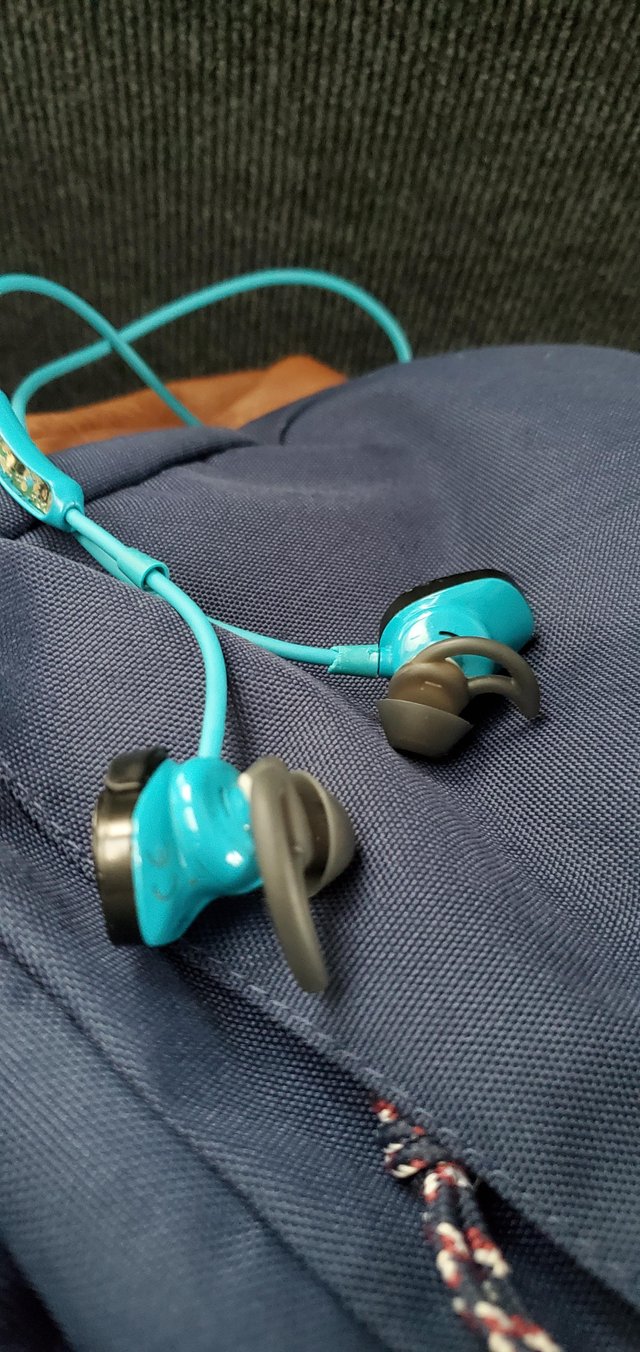 User review 4:
User:Benno Nation:United States
"Not worth the prices when it comes to sound quality and they never really fit in my ear which is annoying when I go on a jog, having to always readjust them. the pause button had a long lag to my mobile devices. Worst of all, they broke right after the short 1 year Bose warranty after everyday use. One day, they got hot while in the charger and stopped working. Pretty disappointing"
User review 5:
User:Hank Nation:United States
"The sound quality is good but don't expect to be blown away by crazy bass or anything. It fits very well and stays in place while running. The battery lasts long enough for several workout sessions between charges. My only gripe is the power button on the earpiece which is very stiff and requires a good amount of force to depress. Overall am very satisfied with this product, so much so that i bought another pair for the mrs.
User review 6:
User:Patticake. Nation:United States
"I did plenty of research and came to the conclusion that Bose soundsport wireless headphones are probably the best. The sound is great, the battery is great (as long as you shut it down after use). The only problem I had with these is that they would slip out of my left ear. Not sure if it's because my ear is weird, but whenever I bend down as if I'm stretching or doing burpees, it almost always slips out of one of my ears. It was a bummer when I was doing intense home workouts because they would always fall off. I tried all the ear piece sizes and even exchanged for a new one, but the problem remains. Other than that, these are great."
User review 7:
User:paygu Nation:United States
"I am a little picky on wireless sport headphones. I have tried Jabra, Beats, and I was anxiously awaiting Bose to come out with wireless sport headphones because I love the brand. These headphones sound amazing, the only problem I had with them is that one of the earphones would constantly fall out of my ear during my workouts and this got frustrating. I know a lot of people who have these headphones and did not experience the same problem so please keep in mind that these are by far the best sounding wireless earbuds out there today."
User review 8:
User:bryanhill Nation:United States
"The first thing you notice with these Bose SoundSport Wireless Headphones is the attention to detail when they packaged this unit. It gives off the vibe of a well engineered product. Then once you connect them with ease to your device, the sound is rich and robust. Clarity is particularly crisp when reproducing high frequencies with no such evidence of any tinny or hollow echoes. The bass reproduction does incredibly well too. I did notice the volume of these are not as high as others I have used, but the buds seal well when placed properly in your ear, and with evidence they designed them with great miniature audio drives the trade off is sufficient. It is definitely Quality over Quantity! I was hoping the app that Bose is suggesting for these would give me some ability to customize, by use of a equalizer, but it really only provides a drop dead easy connection platform and an easy way to check their battery status. Connecting conventionally through my device's Bluetooth settings was a breeze, but I guess for the novice smart phone or tablet user, the app us slightly easier.
All in all, if you are looking for a premium weather/sweat proof set of wireless headphones, then these Bose SoundSport earbuds are a worthy set."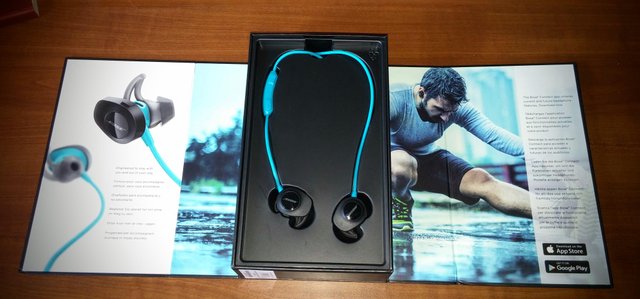 User review 9:
User:dkbmt Nation:United States
"I was using the Bose wired headphones during my workouts, and noticed the phone getting in the way when I would workout my legs. I tried using the Beats by Dre Studio wireless headphones, but found them too bulky and would cause me to sweat more over the earpieces. This was the perfect solution to both of those problems. The fact that it has an ipod/iphone control on it, makes it even better when I need to skip or pause a song."
User review 10:
User:Bill Nation:United States
"The first pair simply stopped working after 4 months and had to be replaced under warranty. The replacement pair only lasted 7 months before they had problems as well.
Sweat appears to be getting inside them, as partway into a sweaty workout, they'll start acting up. The earbuds will perceive the volume up button to be pressed when it isn't, increasing the volume to the max and causing my iPhone to repeatedly beep to indicate it's at max volume. Most of the time, I have to just stop wearing them.
Often the power button ceases to work for some time after (until they dry out.)
Don't waste your money."
From the above user review, it can be seen that most users are satisfied with Bose Sound Sport wireless eadbuds. Its overall performance is good, but the only drawback is that it is not stable and comfortable to wear,the ears will feel tired and painful after wearing it for a while.Therefore, if you expect to find a more comfortable and stable running headphone with similar performance to replace Bose Sound Sport wireless eadbuds, Wissonly Hi Runner bone conduction headphone is worth a try.
A bone conduction headphone is a headphone based on a "bone conduction" mechanism. Bone conduction is a mechanism that transmits sound to the auditory nerve through vibrations in the skull bone rather than through the eardrum.Because they transmit sound by vibrating bones, they don't need to cover the ears like regular headphones.
The Hi Runner Bone Conduction headphones are designed to be open-ear, sitting directly on your temples, allowing your ear canals to remain fully open,make you wear it for a long time and your ears will not get tired. This enables you to easily hear outdoor sounds like cars and traffic lights while running or walking, ensuring a safer experience.It is also especially recommended for those who like to listen to music at work but need to pay attention to the voice of their boss's colleagues.Therefore, this bone conduction headphone is not only suitable for you to use during sports, but also suitable for daily life.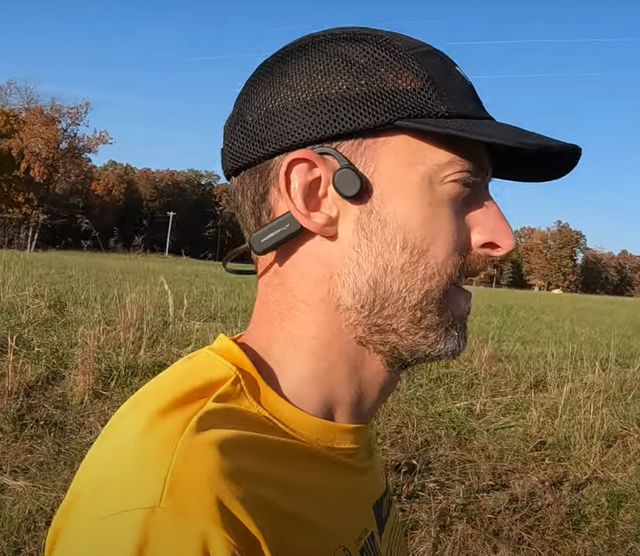 When it comes to fit and comfort, the Wissonly Hi Runner features an adjustable aerospace-grade titanium frame that can accommodate different head sizes, ensuring a stable fit. The headphone surface is made of high-tech, low-sensitivity silicone material, free from any chemical components, to avoid allergic reactions. The overall feel of the headphones is as smooth as a baby's skin, preventing discomfort during extended wear. Moreover, weighing less than 30g, they are lightweight and won't feel burdensome. As the flagship outdoor running model of Wissonly, it is currently the most comfortable and cost-effective bone conduction headphone available.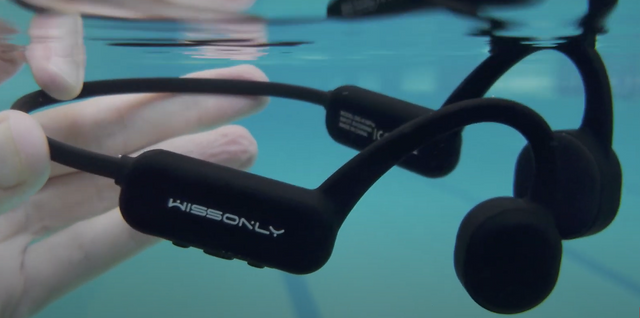 When you sweat a lot while wearing your headphones or it suddenly rains when you are outside, then the waterproof performance of the headphones becomes crucial.The Wissonly Hi Runner Bone Conduction headphones, as the flagship model, boasts an IPX8 waterproof rating, surpassing industry standards. This ensures they can function properly even during swimming or diving, not to mention ordinary sweatproof and waterproof.
It also equipped with 32GB of built-in storage, capable of storing 5000 songs, and supporting both Bluetooth and MP3 modes, you can use the Wissonly Hi Runner as a Bluetooth MP3 player for underwater running or scenarios where you don't have your phone with you.It has a long battery life, can play 10 hours of music continuously and supports magnetic fast charging, effectively making up for the shortcomings of wireless headphones.
Bone conduction headphones have greater challenges in terms of improving sound quality due to their unique technological principles. However, the Wissonly Hi Runner revolutionizes the traditional audio solution by ingeniously adopting large diaphragm vibrating units. Through structural optimization, it enhances the effective vibrating area, resulting in excellent performance in both high and low tones. Additionally, their sound leakage prevention technology is more mature, providing better sound leakage prevention compared to typical sports bone conduction headphones.
Comment