Best earbuds for the gym:Bose sport earbuds review
Oct 30,2023 | David
Bose had a moderately successful true wireless debut with the SoundSport Free, and now the heritage audio brand has set its sights on creating one of the best workout headphones out there with the Sport Earbuds.Redesigned for optimal fit and extended functionality, the Bose Sport Earbuds brings more performance to the table than their predecessor. So what is the use experience of Bose Sport Earbuds? This paper collects some real user reviews for reference.
Product information: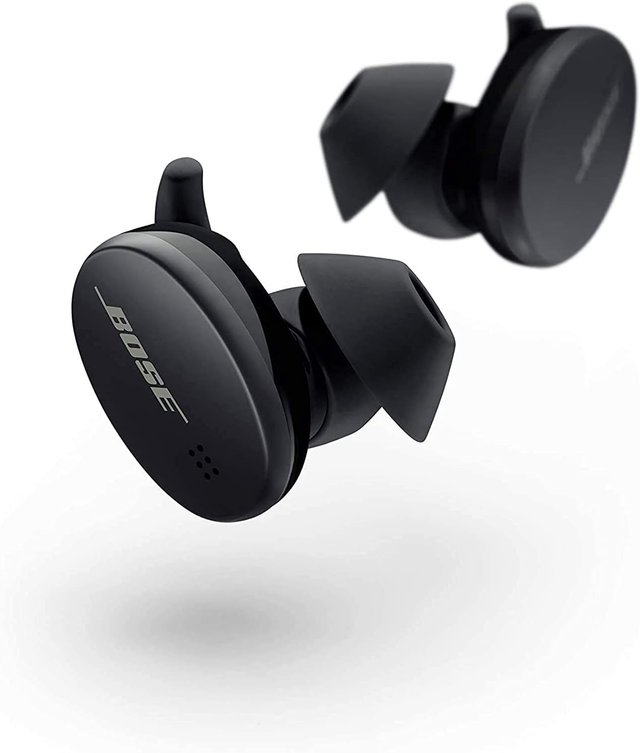 Product Dimensions:0.83 x 1.05 x 0.74 inches
Item Weight:0.3 ounces
Fit Type:In-Ear
Water Resistance Rating:IPX4
ASIN:B08CJCTG6Z
Item model number:805746-0010
Batteries:3 Lithium Ion batteries required. (included)
Battery Life:Up to 5 hours
Battery Life w/ charging case:Up to 15 hours
Manufacturer:Bose
Item Weight:0.3 Ounces
Units:1.0 Count
Number Of Items:1
Bose Sport Earbuds review from users:

Product name: Bose sport Price: $199.99
Rating: 4.3 Where to buy: Amazon or Official website.
User review 1:
User:roseofpodunk Nation:United States
"True story. So I was enjoying listening to some tunes through my Bose Sport Earbuds while painting the outside of my house, when one dropped out of my ear straight into a bucket of paint! It was fully submerged but I fished it out and immediately blasted it with the garden hose to get the paint off, then gave it a more gentle washing indoors. Shok out the water, dried with the hair dryer... and to my surprise the darn thing still works! I am impressed. I usually wear these at the gym and have little trouble keeping them in my ears through all kinds of exercise. Occasionally one will slip out if I didn't secure it well, but not often enough to be troublesome. I love these things and would definitely buy again. But luckily, I didn't need to!"
User review 2:
User:Nichele Nation:United States
"The right size keeps shorting, then after a minute it's working fine. when I put it in my ears the left size works right away, it tells me how much battery I have and then which device I'm connected to. It has a great memory and is very proactive when trying to find the device I'm using, it fits snugly in my ears, never fell out, I use it at the gym, my office, when I go to the bathroom but don't want to pause the video I'm listening to, etc"
User review 3:
User:Kindle Customer Nation:United States
"Outstanding headphones that sound great, have wonderful clear bass and won't fall out as you move around, up, down, etc., however, I've owned mine for 1 year and 3 days and the right earbud stopped working and will NOT charge any more. Of course, the warranty is a 1 year warranty! I did get the extended 3-year warranty through Asurion since this is a high priced item. I called BOSE directly and they went through troubleshooting but couldn't resolve it so they will replace the sport earbuds for free as a one time courtesy. You really can't go wrong with Bose."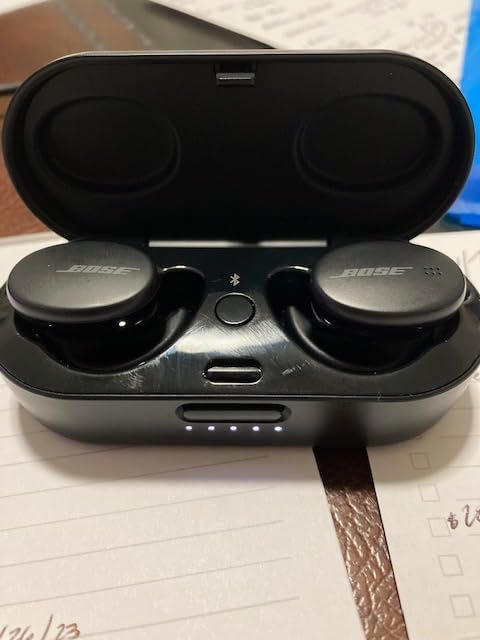 User review 4:
User:Nichog Nation:United States
"Upgraded from the old (2017) soundsport free to these. Sound and fit are immaculate. I only use these during the gym. The only drawback is the touch sensitive controls are wonky and sensitive. I use a beanie and that thing gets SOAKED. The moisture from the beanie will randomly trigger the touch controls like I'm asking for voice control constantly and it's very annoying. I haven't found out how to disable the touch controls if there is any but other than that I'm sure I'll get another solid 5 years plus of use out of these."
User review 5:
User:Traveler Nation:United States
"They worked great until they didn't. just stopped working 100% zero sound,zero everything. tried charging, reset,searched web how to try reset etc ..still zero dead no more nada.. can see white lites but no working. I rearch out to seller. will update after outcome. would like return try another pair. maybe I get a bad one? lets see...
For me Bose is best by far.. build quality,fit, quick connect, pause,start etc. I use 90% for gym never a prob with fit, never falls out. The sound is awesome. Clean, bass, high,low..Rock, disco, gym grind or acapella.
They also help block (some) of the to loud gym music most gyms have blasting. So that is also a plus. Even If just in you ears no volume I would say cuts maybe 10%?? of the gym music volume for those that like loud music while training but not so loud your ears suffer.. I have tried many brands from cheap to expensive Bose takes me to another place when I wear em. hope this helps... ps also LONG batt life just put em back in the case the recharge and good to go...maybe charge the case once a week?"
User review 6:
User:Lsmith Nation:United States
"Absolutely love these. Bought them for the gym. Stay put during the gym, have had zero problems. Sadly I lost one ear bud 2 weeks ago because it fell out of my pocket while dealing with my toddler. Found it yesterday outside after being rained on and snowed on. Charged it over night and it still works! Will stand by this product until I die. So happy to have found it. Just buy it!"
User review 7:
User:Matthew Arnold Nation:United States
"With a Bose product I was 99% certain that the sound quality would be excellent but I wasn't sure how an in- the- ear device would be as far as comfort, etc.. I have loved me experience this far!! The earbuds are comfortable and stay in the ear for the duration of my gym workout (including cardio machines). The tapping features (pause/play on right bud and customizable for skip song, volume, etc on left) is a bonus. I'm told the mic sounds great on calls. Very pleased!!!"
User review 8:
User:INxPinto Nation:United States
"I was folding laundry and then I suddenly felt something on my shoulder and I SCREAMED. I didn't hear my husband walk up to me as I was folding laundry watching a home organization video. So when he kissed my shoulder, I was absolutely startled. This thing blocks out smaller sounds which is great for audio clarity. Thankfully I can still hear louder sounds like the grating of my heater. I'm not trying to cancel out all the sounds because I do want to be aware of my surroundings just a little.
I also have small ears so it fits very comfortably, lightweights and doesn't fall out. I bought cheaper ones from Amazon and those fell out in seconds despite using the smallest sizer. It's quite an investment that I didn't really want to make but here we are. Because it works well for my needs."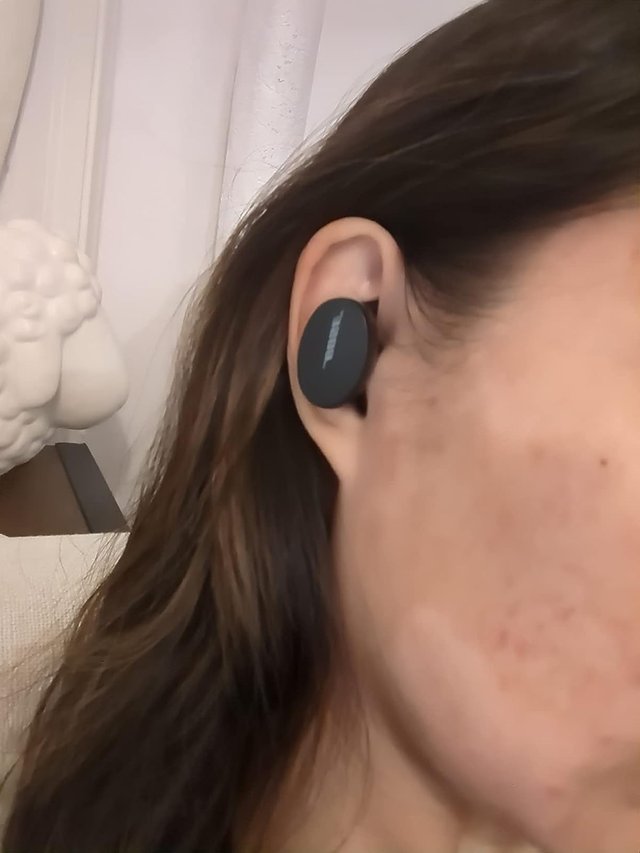 User review 9:
User:The Happy Lad Nation:United States
"Currently connected to my iPhone 11 Pro and the sound quality holds up to the name. This is my first pair of Bose headphones and it is very noticeably better than my previous $50 headphones. Listening to music feels "deeper" and more immersed. Battery life: I usually don't wear headphones all day so I decided to really test these out from 100 to 0, and they were spot on at 5 hrs. The case will quickly give it some juice, making these a great daily driver in the realm of audiophiles. There are additional buds included adjusting to different ears. Comfort fit for me so not sure about the negative reviews on here. Overall, whether in the office, in the gym, out and about, or even at home, these make a great headset for anyone who wants to lose the wires and have a great all-around experience."
User review 10:
User:Andrea Nation:United States
"I honestly really enjoy my Bose sports earbuds, however, when I'm sweaty and at the gym, the right one falls out constantly. I have tried all sizes, it still happens constantly. I also teach live yoga classes online via zoom and sometimes with too much movement, they will fall out, especially when sweaty. The other thing is if I lay down, the sound for the recipient gets really weird and that defeats the purpose of using them as Bluetooth speakers for talking or teaching online.
I enjoy them, but overall for being Sports earbuds, I think they should be able to hold up to movement and sweat way more than they do."
Through the real user review of Bose Sport Earbuds, it can be seen that it is a good completely wireless sports earbuds, but it also has shortcomings, such as overpriced,not comfortable enough to wear and its touchscreen controls are not convenient to use. There are many sports headphones in the market, and the most comfortable design is bone conduction headphones, because it is not plug into your ear. Therefore, if you want to find a sports earphone with a more comfortable wearing experience, Wissonly Hi Runner sports bone conduction headphone is a good substitute.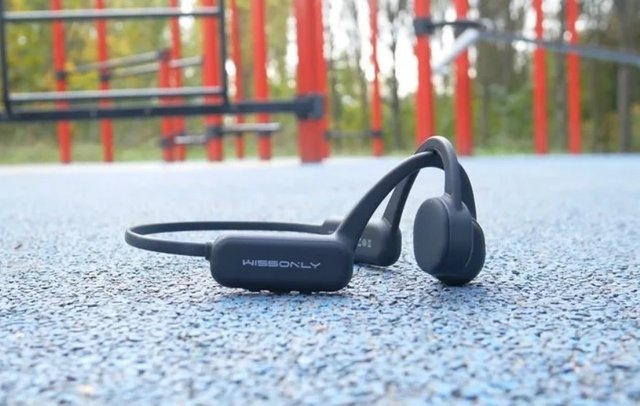 This is the fastest growing brand of bone conduction headphones in the last six months. The team are all engineers with 10 years of accumulation in the field of bone conduction technology. They started to develop bone conduction headphones that don't hurt ears as early as 2012. To solve the problem of sound leakage of bone conduction headphones, wissonly has made comprehensive improvement in the aspects of vibrator, body design and software optimization. The final result has been applied to Wissonly Hi Runner, and the final sound leakage can be reduced by 90% after laboratory test. I actually used the test myself. At a distance of 2cm, the volume reached 70%, but I still didn't hear the sound of the headphones, which protected my privacy.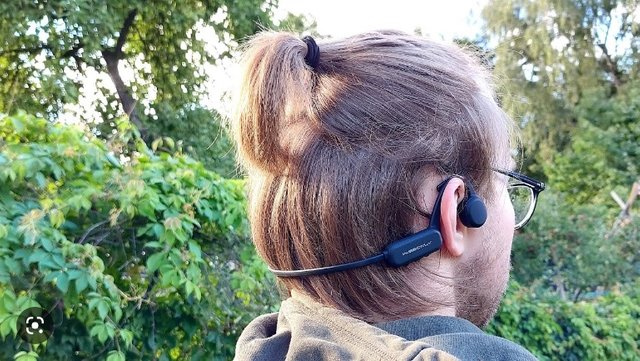 Wissonly Hi Runner's body is made of titanium, which can self-adjust the fitting position to ensure a good wearing experience for headphones, so that more people can wear it. Hi Runner sports bone conduction headphones are open-eared and worn directly on the temples, so your ear canal is completely open, which makes it easy for you to hear the sound of cars and traffic lights outdoors in sports scenes such as running and walking, making you safer to use.
As the core component of the product, the headphones plays a key role in the product experience. Hi Runner model is equipped with Bluetooth 5.0 chip, which makes Bluetooth connection faster and more stable. It also has 32GB of built-in storage so you can use it as an MP3 player.
Other parameters of Wissonly Hi Runner are also excellent. For example, the waterproof level reaches IPX8, and you can wear it to swim or even dive. The battery life reaches 8-10 hours, which is very important to me, because I go out for sports on weekends, and I go out for a whole day.
Comment