Are Wireless Bone Conduction Headphones Safe and Best Headphones With Bone Conduction Headphones in 2023
Feb 24,2023 | David
Wireless bone conduction headphones are becoming more and more popular among sports enthusiasts. Driven by them, more and more people are interested in this new type of headphones. To help you better understand them, here are some facts about this type of headphones.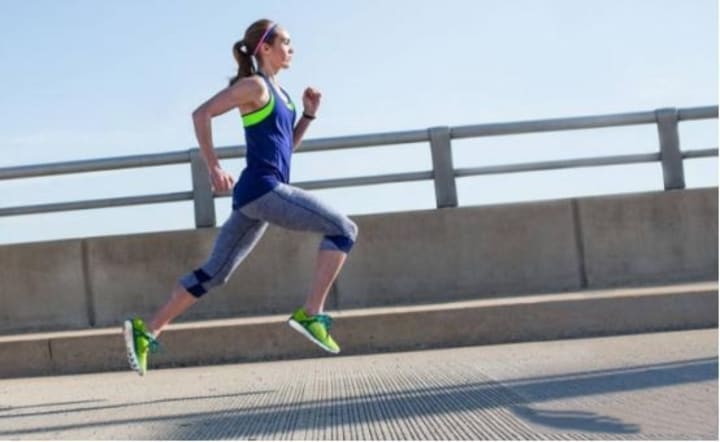 1. Wireless Bone conduction headphones are new headphones developed using bone conduction technology, which transmits sound through bones;
2. They do not cover the ears, nor do they need to be inserted into the ears;
3. They will not damage the ears, they are the healthiest headphones for the ears. Because their sound transmission does not require the use of the eardrum, damage to the eardrum and auditory hair cells is minimal.
4. Wireless bone conduction headphones are not noise-canceling headphones. They don't sound as perfect as traditional noise-canceling headphones. But if you're using them for normal music listening, their sound quality is perfectly fine.
5. Bone conduction is a mature technology, wireless bone conduction headphone is a new application of this mature technology, and you can use it with confidence;
6. Bone conduction headphones are not headphones with external speakers. It relies on the vibration unit to generate mechanical vibrations, and the sound is transmitted to the inner ear to make people hear the sound.
7. Wireless bone conduction headphones generally have better waterproof performance. Their sound generation and sound transmission methods make them not need to reserve holes in the fuselage, and the entire headphone can be integrated.
8. They will have a slight sound leakage problem. But some better products handle sound leakage better.
More and more people are interested in bone conduction headphones, and some people are worried that they are not safe enough
Are wireless bone conduction headphones safe?
Just to get straight to my point, bone conduction headphones are safer and healthier than regular headphones, they are the healthiest kind of headphones. There are several reasons.They cause less hearing damage, less damage to cranial nerves and auditory nerves than traditional headphones, and are safer during wearing.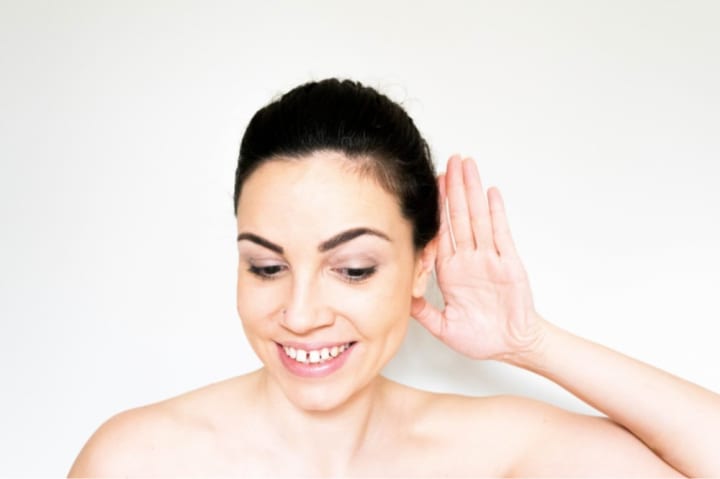 1.It is less harmful to hearing
First of all, because hearing damage generally occurs in the eardrum and inner ear, bone conduction headphones rely on human bones to transmit sound, and they do not need to pass through the ear canal and tympanic membrane, so damage to the tympanic membrane can be avoided. Compared with conventional headphones, the vibration waves of wireless bone conduction headphones are also relatively moderate, which will have less impact on auditory hair cells, so they are the headphones that cause the least damage to the ears.
2. It does less damage to the auditory nerve
Next, let me talk about the problem of electromagnetic waves. Most electronic products have problems with electromagnetic waves, but the strength of electromagnetic waves varies. The electromagnetic waves of traditional headphones are relatively stronger, and it is easier to cause damage to the human brain and hearing nerves. The electromagnetic waves of wireless bone conduction headphones are extremely weak, they have the same intensity as the electromagnetic waves existing in nature, and will not cause damage to the human brain and hearing nerves.
3. Pay attention to environmental sound to protect your safety
The way wireless bone conduction headphones are worn can also help the wearer avoid the dangers of wearing them. They don't need to be plugged into the ear canal when you wear them, and you can still keep an eye on the surrounding environment while listening to music with them. For example, if you wear bone conduction headphones when crossing the road, you will not be in danger because you cannot hear the sound of the horn; when you are exercising outdoors, you can also hear the sound behind you by wearing them to avoid some dangerous situations.
In addition to safety, bone conduction headphones have many advantages, such as comfortable to wear, clean and hygienic, high waterproof level and so on.
There are a large number of wireless bone conduction headphones in the market. How to choose them has become a problem. My suggestion is to choose brands with accumulated technology in this field, such as Wissonly and Aftershokz. Next, I will recommend five of the best headphones with bone conduction for you.
1. Wissonly Hi Runner wireless bone conduction headphones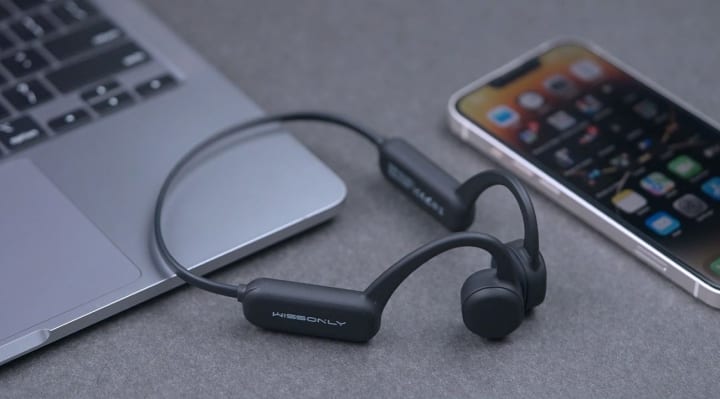 Recommended reason:
Wissonly bone conduction headphones, the product I use the most, is the first brand I started to contact. When they were crowdfunding online, I participated.
The sound quality is what I am most satisfied with. I am not a professional music player, but from my personal experience, Wissonly Hi Runner is the best sound quality bone conduction headphones I have ever used. It uses a large-sized 360-degree bone conduction vibration unit, and through structural optimization, the sounding area is increased by 35%, so that the sound range is wider, and the stereo feeling and shock of sound are stronger. Its anti-sound-leakage treatment is also very good. The whole body is completely sealed, and the algorithm is optimized to minimize the leakage of sound. I have tested it myself, and at a distance of 2 meters, the volume is turned on at 60%, so I can't hear the sound at all.
Wissonly Hi Runner's body is made of memory titanium, which can self-adjust the contact area. It can ensure a good wearing experience of the earphone at any time, taking into account more users and usage scenarios.
Hi Runner is equipped with Bluetooth 5.0 chip, and the connection is more stable. It also has IPX8 professional sports waterproof +32g internal memory to swim in the water. The battery performance is also good, and it can play music continuously for 8-10 hours.
2. Philips A6606 headphones with bone conduction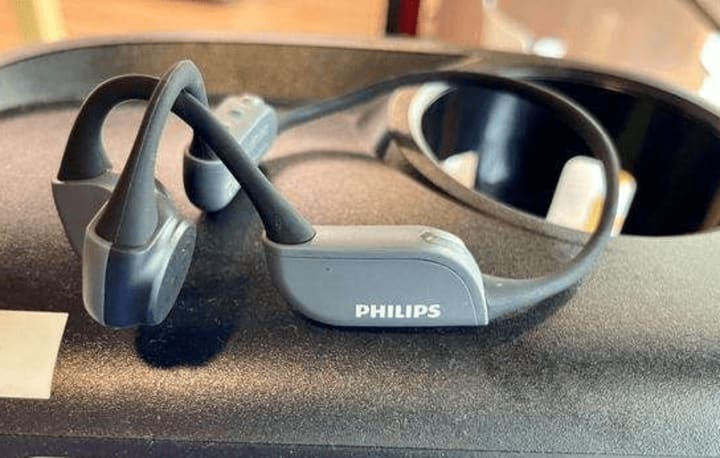 Recommended reason:
Philips A6606 adopts the rear hanging design of titanium alloy frame, which can be stable no matter jumping or running. Its surface is made of soft and skin-friendly silicone material, which makes it comfortable to wear, and the body of it is relatively light, so there is no sense of weight to wear. The biggest feature of A6606 is that its headphones are equipped with LED night lights, which is a thoughtful design for people who like fun runs, and can remind pedestrians, cyclists and drivers behind them to avoid it at night. Very suitable for night running.
3.AfterShokz OPENRUN PRO bone conduction headphones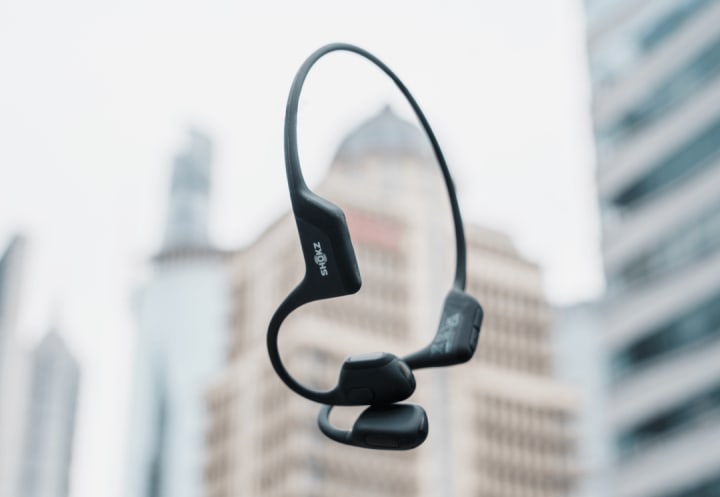 Recommended reason:
Openrun PRO gives people the first impression that it is very light and almost forgets the feeling of existence. In terms of battery life,its continuous playing time can exceed 8 hours, which can be said to be a very strong bone conduction. AfterShokz brand is mainly developed for sports, but the only drawback is that the sounding unit is very slim, and it will feel a little oppressive when worn for a long time.
The function has IP67 waterproof coefficient, daily outdoor exercise, no fear of sweat, and normal washing.
4.earsopen PEACE TW-1 headphones with bone conduction
Recommended reason:
The earsopen PEACE TW-1 headphones can be charged magnetically through the charging case, which is small and convenient to carry around. The headphone shape adopts separate design that is achieved for the first time in the bone conduction industry. The headphone body is a T-shaped design, that adopts the clip-on wearing method. At the same time, it also supports IPX7 waterproof performance. When traveling on rainy days or running to burn fat, there is no need to fear sweat and rain erosion, it can be used with peace of mind.
The T-shaped structure design of earsopen PEACE TW-1 adopts the form of wearing behind the ear with curved support frame. It is more comfortable when worn. But because of the wearing method, the pinna will be a little uncomfortable after wearing for a long time. The sound quality is average, and there is a little sound leakage. But as an innovative style in the bone conduction category, it is also worth considering.
5. vidonn F3 headphones with bone conduction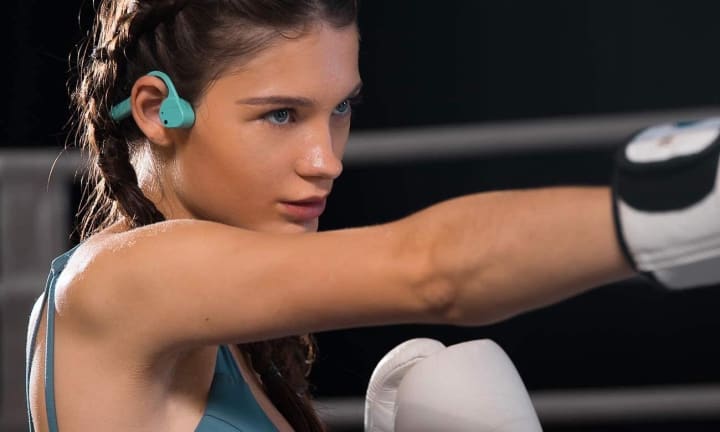 Recommended reason:
The Vidonn F3 wireless bone conduction headphones weigh only 29g, and there is no discomfort whether you have it hanging neck or hinging ears for a long time. The ear arm of the bone conduction vibrator is on the outside, leaving space for the glasses leg to pass, which solves the embarrassing situation of not being able to wear glasses when wearing headphones.
The charging port of Vidonn F3 bone conduction headphones is the universal standard MICRO-USB interface. It adopts a soft rubber plug to waterproof, but the soft rubber plug is not connected to the body, there will be a risk of loss. The manufacturer gives two spare soft rubber plugs in the box.
This is an entry-level product, and it's hard to expect good performance in terms of sound quality and leak prevention, but it's enough for everyday use.
Among the above five best headphones with bone conduction, Wissonly and Philips are the most worthy of purchase. Because they have the strongest technical accumulation in this field, the sound quality, reducing leakage and comfort of their products are very good. If you consider cost performance, we recommend you to choose Wissonly
Comment