Are bone conduction headphones safer?
Jan 04,2023 | Sylvia
As the name suggests, bone conduction headphones are headphones designed based on bone conduction technology.
Bone conduction is a sound conduction method. The vibration of the sound source drives the bone to vibrate, and then transmits the sound to the inner ear, so that the sound can be heard. It transmits sound without passing through the air and eardrum, which also enables the sound transmission way of bone conduction to clearly restore the sound in a noisy environment, and will not affect others due to the spread of sound waves in the air.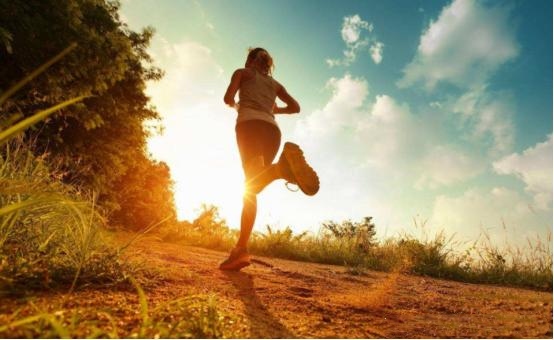 Bone conduction technology has a wide range of applications. It has been used more in the military field and hearing assistance field in the past. But in recent years, this technology has been widely used in bone conduction headphones, making this headphone a fashionable product and becoming popular.
Some people who are interested in this type of headphone may have a question: are bone conduction headphone safer?To answer this question, we must first understand the principle of them.
The principle of bone conduction headphones
To understand how bone conduction headphones work, take me back to my middle school physics class. We know that there are three kinds of media that transmit sound, namely solid, air and liquid. Among the devices that transmit sound, it is more common to use air as the medium, such as speakers and common headphones. From this point of view, we can regard traditional headphones as air conduction headphones. They use air as the medium to transmit sound to the eardrum through "air conduction way", and then transmit the sound to the auditory nerve through the vibration of the periosteum and hear music.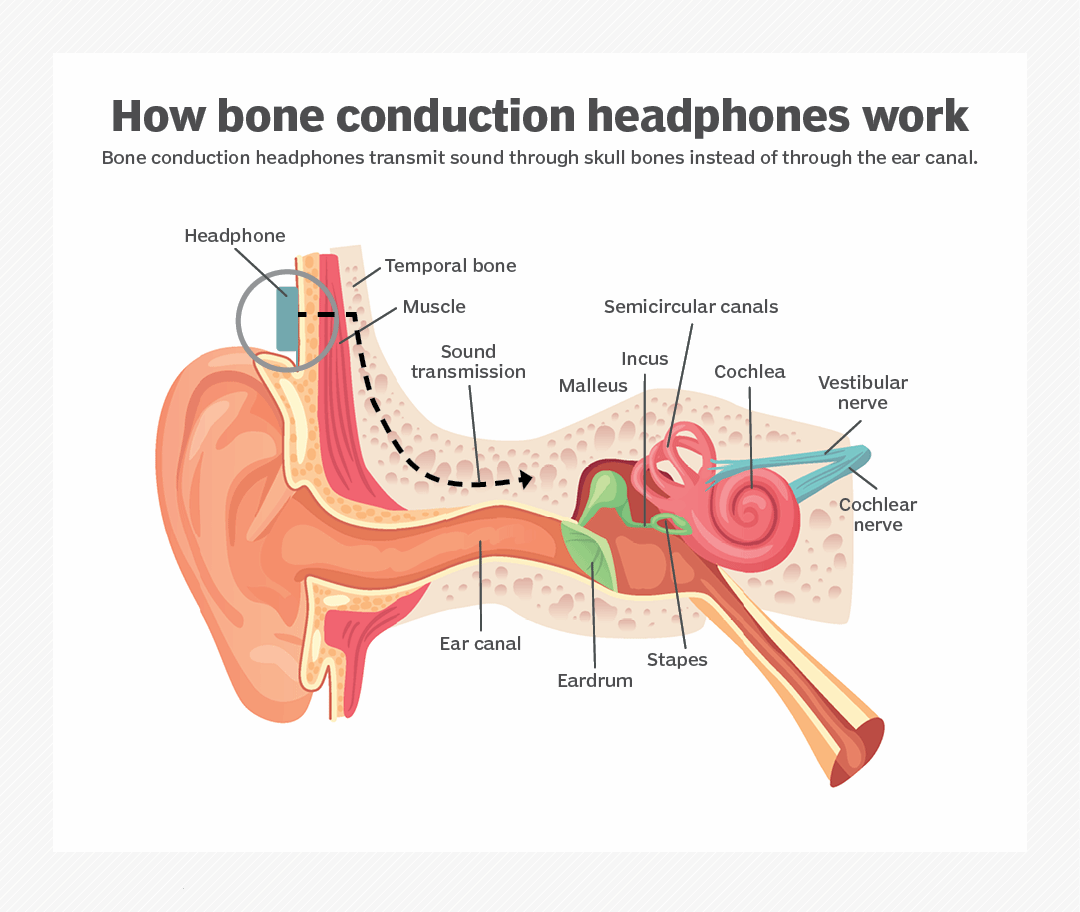 Bone conduction headphones are another type of headphones that transmit sound waves through solid resonance, allowing sound vibrations to cause bone vibrations. Then through the medium of bones, it is directly transmitted to the auditory spirit. Therefore, you only need to put the sound unit close to the ear to hear the sound played. Because of this, bone conduction headphones do not need to be plugged into or wrapped around the ears, so they will not cover the ear canal, so that the eardrum can still receive external sounds normally, which allows the wearer to listen to music while paying attention to the surrounding environment .
The principle of bone conduction can be seen everywhere in our life. When we eat nuts, we can clearly hear the sound of the nuts being crushed, but others cannot hear it. This is the vibration generated by our crushed nuts, which is transmitted to the auditory nerve through the bones and is "heard" by us. The principle of sound transmission is bone conduction.
Are bone conduction headphones safer?
Just to get straight to my point, bone conduction headphones are safer and healthier than regular headphones, they are the healthiest kind of headphones. There are several reasons.They cause less hearing damage, less damage to cranial nerves and auditory nerves than traditional headphones, and are safer during wearing.
Bone conduction headphones cause less harmful to hearing
First of all, because hearing damage generally occurs in the eardrum and inner ear, bone conduction headphones rely on human bones to transmit sound, and they do not need to pass through the ear canal and tympanic membrane, so damage to the tympanic membrane can be avoided. Compared with conventional headphones, the vibration waves of bone conduction headphones are also relatively moderate, which will have less impact on auditory hair cells, so they are the headphones that cause the least damage to the ears.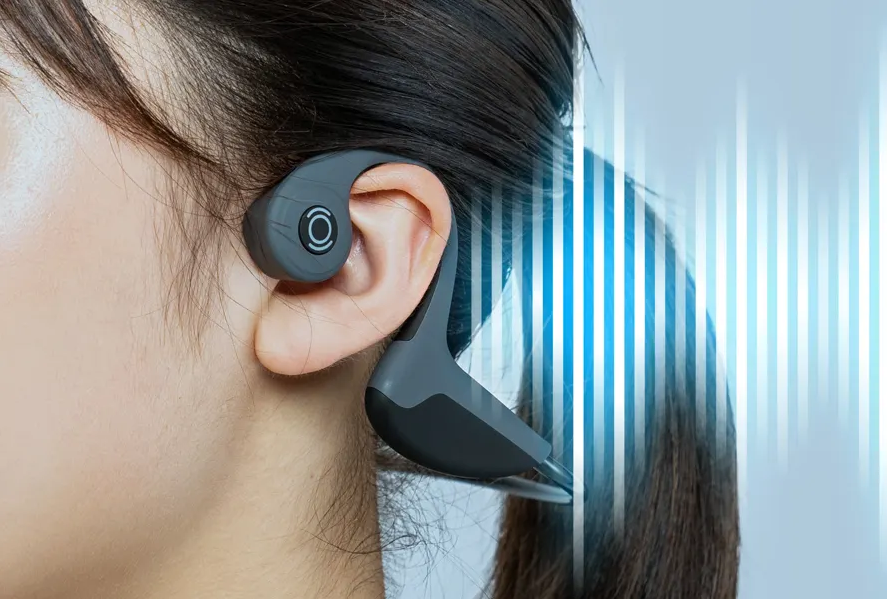 Bone conduction headphones does less damage to the auditory nerve
Next, let me talk about the problem of electromagnetic waves. Most electronic products have problems with electromagnetic waves, but the strength of electromagnetic waves varies. The electromagnetic waves of traditional headphones are relatively stronger, and it is easier to cause damage to the human brain and hearing nerves. The electromagnetic waves of bone conduction headphones are extremely weak, they have the same intensity as the electromagnetic waves existing in nature, and will not cause damage to the human brain and hearing nerves.
Bone conduction headphones help you pay attention to environmental sound to protect your safety
The way bone conduction headphones are worn can also help the wearer avoid the dangers of wearing them. They don't need to be plugged into the ear canal when you wear them, and you can still keep an eye on the surrounding environment while listening to music with them. For example, if you wear bone conduction headphones when crossing the road, you will not be in danger because you cannot hear the sound of the horn; when you are exercising outdoors, you can also hear the sound behind you by wearing them to avoid some dangerous situations.
In addition to safety, bone conduction headphones have many advantages, such as comfortable to wear, clean and hygienic, high waterproof level and so on.
Of course, there are two small disadvantages of bone conduction headphones, that is, the sound quality is not perfect, and there is a slight sound leakage problem. However, with the advancement of technology, these two problems have been greatly improved. The better bone conduction headphones do a good job in improving sound quality and preventing sound leakage.
Bone conduction headphones are safer than common headphones,and they have a lot of advantages, They are your best sports headphones.So how can you find your most suitable one of them? Let me recommend a few headphones.
1.Wissonly Hi Runner bone conduction headphones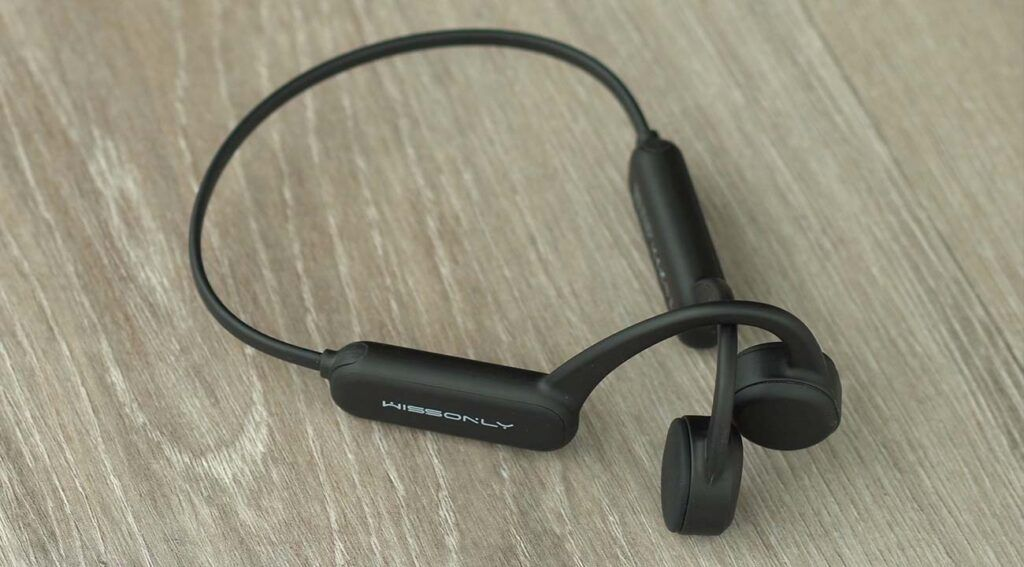 Reason for recommendation:
I noticed Wissonly bone conduction headphones when they were first crowdfunded online. And later, I saw that some otologists were recommending them on online forums, so I bought them. This Hi Runner is their flagship product whose overall functionality is also the most perfect. The headphone use the latest research from the Wissonly lab. It increases the vibrating area of the vibrator by 35% and optimizes the direction of sound transmission to make the sound more concentrated, resulting in a wider range and more spatial of the music. The brand claims that its sound quality is HI-FI level, and I actually tested it myself. I thought that the sound quality was very close to HI-FI level, but it did not reach this level. Of course, the current sound quality is satisfactory enough.
Wissonly Hi Runner bone conduction headphones are also equipped with a new Bluetooth 5.0 chip that has stronger anti-interference ability, that can easily cope with various complex outdoor scenes, and ensures the good mood during exercise is not disturbed by disconnection. At the same time, the stable connection also brings low latency performance, and there is no problem in listening to songs, following dramas, and playing games. What's more, they have 32G of built-in memory that can store 5,000 songs. This helps you to enjoy music when you are exercising outdoors without your phone.
In terms of comfort, the Wissonly Hi Runner performs well, it is very light, only less than 30g, and it does not feel any weight to wear. The body is made of titanium alloy which makes it have a good fit, and you don't need to worry about their falling off during sports.
The waterproof of the Wissonly Hi Runner deserves special mention, and it is IPX8 grade. It means that you can carry it underwater for up to 20 meters and still use it normally, which is crazy!
2.Philips A6606 bone conduction headphones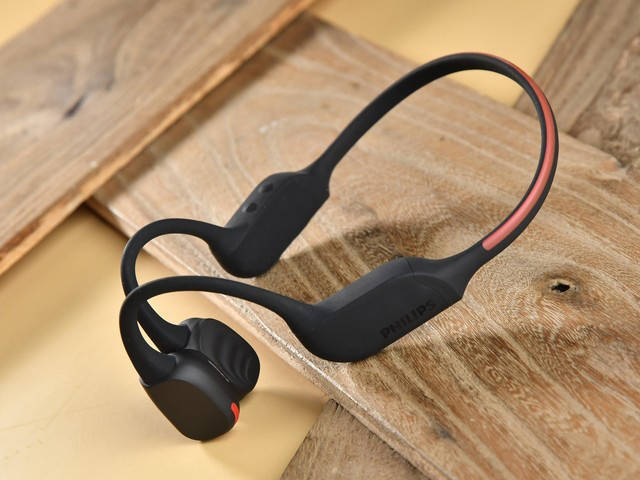 Reason for recommendation:
The headphones have a compact structure that is completely ergonomically designed.
They are stable to wear, and cannot be shaken off in rough sport, which helps you to do movements without restraint during exercise. They are open headphones that do not need to be plugged into the ear. This keeps the ear canal fresh, healthy and comfortable.
They support IP67 waterproof grade, daily sweating is no problem. But after all, they are not professional-grade waterproof, can not be used in swimming.
3 AfterShokz OPENRUN PRO bone conduction headphones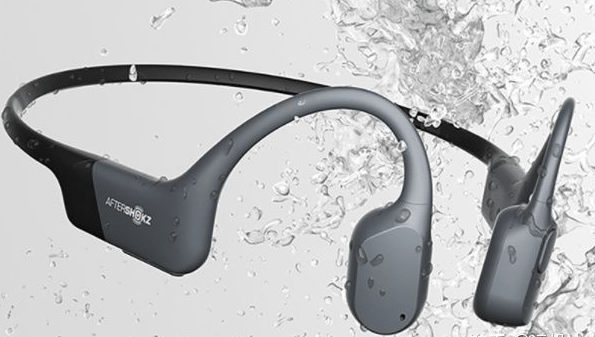 Reason for recommendation:
Openrun Pro bone conduction headphones are a product created by a technical team focusing on bone conduction technology. They have won the favor of many consumers with their characteristics such as bone conduction black technology, all-titanium design. The front end of Openrun Pro is ellipsoidal; The rear hanger has been ergonomically curved to fit the ear better, and the overall comfort of the headphones is very high. In terms of bone conduction, Openrun Pro adopts the newly upgraded PremiumPitch 2.0+ technology to optimize the direction of sound transmission and reduce sound leakage.
4.earsopen SS900 bone conduction headphones
Reason for recommendation:
The fuselage is equipped with BoCo's bone conduction vibrator technology, with AVV's precise vertical vibration transmission technology. It has good lower potential and a wide sound range in low-frequency performance. The Bluetooth version of 5.2 helps it to maintain the stability of the connection within 10m. The weight of the body is 8g,it is light when clipping to the ear, but the wear method of the ear clip is not suitable for long-term wear.
5.Moing DG08 bone conduction headphones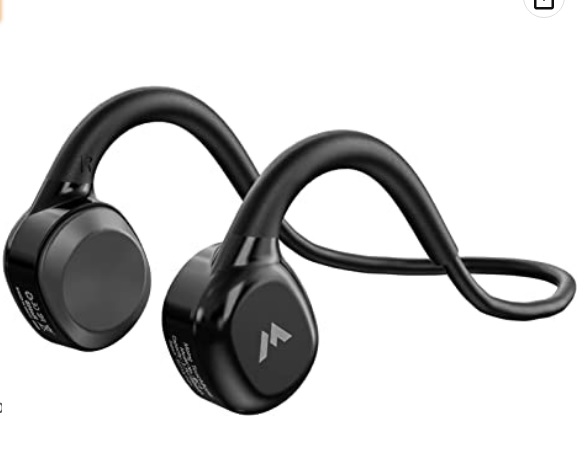 Reason for recommendation:
The DG08 bone conduction headphones come with 8GB of memory, which can independently store about 2,000 songs. The battery life reaches 10 hours, and you don't have to worry about battery problems for a full day of outdoor sports. Their non-in-ear design makes them more comfortable for the ears. They support life-grade waterproofing and are not afraid of sweat. It's just that there are still some problems in sound quality and sound leakage, and if the budget is not sufficient, you can consider this one.
Among the several bone conduction headphones recommended above, wissonly and aftershokz are my favorite brands. Compared with them, wissonly is more cost-effective and worth buying.
Comment