5 Best Sports Headphones for Running (2023 Guide)
Jul 20,2023 | David
Sports headphones can be your best ally in exercise! By listening to good music or podcasts, time can really pass faster. Sports headphones can also help you keep your motivation and running speed at the highest level.
Therefore, we have selected five headphones that are most suitable for running for you. We have selected models with various characteristics to meet the needs of most people.
Finally, we will give you some suggestions at the end of the article, so that you can choose the headphones that suit you best. Please consider these suggestions before buying.
5 Best Sports Headphones for Running
1. Jabra Elite 7 Active: the most universal wireless headset.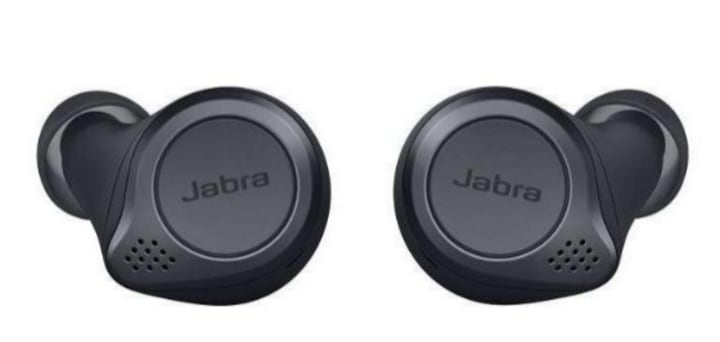 Jabra Elite 7 Active is a true wireless headset specially designed for sports, and they are also very suitable for everyday use.
These are a pair of in-ear earphones with three different earphone sizes, so you can choose the earphone that fits the ear inch according to your ear size.
Its structure is ergonomic, which is very good. They will not move despite repeated impacts. They have active noise reduction function and are very useful in some cases.
One of the great advantages of this pair of headphones is their charging autonomy. The charging box can provide 30 hours of listening time, and headphones can provide 8 hours of listening time. This allows you to have a long service time without worrying about battery life. It can also use the mono function, that is, listen to music with one earphone and charge the other earphone.
Jabra Elite 7 Active has passed the IP57 certification, so it has excellent water resistance. Whether it's sweat or rain, you won't encounter any waterproof problems.
Finally, due to its cleverly designed application, the audio style is completely customizable. Therefore, you can choose the audio style according to your preference.
In a word, you can use Jabra Elite 7 Active Headset for running and daily life. They are comfortable to wear, waterproof, and have enough autonomy, and are also very suitable for wearing them for outing.
However, it still has some shortcomings, such as its active noise reduction effect is not as good as expected; The control button is too sensitive, which sometimes leads to wrong pressing.
2. Wissonly Hi Runner: the best bone conduction headphone for running.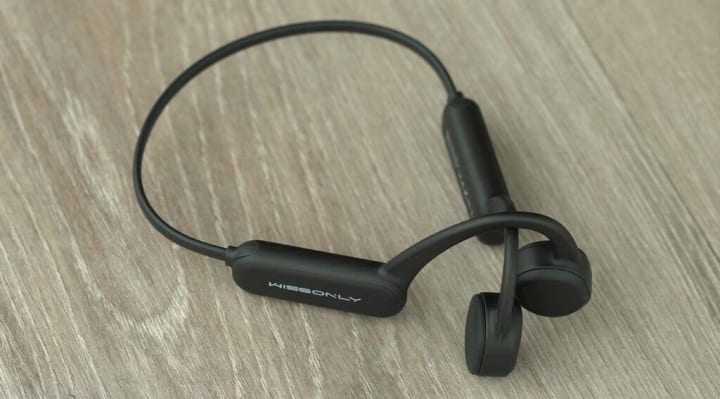 Wissonly's team has been researching headphone products that don't hurt the ear as early as 10 years ago and introduced bone conduction technology into the field of headphones. Their products have powerful performance, high-cost performance, and are very strong in core performances such as sound quality, sound leakage reduction, and waterproof level.
Wissonly Hi Runner sports bone conduction headphones are open-eared and worn directly on the temples, so your ear canal is completely open, which makes it easy for you to hear the sound of cars and traffic lights outdoors in sports scenes such as running and walking, making you safer to use.
In terms of fit and comfort, the whole frame of Wissonly Hi Runner is made of adjustable aviation grade titanium steel, which can adapt to different sizes of head circumference and ensure the stability of wearing. Its earphone surface is made of high-tech low-sensitivity silicone material, which contains no chemical components to avoid allergic phenomena. The overall touch of the earphone is as silky as baby's skin, avoiding uncomfortable situations when worn for a long time.
Moreover, its weight is very light, less than 30g, and it will not feel heavy when worn. After wearing it, I took it off at the end of the run. This Hi Runner didn't let me have any extra adjustment. As the flagship model of outdoor sports of Wissonly brand, it is the most comfortable and cost-effective one among all bone conduction at present.
When you sweat a lot when running or doing other sports, or when it suddenly rains when you run or exercise outdoors, then the waterproof performance of sports headphones is very important.As the flagship model of Wissonly,the waterproof grade of Wissonly Hi Runner Sports Bone Conductivity Headphone reaches IPX8 waterproof grade higher than the industry standard. It allows the wearer to work normally when swimming or diving, not to mention sweat prevention or ordinary waterproof.
It is also equipped with 32G body memory, which can store 5,000 songs, and supports Bluetooth and MP3 working modes. You can use it as a Bluetooth MP3 player for underwater sports or scenes without a mobile phone.
Wissonly Hi Runner is the flagship product of Wissonly, and its overall function is also the most perfect. In terms of sound quality, this bone conduction earphone uses the latest research results of wissonly laboratory, which increases the vibration area of the vibrator by 35%. At the same time, it also optimizes the sound transmission direction to make the sound more concentrated and the music more spatial, and it has a good performance in both high and low notes.
Wissonly has made a lot of efforts to reduce its sound leakage. Its all-wrapped design reduces the vibration of the shell, and through structural optimization, the sound waves of the sound leakage are cancelled, thus avoiding 90% of the sound leakage. Wissonly Hi Runner's sound leakage performance is much better than that of the same gear bone conduction headphones on the market.
In terms of price, it only costs $99.99, which is very cost-effective!
3. Beats Powerbeats Pro: Wireless Headphones with Best Support
Beats brand Powerbeats Pro headphones are very comfortable to use: they can easily fit most ears and are equipped with four silicone ear muffs, which can perfectly fit your size.
Apple's Beats provides a pair of headphones, which are easy to connect because of the H1 chip. Therefore, for Apple users, pairing is very fast, and you can easily activate Siri.
The sound quality is good, with rich and clean sound and accurate bass. It can listen for 9 hours continuously, and the charging box can give you an extra 15 hours of use time. With the fast charging function, you only need to charge for 5 minutes to get one and a half hours of battery life. When you put the headphones in one place or store them in the case, the headphones will turn off by themselves.
These headphones are very suitable for sports, but you can also use them in your daily life. Once worn, they won't move casually, so they can accompany you on any kind of outing.
The disadvantage is that its earphone box is relatively heavy,and the price is more expensive, so the cost performance is not high.
4. Bose sports earplugs: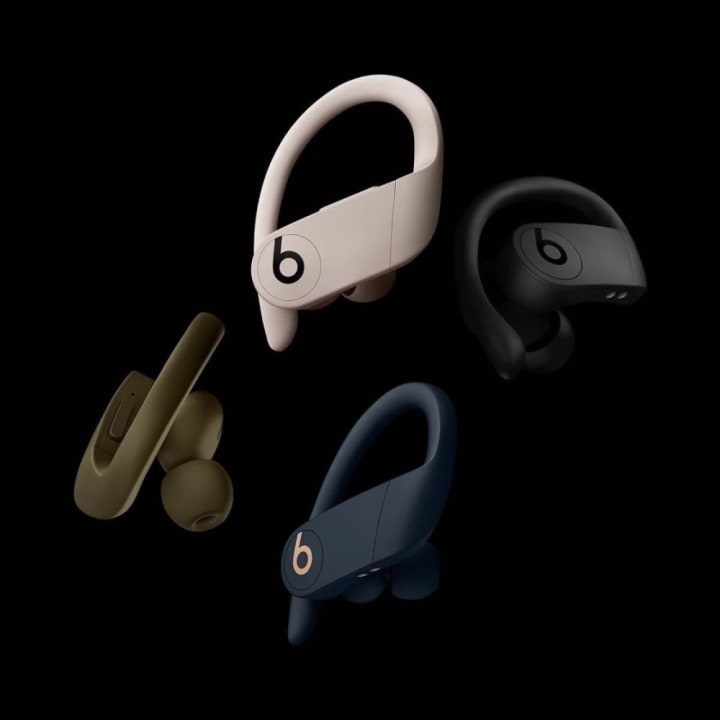 Bose sports earplugs are light and concealed, which can provide excellent sound quality. Stereo is very good, with powerful audio reproduction function. Its noise reduction is very effective, so it is very suitable for people who want to use this function.
Headphones are stable in the ear, and they provide good support and relatively high comfort. Although they are suitable for most people's ears, some people still find it difficult to wear them.
Their battery life is about 5 hours, which is lower than most models in the same category, but the case can extend the battery life to 15 hours.
They have passed IPX4 certification, so they are very resistant to sweat.
These wireless in-ear headphones are suitable for people who want to have good sound quality when going out for an outing.
The disadvantage is that the earphone shell is bulky and the battery life is short. And because it is an in-ear earbud, wearing it for a long time (especially after exercise) may make the ear uncomfortable or even painful.
5. JBL Live 300TWS:
JBL brand Live 300TWS adopts Bluetooth 5.0 technology, which can realize fast and stable connection. In addition, Android phones can benefit from fast pairing.
Headphones provide 3 pairs of tips and 3 pairs of stabilizers. Therefore, everyone can easily adjust according to the shape of the ear.
Sound rendering is particularly dynamic, with deep bass and clear treble. Headphones have good sound insulation effect to avoid interference from surrounding sounds. (If necessary, it also has a transparency mode that allows you to hear what is going on around you).
As for the battery, it is about 6 hours, which is not too long, but the charging box can increase the battery life to 14 hours.
JBL Live 300TWS is a headset suitable for running. They are suitable for runners who want a mid-range model with good sound quality.
The disadvantage is that it does not perform well in some sounds (such as bass), and the touch control may not be so easy to operate.
How to choose a sports headphone for running?
1. According to the characteristics of sports headphones
Although theoretically you can use any pair of headphones to exercise, you'd better choose a model specially designed for exercise.
In fact, when you run, you will involve a lot of bouncing, so it is important that your headphones can be kept in place and have a certain degree of comfort.And must also have a certain waterproof function.
If you go outdoors, for your safety, you'd better choose headphones that can hear the sound of the surrounding environment.
Finally, if you choose wired headphones for exercise, it has limitations, such as cable winding and having to carry a mobile phone. If possible, please give priority to wireless headphones.
2. According to different types of running headphones
Running headphones are usually divided into three categories:
①In ear headphones
These are the most common. They have a tip inserted into the ear canal and are wireless.
②Earphone behind ear
On these models, there is also a tip that can be inserted into your ear canal. It is accompanied by an outline, usually silicone, hanging on your ear. In most cases, this helps to strengthen the support of headphones, thus enhancing the comfort of runners. However, some people may be stimulated by the materials used in headphones.
③Bone conduction headphones
The relatively new bone conduction technology is highly appreciated by runners. These headphones are not placed in the ears, but on the temples. Sound is transmitted through the vibration of the bones located in the cheekbones. Information is sent to the cochlea (inner ear), bypassing the eardrum.
One of the highlights of bone conduction headphones is that they can let you listen to music or podcasts, and you can also hear all other sounds around you. If you run outdoors, this is a guarantee of safety, because it can make you feel the sound (car, alarm, bicycle bell, etc.).
Select the criteria to consider when purchasing.
Now that you know the different types of sports headphones for running available in the market, the following are the standards you need to pay attention to when buying.
1. Comfort
Wearing comfort is one of the key factors to consider when choosing running headphones. In fact, if the earphone is not the right size for you or the material is uncomfortable, it may cause ear irritation or pain.
2: Waterproof
In order that your sweat or rain will not have a negative impact on your sports headphones, it depends on their waterproofness. The waterproof level is usually expressed by IPX, and the first number after it indicates the dustproof level and the second number indicates the waterproof level.
For your reference, a protection level of 5 means that the headphones are waterproof and splash-proof. At level 7, they can be immersed in water for one meter and up to 30 minutes. The protection level is 8, and the depth of immersion in water can be deeper.
3. Sound Quality
Although a pair of headphones is designed for running, it doesn't mean that it must give up the sound quality! Many brands can connect the two.
Some headphones also provide active noise reduction, which means that they isolate external sounds. Although this is a very convenient function, it can improve the sound quality. But if you run outside, it may be dangerous.
4: Battery life
Running headphones are usually wireless, so they need to be recharged regularly. If you are used to long outings, the battery life of headphones is very important.
5. Budget
Your budget when buying headphones is also important. Although it is normal not to want to spend too much money, it must be remembered that quality comes at a price. Choosing a model that is completely suitable for your needs and durable is usually more profitable than buying a pair of headphones with poor quality at a low price and needing to be replaced every year.
You can try to compare products and prices to find the most cost-effective product.
Summary:
Now you know the basic criteria to consider when choosing a pair of sports headphones. The five best running headphones we recommend should help you choose from all the models available in the market. You can choose the appropriate sports headphones according to your own needs.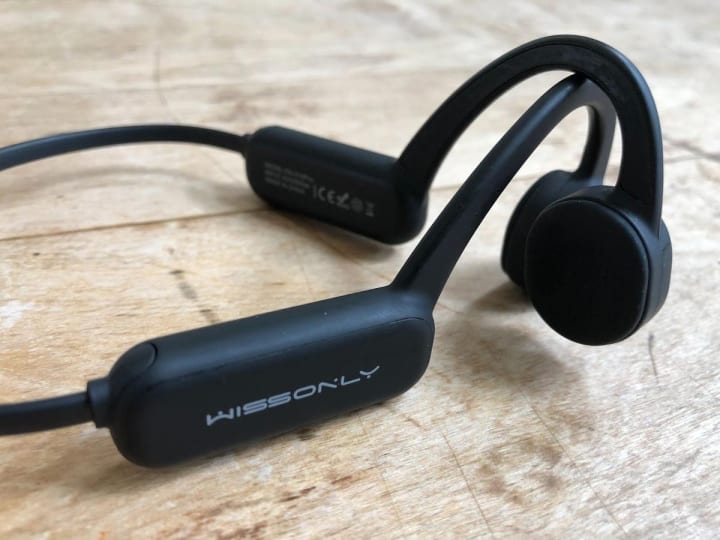 If you don't have high requirements for sound quality and wearing experience, then some entry-level headphones can meet the requirements. And if you have requirements for sound quality and wearing experience, as well as special requirements for waterproof grade and built-in storage, then you should choose products with powerful functions and high cost performance, such as Wissonly Hi Runner, which is a good choice. Many youtube channel owners and otologists have recommended this product.
Comment