5 Best Headphones for Runners in 2023
Jul 21,2023 | David
Features of a good running headphones:
1:Wireless: Headphones suitable for running should be wireless, so running becomes very convenient.
2:Comfort: It must be comfortable and firm to wear.
3:Sound quality: Headphones must provide good sound quality.
4:Battery life:The headset battery must be able to last for several hours over long distances.
5:Sound insulation: For the sake of safety, the running earphone cannot completely isolate the external sound.
6:Durability: They must be sweat resistant and waterproof.
1. Wissonly Hi Runner Bone Conduction Headphones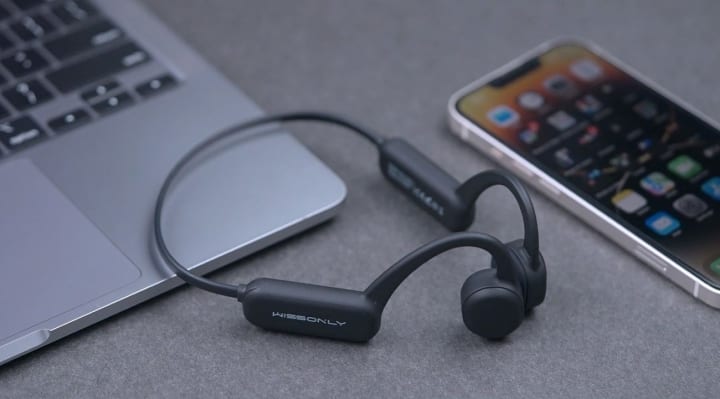 Wissonly Hi Runner sports bone conduction headphones are open-eared and worn directly on the temples, so your ear canal is completely open, which makes it easy for you to hear the sound of cars and traffic lights outdoors in sports scenes such as running and walking, making you safer to use.
In terms of fit and comfort, the whole frame of Wissonly Hi Runner headphones is made of adjustable aviation grade titanium steel, which can adapt to different sizes of head circumference and ensure the stability of wearing. Its earphone surface is made of high-tech low-sensitivity silicone material, which contains no chemical components to avoid allergic phenomena. The overall touch of the earphone is as silky as baby's skin, avoiding uncomfortable situations when worn for a long time. Moreover, its weight is very light, less than 30g, and it will not feel heavy when worn. After wearing it, I took it off at the end of the run. This Hi Runner didn't let me have any extra adjustment. As the flagship model of outdoor sports of Wissonly brand, it is the most comfortable and cost-effective one among all bone conduction at present.
When you sweat a lot when running or doing other sports, or when it suddenly rains when you run or exercise outdoors, then the waterproof performance of sports headphones is very important.As the flagship model of Wissonly,the waterproof grade of Wissonly Hi Runner Sports Bone Conductivity Headphone reaches IPX8 waterproof grade higher than the industry standard. It allows the wearer to work normally when swimming or diving, not to mention sweat prevention or ordinary waterproof.
It is also equipped with 32G body memory, which can store 5,000 songs, and supports Bluetooth and MP3 working modes. You can use it as a Bluetooth MP3 player for underwater sports or scenes without a mobile phone.
Wissonly Hi Runner is the flagship product of Wissonly, and its overall function is also the most perfect. In terms of sound quality, this bone conduction earphone uses the latest research results of wissonly laboratory, which increases the vibration area of the vibrator by 35%. At the same time, it also optimizes the sound transmission direction to make the sound more concentrated and the music more spatial, and it has a good performance in both high and low notes.
Wissonly has made a lot of efforts to reduce its sound leakage. Its all-wrapped design reduces the vibration of the shell, and through structural optimization, the sound waves of the sound leakage are cancelled, thus avoiding 90% of the sound leakage. Wissonly Hi Runner's sound leakage performance is much better than that of the same gear bone conduction headphones on the market.
In terms of price, it only costs $99.99, which is very cost-effective! It is the best headphones for runners.
2:Beats Powerbeats pro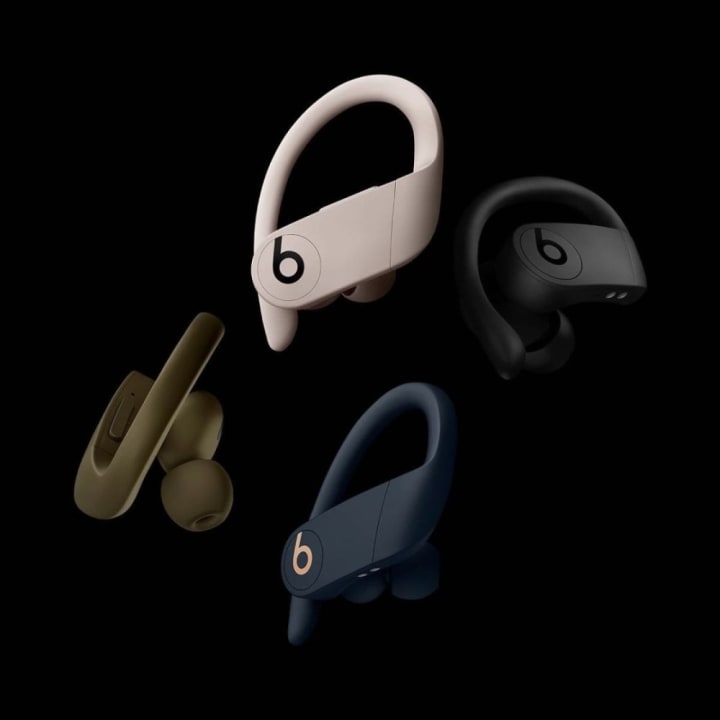 When you exercise, you need a high-performance earphone. With the Beats Powerbeats Pro model, you can enjoy nine hours of listening time completely freely, because the headphones are wireless.
In addition, headphones can perfectly adapt to the shape of your ears, while providing you with excellent stability and comfort. The design has also been improved to obtain a better ergonomic structure.
Beats Powerbeats Pro has excellent sweat and water resistance, so it allows you to accompany you to participate in the most intense sports.
On each earbud, you have specific controls to control the audio track and volume. As a reward, you can have voice control and be able to pause or restart music.
In terms of technology, Beats Powerbeats Pro headphones include Apple H1 chip, and of course Bluetooth 1 technology. Therefore, headphones can greatly limit the risk of losing connection and benefit from a wider range.
To realize the full potential of this device, you can use any device that is compatible with Android and IOS.
3:Jabra Elite Active 75t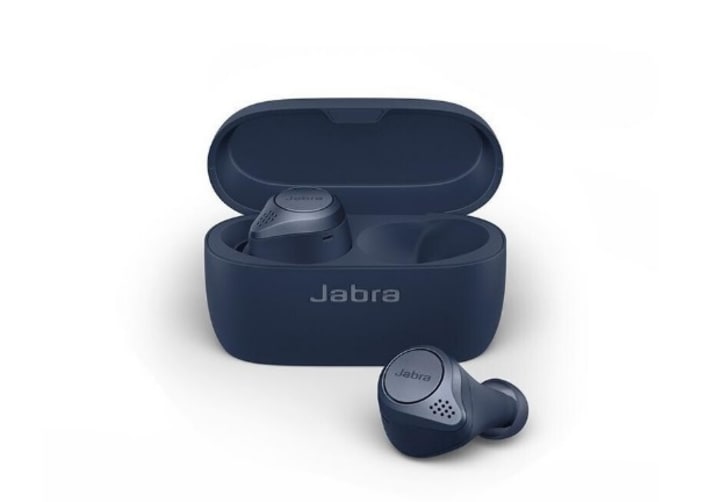 Jabra Elite Active 75t is a high-performance wireless headset. They are small and light. The battery life is long, 7.5 hours.
Elite Active 75t is excellent in technical level and sound quality. In fact, you will enjoy excellent durability and fully ergonomic earphone structure, so as to have extraordinary comfort in all situations.
It has a waterproof rating of IP57. No matter what the shape of your ears is, you need stability and excellent sweat and water resistance. These earplugs are equipped with a set of silicone earmuffs, which can fit firmly.
The battery has a particularly high endurance. The small box inserted with USB-C cable makes it very easy to charge these headphones.
It also has active noise reduction technology to eliminate different background noises, so you can hear the sound in the headphones perfectly, and vice versa.
You can use the HearThrough function to keep an eye on the surrounding sounds at any time.
The sound is not as powerful as headphones. For the sake of safety, these wireless headphones can't completely isolate the external noise, which can avoid the imminent danger when running.
4:Bose Sports earbuds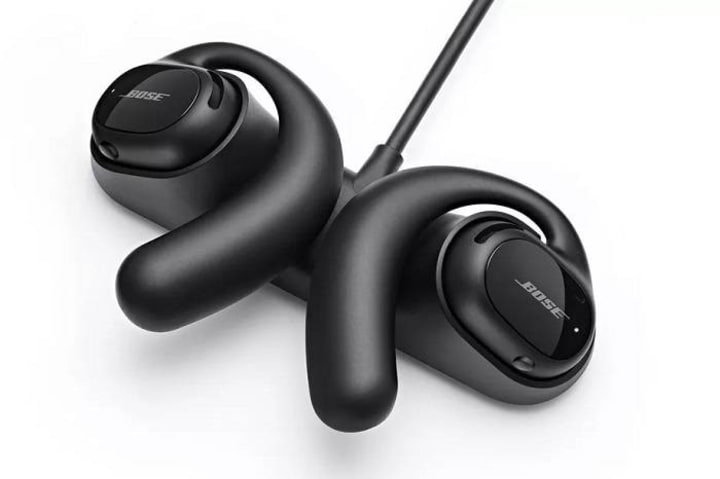 Bose sports earplugs also have sweat-proof and waterproof functions. You will enjoy IPX4 protection level. Its components are carefully protected to prevent any splash.
You can use its microphone system, which is perfectly isolated from the environmental noise, so as to facilitate your telephone conversation with the interlocutor.
Touch control is also very effective without buttons. In fact, Bose sports earplugs use a capacitive touch interface. This means that if you need to adjust the volume, it is enough to slide your finger up and down. If you need to pause, two quick clicks are enough.
In terms of battery life, you can get 10 hours of listening time without charging.
5:Beats Powerbeats 4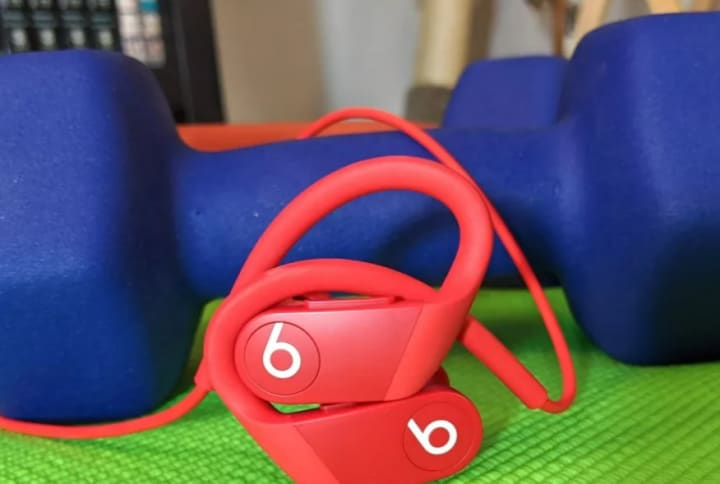 Beats Powerbeats 4 is another wireless headset worthy of our ranking. The battery performance is obviously good and can be used for 15 hours.
In order to increase comfort and stability, you can enjoy its fully adjustable behind-the-ear function.
In terms of design, its clean lines reappear and it is completely waterproof. So when you do high-intensity exercise, you don't have to worry about damaging the equipment because of excessive sweating.
Also, it uses a lot of Apple H1 chips to ensure its excellent performance. In terms of compatibility, there is no problem with Android or IOS devices.
Its Bluetooth Class 1 connection is also used to limit the loss of connection and increase the loss range of headphones.
Beats Powerbeats 4 has built-in voice control and direct control on headphones, so you can easily answer the phone and listen to your favorite music.
Due to excellent sound insulation and successful dynamic range, the sound is perfectly balanced.
Manufacturers also support fast charging technology. In other words, when your battery is low, you only need to charge it for five minutes to listen for an extra hour.
Why do we need to buy running headphones?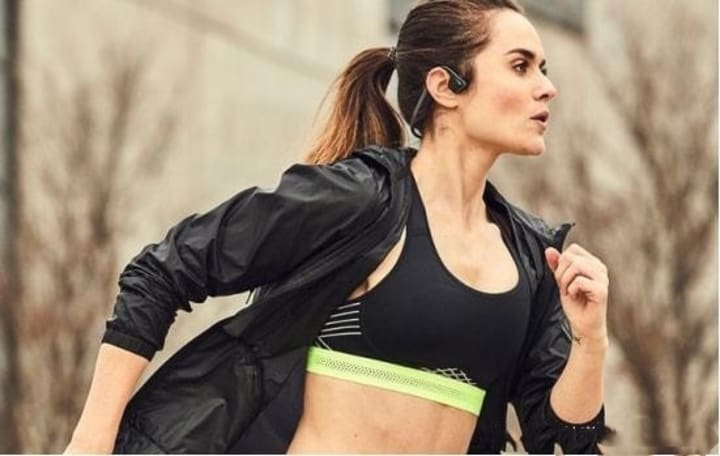 Running headphones allow you to listen to music or podcasts or answer the phone during an outing.
It is different from traditional headphones, and sports headphones have the functions of rain and sweat prevention. They are equipped with protective devices to prevent possible damage caused by sweat and water.
For safety reasons, the headphone for runners cannot be completely isolated from the external sound.And the shape of the running headphone is designed to be comfortable and stable when you move.
If you want to listen to music while running, just connect them to your mobile phone or running watch via Bluetooth.
In terms of sound, the headphones used for jogging can't be compared with the living room Hi-Fi headphones that cost more than $300.
Criteria for selecting headphones for Runners
Sports Bluetooth headphones must be light and fit the head and ears well, and have perfect connectivity.
1:Safety: The wireless headphones for running must be able to let you hear the surrounding sounds, which is very important for the safety of outdoor running.
2:Sweat-proof and waterproof: this is very important for running headphones. Ordinary headphones are not waterproof and sweat-proof.
3:Comfort: Headphones listening to music during running must fit perfectly. Headphones must provide good support and will not interfere during movement. Comfort should come first.
4:Sound quality: Ideally, headphones should provide good ergonomic structure and good sound.
5:Ease of use: A good pair of sports headphones should be used intuitively. You can use it while jogging without thinking too much.
6:Warranty: If there is a problem, it is best to choose the brand that provides warranty for its products. At least one year's warranty is essential.
7:Ergonomics of headphones: it is very important to fit the head and ears. Headphones should be light and strong when running, but they should be suitable for you first. In order to ensure better adaptation to different ear shapes, some brands offer tips with different sizes to best adapt and ensure the best comfort.
8:Usage scenario: Wireless sports headphones must match your usage scenario. Such as the headphones used in the gym are specially designed for indoor activities, because they almost completely isolate you from the surrounding sound.
What kind of runners' headphones should buy?
1. All-wireless headset
Wireless headphones allow you to listen to music with confidence. With the help of Bluetooth technology, you can enjoy music tracks with considerable sound quality.
Many athletes like wireless headphones, which is precisely to liberate their hands and have real comfort.
For charging, just put the earplugs in a specific case, and you will have several hours of battery life depending on the model.
But that's not all. Wireless headsets allow you to manage your phone without directly accessing your mobile phone.
2: Headphones with headband
By choosing headphones with a headband, the listening comfort will be improved, thanks to the existence of a specific impact pad. And its sound quality is obviously better. Because it isolates you from the external sound, however, it may perplex some riders who like to listen to the sound of their surrounding sounds.
There are two types of headphones with a headband. The first type is covers your ears completely, while the second type is smaller and only stays on the earlobe.
The connection will be automatically established with your compatible smartphone, and you will be able to appreciate the versatility of its headphones, especially if you are a music lover.
3. Sports bone conduction headphones
This is a very special new technology. The way to wear sports bone headphones is to hang them directly above the ear or clip them on the ear without plugging them into the ear.
Sound is transmitted directly through vibrations inside the ear. These vibrations are emitted directly on the bones of the temples and mandibles.
Therefore, there is no need to pass through the eardrum.
Through sports bone conduction headphones, you can listen to music while hearing external sounds. If you choose some good brands (such as Wissonly), you can also enjoy better sound quality.
At first, people were confused about the technology, such as whether it would damage people's ears or brains. But on the contrary, sports bone conduction headphones will not damage your ears, and they will be cleaner, healthier and safer than the headphones that are usually plug into your ears.
What are the good brands of sports headphones?
1:Wissonly
Wissonly's team has been researching headphone products that don't hurt the ear as early as 10 years ago and introduced bone conduction technology into the field of headphones. Their products have powerful performance, high-cost performance, and are very strong in core performances such as sound quality, sound leakage reduction, and waterproof level.
2:Beats
Beats is a brand founded by Jimmy Lovine and Dr. Dre in 2006. Soon, the brand found customers seeking excellent listening quality. Since then, Beats has continuously improved and multiplied its services.But since 2014, the company has been acquired by Apple. Nevertheless, product quality always exists, which is a brand that you can absolutely trust.
3.Bose
Bose offers a full range of headphones dedicated to sports. All products are specially designed to withstand the highest intensity of exercise. At the same time, you can enjoy high quality sound quality.In addition, the company is famous for developing many technologies, so no matter what activities you are doing, the pleasure of listening always exists.
4.Jabra
Jabra is a professional brand of audio equipment, which enjoys a high reputation all over the world.The company has rich professional knowledge, which enables you to exercise while using the latest audio technology. This brand of headphones can make you have a lot of fun during running.There are many intuitive functions that are excellent. For example, noise reduction, different filtering systems and the sound quality of transcribed music.
Best recommended headphones for runners: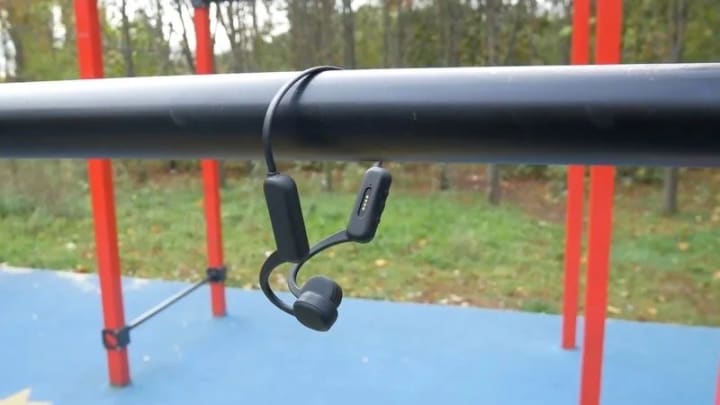 Wissonly Hi Runner sports bone conduction headphone.
Among the 5 products recommended above, Wissonly Hi Runner is a good choice through a comprehensive comparison of price performance,and functions ect.
Comment